Blog
What is Inside Sales? Everything You Need to Know
Ergonomic chair. Adjustable standing desks. Unlimited coffee. Air-conditioning in the summer and heat in the winter.
These are the luxuries afforded to the typical inside sales rep.
Compare that to long days on the road stuck in traffic, in the air, or on your feet, trudging through the rain going from door to door, and you start to understand the appeal.
But aside from the obvious environmental difference, there's a lot more that separates inside from outside sales teams, and that's what we're going to explore here.
In this article, you'll learn everything you need to know about inside sales, from team structures and salaries right through to inside sales processes and models.
What is inside sales? 
Inside sales is basically any sales made from an office environment (you know, inside), so it takes place largely over phone and email, though the use of social media messaging and video conferencing is increasingly common.
Inside sales (sometimes called remote sales or remote selling) is often the primary sales model for B2B, SaaS, tech, and certain high-ticket B2C sales teams.
Let's say you're looking to implement a new email marketing campaign, and you need an email automation platform to set it up. When you book a demo with one of the team, you're speaking with an insides sales representative.
Depending on their role within the team, inside sales reps engage in research, prospecting, email and social media outreach, cold calling, lead nurturing, qualification, demonstration, and negotiation conversations.
Inside sales vs. outside sales 
Inside sales reps sell from their office, in stark contrast to outside sales, where sales reps travel to visit clients and close deals on the road. Inside sales teams use phone, email, video, and social media messaging to sell to potential customers. 
Outside sales reps, by contrast, sell on the road. They travel to meet clients (whether by car, plane, or foot), and attend industry events and conferences to painstakingly prospect new leads.
But what inside and outside sales reps actually do during their day-to-day depends on their specific role, industry, and their company's sales and marketing strategy.
An inside BDR (Business Development Representative), for instance, focuses on prospecting and pre-qualifying outbound leads. An inside AE (Account Executive) takes meetings booked by BDRs or directly by the buyer, presents product demonstrations, and closes contracts.
Vastly different roles, but still both inside sales positions.
The same goes for the outside sales world. 
An outside sales rep at an insurance agency might travel to meet clients in their homes to discuss their needs, present insurance packages, and sign deals. Field reps for a B2B software company (a CRM platform, say), might attend trade shows, conferences, and industry events to promote their products and generate new business.
Other than environment, there are a few other key differences between these two sales models. Inside sales tend to have shorter sales cycles than outside sales, but they also represent a lower ACV (Annual Contract Value).
Outside sales have in the past been reserved for high-value contracts with long sales cycles, multiple stakeholders, and enterprise-level SLAs (service-level agreements).
The recent pandemic, however, has shown that even larger deals can close remotely (and buyers actually prefer it!)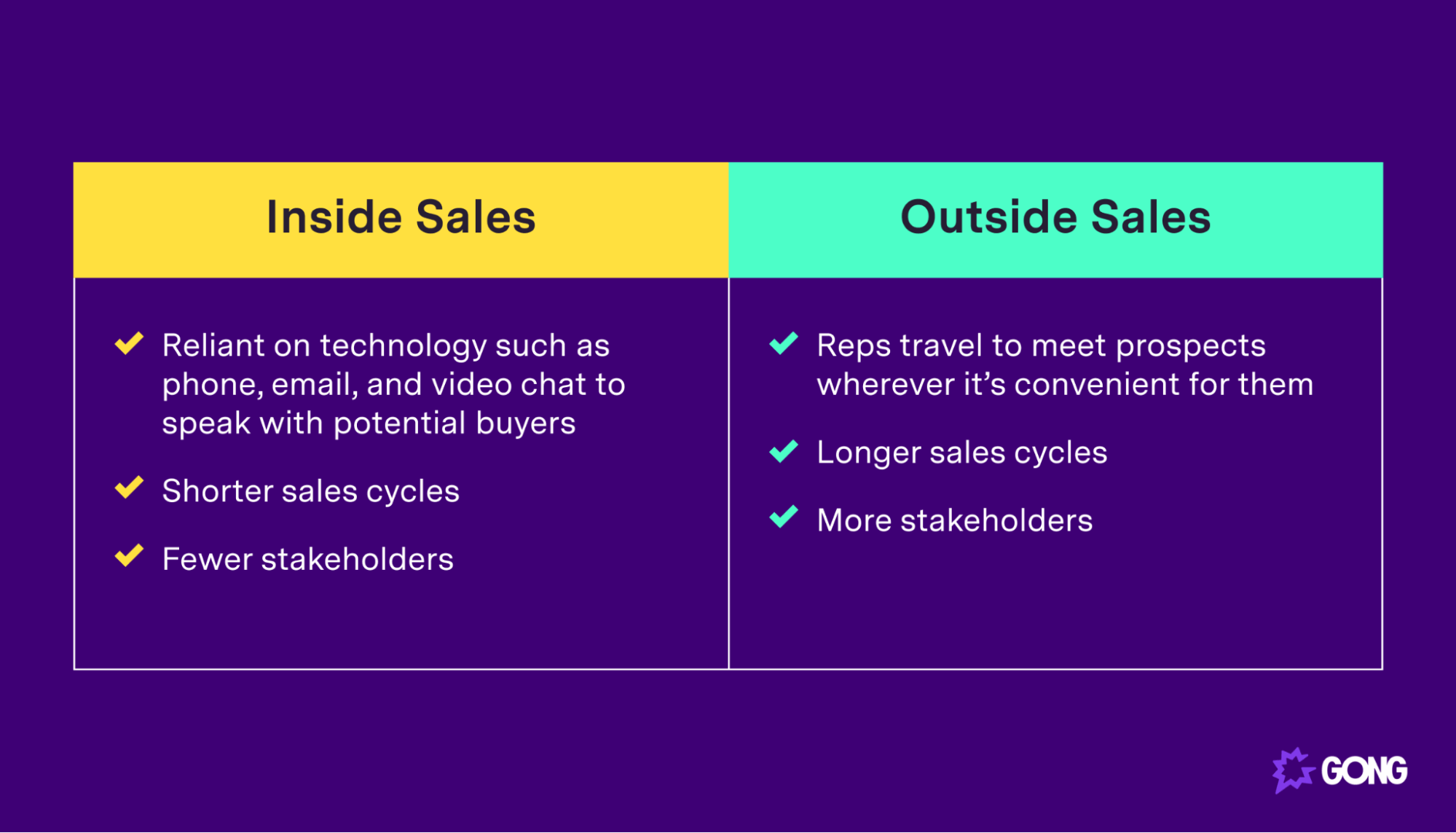 Why you should consider moving to an inside sales motion
First, let's consider the benefits of inside sales from the perspective of the company:
Inside sales can be very cost-effective (no need to pay for flights, accommodations, fuel, mileage, etc.).
Inside sales tends to be more efficient (no travel time, and reps are set up with everything they need to perform well right in front of them).
Revenue and ROI tend to be more predictable from inside sales teams.
Coaching and development are easier (everyone is working from the same environment, so it's easier for leaders to monitor and identify areas for improvement).
Sales reps enjoy the morale and camaraderie of working in the same room as the rest of the sales team and the opportunity to learn from their colleagues and continue to develop their sales skills.
But there's another serious pro in the inside sales column: a better buyer experience.
The pandemic has shown that you can close big deals without an in-person sales experience, and many buyers actually prefer it that way.
From the perspective of the buyer, inside sales is easier, more efficient (they don't have to worry about meeting anyone anywhere), and more in line with their day-to-day shopping experiences (who goes to the mall anymore?) 
It's easier to accommodate the prospect and get in touch ASAP when you don't need to fly out reps for a meeting. This eliminates what can often be a slower process with outside sales.
The ins and outs of inside sales 
So far, we've covered a high-level overview of the inside sales world. Consider it your discovery call.
Now, let's get into the demo.
What do inside sales reps do? 
The specific duties an inside sales rep performs will depend on their individual role (more on that soon), but their broad duties include:
Identifying new sales opportunities
Performing research on potential customers to determine initial fit
Answering buyer queries and demonstrating product knowledge
Building and developing buyer relationships
Nurturing existing leads
Managing referrals from existing customers
Asking targeted qualification questions
Booking meetings on behalf of other sales agents
Attending sales training and coaching sessions
Negotiating and closing contracts
Reporting on own sales performance in a CRM or dedicated inside sales software 
Collaborating with other sales professionals 
Outbound cold calling or emailing
Developing email outreach cadences 
Growing and maintaining a presence on social media
Upselling and cross-selling to existing customers
Achieving sales quotas and targets
As such, inside sales reps need to be highly organized, and they typically use a variety of scheduling tools to break their day up into work "sessions." Around 90 minutes is a common time interval to use for this kind of work chunking, as most people start to lose focus and efficiency after that point.
So, for instance, an Account Executive might spend their first 90-minute session following up on any emails or messages they've received overnight (focusing on the most urgent tasks first). 
Then, they'll dive into a series of demonstration meetings, and then repeat the same cadence in the afternoon..
Inside sales roles and team structure 
The typical inside sales team consists of six roles:
SDRs (Sales Development Reps)
AEs (Account Executives)
AMs (Account Managers)
CSMs (Customer Success Managers)
Sales Manager, Leader, or VP
SDRs are responsible for generating leads and pre-qualification, with the goal of booking a demo meeting with an AE. SDRs aren't responsible for closing sales — that's the job of the AE.
The Account Executive is responsible for taking meetings booked by SDRs and BDRs, further qualifying and understanding customer needs, running personalized sales demonstrations, negotiating sales contracts, and closing deals. Most inside sales teams with AEs and SDRs use a consultative selling approach, where the AE acts as a go-to expert who can help guide the company through the process.
Account Managers and Customer Success Managers are responsible for managing existing customers (meaning once an AE closes a deal, buyers become the responsibility of AMs and CSMs).
The two roles work closely together but have completely different goals.
The goal of the CSM is to ensure that the client is getting the most out of their product. This involves aspects such as:
Onboarding, training, and implementation
Long-term relationship-building
Identifying areas where buyers could take better advantage of the product
Assisting with product-based queries and challenges
Note that CSMs are not Customer Service advisors. Their job is to be proactive and prevent issues from arising, rather than serving as an ambulance after an accident has happened.
The Account Manager, on the other hand, is responsible for renewals and for identifying up-sell and cross-sell opportunities. Their job is to ensure the client not only stays on board, but to grow expansion revenue by selling additional products or features.
Since they all interact directly with the same client, there is a high degree of collaboration here. 
For example, a CSM might identify that a buyer would be able to increase revenue by implementing a certain process using their platform, however, that's only available on a higher pricing tier. They'd then pass this information on to the AM, who would be responsible for the actual up-sell.
Sitting above each of these positions is the Sales Manager or VP of Sales (or, depending on the organization, the Sales Leader, Sales Team Leader, or Sales Team Lead).
Whatever they're called, they're responsible for managing the sales team, which often includes activities like:
Training and onboarding new sales reps and AEs
Team management
Managing schedules
Coaching and development
One-on-one meetings
Setting sales quotas
Developing the overall sales strategy
Performance reviews
Reporting to senior leadership on sales performance
Pipeline management
Forecasting
Supporting key deals
Oh, and they're also in charge of building and refining the team's sales process.
A typical inside sales process 
Inside sales teams are often very heavy on processes and systems.
This can even include multiple detailed sales scripts, depending on the organization, though it's generally best to give reps room to hold dynamic conversations. (For inside sales, you want to hire talented self-starters, not a newbie to sales who needs their hand held.)
What every inside sales team does need, though, is a sales process.
A sales process is a predefined set of steps that reps must follow to turn a lead into a buyer. Sales processes in the inside sales world differ for inbound and outbound structures, though you'll most typically see the following stages:
Discovery
Demo/presentation
Alignment
Negotiation
Closing
Here's a brief overview of what the process looks like from the buyer's perspective:
Discovery – You've booked a meeting or demo call, and an SDR calls you to ask a few preliminary questions to ensure their product is a good fit for you, and so their AE can customize the demonstration to your needs.
Demo/presentation – You meet with an AE who demonstrates how their product will solve the challenges you're currently facing. 
Alignment – A series of conversations to ensure your needs and challenges align with the platform's capabilities and benefits.
Negotiation – Ironing out the final details of the contract, such as pricing and service level agreements.
Closing – Obtaining approval and signatures from relevant stakeholders in your organization.
Inside sales processes are typically presented in the form of a pipeline that shows which stage each customer is at in the process and allows reps to prioritize activities.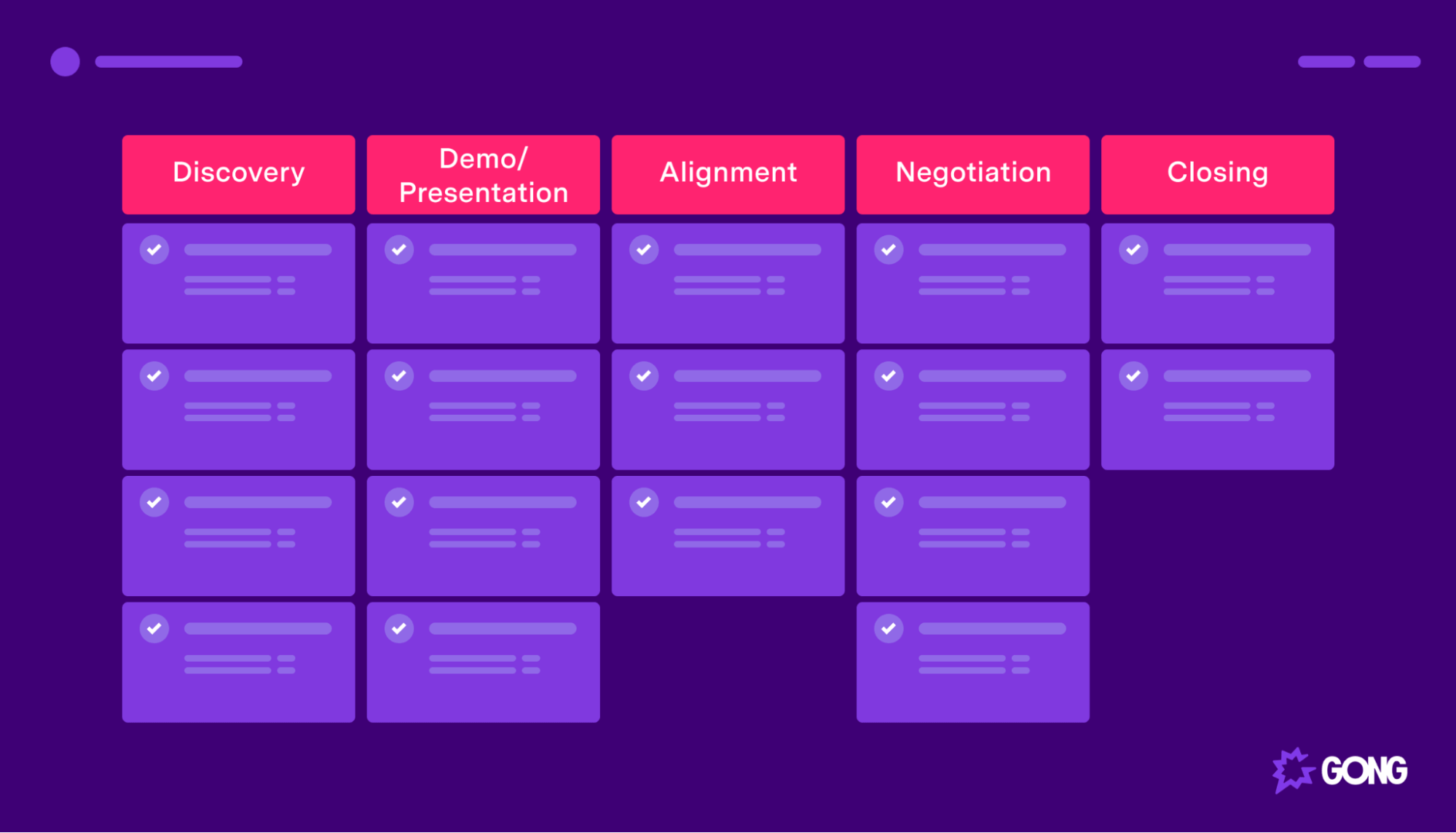 Inside sales salaries 
As is in common in most sales roles, inside sales earnings are heavily commission-based.
Many organizations pay a base salary with a bonus or incentive structure atop this, based on individual or team performance.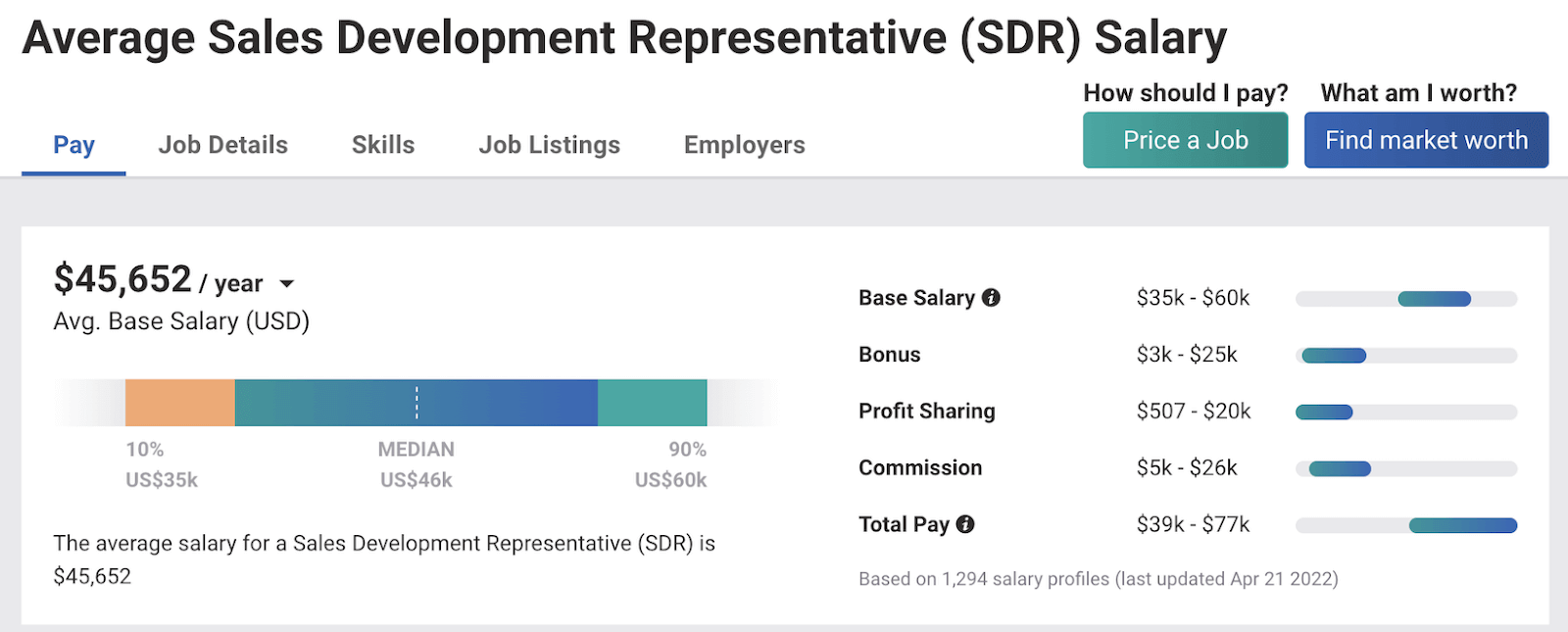 SDRs and BDRs (which are widely considered entry-level sales positions) earn similar salaries, an average of $45,652 and $48,900, respectively. Total earnings can reach $77-80k per annum once commissions are accounted for.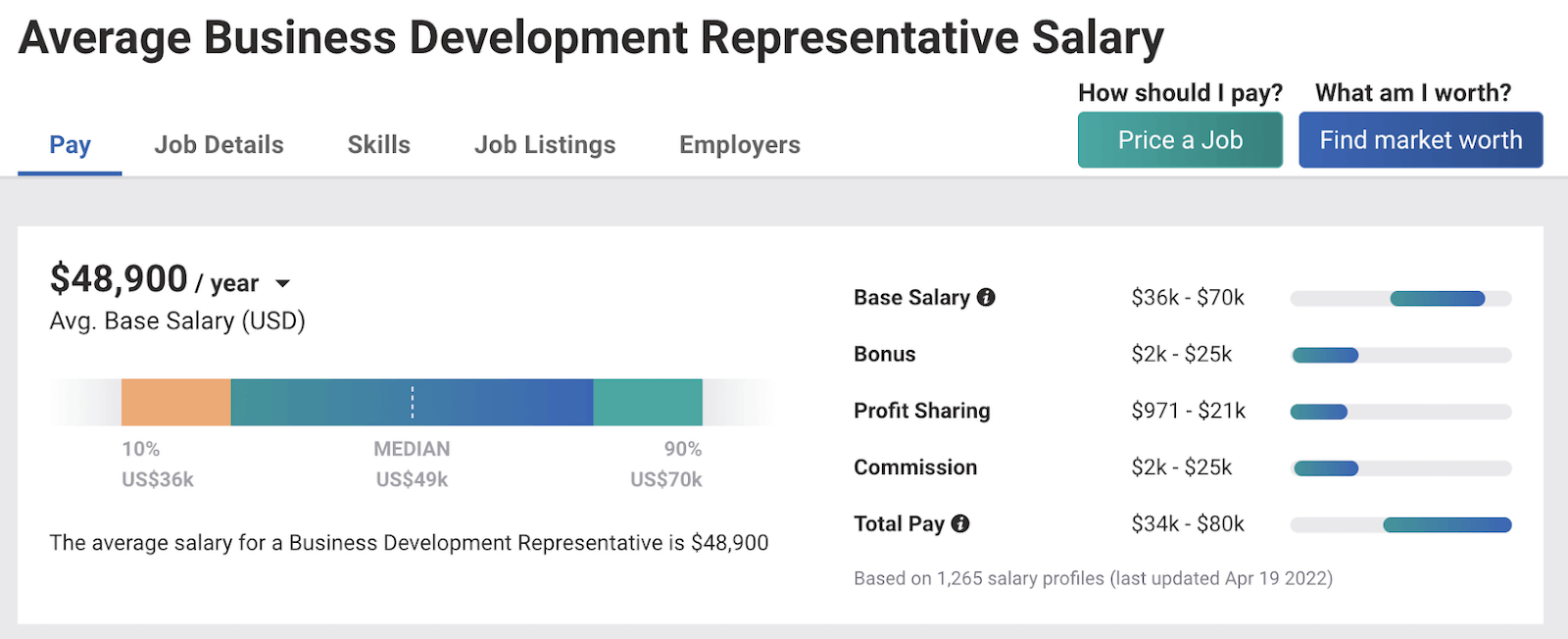 Account Executives earn an average of $111,154, but their earnings are highly commission-based, with top earning potential of nearly $500k a year.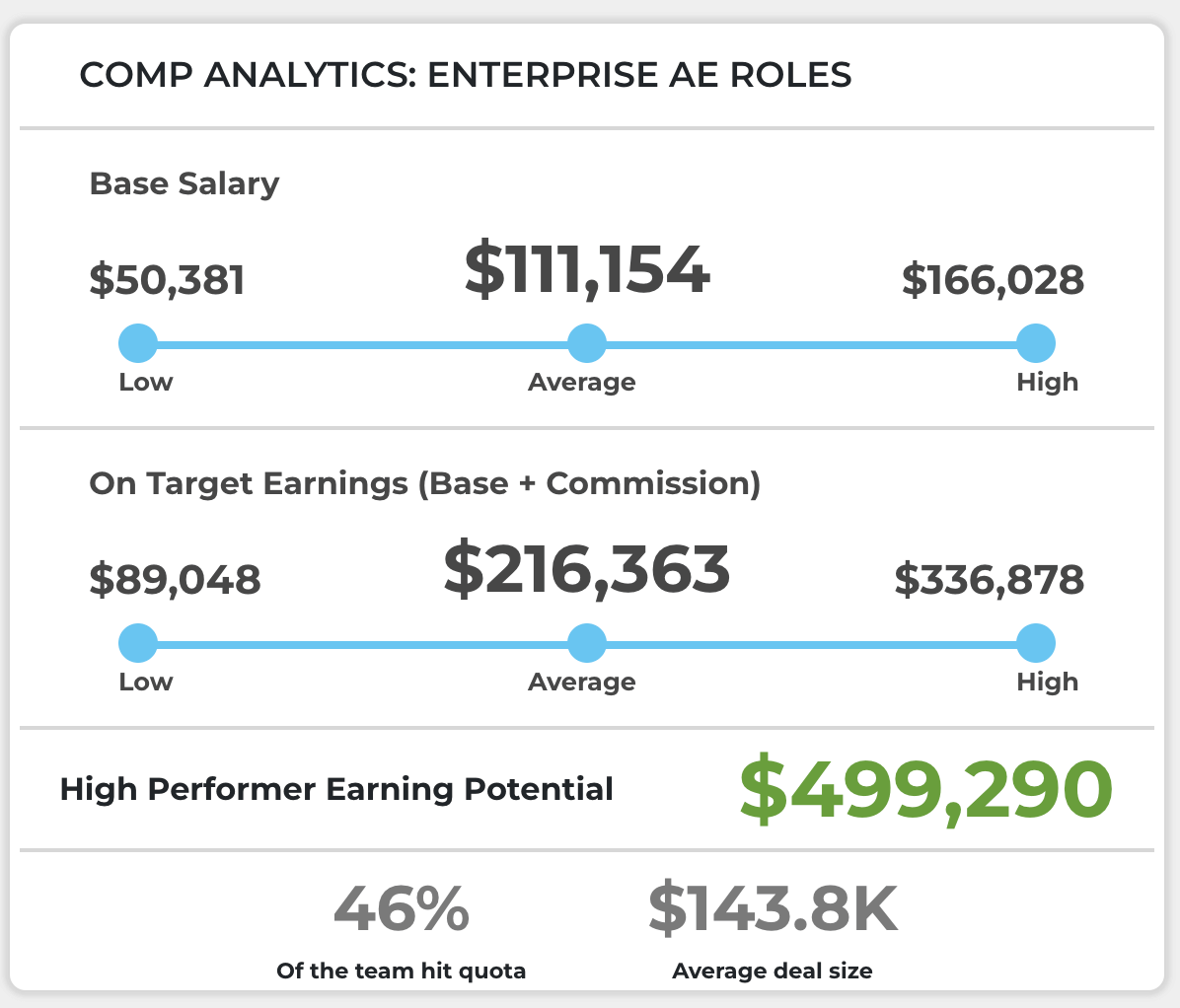 As you'd expect, Sales Managers earn a higher base salary, with the average US Sales Manager earning $91,563 a year. 
Top-end earning capacities are interestingly more limited than for AEs, which largely comes down to the fact that Sales Managers tend to only be incentivized with bonuses rather than commission structures.

That means a talented deal closer can often make more as an Account Executive than as a Sales Manager.
Inside sales quotas 
As we've seen above, a large chunk of inside sales compensation comes from commission or other incentives.
Each rep will be responsible for their own target or quota, though what they're actually required to achieve will, obviously, depend on their role.
SDRs and BDRs tend to be measured using activity-based metrics. They'll have KPIs like:
Number of calls per day
Number of conversations each day
Number of new companies prospected
Number of demo meetings booked with an AE
Number of demo meetings completed with an AE
Number of sales qualified leads (SQLS) generated
Though these inside reps aren't directly responsible for revenue targets, some SDR and BDR quotas can include a revenue component (e.g., number of closed/won deals, total ARR generated).
AE quotas are more closely tied to revenue. 
AE performance is still measured using activity metrics (number of meetings held, opportunity win rate, etc.), but quotas are generally a revenue value (for example, $800,000 in new revenue generated).
Commissions may be team-based or individual-based (though individual is the more common approach), and are commonly tiered against the total revenue quota, for example:
100% of quota attained = 10% of revenue generated
80% of quota attained = 6% of revenue generated
60% of quota attained = 3% of revenue generated
Outsourcing inside sales 
Building a powerful, high-performing inside sales team takes a significant time investment. Processes need to be developed and refined, hiring always takes so much longer than anticipated, and new reps need time to ramp up to quota.
Because of this, many fast-growth organizations choose to outsource their whole inside sales team (or at least a part of it).
The most common approach here is to outsource the prospecting and qualification components (that is, the SDR and BDR roles).
In this arrangement, you'll work with an outsourced SDR company to develop a sales process specific to your organization. They'll spend some time understanding your product, your buyer's pain points, and the types of questions they need to ask to qualify a lead.
Then they'll run this process on repeat, and book meetings with your AEs (which you'll still need to hire in-house).
Generally speaking, it's best to build a completely in-house sales team, but this can be a good way to get off the ground quickly and build a solid pipeline of meetings.
Key inside sales skills to master 
Inside sales reps need a very specific set of skills to succeed.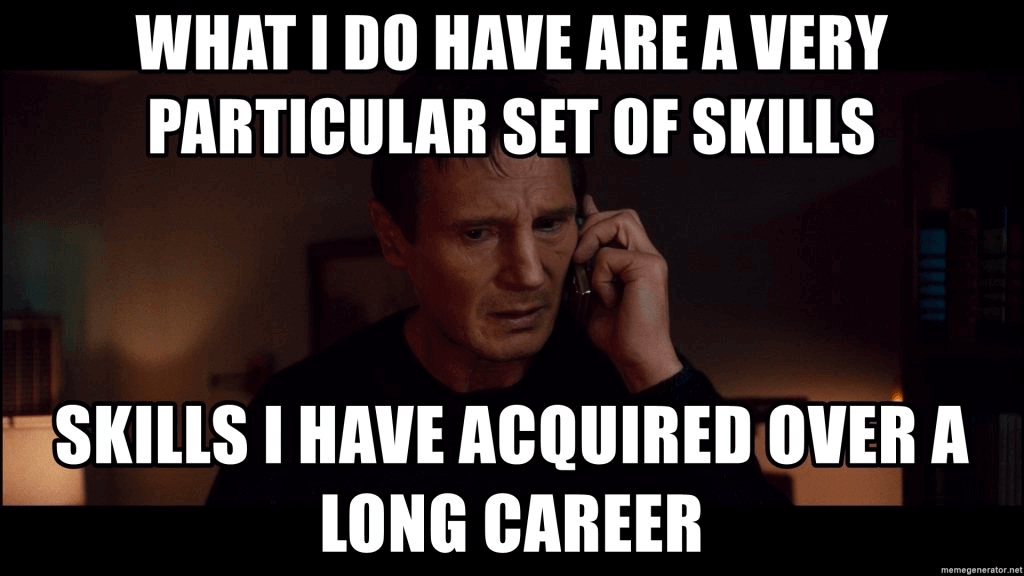 To do well in an inside sales role, you'll need:
The ability to control the talk/listen ratio
Strong time management and task prioritization skills
Proficiency in understanding and amplifying customer pain points
The ability to use multi-threading (building relationships with multiple stakeholders) to gain buy-in
Objection-handling skills
The ability to reframe questions to elicit longer answers (shown to significantly improve success rates)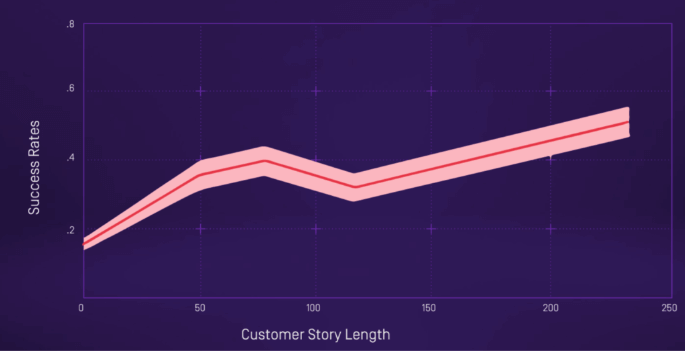 To learn more about crucial sales skills, read our full-length guide: 15 Sales Skills That Separate The Best Reps From The Rest.
Inside sales solutions to empower team success 
People, skills, and processes are what drive inside sales success, but you'll need a little something else to tie everything together:
A powerful sales tech stack.
These are the five software tools you'll need to build a high-performing inside sales team.
1. CRM and sales pipeline software
A CRM (customer relationship management) is the backbone of your sales tech stack. It's where all of your customer data, interactions, and conversation notes are stored, acting as a central point of truth for everything account-related.
Salesforce, Microsoft Dynamics 365, and HubSpot CRM are common options. But it isn't always easy to make sense of all the deal and buyer data in a CRM. 
Sales pipeline software changes that — it visualizes all potential and existing deals in an intuitive way, uses AI to highlight at-risk deals and high-priority buyers, and more.
2. Prospecting and intelligence
Prospecting and intelligence tools (LinkedIn Sales Navigator, for instance) help reps gather important intel on accounts to create a personalized sales experience.
For example, you'll gain insight into intent signals exhibited by key accounts, as well as firmographic data such as a prospective account's yearly revenue or employee headcount.
3. Sales presentation tools
Sales demo tools like Loom and Demodesk allow AEs to deliver personalized sales meetings with branded content, interactive environments, and objection-handling scripts.
Free tools like Zoom and Google Slides are a simple free solution, but lack the functionality required to deliver truly immersive demo experiences.
4. Scheduling
Scheduling tools are pretty straightforward: they help your reps book meetings.
Calendly is the most widely-used tool here. Scheduling tools like this allow reps to block off specific time slots for customer meetings which SDRs and customers can book online.
5. Revenue intelligence
You didn't think we were going to sign off without a quick self-plug, did you?
Revenue intelligence tools make it easy to determine what's working, and what isn't.
You'll find out what separates your top reps from your low-performers and discover instant actionable insights. For example, you can uncover the ideal talk/listen ratio on discovery calls and then monitor conversations across all reps to understand who needs additional coaching sessions.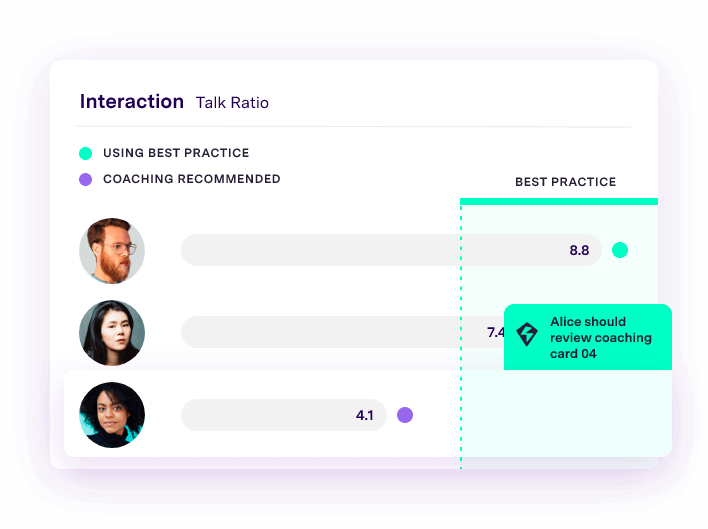 And that's only scratching the surface of the smart, data-based insights that will be delivered to you on a silver platter each morning (or whenever you review sales team performance).
Time to make the switch? 
Inside sales can be a powerful, scalable, highly-measurable sales model, but it's not the same as simply bringing your field sales reps into an office and calling it a day.
You need to transform your processes, and invest in systems and software to support that transition, and even train your staff in inside-specific sales techniques.
Want to learn more about how to make the jump from field to inside sales? We've already done it. Check out what we learned in our podcast episode: How we adapted from field to inside sales.