GONG FORECAST
pinpoint your number and paths to target
Stop fueling forecasts with second-hand insights and outdated CRM fields. Drive forecast accuracy, actionability, and accountability by putting customer interaction data at the heart of your revenue operating rhythm.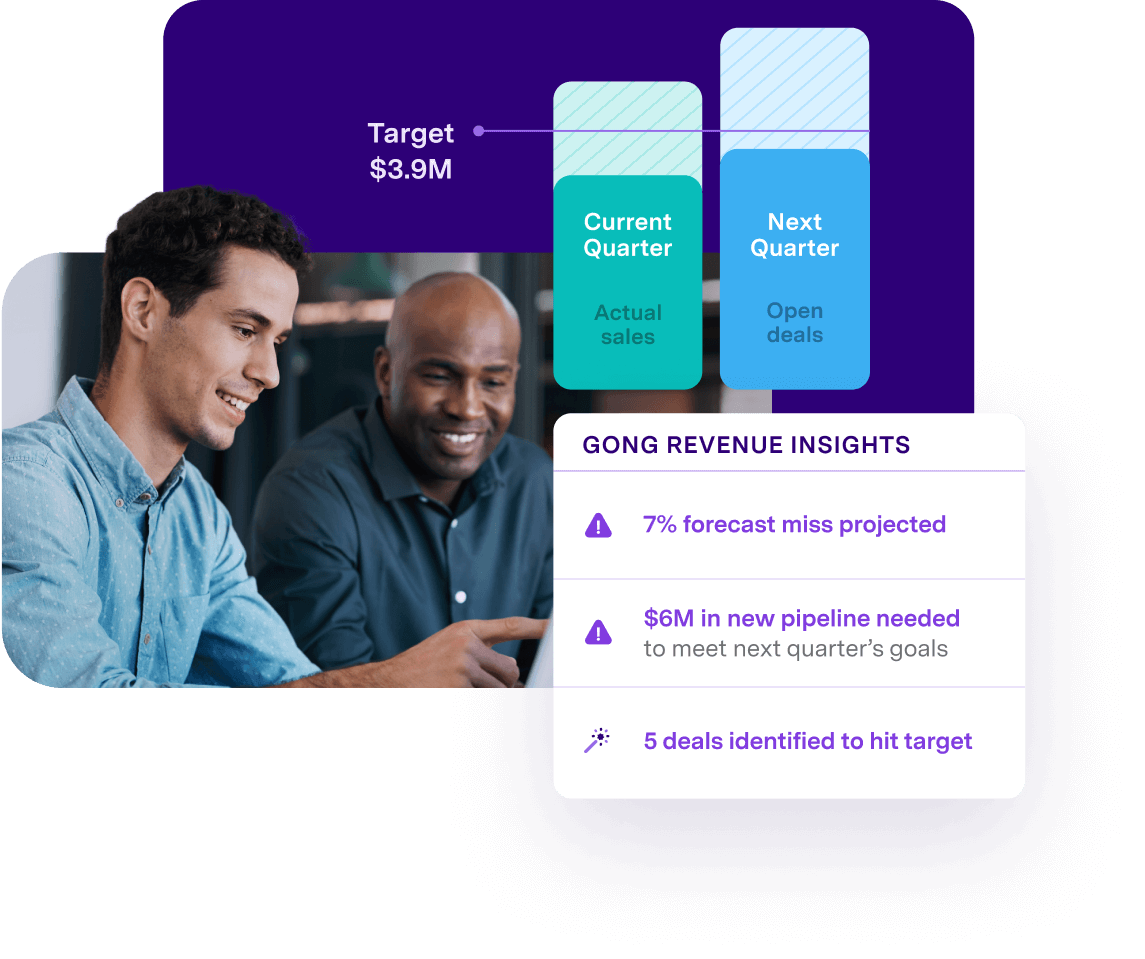 Some of our 4000+ customers








Increase revenue predictability with AI-informed decision-making
AI forecast projections
predict revenue outcomes with unmatched ACCURACY
Take the guesswork and risky pipeline out of your forecast. Triangulate your number and pressure test your call against objective, AI-powered forecast projections. Gong leverages 300+ unique signals to predict deal outcomes with 20% more precision than algorithms based solely on CRM data.

Deal likelihood scores
CONNECT INSIGHT TO ACTION and WIN HIGH-IMPACT DEALS
Boost manager capacity and raise rep performance with AI that helps teams prioritize and win the deals that matter. Accelerate and streamline sales execution with workflows to resolve deal risks, progress pipeline, and personalize account engagement in a single platform. 
ANALYTICS & REPORTING
DRIVE ACCOUNTABILITY AND optimize performance
Stay ahead of pipeline risks and optimize revenue performance, with out-of-the-box sales analytics that bring deal, pipeline, and team insights into a single view. Hold teams accountable to excellence and identify to improve with deep insights into team and pipeline performance trends.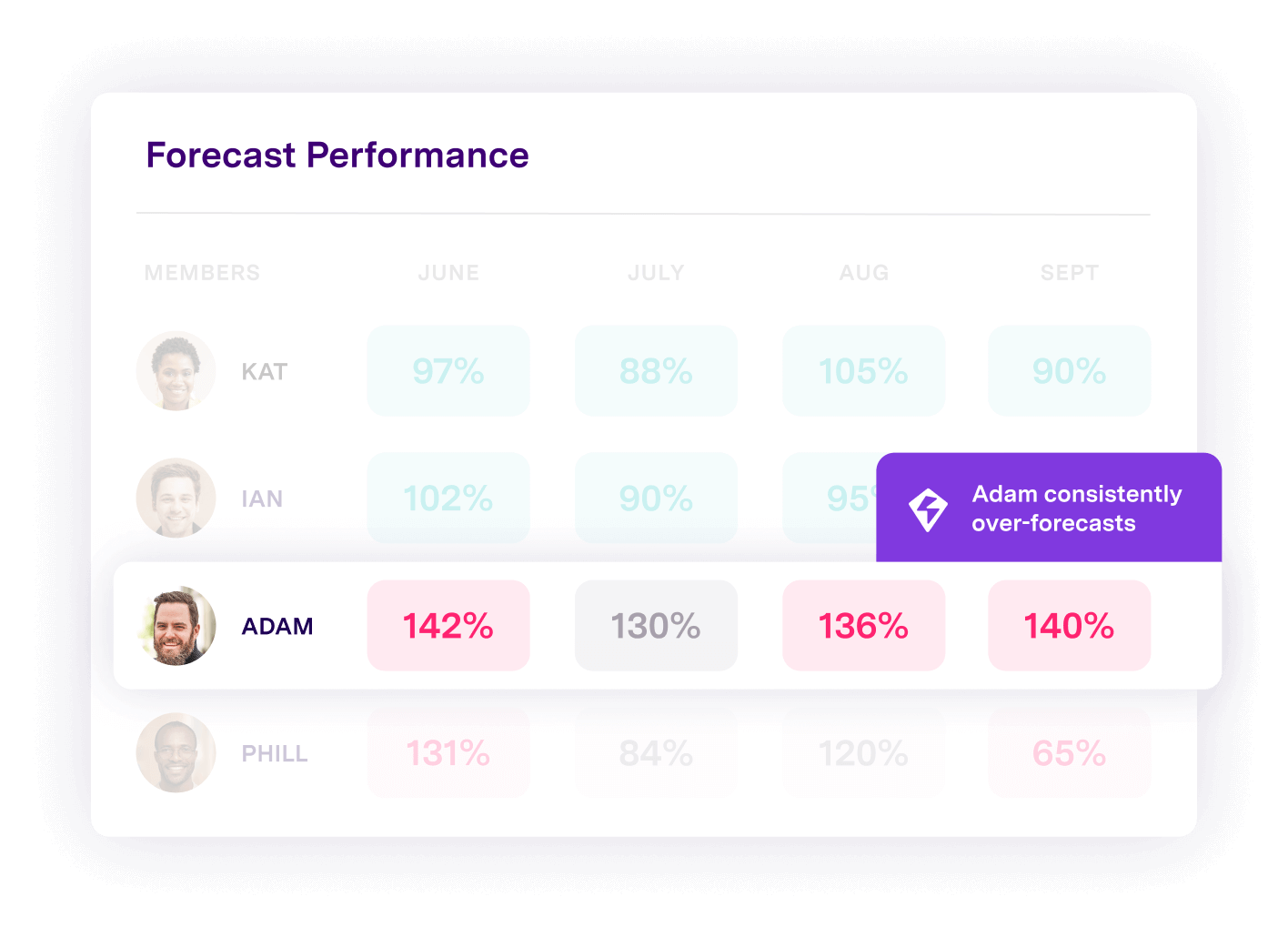 What our customers Say
"Our forecast accuracy has grown to the point that we're now at 95%. Gong lets us run a predictable revenue organization, reduce the number of tools in our tech stack, and save tons of time on forecasting."
Drew Korab
Director of RevOps, Upwork
"Our forecast accuracy has grown to the point that we're now at 95%. Gong lets us run a predictable revenue organization, reduce the number of tools in our tech stack, and save tons of time on forecasting."
Drew Korab
Director of RevOps, Upwork
deliver predictable revenue with Gong
See how Gong Forecast can help your team drive forecast accuracy and confidently hit your numbers.
Thank you for your submission.
Frequently asked questions
How does AI improve the accuracy of sales forecasts?
Analyzing a vast array of success indicators for each opportunity and benchmarking them against historical data, revealing patterns that might be missed without such detailed analysis. This is akin to having a team of expert statisticians evaluating every transaction to predict outcomes more precisely using data-driven insights.

Discover how RevOps leaders use Gong's AI to analyze every interaction across sales and customer success teams, so they have the critical insights needed to call forecasts with superhuman ability.
What are the advantages of using AI in sales forecasting?
AI offers enhanced visibility by detecting potential risks and opportunities within the sales pipeline that might otherwise remain unnoticed. It also provides scalability, offering comprehensive insights across all deals in the pipeline, enabling a more holistic view.

Moreover, AI contributes to increased efficiency by automating routine tasks, freeing up time for sales managers and teams to concentrate on engaging customers and converting pipeline, ultimately improving sales productivity.
Interested in learning how Gong customers use AI in sales forecasting? Read this case study on Crayon, a Boston-based company, that leveraged AI to boost forecast accuracy while reducing the time spent on forecasting calls by 66%.
What are the challenges faced in sales forecasting without AI?
One of the biggest challenges of sales forecasting is subjectivity. Human biases can lead to overly optimistic or pessimistic forecasts. Additionally, the absence of AI can lead to incomplete data, as manual CRM entries might not be updated or adequately capture prospect needs, creating 'ghost pipeline' within the system.

Second, data overload is a challenge. When handling a substantial amount of data, it's difficult to distill it into actionable insights for your sales team.
Lastly, without AI, manual sales forecasting demands labor-intensive efforts, detracting from valuable time that could be better spent on closing deals.

Explore our "Reality of Forecasting Report" to uncover common factors contributing to inaccurate forecasts and learn how to achieve precision, efficiency, and confidence when making projections.
How does AI-driven sales forecasting integrate with existing CRM systems?
AI-driven sales forecasting solutions integrate with existing CRM systems through API integrations or plugins. The AI software pulls data from the CRM, processes it using predictive algorithms, and then provides insights and predictions back into the CRM interface for sales teams to use to make real-time decisions.
What is the ROI of implementing AI-driven sales forecasting technology?
The ROI of AI-powered sales forecasting stems from multiple enhancements in the realm of forecasting and pipeline management. These improvements include shortened sales cycles resulting from AI-driven execution enhancements, leading to more efficient processes.

Additionally, AI-generated guidance contributes to higher conversion rates, assisting sales teams in navigating deals more effectively. The increased accuracy in forecasts facilitated by AI allows for improved resource allocation, optimizing the allocation of resources.

Lastly, the time-saving aspect is significant as AI takes on the task of forecast compilation, freeing up the sales team to concentrate more on deal closure, thereby maximizing productivity and efficiency.
How does AI-driven technology handle data security and privacy in sales forecasting?
Security is incredibly important, and providers employ various measures to ensure data security, privacy, and integrity. Learn more about Gong security, compliance, and privacy practices in the Gong Trust Center.