Blog
Strategies for Managing Remote Sales Teams (By Choice or By Necessity)
The future of work is uncertain, but one thing is clear: the end of quarter will be remote.
The bad news: quotas aren't going down.
The good news: the principles behind managing a team are the same whether they're in the same room… or remote in their living room.
We put together a few no-bs tips and pointers on how to implement remote sales, to home-deliver some of that bullpen energy your team might be missing. 
#1 Make Pipeline Reviews Strategic
If you're going to get this whole remote thing right, step one is making sure everyone on the team has visibility on what's happening in deals. 
That means upgrading permissions, creating new dashboards (or using a sales report template), and distributing information that reps would have normally obtained by tapping on their neighbor's shoulder. And it goes both ways: reps should be extra conscientious about keeping opportunities updated to make sure everyone is on the same page. 
Getting information to flow in your team will allow you to start the week strong with *actual* pipeline reviews. Instead of getting caught up on what opportunities have been or haven't been updated, you can spot at-risk deals and define next best steps for those accounts. Because – let's face it – a rep looking through their notes might slow down an in-person meeting… but it kills a virtual one. 
Put it in practice:
Running pipeline meetings effectively means cobbling together information from a lot of different sources (CRM, email, calls, notes) AND thinking strategically about what to do next. Deal Intelligence from Gong maps out all available info on an account-by-account basis so your team can fast-forward towards success for each customer. 
#2 Focus One-On-Ones on Coaching
Running effective pipeline meetings means they will no longer spill over into weekly one-on-ones. So much room for activities!
However, more than an individual run-down of available information on their deals, what reps really want is tactical advice on how they get a deal across the line and coaching on how to continue developing their skills. 
This is tricky if you aren't sitting on calls, especially with everyone being home and all… Try listening to call recordings instead, and breaking down one specific section of a call as the highlight of your one-on-one with each rep.
Put it in practice: 
To help deliver coaching at scale, Gong can point out areas of improvement for reps based on industry-benchmarks and stats from top-performers on your team. Now every coaching session hits bullseye.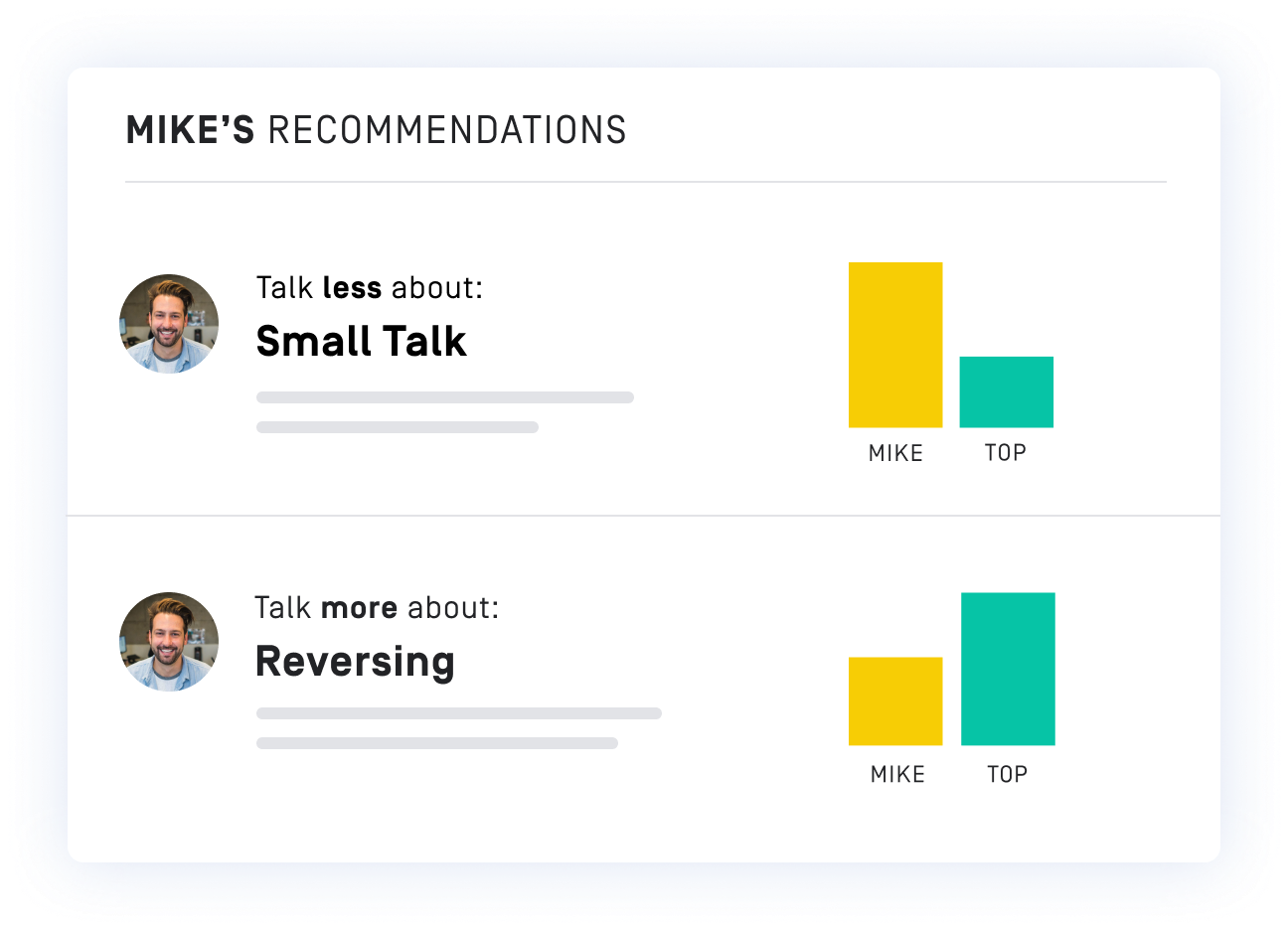 #3 Share Individual Wins
Nothing takes the wind out of a big win like turning back and having no one to high five. Internal chat (like Slack) is naturally geared towards celebrating team accomplishments. But sales reps need individual recognition too.
Recreating the recognition that spontaneously happens on the sales floor is tough. Whether it's hitting a gong after closing a big deal, displaying the sales leaderboard on screens around the sales floor, or giving a fist bump for helping out on a deal: it takes a lot of effort to make recognition visible to team members working from home.
Start highlighting wins as they happen throughout the week, and maybe even stoke some friendly competition in the team. HINT: if reps have to go searching for leaderboards, closed-won deals, or kudos in documents or spreadsheets, you're not making enough of a big deal!
Put it in practice: 
Share individual wins on slack, by email, and start every meeting with a round of congrats. And leave no win – however small – unnoticed by the person who's earned it AND from the rest of the team. 
#4 Celebrate Fails Publicly
It may sound crazy, but there are very real reasons you'd want to create an outlet for your remote sales team to share fumbles… The last thing you want is reps sitting on their hands when they need help. Sharing setbacks creates an atmosphere that encourages team members to share their difficulties.
Poking fun at team fails, videoconferencing malfunctions, and so on means your reps will be more likely to open up about that one call that didn't go so well. Or that one big deal that might not pull through. You know, the stuff you wish you knew ahead of time… 
Put it in practice:
It's as simple as creating a dedicated channel and getting reps to start posting in it when stuff inevitably goes south on a call or two. 
#5 Always Be Learning
Waiting for everyone to be onsite to perform training might seem like a logical course of action. Yet remote sales teams require more consistent training. 
WFH can be unstimulating. Particularly for those who didn't choose to part ways from the heat of the sales floor. Training can get some of the mojo back. Take call reviews. They're a great way to spark a group discussion, sharpen individual skills, and get creative juices flowing.
Put it in practice:
Having trouble finding a slot for everyone to join the call? Try doing your next call review asynchronously – i.e. each on your own time – by sharing and commenting on a particular call recording.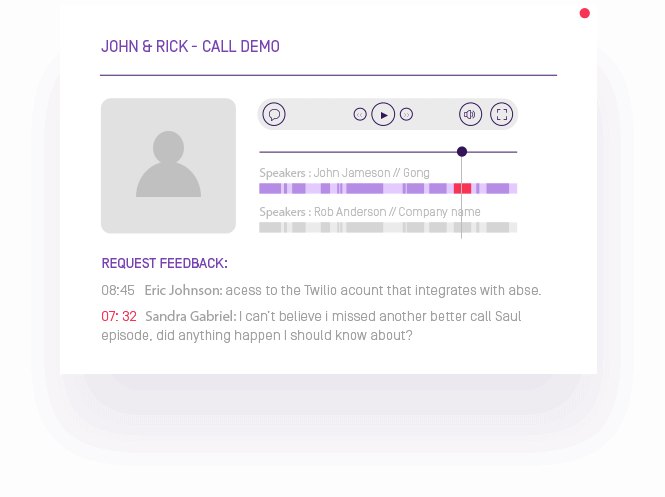 #6 Measure Healthy Behaviors
Vital piece of advice, especially for managers who are onboarding new hires remotely: start tracking behaviors that matter, not just quota attainment.  
Sales cycles can be long. Tracking activity and making sure the right motions are being put in to hit expected results can raise flags early and allow managers to step in to course-correct. This includes measuring prospecting activity, calls, talk-time ratio, new product mentions, or use of up-to-date messaging. 
Put it in practice:
With Gong, you can track adoption of best practices and new initiatives. You can also set alerts to be notified automatically when these phrases (like product messaging, sales methodology, or new product rollouts) get brought up on calls. 
#7 Over-Communicate
When it comes to remote work, the #1 tip for all teams – sales included – is to over-communicate. Leaders often fear being overbearing, or down-right micromanaging. But in fact, sharing information, even on a "just in case" basis is a hallmark of high-performing remote teams.
Oversharing means that: 
A – you'll get instant visibility in your team's work.
And B – reps know you know they're putting in the work.
Put it in practice:
So, what does it look like for sales teams? A few things you should consider implementing: number one, creating a shared calendar for sales calls. Second, making time for daily check-ins on Slack. And lastly, collaborating on a team doc to list priorities for the day or week.
Alternatively, Gong can automatically create a complete view of your team's sales calls. Because it connects to your team's email, it has access to invitations, Gong gives you a real-time picture of calls scheduled for each rep on your team.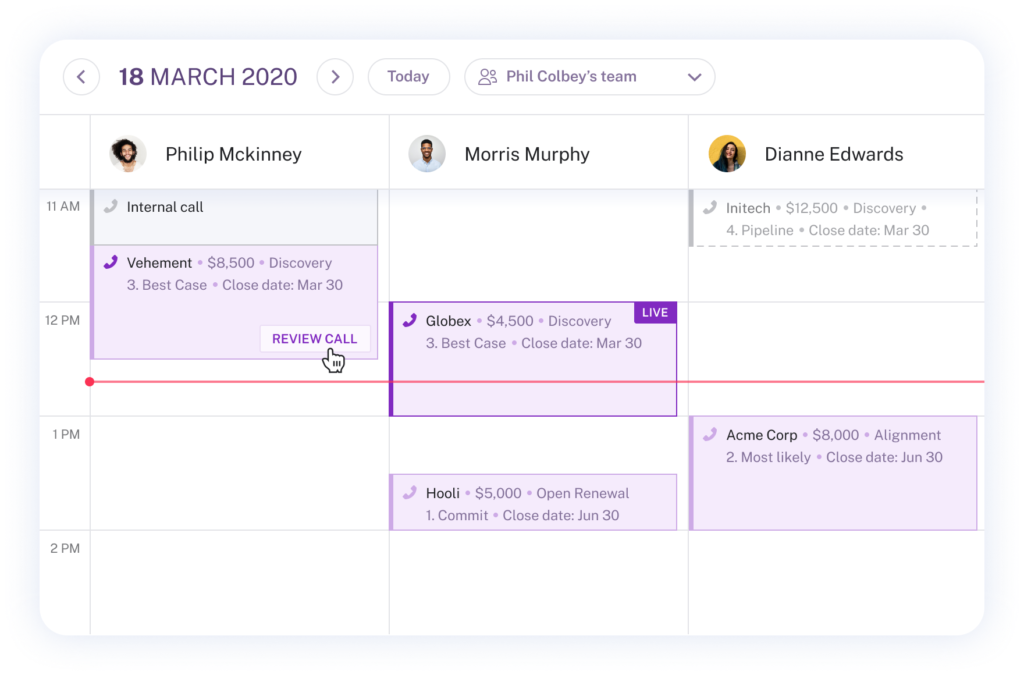 Build Your Remote Sales Muscle With This Handbook
We know that managing a remote team is a new motion, and we have your back.
That's why we put together the Remote Sales Management Bundle.
It has the best tips and data from Gong for sales leaders, including:
The call coaching checklist

: upgrade your call review process and enjoy insane results with our PROVEN sales coaching tool. 

The discovery call guide

: get access to the five elements of great discovery calls, according to over 5 million analyzed conversations.

The competitive selling cheat sheet

: secrets of top sellers to gain the upper hand and leave the competition in the dust.

Grab your Remote Sales Management Bundle here and master the skills to lead your remote sales team to glory. Or find out how Gong can help your remote team gain full visibility of your pipeline and win more deals.