Sales Engagement Platform: Skyrocket Your Team's Success
Boost rep productivity, increase close rates, and get full visibility into your pipeline with sales engagement software. Gong's sales engagement platform supports your team every step to quota: monitor customer engagement in real-time, build a winning sales strategy, and execute pipeline as a team. Ready to see how it works? Ask our team to give you the tour of our sales engagement platform.
5 Reasons Why You Should Use A Sales Engagement Platform
Wondering what sales engagement software can do for your team? I asked our customers. Here's what they had to say: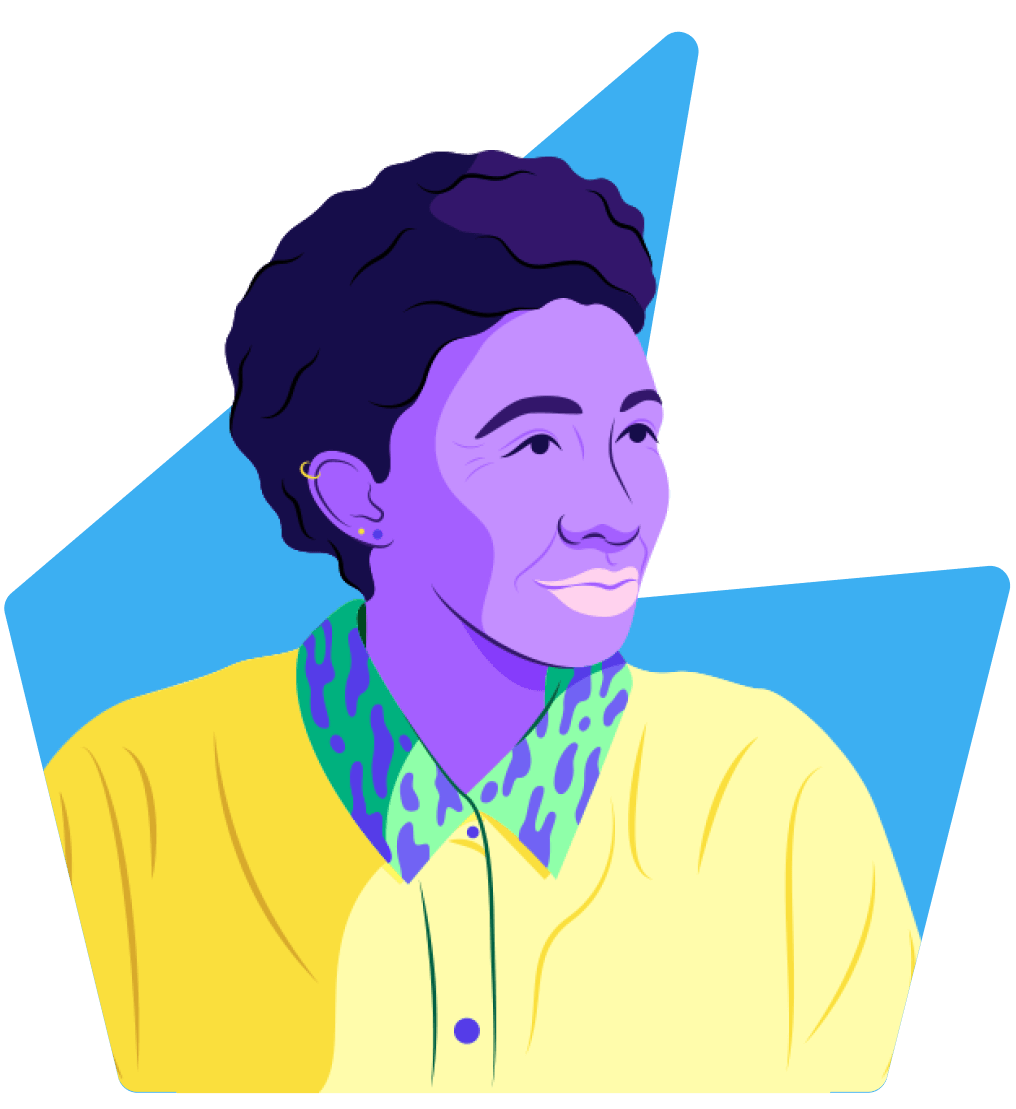 REASON #1
Reps' Favorite Productivity Hack
Reps can't stop raving about Gong. And for good reason. Gong enables them to understand what they and top performers on your team are doing right. And replicate best practices at scale.
REASON #2
The Answer Isn't In Your CRM…
How are customers responding to your go to market? What does a good sales conversation look like for your team? Why are customers buying (and why the rest are not)? The answers are in Gong.
Reason #3
A Truth Serum For Your Pipeline
It's like validating your deal has legs with a third party – the customer. Improve forecast accuracy and identify at-risk deals in your pipeline so you can step in proactively and set deals back on track to closed-won.
Reason #4
Build A Winning Playbook
Gong's sales engagement platform lets you build a laundry list of winning plays so you can boost close rates and increase productivity per rep. With Gong, you'll know exactly what you're doing right so you can double down where it works.
Reason #5
From Outreach To Close
Get a reality view of all your customer touchpoints across your entire deal cycle. Identify winning talk tracks, optimal positioning, and competitive messaging so that your team can build the sales motion that works for your customers.
Go With Gong, Your Team's New Sales Engagement Platform
Gong weaponizes your team's data. Your conversations are unique. Now you'll know what sets top performers in your org ahead of the rest so you can build a team of A players.
Gong's sales engagement platform captures your team's customer-facing conversations across email, phone, and web conferencing and analyzes them with AI. That means you can build your sales strategy based on what your top sellers are already doing in the field.
Gong turns every rep on your team into a potential superstar. Now that they can see and hear what top reps are doing, learn and replicate best practices, and shatter their quota. Every month. Every quarter.
What Does The Gong Platform Look Like?
Build A Winning Playbook
Share your top performer's best practices with all your sellers to drive higher quota attainment and close more deals.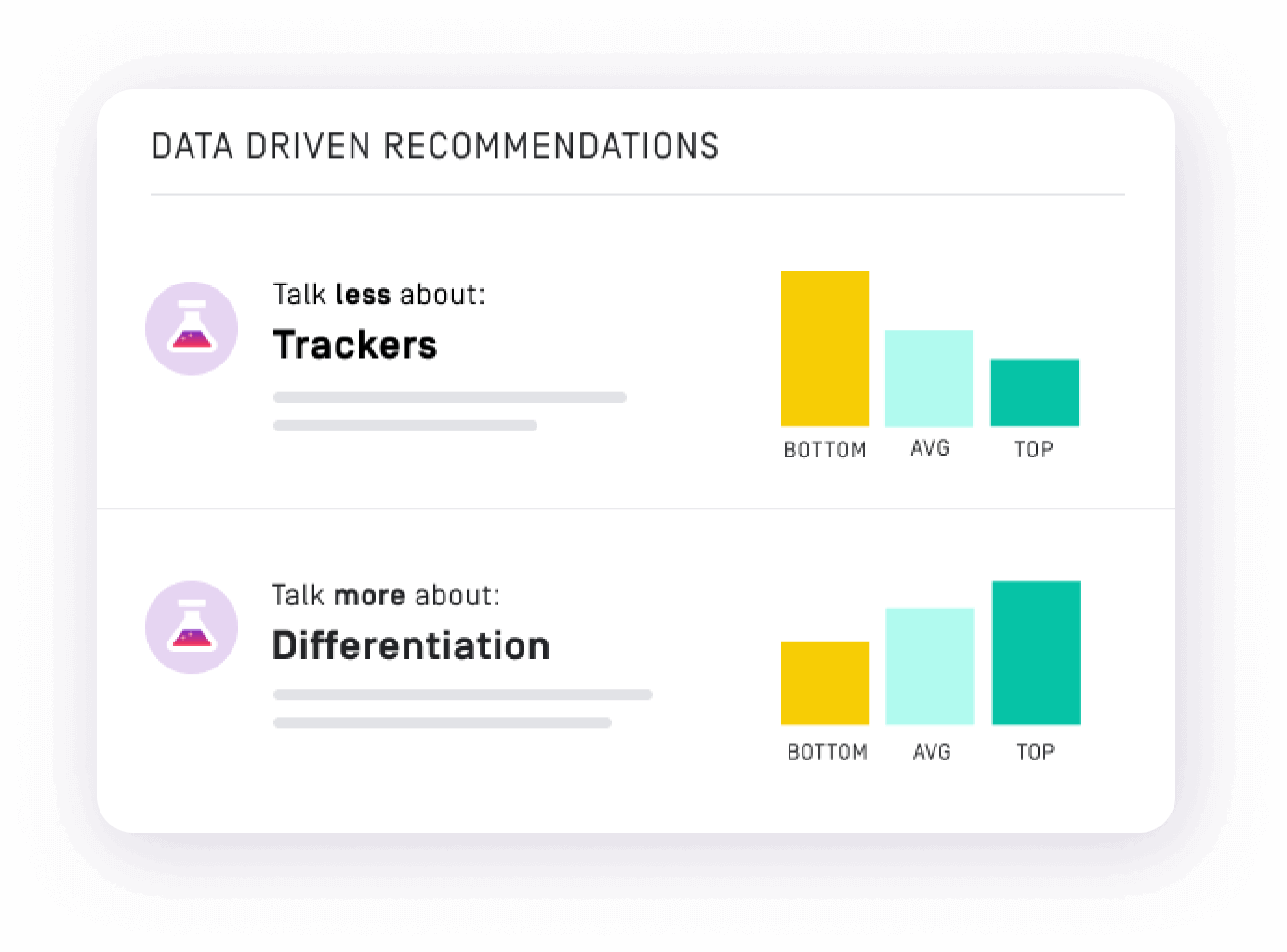 Spot At-Risk Deals In Your Pipeline
Gong is like a truth serum for your pipeline: see which deals will close (and which ones need urgent attention).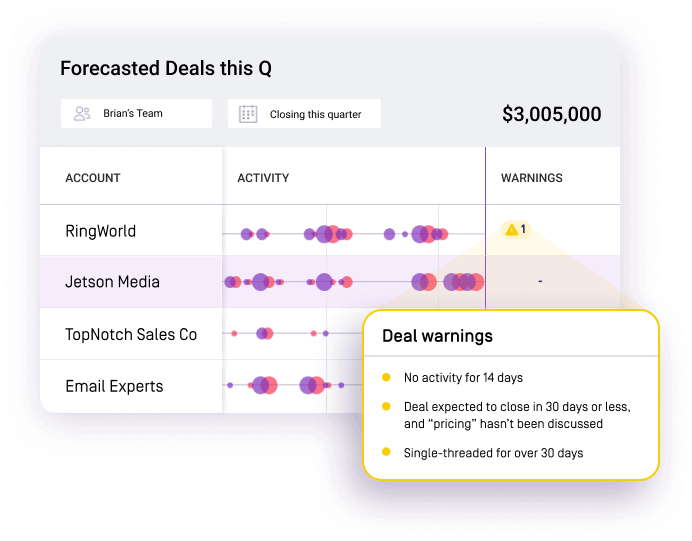 Catch Up On Your Team's Deals
Automatically updated. Always accurate. Gong's sales engagement platform shows you where your deals really are so you can strategize a path to close.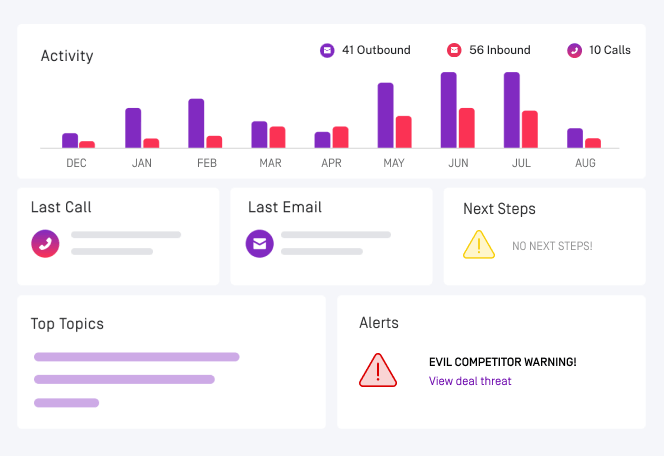 Gong's Sales Engagement Platform In Action
I'll let you in on a little secret. This is how Gong's sales engagement platform helps leading sales teams blow their number out of the water:
step 1
Gong records and analyzes your customer touchpoints (that's phone, web conferencing, and email).
step 2
Gong ties those recordings to CRM data to identify patterns that lead to optimal outcomes (i.e. closed-won).
step 3
Gong's sales engagement platform gives you data-backed recommendations to improve rep performance, as well as mind-bending insights into how your buyers are actually responding to your sales strategy.
step 4
Gong lets your team tap into an always up-to-date stockpile of battle-tested best practices. It's like osmosis, but for sales pros.
Come For Sales Engagement Software, Stay For Everything Else
So, yeah. There's more to Gong than sales engagement software… Gong is the #1 Revenue Intelligence platform. That means you – aka revenue leaders – get total visibility into your team, your deals, and your market. In one place.

Pretty cool, huh? Here's what that really means (no marketing-speak):
People Intelligence
Turn average performers into top performers and top performers into superstars.
Deal Intelligence
Get a full bill of health on all the deals in your pipeline.
Market Intelligence
Hear what your customers are saying and discover where you win.
Goodbye Opinions. Hello, Reality.
Join thousands of revenue leaders using Revenue Intelligence as their new M.O.
They Said It Best
The conversation recordings and analytics allow me to review client engagements, identify points of improvement, and share them with peers for feedback. I appreciate that the platform is integrated with our CRM, which allows us to link to call recordings from client records.
The deal view is incredible. It provides a timeline of all events that have happened around an account so you can quickly identify opportunities that are falling through the cracks or being mismanaged. Super valuable and I wasn't expecting to see a feature like it from Gong.
As many salespeople will recognize, keeping track of a large number of accounts can make it hard to remember every conversation you have. Gong allows you to review calls to ensure that you are on track with your clients goals.
Gong is an incredibly useful platform to help you understand what hell your prospects or customers are actually saying. This is incredible insight that would be usually lost when your SDR is making cold calls or your closing team is trying to understand why they even won the deal.
"Incredible."
3,000+ Raving Fans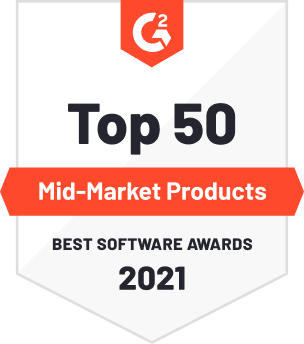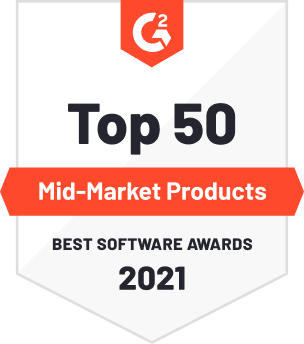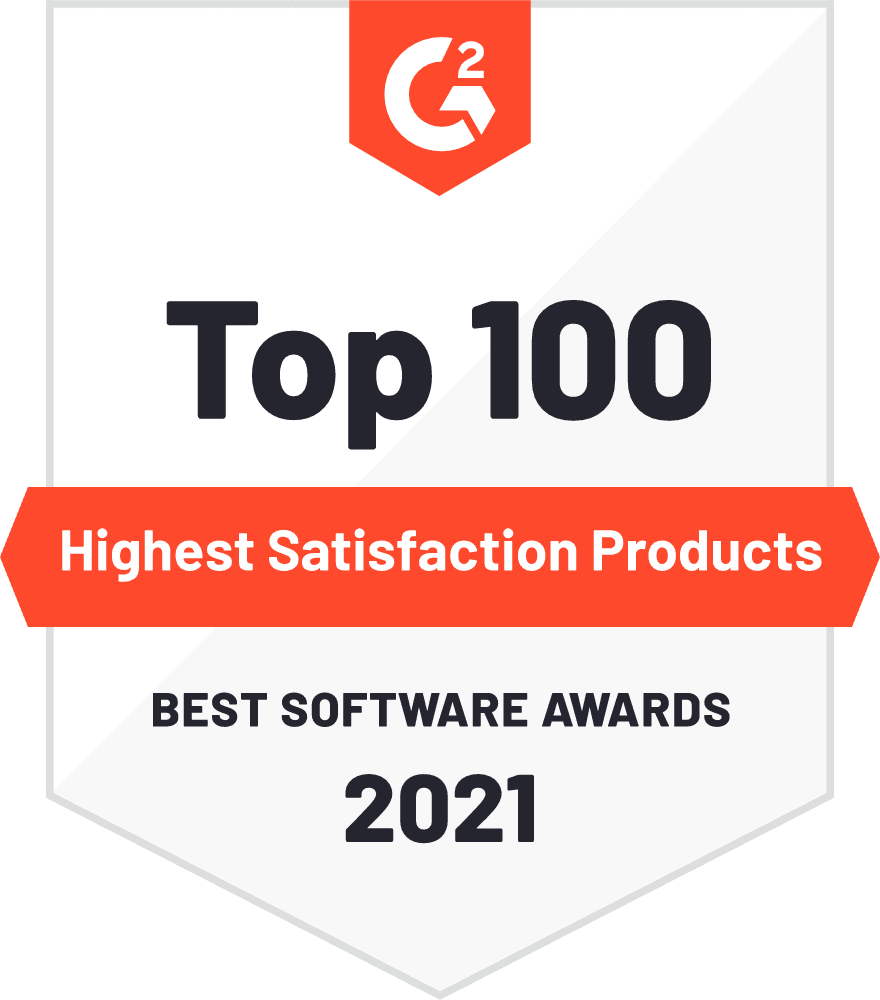 Demo Gong's Sales Engagement Platform Today
See first-hand why Gong is all the rage right now.
FAQ
They Asked (So You Don't Have To)
What is sales engagement software?
Sales engagement software is used by sales professionals to engage prospects and track activity on their accounts across various channels (email, calls, messaging). Sales engagement software also shows sales managers which behaviors are tied to positive outcomes (meetings booked, closed won opportunities, and more) so they can share best practices with their team.
Because sales engagement software monitors activity across the entire deal cycle, it can link in-the-field sales techniques with revenue and opportunity data from CRM, enabling revenue leaders to improve their go-to-market strategy.
What are the benefits of using a sales engagement platform?
Sales engagement platforms deliver three main benefits.
First, they increase rep productivity by allowing them to engage with prospects across multiple channels.
Second, sales engagement tools enable sales managers to monitor activity, surface top-performing behaviors, and replicate best practices.
Third, sales engagement platforms give insights into each step of the deal cycle across to understand your pipeline and fine-tune your go-to-market efforts.
What information about my deals can I access in Gong?
Using Gong's sales pipeline software, you can see all customer touchpoints, by call, email, and web conferencing. You can see scheduled next steps. You can see whether an email has been answered (and who on the buyer side answered it). As well as all CRM data associated with that account.
Calls and emails

Account Status

Opportunities

The sales engagement map

Call details
What data does Gong have that helps me win more deals?
Gong integrates your various sales tools and customer interactions. That means you can stay on top of your deals, see when to take action, prepare for upcoming calls, learn how to get better at your craft, and more! (a lot more!)
Gong can process four main types of data, depending on what's best for your organization:
CRM data
Gong's sales pipeline software connects to your CRM to import the business context of the conversations (accounts, opportunities, leads, contacts) and the people working on them

Gong matches your conversations and emails with the CRM data to enable navigation, search, analysis, and insights
Scheduled video/conference calls
Gong accesses your team's G Suite or Office 365 calendars and picks up your meeting schedule

Gong then joins your conference calls as a participant and records both the audio and video of your conversations

Your calls are stored in Gong and you can listen to or watch them anytime

Gong analyzes and transcribes your calls, and identifies key topics. This means that you can always focus on the conversation and not worry about taking notes!
Telephony calls
Telephony calls are recorded by your telephony system

Gong imports the call recordings using each telephony system's APIs

Your calls are stored in Gong and you can listen to them anytime

Gong analyzes and transcribes your calls, and identifies key topics. This means that you can always focus on the conversation and not worry about taking notes!
Emails
Gong connects your team's G Suite or Office 365 emails, and imports the relevant emails by cross-checking who your prospects are with your CRM data
How does Gong's software help me manage my sales pipeline?
Gong's pipeline management software allows you to review your sales pipeline more accurately and in more detail by using data and insights extracted from your sales calls.
Review recent calls for topics discussed, competitor mentions, objections, and customer questions. Use these insights to inform the next steps required to move the deal forward.

Set up filters to receive alerts on calls that may require attention.
Define granular filters to find calls that match certain criteria spanning call content (keywords, trackers, topics), call dynamics (talk time, longest monologue), Salesforce.com data, and more.
Save useful searches and get notified on calls matching those criteria. For example:

Notify me immediately on deals in negotiation stage where the deal size is over $20,000 and the customer mentions a competitor.

Include in my daily digest all calls where my the prospect talked about a discount.

Include in my weekly digest all calls where my sales team suggested a multi-year deal.
What stats can I get about my team using Gong's sales engagement platform?
Talk Ratio – The average percentage of all the call in which your seller spoke. The recommendation is for no more than 65% of the time.

Longest Monologue – The duration, in minutes, of the longest speech on the seller side. The recommended maximum length is no more than 2m 30s.

Longest Customer's Story – The duration, in minutes, of the longest customer-talking segment. This includes short team member interruptions. The recommended length is between 1 and 2 minutes.

Interactivity – This shows how often the conversation switched back and forth from team member to customer and is on a 0–10 scale. The recommended grade is 5 or more.

Patience – This shows how long the team member waited after the customer completed talking before taking over the conversation. The recommended wait time is between 0.6 and 1 second.

Question Rate – This shows how frequently the team member asked questions during an hour of conversation. It is recommended to ask 18 or more questions.
What can I track using Gong?
Gong uses trackers to let you surface important moments in your customer conversations. A tracker is a collection of words or terms specific to your company, such as competitors or technologies. When you set up a tracker, Gong automatically detects the locations in the calls in which the words or terms appear. Think Google search for sales calls.
Trackers help you know what is going on with your calls. Some trackers are typically set up during your initial onboarding or sales calls. However, as your business changes, so will the items you want to track.
Trackers monitor how your reps talk about important themes, such as product messaging, discovery questions, the competition, etc. Stats for trackers gives you a summary view of tracker use across your team. You can also drill into specific trackers to see how they're used across the team or look at a summary of each rep's tracker mentions across their calls.
Some examples:
Add your new product name to track how many times your Account Executives are discussing it.

Add a competitor's name to see how many times it's mentioned by customers, to help you determine where you stand in the market.
Thank you for your submission.