Come for call recording software. Stay for everything else.
Coach your reps for success and win more deals with call recording software. Gong is a Revenue Intelligence platform that enables sales call recording and automated transcription so you can understand what sets your top performers apart. It works with the communications systems your company uses to capture customer interactions across call and web conferencing. Then it shows you in-depth analytics to build personalized coaching recommendations for every sales rep.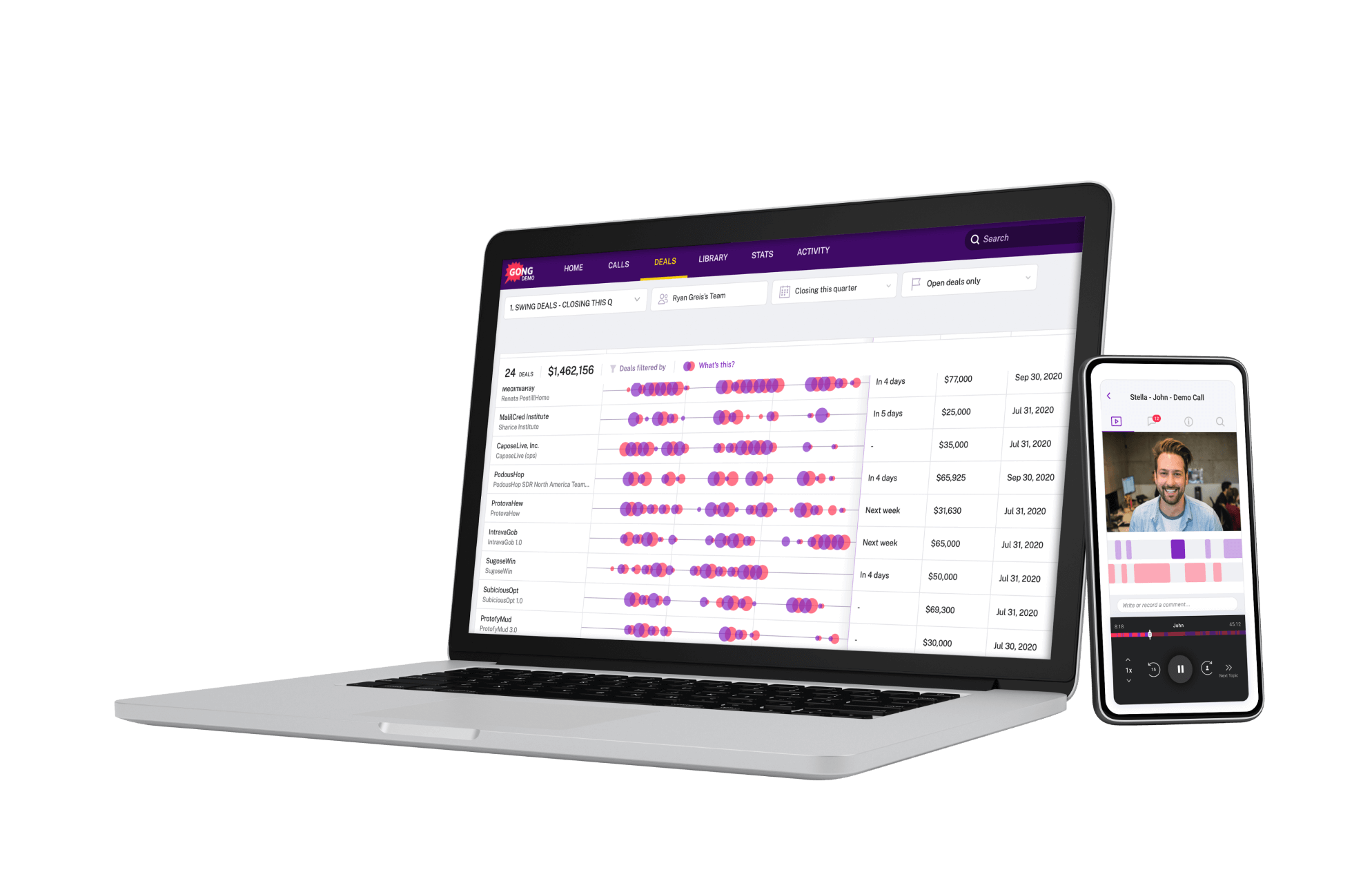 6 Reasons Why You Should Use
Call Recording Software
I asked our customers why they would recommend using Gong for sales call recording. Here's what they had to say:
Reason #1: Reps love it
Yep, you read that right. Reps love Gong. They use call recording software to help them with note-taking in calls, to review their game tape and improve, and to learn from top performers on the team. Michael Jordan rewatched every game. What would happen if your reps did too?
Reason #2: Personalized Coaching
Managers love Gong too. They use Gong's call recording system to proactively identify coaching opportunities in their reps' calls. Each rep has different strengths and opportunities, and Gong's AI pinpoints exactly what each rep needs to do to improve their performance and close more deals. Manager of the year over here?
Reason #3: Total Visibility
Gong's sales call recording software captures all of your customer-facing interactions on web conferencing, VOIP, phone, in-person meetings and email. That means that you get to validate with a third party – the customer – that your deals are where reps say they are. Gong is a truth serum for your pipeline.
Reason #4: Market Insights
What are customers saying? Which competitors are beating you and why? How are they reacting to new pricing, messaging, or feature rollout? The answer is in the conversations. Gong uses AI to turn your sales call recordings into a goldmine of actionable insights and helps you double down where it works.
Reason #5: Company-Wide
Sales call recordings can be shared to anyone in your team. Marketing for messaging. Product for feedback. CS for handoffs. That way, your company can put the customer front and center and create raving fans.
Reason #6: Faster Onboarding
Reduce ramp time by using call recording software to onboard new reps. That means faster quota attainment. Better retention rates. No more call shadowing. And backing mock call training with genuine calls. It's like training new reps using real life conversations with actual customers.
Why Use Gong for Call Recording?
Gong's call recording software just works. Whichever web conferencing platform or VOIP system you use for calls, whichever CRM software (Salesforce and more) your team relies on to track sales: Gong integrates with it.
Gong also transcribes your sales call recordings. That way you can search through calls and highlight specific parts of the conversation that matter to you. It's like Google search, but for your sales calls.
Gong's AI beats the competition. That means you'll be able to turn sales call recordings into actionable insights without lifting a finger. Pretty cool, huh?
But don't just take our word for it. Gong is rated #1 for call recording software on G2 Crowd by 2,000+ users.
You have questions. We have answers.
Question #1
How do I set up call recording in Gong?
Gong uses team members' calendars to identify calls that need to be recorded. To do so, Gong requires integration with your company's Office 365 or G Suite. It takes less than 2 hours to connect Gong to all your company's systems, and it's all automatic from there. No further action needed (and no forgetting to hit record).
Question #2
Which calls does Gong record?
Gong provides customizable options for defining which web conferences it records. Gong will record a web conference based on your customizations, and any changes you make in the web conferencing software.
Question #3
How can a team member stop recording a call?
When a recorded team member connects to a call, they will see the Gong recorder as a participant. The team member can simply remove Gong from the call to prevent it from being recorded.
Question #4
Is Gong's call recording software compliant with our privacy policy?
Compliance is a big deal. Whether it be data retention or recording consent - we've got your back. You can review our security certifications here.
Some countries and US states require that both parties on a call must be notified that the call is being recorded. As a best practice, we recommend including this notification regardless of the call participants' locations.
Here's how Gong helps you:
A personalized consent page hosted by Gong for obtaining recording consent. Team members send invitees the link to this page instead of the conferencing provider's link. After invitees consent to be recorded, they are directed to the meeting.
Use our calendar add-on! Install the Gong for Google Calendar add-on domain-wide or per individual to easily schedule meetings using the consent page in the native calendar app.
Audio prompt. Participants hear the prompt when they join the call, telling them that the call is being recorded.
Pre-call emails. Participants can receive an email 10 minutes ahead of the scheduled call reminding them of the call and that it's recorded.
With Gong, you can set your compliance settings to meet your local and company requirements. We've got you covered.
Question #5
Does Gong's call recording software integrate with my tools?
Gong integrates with all the pieces of your sales team's tech stack (CRM software, web conferencing software, diallers, VOIP, email). These include: Salesforce, Hubspot, Zoom, Cisco Webex, and more. Click here to view our full list of integrations.
Question #6
How does Gong's Salesforce integration work?
Gong for Salesforce allows customers to push key data fields from Gong into Salesforce. These data fields include:
Call participants
Topics
Trackers
Rep stats (talk ratio, longest monologue, etc)
These data fields are tied to Salesforce accounts, contacts, leads, and opportunities so customers can correlate Salesforce data with conversation data.
Our app also includes 9 out-of-the box reports and 2 dashboards to showcase what's possible and get customers started down this path. Examples include:
Early stage opportunities where pricing was mentioned on a call so managers can coach their reps appropriately
Pipeline Analysis Dashboard: competitive opportunities closing this quarter, late-stage opportunities without pricing mentions
Competitive Analysis Dashboard: includes win rate per quarter for competitive opportunities, dollar value of competitive opportunities that were closed-won
Get Answers to Your Questions
Book a demo and learn how Gong can help your sales team win more deals.
They Swear By
Revenue Intelligence
We didn't ask them to say this, btw.
"Revenue Intelligence, as I understand it, is the ability for you to really get down to the real detail on what works and doesn't work from an individual sales rep, so that you can have a strong understanding and foundation. How do both build a repeatable business and a predictable one? And that's what everybody's looking for. That when they're thinking about hiring more and more salespeople is like, what do I get out of the next salesperson that I hire? And can I assure leadership and the board that we can continue to get that same level of results as 5x --10x the organization. And what Gong allows us to do is have a lot of confidence that what we're telling reps to do is actually proven in the actual conversation with customers."
Armen Zildjian
VP Sales, Drift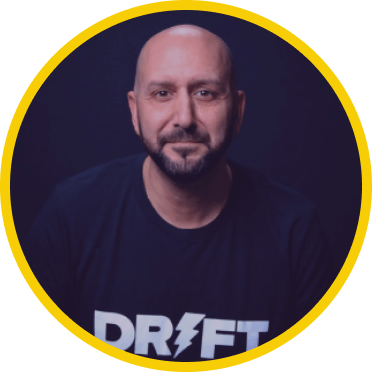 They Made Us Blush
They used conversation intelligence. And upgraded to Revenue Intelligence.
I have used call recording software before, but the transcript is a game changer.
It's the best call recording software on the market, in my opinion. I've tried a few and none have the search functionality, topic analysis, and ease-of-use that this tool does.
While I believe most sales reps will agree that call recordings are incredibly valuable to have at your fingertips for review, Gong goes beyond just recording. It provides fantastic searchability to find the spot I need to review quickly, monitors my tendencies for talk ratio, etc. over time to help me improve, and allows for easy sharing with prospects as well as internal teammates and managers.
Gong provides crystal clear sales call recording and analysis, and even offers suggestions based on AI analysis of best practices. If you want accurate insight into improvements on calls, or just an easy way to keep track of your recent meetings look no further, there's no competition between Gong and other tools. Not to mention that but the Gong team are the very best in the business.