Up Your Reps' Game
Gong is used by the world's best sales teams to improve their sales calls and win more deals.
Discover the Killer Pitch that Seals the Deal
If you could coach on every call, your team would surely close more deals… but you can't.
Gong provides you with X-Ray vision into your sales calls, so you don't have to be on every call.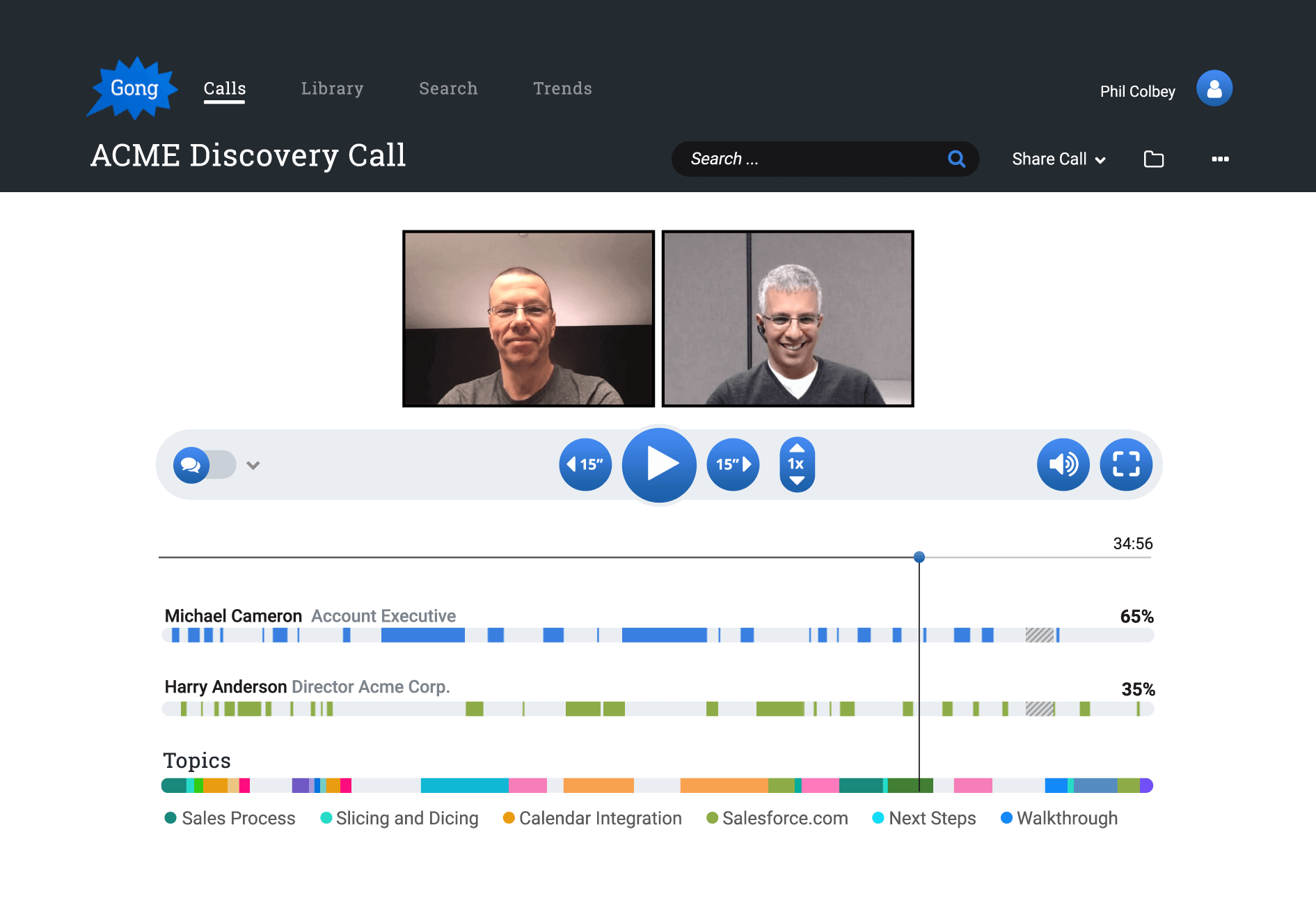 Flip it On and Watch the Magic Happen
Gong helps sales reps coach themselves and each other, systematically improving their pitch and winning more deals.
Set it up in 5 minutes. No process change required.
Self Coaching
Sales reps listen to instant replays of their own calls and get automated feedback for improvement
Peer Coaching
Sales reps share calls and save them to libraries of their best and worst plays for new rep training
Team Leader
Gets daily team call digest to inbox, listens to selected calls at double-speed, and comments on them
VP Sales
Gets actionable analytics on team's calls and can easily hone into critical call segments by topic or opportunity outcome

Gong has helped us identify dozens of sales coaching and development opportunities to help us deliver better experiences for our buyers. It is now at the top of our sales stack.

Chris Hardeman
VP of Sales

Every rep we deployed Gong to saw a marked increase in performance within 45 days. My reps now pitch and sell sharper.


Gong gives our sales reps an edge on their ability to learn their pitch faster. Our AEs listen to themselves after calls. This is a great way to train yourself.

Brittany Caulfield
Vice President of Sales

I've been able to change the trajectory of deals to a win just by using Gong to listen in on calls. I do this at my convenience, even during my daily commute to work.

Marc Medrano
Vice President, Global Enterprise Sales

Gong helps us with messaging, positioning, and objection-handling. It creates an immediate feedback loop for our 1-on-1's and helps sales reps get up to speed.

Jon Parisi
Senior Director, Enterprise Sales

Gong made us understand which topics are being discussed and which competitors are being mentioned. Using Gong as a coaching platform is really helping us grow.

Jake Holt
Director of Sales

I used Gong for my own ramp-up, listening to calls, learning the product faster, and closing my first deal faster. I now use Gong to listen to my own calls to learn and improve from one call to the next.
Michaela Brady-Hunter
Account Executive

Thanks to Gong, I have been able to consistently shorten sales cycles. Since my prospects can now review our solution's functionality using Gong's simple user interface on their own time, I can focus on other critical parts of the sales process.

Michael Quinlan
Account Executive

Gong.io is the most important tool that can actually impact the performance of our sales team. We can drill down on moments with individual clients and also understand across all sales calls how often important keywords come up. If you're not using Gong, you can't truly understand where improvements on sales calls live.
Bob Sherriff
Director of Innovation








How it Works
Gong automatically records all your sales calls on your favorite conferencing platform like GoToMeeting, WebEx, Zoom, or Join Me. Gong's artificial intelligence engine transcribes the call and analyzes it to discover the good, the bad, and the ugly in each call. This empowers your team to constantly improve its pitch and win more deals with zero process changes.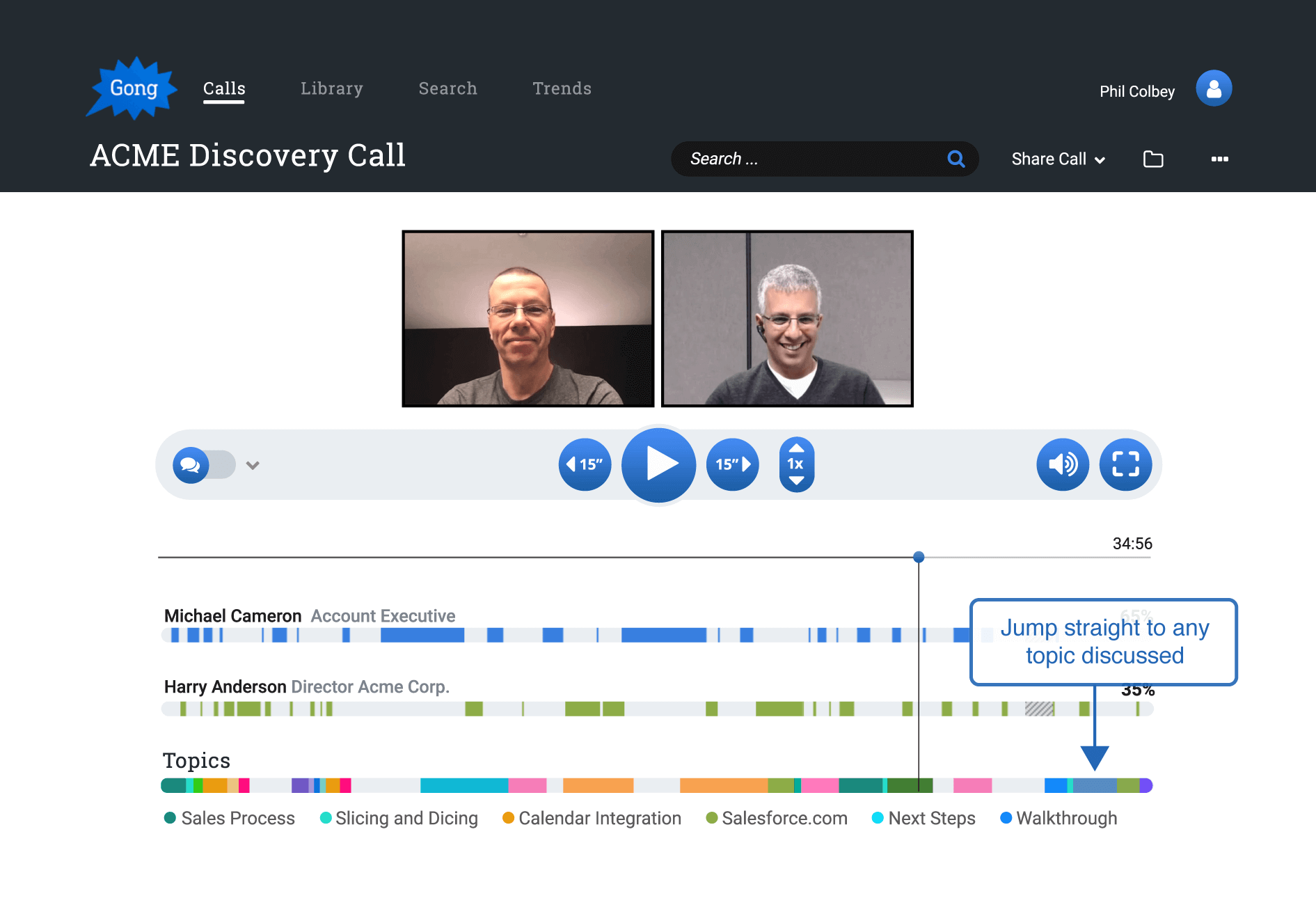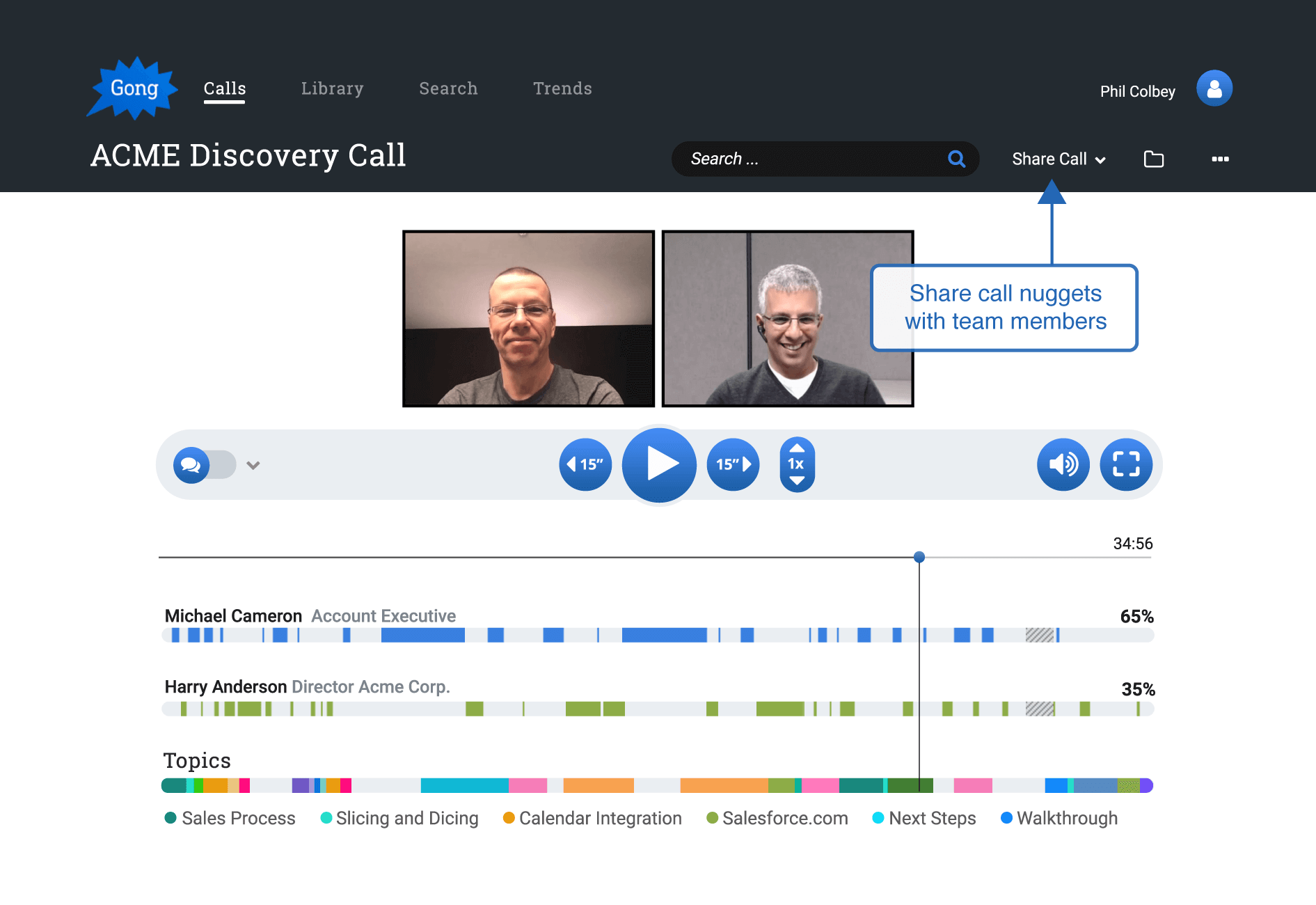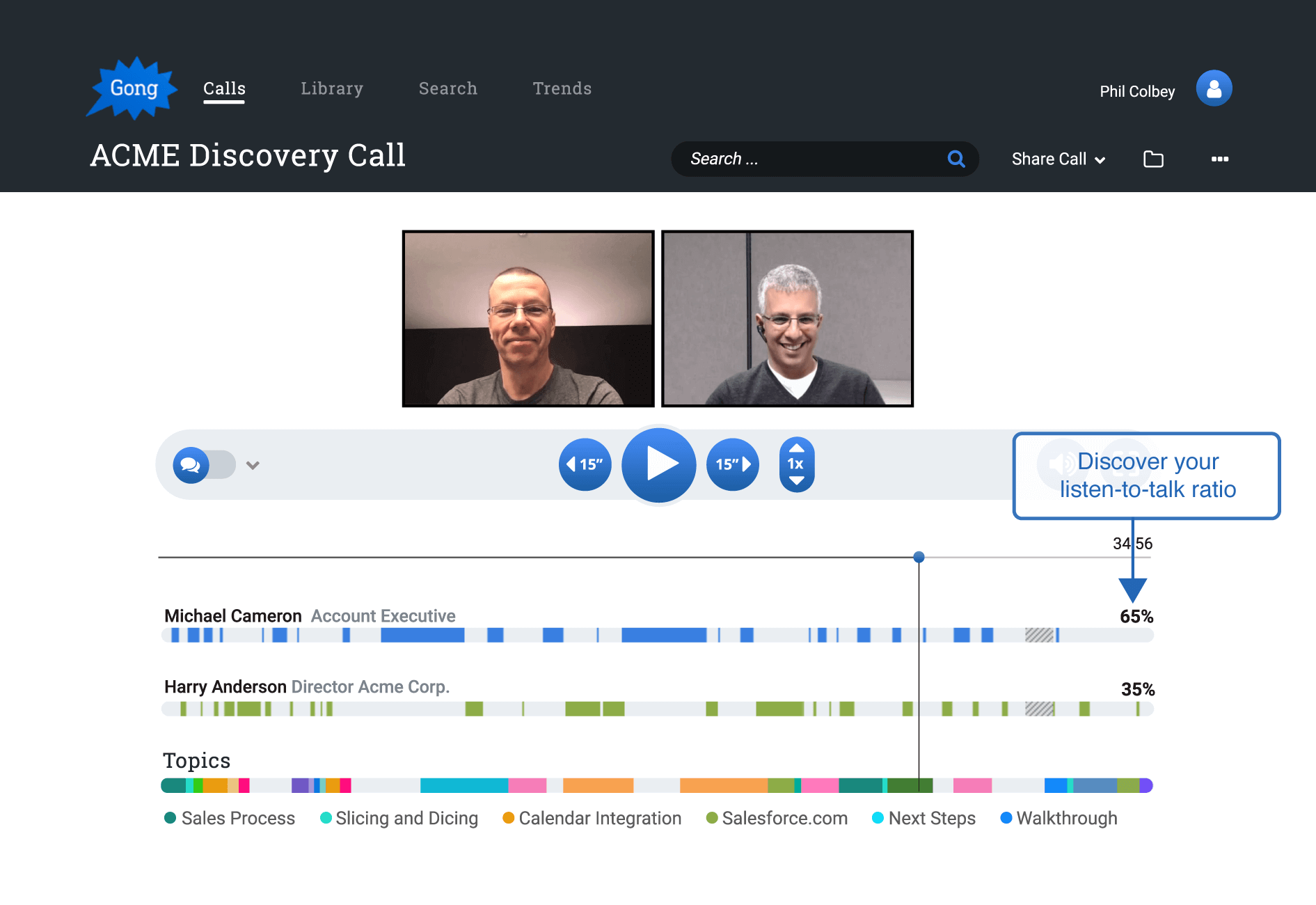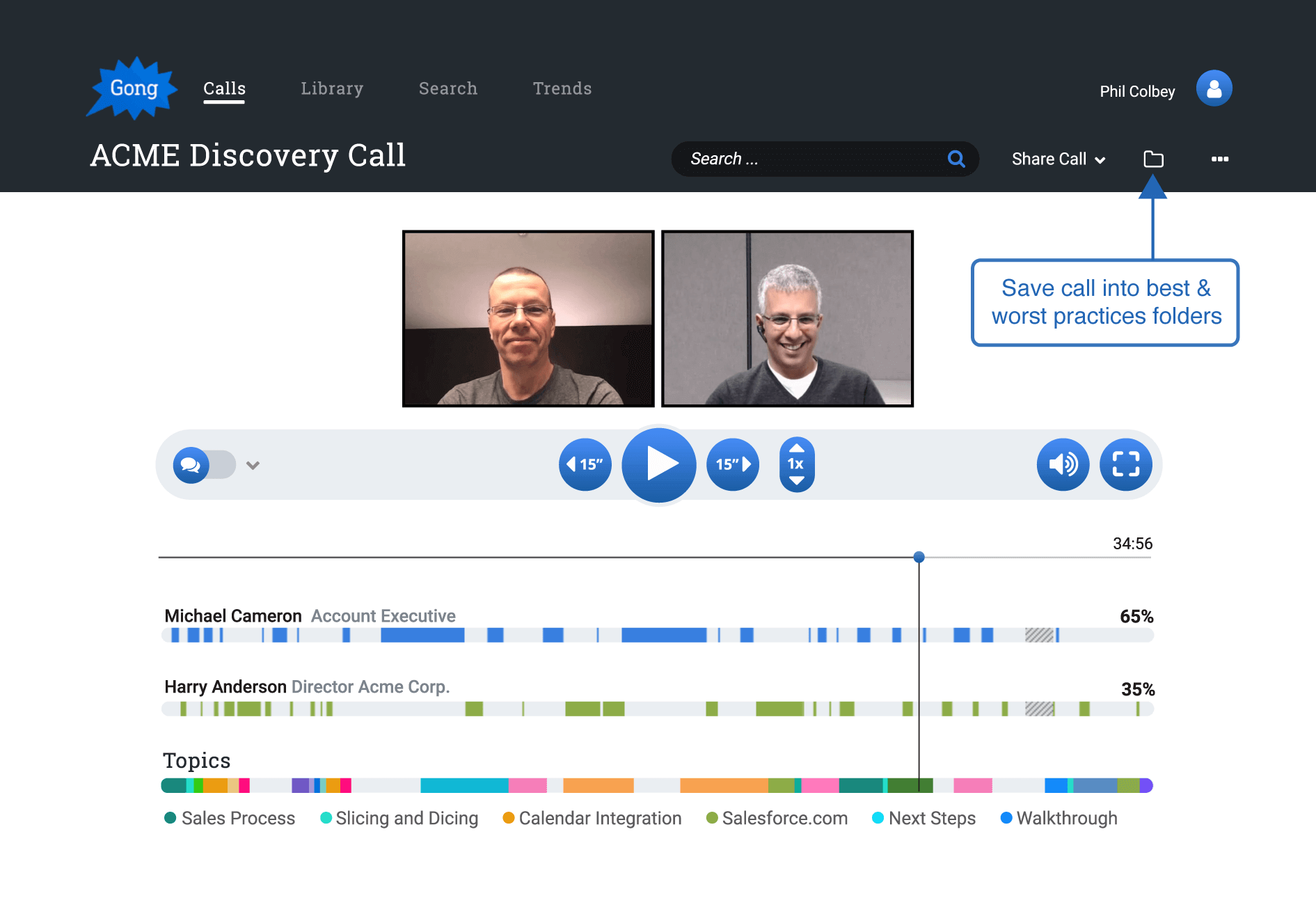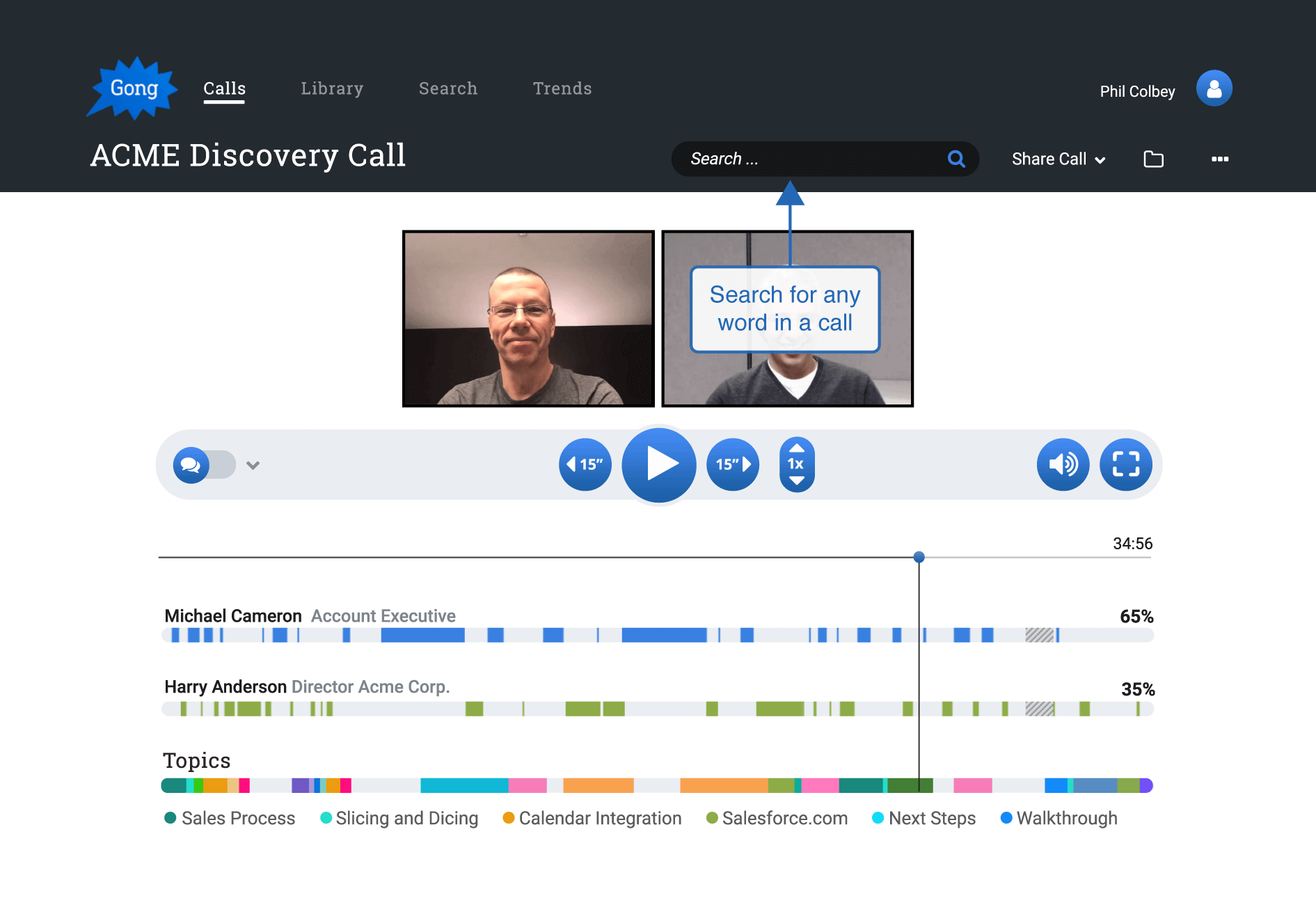 Featured on