How SoftServe Used Gong to Adapt and Align Their Teams
The challenge
Without easily sufaceable data, SoftServe's operations weren't as effective as they needed them to be. With teams based in Ukraine, also meant working in especially challenging circumstances meaning productivity was more important than ever.
The outcome
By using Gong SoftServe was able to confirm their own suspicions around delivery gaps and sales productivity. Having easily accessible data to support their decision-making led to strategic hiring, better coaching, and more informed senior leaders in tune with the real-time voice of the customer.
Gong helps us understand reality because it gives us real-time visibility into our customers.
Chris Cassarino
AVP, Global Lead of Business Development
So often in business you don't know what you don't know—and those gaps can hurt you. Knowledge is power for RevOps and Enablement teams across industries because the more information at your fingertips the better you can drive alignment and engagement to meet your business objectives.
SoftServe is a digital consulting company that transforms and optimizes the way enterprises and software companies do business. Chris Cassarino, Associate Vice President and Global Lead of Business Development, was interested in making their intricate sales process more seamless and needed Gong's help to do it. "We have a very complex, collaborative team selling environment," he says. "Gong helped us not only see gaps but also gave proof to support our direction."
Here are three ways Gong helped SoftServe save time, increase productivity, and unlock the reality of their day-to-day operations so they could be optimized.
Finding alignment across teams
A problem Cassarino noted early was a lack of team alignment that was leading to gaps between services—he just couldn't prove it with numbers. From pre-sales, to sales, to delivery, ineffective meetings caused miscommunications that required solutions.
"That knowledge allowed enablement to pivot with one of our associates and put them into a full-time delivery enablement role," says Cassarino. "They are solely responsible for identifying gaps within the delivery teams and prescribing solutions such as training and coaching. Without Gong, we probably would have not seen that."
Prior to using Gong, it was impossible to uncover the kind of data that would lead to this kind of restructuring. With more data at their disposal, SoftServe was able to justify the creation of the new role both strategically and financially.
"Gong gives us a lot of insights in real-time—the challenges associates are facing, both on an individual level to prescribe real-time coaching, but also at a macro level to see the trends across the entire sales team," says Cassarino.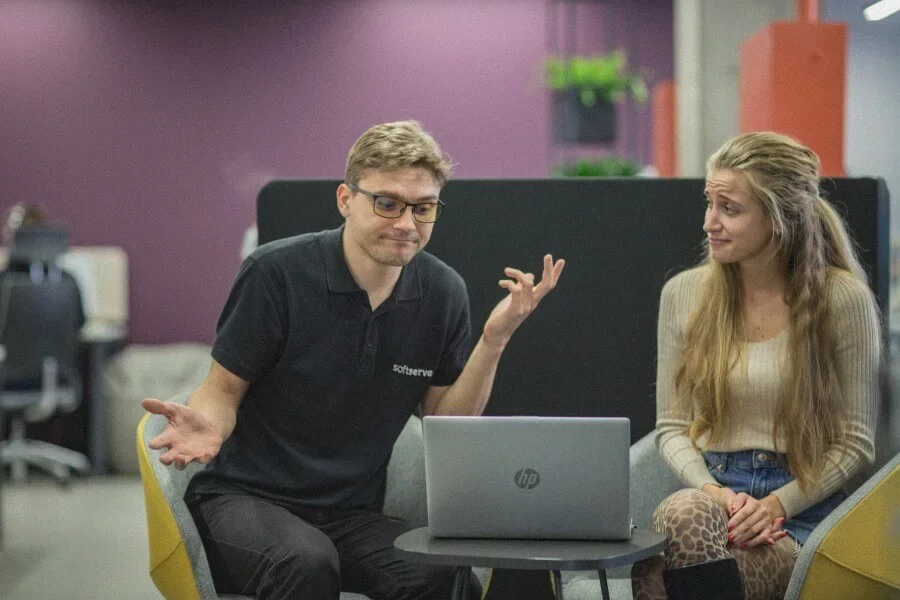 Helping your people stay productive
Because SoftServe has teams based in Ukraine, they've unfortunately been saddled with the task of doing more with less. Luckily, tools like Gong serve the purpose of surfacing the information necessary to be successful in less time.
"We're focused on getting more productivity out of our existing base, so we're doing a lot of analysis on what we call breadth of participation: the amount of salespeople that book a deal versus don't book a deal," says Cassarino. Insights into team performance have helped SoftServe scale that productivity by adding support where it's needed.
"That's why we've re-branded our department from Sales to Business Enablement. Anything that's revenue-generating, anyone that is customer-facing is within our purview now," he says.
One of the productivity solutions Gong and the Enablement team have provided is a series of trend reports for everyone from new hires to VPs. "In the past, they'd have to attend calls, they'd have to listen in," says Cassarino. "Gong gives us the opportunity to quickly survey all the calls for a new hire, and say, here's the trends we're seeing both from a positive as well as a constructive standpoint. Then we feed that same information back to the sales VPs to take immediate strategic action."
Doing some of the legwork and synthesizing this information for their teammates saves precious time and lets the sales team get back to selling. And if they want to hear it for themselves, calls are just one click away. "Gong allows you to quickly dial in for those meetings that you wish you could have been at," says Cassarino.
"It also gives you the opportunity to see reality versus perception—it's real-time actual data versus perception of what's real."
Optimizing in advance, adapting on the fly
Having a better grip on reality helps the SoftServe team in more ways than one. Access to the real voice of the customer helps them determine the needs that need their immediate attention. "In so many ways Gong helps us really understand reality because it gives us real-time visibility into our customers," says Cassarino. "It tells us exactly what they're feeling, what their concerns are, and allows us to pivot based on those conversations."
If you're able to pivot based on a noticeable pattern, you're not waiting for things to get worse before you make them better. Real-time insights enable SoftServe to optimize as they go, instead of doing damage control. It also gives leadership a view into the associate experience so they can better coach and support their teams, as well as have a bird's eye view over the entire company's deals.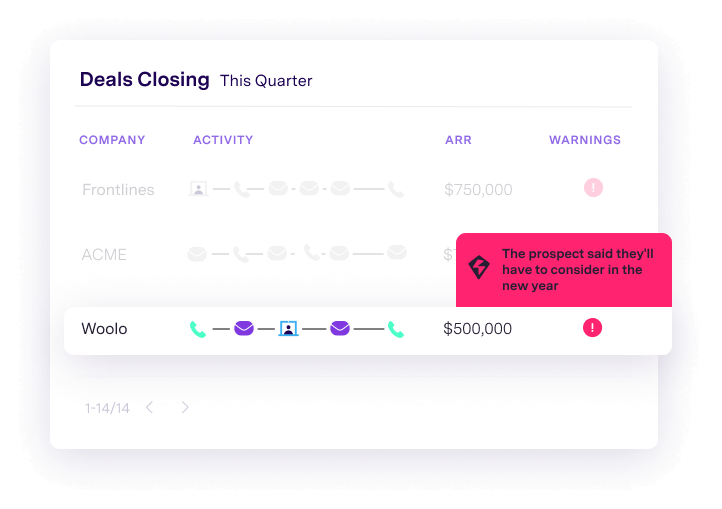 "For Sales, there's nothing like that deals page," says Cassarino. "The user interface and the user experience of going to the dealboard and quickly seeing where their deals are, the warnings, the activity—it's so much quicker than using a CRM."
If you want to be able to pivot with ease, the data needs to be where you need it when you need it. "Often many people forecast on an Excel sheet," says Cassarino. "Gong allows us to have a very quick and clean way to look at deal validity, deal accuracy, and more."
There's often a gap between what we think is going on in our businesses and what's actually happening. SoftServe, despite the challenging circumstances they're overcoming, are taking a successful team and giving them the tools they need to bring their goals and ambitions to life. Gong helped them make their objectives their reality.
Have questions or want a custom demo?
We're here to help! Click the button below and we'll be in touch.
Request demo