How Gong Helped Proposify Cut Their Sales Cycle In Half
25%
decrease in time spent forecasting
7%
increase in close rates
The challenge
Information about deals was scattered across multiple platforms, like Salesforce, Gmail, and Chorus. Without having a clear picture of a deal in one simple view, Proposify's team couldn't get on the same page when it came to forecasting, resulting in unpredictable monthly numbers and poor revenue alignment.
The outcome
The Gong platform gave sales reps not only a single view of all their deals but also provided Proposify the structure to better train their staff on how to forecast well which resulted in 25% less time their team spent on forecasting. With a clear understanding of how to call their numbers and all the data available in one easy dashboard, executive alignment increased, sales cycles were cut in half, and close rates went up 7%.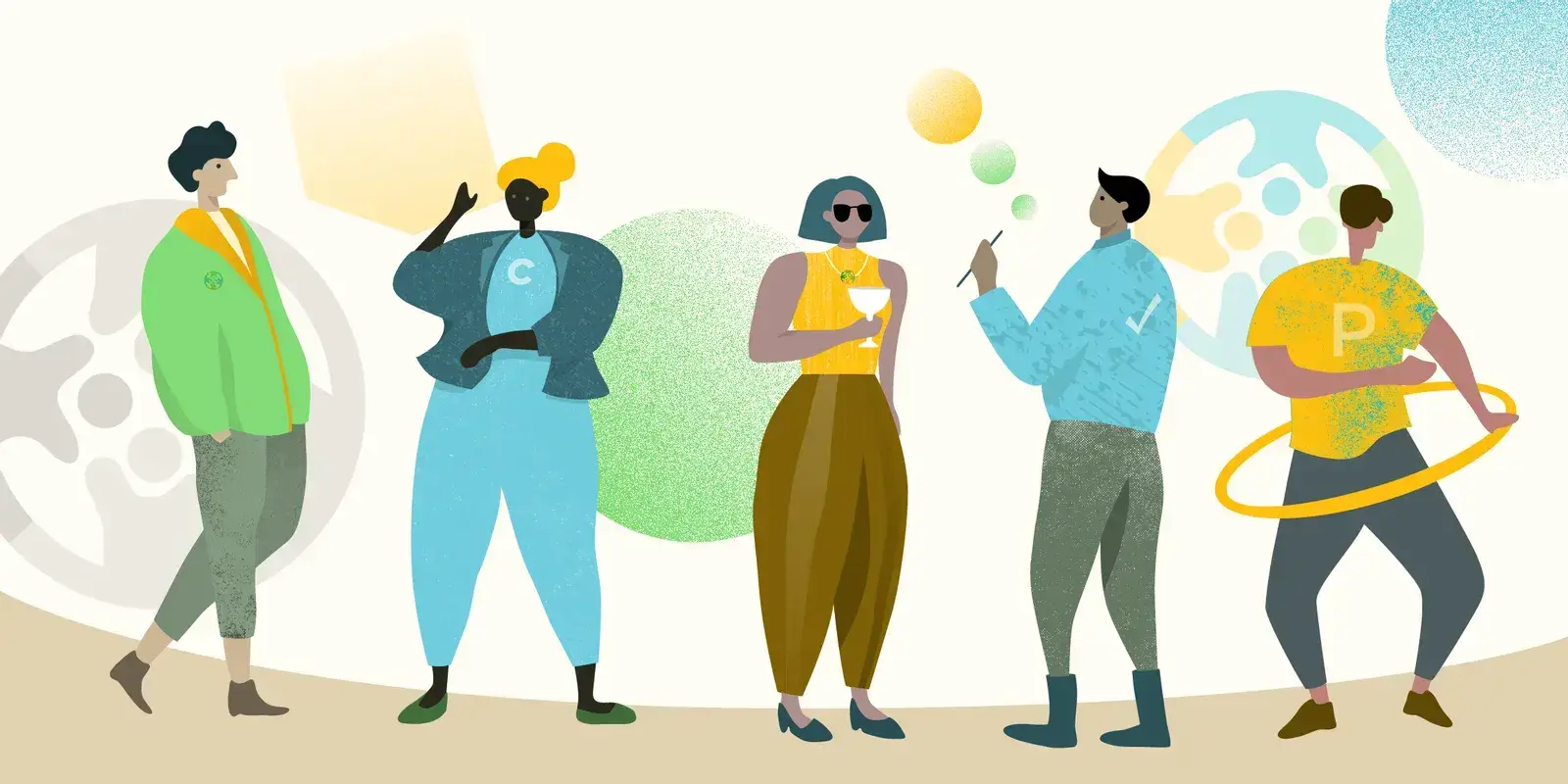 Headquarters
Halifax, Canada
Industry
Technology, Information and Internet
Gong Forecast is so easy to use with everything in one view because as you click into a particular category, you can access all the deals that will roll up to make your number," says Tower. "You can take a couple of minutes to figure out where everything's at rather than digging through multiple sources.
Scott Tower
Manager of Customer Growth
Everything you need, in one place
Being able to accurately forecast your deals can make or break your sales cycle, and those accurate forecasts rely on having all the relevant data accessible to your team. When information is scattered rather than integrated it not only slows down the sales process but paints a less-than-obvious narrative about each opportunity.
Proposify's Scott Tower is the proposal software company's manager of customer growth. Working with the frontline sales team, he knows how important a bird's-eye-view of a deal can be. Before adopting Gong, his team often made decisions based on their gut feelings about a deal, rather than the reality of hard numbers. This made forecasts a shot in the dark.
"When we started using Gong's dealboard and Gong Forecast we were able to clear up that question of 'how are you feeling about the pipeline?' because we had a really clear view into each opportunity," says Tower. "With Gong, our response was based on facts and reality." Gong helped Proposify cut their sales cycle by 2.5 weeks and increase their close rate from 23% to 30%.
When you provide your team with the platform they need to do their best work, the sky's the limit on your own company's growth.
Guiding reps to the next level
"When we heard about deal boards, it was a no-brainer for us to move away from Chorus and start using Gong." -Scott Tower, Manager of Customer Growth, Proposify
Proposify moved to Gong to help with their deal execution and forecasting, but adopting the platform also served unexpectedly as a chance to improve coaching methods. "At first we thought we could solve our challenge with software alone, but it didn't really fix the root cause for us," says Tower. "The real root cause was we never really taught our reps how to properly forecast."
Previously, Proposify was using recording software Chorus to help managers coach reps' calls, which required them to seek out information from multiple sources. Finding and cross-referencing data between Chorus, Salesforce, and Proposify made it more difficult to improve those calls and it kept the call and forecast coaching separate. This lack of focused training was clear to Tower: "As a result, there was no accountability and we were constantly off-forecast."
With the Gong platform and integrated tech stack, all those insights were available in one place. When integration is seamless, there's less time wasted seeking out the context you need to make good decisions—everything is right where you need it.
Once they started using Gong Forecast they saw they had very vague definitions around their forecast categories, and that sales reps were having trouble getting on the same page. Accessible data helped them reinforce training and center it on the core challenges their team faced. "As we got more data from Gong, you could see on your team who is a bullish forecaster and who's maybe a little too conservative."
Seeing all your data in one place ensures managers are coaching from the same playbook, and the path forward is clear.
Seeing the whole deal, from start to finish
In the first month of using Gong Forecast, Proposify leaders were able to jump in and start calling the numbers with greater accuracy and ease than ever before. "We were dedicated to making Gong the one source of truth. Every time we talked about pipeline, we referred to Gong," says Tower. "It was awesome to see the traction so quickly."
Part of why adoption was quick and widespread was the ability to see an entire deal and its data in one place. Because Gong integrates with multiple platforms, reps get one dashboard view for all the interactions across an opportunity, leading to massive results.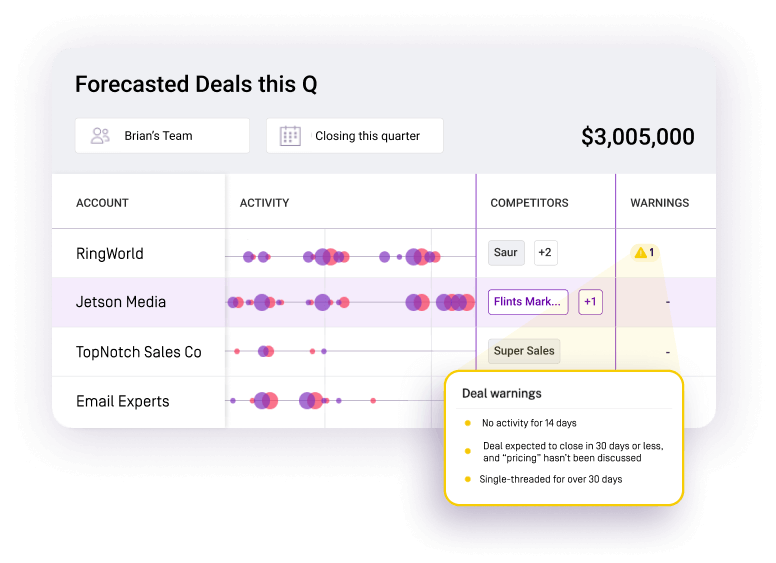 Users can also zoom in on a deal even further. "Rather than having to go into our software to see the activity on a proposal that's out, we have that information pulling right into Gong," says Tower. "I can click a little further into the activity feed of a particular deal and see all the back-and-forth there from the same forecast view."
By taking the guesswork out of a deal reps could go straight to the facts and within minutes know exactly where they stood on any given opportunity. The reports are so predictable and accurate that Proposify's CRO relies on Gong's platform in his weekly company-wide updates.
Using the information to forecast better and faster
"I like to think the best forecasts are predictions of the future and it's data like this that can really help sellers, managers, and leaders more effectively forecast," says Tower. Being able to see all the changes in the pipeline meant more accurate forecasts, which meant noticing obstacles and accelerators right away, and either pivoting or doubling down on strategy.
With a more educated workforce comes confidence, which results in better numbers. "When I think of forecasting specifically, we've got more accountability for our reps now," says Tower. More confident reps also pace towards their targets with intention
This aligns the whole organization, which saves everyone time and money. "Gong Forecast has really been adopted across the organization, not just at the rep level but also with frontline managers and leadership as well," says Tower. "I think the first thing our VP of Marketing said was, 'That was the best forecasting meeting we've ever had.'"
For Proposify, the business impact of adopting Gong to help train and support their sales reps through forecasting has been radical. The single view of a deal from top to bottom has reduced the time required for a team to review pipeline by 25%, and reps know clearly what numbers they're working towards from the start.
"Since adopting Gong, as a company, we have way better alignment on our revenue in general," says Tower. "And we're spending less time achieving it all, which is a great thing."
Have questions or want a custom demo?
We're here to help! Click the button below and we'll be in touch.
Request demo