Uplevel Reps With Data-Driven Sales Training Software
Improve rep performance, onboard new hires faster, and build a team of A-players with sales training software from Gong. Gong is a Revenue Intelligence platform that enables remote sales training and coaching. It analyzes your team's call recordings with AI to understand what your sales team is doing right and what they could do better so you can win more deals.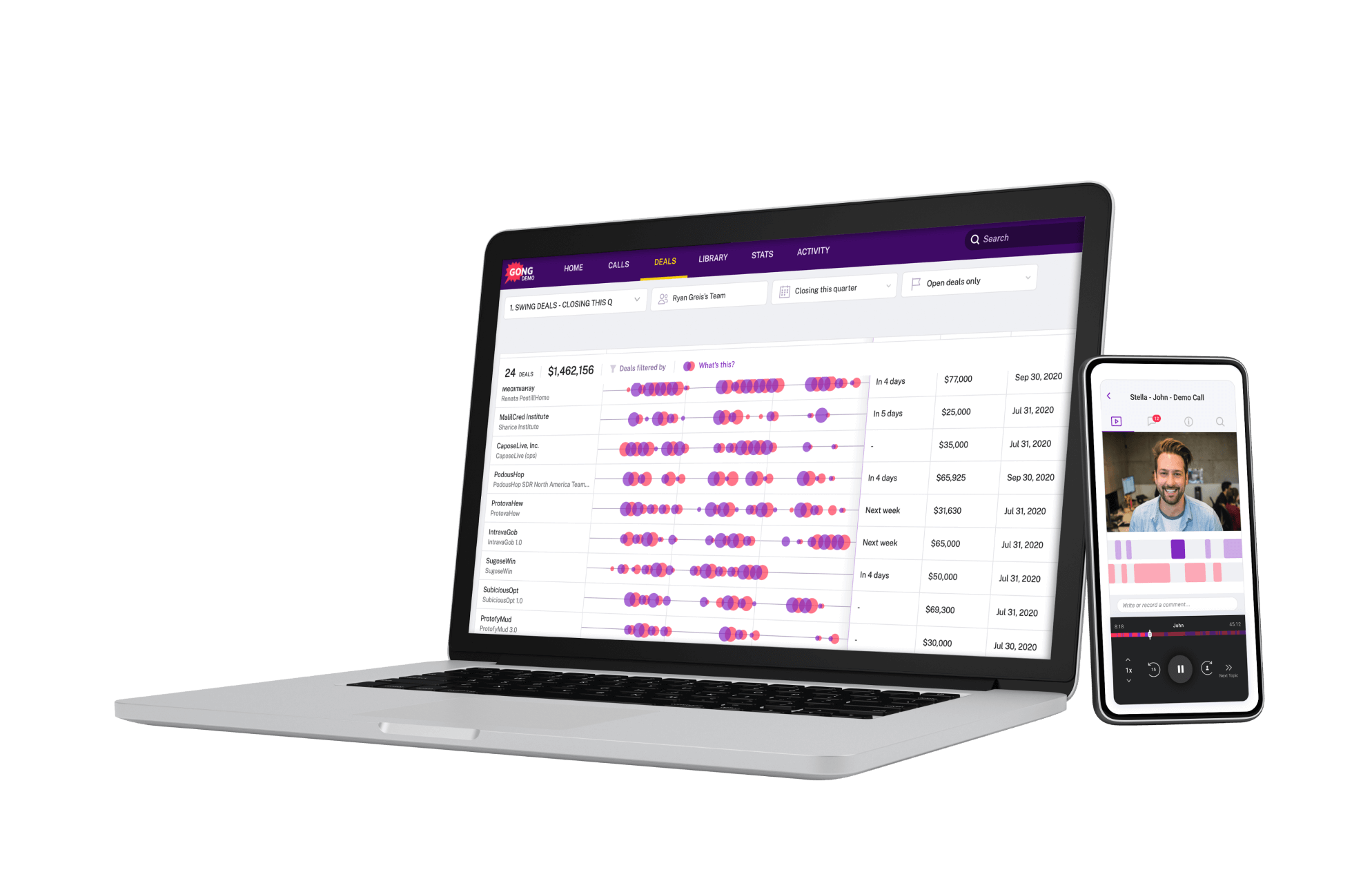 Why Pick Gong As Your Sales Coaching Tool?
Gong analyzes your sales team's conversations with AI. It shows you what your best reps are doing, identifies areas of improvement for each rep, and allows you to track their progress week over week. 
Gong also alerts you proactively of behaviors you want to monitor: Competitor mention? Pricing objection? New talk track adoption? With Gong, you have the tools to skyrocket rep success and win more deals.
Gong's sales coaching software lets reps listen, learn, and replicate behavior from top reps in your organization. It gives them the opportunity to shadow every call from your A-players, then replicate their winning behaviors. Self-service sales training, anyone?
But don't just take our word for it. Gong is rated #1 for call recording software on G2 Crowd by over 2,000 users.
How It Works
It's wildly simple. Here's the wizardry that goes into making Gong the top-rated software for sales coaching:
Gong records your team's sales calls and analyzes them using AI.

Gong lets you measure soft skills (talk ratio, questions, customer monologues) so you can coach with data, not opinions.

Gong notifies you when specific words or phrases come up in conversation so you can course-correct on active deals.

Gong stores all your team's best-practices and makes it easy to listen to your team's top calls.
More Than Sales Training Software
But wait, there's more! Gong is the #1 Revenue Intelligence platform. Unlike other sales coaching tools, Gong uses AI to give you total visibility into your team, your deals, and your market.
Revenue Intelligence is the new way of operating based on customer reality instead of opinions. Here's what that means for you:
People Intelligence
Understand what top performers are doing and replicate their winning playbook for your entire team.
Deal Intelligence
Like a truth serum for your pipeline. See what's really going on, so you can stop deals from going dark and keep them on a path to closed-won.
Market Intelligence
Gain insights into your market, straight from the mouth of customers. Win an unfair share of your market by selling what they are buying.
Question? Answer:
How does Gong help sales managers deliver relevant coaching at scale?
Gong opens a window into all the calls it records and analyzes for your teams, letting your coaches and managers provide relevant guidance without intruding on every call. Reps, managers, and coaches can review calls together, hearing exactly what was said without relying on anecdotes or memory. They can also review the call's dynamics, how they conducted it (e.g., talk time, interactivity), call content, and what was discussed on the call. All of that will help them pinpoint issues that require coaching.
Here are some actions you can take to focus your coaching using Gong:
Encourage reps to tag their managers using @mentions in the Comments for feedback and guidance. An automatic notification will go to the manager so they can see the queue of calls waiting for coaching.

Create call library folders that correspond to skills and common areas that require improvement in your team. Organize relevant call samples in the library and note key ways to improve relevant skills.

Get alerts based on filters you set up in Gong Stats. Filters can include content (keywords, trackers, topics), call dynamics (talk time, longest monologue), and CRM data.

Save useful searches and flag the corresponding calls. For example, you could look for:

Calls on which reps talked more than 75% of the time, or for more than five minutes without pausing for the customer to speak.

Discovery and demo calls in which next steps weren't discussed.

Data about a sales rep's performance over time. You can track and compare frequently used KPIs for each team member and watch how coaching affects those KPIs over time.

Leverage call recordings in your one-on-ones. 

Uplevel your entire team by embedding team-wide call reviews into your weekly team meeting.

Get transparency into the most important deals in your pipeline: 

Competitive conversations

Conversations in problematic stages of the sales process

Conversations that happen with key accounts

Other deal-defining conversations during the sales process, such as late-stage pricing discussions
How does AI help me become a better coach?
It answers the unknowns. What do your top performers say, for example, on discovery talk tracks compared to their teammates who struggle to achieve quota? What do they do differently during negotiations?
Gong's AI answers those questions for you. It ranks your team and analyzes their talk tracks, showing you significant differences between what your top performers and the rest of your team say. And it goes one (amazing) step further. It takes that information and gives you personalized coaching recommendations for each team member. It's as simple as this:
Start by choosing which teams you want to analyze. Pick teams that sell the same product and have similar sales pitches, so you compare apples to apples. Then select an analysis period that includes enough calls but excludes obsolete sales methods and messaging.

Next, decide whether to include new hires in the analysis. They can skew your outcomes if you have quite a few of them, but including them also gives you a realistic picture of what's happening on the ground. 

The final step is ranking your team. Whisper™ uses CRM data to rank your team members' performances over the preset time period and according to any specific criteria you chose. For instance: in the new business mid-market team, which talk track has the higher rate of success, or biggest deal size, or deal cycle length. .

How can I build a custom training program for my reps with Gong?
Gong's software also lets you build and manage targeted coaching plans. They're going to help you track and measure the impact of your coaching, so you can scale what works.
We're not talking about general plans and metrics that roll on for ages. These are focused coaching plans that focus on one or two topics or skills. You run each plan for three to six weeks, depending on its complexity, and by the end of it, you know exactly what works … and how well. Use that information to inform future initiatives and coaching strategies.
Want to focus on a particular skill, talk track, or behavior? Here's how to put a coaching plan into place:
Select criteria that relate to a skill, talk track, or behavior you want to target.

Use that criteria to create Trackers in Gong for keywords and phrases you'd like to monitor.

Identify the sets of conversations you're tracking by creating Call Categories using Trackers, CRM and interaction data, and other criteria.

Use Call Categories to filter Gong Stats. This lets you track coaching activity and the impact of coaching on your reps' conversations (cold calls, discovery, demo, etc).

Create Scorecards to track the impact of your coaching plans, especially for things that are difficult to quantify in Gong Stats, such as building rapport. (That one's nebulous, but

critical

.) Define the questions you'll use to score calls. It's good to align your Scorecards with your Call Categories.
How do scorecards help deliver a unified coaching experience?
Scorecards are a great way to ensure that coaching is happening and that it's standardized. Many teams do this already in the form of a scoring guide or document that outlines the criteria for successful prospecting, discovery, and demo calls. With Gong, you can bring that right into the platform, so your reps can score their own calls; team leads and managers can score them too. 
This lets you standardize, scale, and most importantly, track the progress of new hires and other team members over time. You'll know if new hires are fully ramped or if anyone is ready for a promotion onto a new team.
How does Gong encourage self-coaching?
Gong is different from other sales coaching tools. Here are actions your team members should take to make Gong part of their daily self-coaching routine:
Listen to calls soon after they're recorded to capture detailed notes and action items. There are always important moments that get missed, either an action item they didn't realize they casually mentioned, or a critical detail that unlocks the deal. With Gong, you get the full story at a glance. No need to listen to the entire call.

Before talking to a customer, listen to previous calls anyone on the team had with the customer. (Gong's call notifications and daily digests encourage this on a regular basis.) Capture call notes and comments in Gong so they're aligned with the relevant parts of the conversation. Gong comments allow the call organizer, their peers, and their manager to review a call within minutes with the full context for each call. Comments can include bookmarks for important segments of the call, coaching tips, deal notes, and other relevant points.

Listen to at least one or two call recordings per week–their own

and

their peers', and leave feedback. Treat other team members' calls as learning experiences, particularly calls made by the team's top closers. Listen to recently closed-won or closed-lost deals, and deals in specific vertical markets.

Use @mentions in comments to request help, ask questions, or share information the team should know about. Savvy reps will leverage this for positive moments, such as clever objection handling, driving concrete next steps, etc.
How does sales training software fit into our coaching culture?
The most successful teams incorporate guided coaching as part of their scheduled team meetings, one-on-one sessions, and deal and pipeline reviews. 
The key here is dedicating at least 15-20 minutes of each meeting to review specific, real-life deals and calls using Gong recordings. You don't have to call this coaching. Just make it a regular part of meetings you already hold on a regular basis.
For example:
If you recently heard a call that includes important coaching moments (good or bad), open it in Gong and review it together during a meeting.

Ask the person or team you're meeting with to share a call or deal they've struggled with and one that went well.

Search for deals that should close soon, or ones that were lost, and pick one to review. There's always something to learn from a deal whether it closed or not.

Search for calls with a certain keyword or phrase (e.g., competitors, new product names) and review a few examples to see whether they were used correctly.

When you review deals during pipeline meetings, open them in Deals where you can see a 360° view of the deal. When you have all the details in front of you, it's much easier to review a deal together.
How can I build my team's sales playbook using Gong?
Hear a great call that deserves attention in your next team meeting?  Or would it be a good demo to watch for onboarding? Make a library folder for it and keep it to reference later.
The library enables you to organize different types of calls in various library folders for quick and easy access.
Create folders in the Gong library corresponding to skills and common areas for improvement in your team.

Curate relevant call samples in the library and add comments guiding users to the key takeaways that will allow them to improve their skills based on the call.

Create special folders to help new salespeople ramp up quickly, nuances and all.

When you find a really good call, place it in the library and make comments against specific snippets worth listening to.

When the main action of a call is in one (shorter) snippet, save the snippet to the library instead of the whole call.
5 Reasons Why You Should Use Sales Training Software
I asked our customers why they would recommend using Gong for sales training and coaching. Here's what they had to say:
Reason #1 Identify Coachable Moments
Sales coaching software can help you surface coaching opportunities in your reps' day-to-day – without lifting a finger. Get alerts for noteworthy moments (objection handling, monologues, next steps) in real-time so you can course-correct, and reinforce healthy behaviors on your team.
Reason #2 Personalized Training
Build a custom plan with each rep so they can improve their performance based on data from their actual sales conversations. Build a team of A-players with sales coaching software.
Reason #3 Faster Onboarding
Sales training software is proven to reduce ramp time for new reps. That means faster time to quota-attainment, better retention, and more revenue.
Reason #4 Find Out What Works
Replay the game tape and understand what top performers do differently and what good looks like for your team, so you can replicate it with other reps.
Reason #5 Reps Love It
Yep, you read that right. Reps love Gong. They use sales coaching software to track their progress, learn from top performers on your team, and crush their quota.
Say Goodbye Opinions and Hello Reality
Join thousands of revenue leaders turning the light on the goldmine of data in their customer interactions.
We Didn't Ask Them To Say This
We didn't ask them to say this, btw.
"Revenue Intelligence, as I understand it, is the ability for you to really get down to the real detail on what works and doesn't work from an individual sales rep, so that you can have a strong understanding and foundation. How do both build a repeatable business and a predictable one? And that's what everybody's looking for. That when they're thinking about hiring more and more salespeople is like, what do I get out of the next salesperson that I hire? And can I assure leadership and the board that we can continue to get that same level of results as 5x --10x the organization. And what Gong allows us to do is have a lot of confidence that what we're telling reps to do is actually proven in the actual conversation with customers."
Armen Zildjian
VP Sales, Drift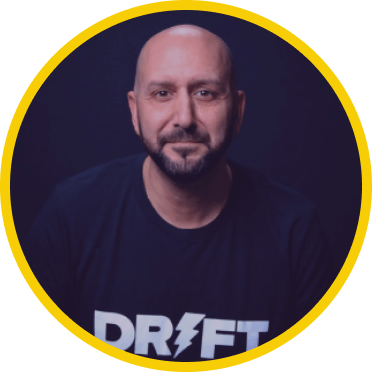 Thanks For The Kind Words
Gong is a super efficient call coaching tool. Whether you're reviewing senior reps or junior SDRs, this tool helps you dive into every call. Wouldn't recommend any call coaching solution other than Gong.
Support and coaching are very important to our success and Gong allows for the team, as well as leadership, to listen, learn and observe and to have a deeper insight into the health of our deals; in a way that would not be possible through traditional coaching methods.
The Talk ratio clarifies how long the prospect and the rep spoke for. You can use that feature to coach your team on bringing down the rep talk ratio and getting the prospect to talk more. This has helped me immensely in coaching my team - I have lots of material before I conduct feedback sessions with reps.