Learning and transforming: How Gong helps Udemy make critical revenue decisions
The challenge
Prior to Gong, Udemy was faced with the difficulty of trying to form, understand, and track its strategic initiatives without any formalized system in place.
The outcome
When Udemy implemented Gong, it instantly helped the team make informed decisions about strategic initiatives, so they could link enablement projects to their business goals.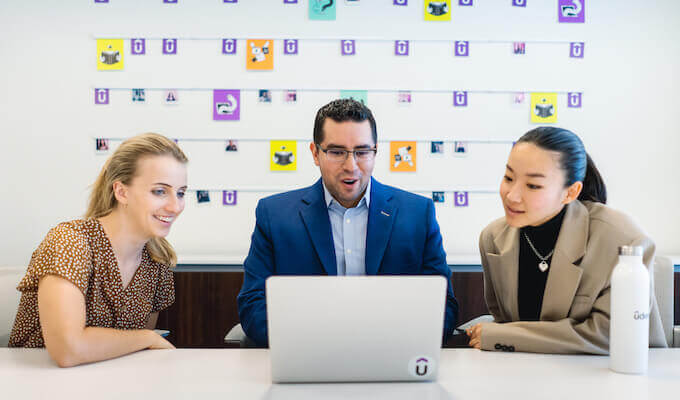 Headquarters
San Francisco, CA
44+ million. Per day.
That's the number of learners Udemy serves daily as the world's largest online learning marketplace.
Eric Stoddard, Head of Global Sales and Customer Success Enablement at Udemy, is tasked with driving change through informed decision making, using a programmatic approach. The biggest historical challenge? Understanding whether his team's strategic initiatives actually drive the business forward and create change, as intended.
"Before we had Gong, that was tricky to measure with confidence."
When Udemy implemented Gong, it instantly helped the team make informed decisions about strategic initiatives, so they could link enablement projects to their business goals. Nearly overnight, Eric and his team gained confidence in their initiatives.
Most companies have a hard time assessing whether their strategic initiatives are working. Here's how Udemy figured it out…
Move from uncertainty to total clarity
No matter the organization, new hires need to get up to speed as quickly as possible. The faster they learn the product, the sales methodology, and best practices, the faster they generate revenue.
Before using Gong, Udemy's new reps learned by listening to live customer conversations while sitting next to a veteran … in a cubicle. Hours (and hours) evaporated without an opportunity to really show them how the best performers talk to customers, and what customers say across a sales cycle, at scale.
Back then, Udemy also struggled to understand what was happening during customer conversations. Too often, the "squeaky wheel got the grease."
"We used to focus our resources on whoever screamed the loudest, not necessarily what the data showed."
Gong changed that. It gives Eric the insights he needs to train his new reps efficiently and monitor their selling skills, as well as gain insights into which customers really needed attention.
"I don't know how I used to do my job before Gong," shared Eric. "Gong brings deep customer understanding, clarity, and insight into my world."
Turn instant visibility into revenue growth with Gong's AI
Today, Eric knows which reps struggle to get up to speed, and which deals are actually a priority. He spends his limited resources on the right reps and the right customers.
That's all thanks to Gong. The platform's AI allows Eric to dive deeper into understanding what his new hires learn and the value they provide to customers.
"If they're not helping our customers drive change within their businesses, we pivot," says Eric.
Gong captures and harnesses the voice of the customer and gives Udemy insights into trends that happen at an account level. "What separates Gong are the insights I can grab from customer interactions at scale. Our teams can turn those insights into actions that improve pipeline management, drive successful outcomes for our key initiatives, and help us make better revenue decisions."
Gong has the largest data set of customer interactions in the industry. Gong's AI engine as analyzed over 1 billion customer calls and tens of billions of emails, bringing value to the data by understanding what is really happening within customer interactions and identifying revenue risks and opportunities with unrivaled accuracy and relevance..
Eric particularly loves Smart Trackers which allow customers like him to quickly and easily train Gong's AI to identify concepts and topics specific to their business. Smart trackers mean Udemy can take immediate action as soon as Gong surfaces trends. Those actions lead to stronger revenue growth.
Gong's "Initiative" board is also a favorite of Eric's. "If you're not taking advantage of this board, you're really missing out."
The Initiative board gives Eric instant visibility into how all his initiatives are being adopted. He can see who participates in an initiative — and who doesn't — by team. That also means he spots trends over time.
All these capabilities enable Eric and his team to assess and adjust their coaching and training strategies… and inevitably, win more often.
Tip: Leadership can subscribe to Deal Boards to get a weekly update email, rather than rely upon Eric for their enablement data. They can quickly see how initiatives stack up.
Udemy hits a winning streak with Gong
Gong has helped Eric's team — and Udemy in general — make great strides in several aspects of its revenue operation:
Deal execution and forecasting: Managing your pipeline is no easy task. Gong gives Udemy insights about each deal by immediately (and automatically) surfacing risks in Deal Boards using proprietary & patented AI models. Managers use those Deal Boards to understand relevant risks so they keep deals on track and have more accurate forecasts each quarter.
Sales productivity: Gong has become Udemy's central repository for new skills training. Eric makes sure his new hires listen to a curated set of calls so they get exposure to different sales-related approaches that work. From there, the new hires can take what they heard from top-performing reps and make it their own.
Business alignment: Gong has helped Udemy align its sales, marketing, and enablement motions. "We now operate as one cohesive team," boasts Eric. In particular, it can be challenging to understand what the competition's up to and where they show up. Gong data highlights this competitive information for managers when it happens on calls, and also allows sales reps to pressure test competitive messaging.
Smart guidance: With Gong, managers can quickly and efficiently coach and provide feedback on many calls … not just the ones they attend live. "We fill out scorecards to track whether a rep is progressing on a particular skill," said Eric. Gong has been a powerful AI platform to elevate coaching within the organization.
A new (and sane) way to operate
That's a pretty exhaustive list, but it's not the end of changes Gong has brought to Udemy.
Sharing lessons learned and asking for feedback; picking up tactics you may not have thought of; leveraging Gong's call analysis and metrics to improve a skill. There's a constant (and virtuous!) cycle for all of it now happening at Udemy.
Everyone wins. Eric and his managers, reps, the rest of the revenue team, leadership, and Udemy customers.
Understandably, Eric could not be happier.
"I truly feel those who don't leverage technology like Gong will be left behind. Gong brings us sanity because we can see the data behind our actions. Gong is confidence. Gong is insight. Gong is the ability to truly understand what's going on inside customer conversations."
Don't get left behind.
Have questions or want a custom demo?
We're here to help! Click the button below and we'll be in touch.
Request demo