Gong gives Reachdesk the gift of alignment during rapid international growth
The challenge
Without Gong, Reachdesk's EMEA sales teams couldn't unearth details about which rep behaviors won deals or why customers made purchases. That led to inefficient sales practices and difficulty aligning CS, account managers, product, and marketing around the customer lifecycle.
The outcome
Reachdesk now uses Gong to gain valuable insights into rep and customer behaviors so they can keep global teams aligned and focus on efficient sales processes and customer lifecycles. This approach kept the sales team connected throughout a period of rapid growth.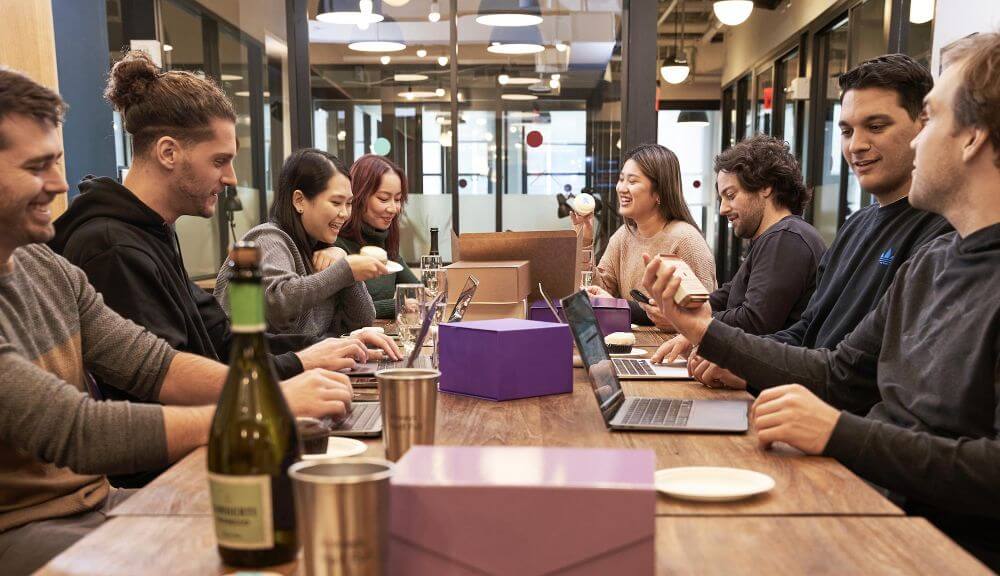 Headquarters
New York, New York
Industry
Software Development
If anyone knows the power of a good gift, it's Reachdesk.
Reachdesk is a global direct mail platform that helps B2B companies build deeper connections with customers through gifting. Reachdesk was listed as one of the fastest-growing software companies by G2 in 2021 and has been an established G2 category leader since. After a record year of growth and a $43M Series B in 2021, Reachdesk grew their global sales team across US and EMEA.
It's an impressive feat, but one primed with risk. Periods of major growth can bring misalignment and poor communication to globally dispersed teams, which often results in inefficient operations across the customer lifecycle.
Reachdesk wanted to improve these issues prior to expansion, and was eager to solve them quickly before they became ingrained in the next growth phase. The company decided to use Gong's Revenue Intelligence Platform to surface customer insights that could bolster alignment, communication, efficiency, and decision-making.
Gain efficiency by aligning teams in EMEA and the US
Previously, Reachdesk's global teams lacked alignment and dealt with poor communication about customer-related issues. Today, Gong makes it easy for the EMEA sales team to stay aligned with their global counterparts and share lessons learned across CS, marketing, and product teams around the world, at any point in time. They often do so on the go, using Gong's mobile app.
The sales team relies heavily on Gong's Call Libraries to bring the most effective tactics and talk tracks to everyone's attention. Wherever they are, EMEA sales team members can contribute full calls or call snippets to best-practice Call Libraries, sharing their lessons learned for training purposes. Teams anywhere in the world can easily listen to each other's calls, learn what works, and provide each other with feedback.
"Being able to share snippets globally has been a huge benefit of using Gong," says Alex Olley, Reachdesk's co-founder and Chief Revenue Officer, "It has helped with my biggest pain point during this growth by getting alignment between the US and the UK teams." This alignment has resulted in heightened training efficiency, as well as increased collaboration and consistency in messaging across the distributed teams.
Spot risks and keep deals on track
At one time, Reachdesk found it hard to tap into its customer interactions to determine which deals carried hidden risks.
With the adoption of Gong, reps on all its global teams turned to Gong's Deal Boards to spot warning signs and risks inside deals. Deal Boards give them the full context of a deal's progression, so they can collaborate with AEs to address those risks and get deals back on track. Deal Boards surface risks that managers and reps would otherwise miss.
Olley also wanted to know what top-performing reps did that worked. "I really wanted to solve that problem," he said, "getting intelligence from all the reps, and particularly the top performers, so I could make sure we pushed the right talk tracks through to the rest of the team." He wanted to know what their message adherence was like and which winning behaviors the top reps used.
With Gong's ability to analyze customer interactions and highlight what works and what doesn't, Olley was able to get Reachdesk's reps singing the same winning tune, wherever they worked. Today, they use Gong's advanced visibility and smart guidance for ongoing coaching and training initiatives and keeping deal execution moving smoothly.
Olley says these same deal insights are "also useful for forecasting." Gong surfaces reliable information quickly, saving them at least two hours each week on forecasting and pipeline activities.
Make data-backed decisions that get customers to say yes
While his EMEA sales team grew, Olley also wanted to clarify why customers made purchases so he could base future decisions on that information. Olley says, "There are three things we now look at using Gong's keyword trackers: customers' use cases, the challenges they face, and what success looks like for them." Whenever a deal closes, he gets an alert and listens to the call to further clarify why the customer said yes. This — along with Gong Insights' analytical abilities — helps Olley and his teams make informed business decisions. Most recently, he used Gong's initial analysis of customer interactions to update Reachdesk's messaging and align it with their customers' stated needs. The revenue teams also use Gong Insights to act on opportunities in the market and map their product roadmap.
Gift your entire company a solution it loves
Today, Reachdesk uses Gong's Revenue Intelligence Platform across the entire revenue organization. Olley says, "It's embedded into a lot of what we do as a company." Gong supported Reachdesk through a period of rapid growth, while it cemented its sales messaging, designed efficient processes, and aligned its global teams.
Have questions or want a custom demo?
We're here to help! Click the button below and we'll be in touch.
Request demo