Khoros Keeps Managers and CSMs Accountable to Each Other With Gong
The challenge
Khoros' CS team had five pillars they used to set their goals, but no one was coaching them with enough intent. This meant coaching was inconsistent across regions and feedback didn't always result in significant change.
The outcome
Gong's features like scorecards and trackers allowed Khoros' CS team to set streamlined goals across regions, which resulted in more focused feedback to CSMs and managers who could better coach their team to hit targets. More regular, consistent feedback led to greater accountability and skill-specific improvement.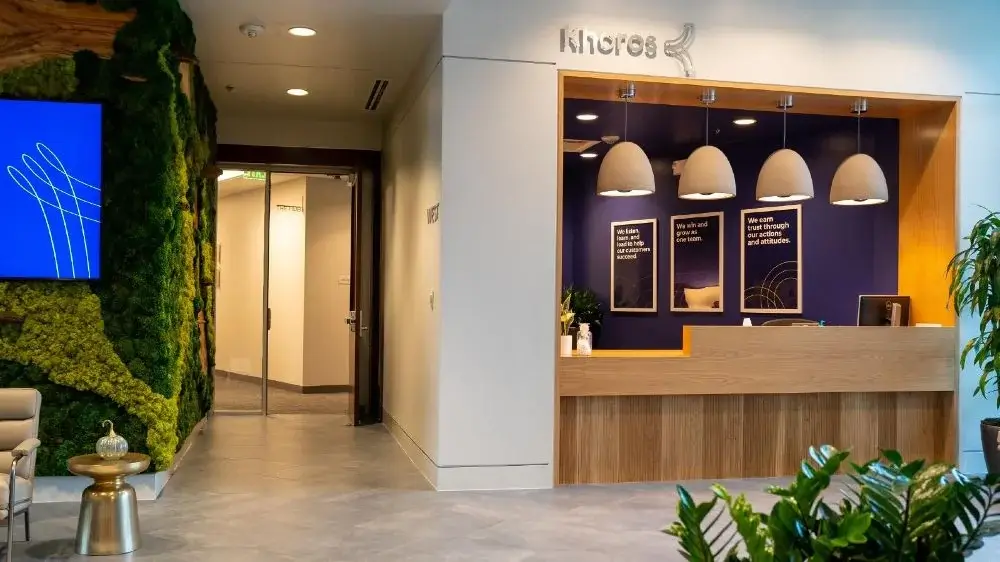 Each of our five pillars can be addressed in a call with a customer through Gong. That's where I've seen the power of the tool.
Chelsea Knudsen
Regional Manager of Customer Success
Customer engagement platform Khoros was looking for a tool to help their Customer Success team level up their performance. Since Khoros' sales and enablement teams were already using Gong, the CS team thought they could find value in it like other teams. What they didn't realize was how well Gong would serve them as a coaching tool, and a way to align CSMs with the company's five pillars.
"I think CSMs have been aware of the pillars, but to actually tie them to a way to coach and assign a number to them didn't happen before we started using Gong," says regional manager of customer success Chelsea Knudsen.
Once the CS team fully adopted Gong, an increase in education, accountability, and action followed.
A better way to coach
While they were initially most excited about the historical tracking ability that Gong provided, being able to coach more effectively had an immediate impact. "The surprising part for me was the coaching part and how robust it is," says Chelsea. Being able to listen in on calls and give feedback on specific parts of those calls made it so much easier to focus her coaching energy.
It also saved a ton of time. "We didn't have an effective way to listen in on conversations or coach CSMs before having Gong unless managers were on a live call and listening," says senior customer operations business analyst Kristin Baker. The ability to use Gong's Trackers also helped managers coach on specific deliverables they were seeking—such as increased discussion about values and outcomes on client calls.
For any CSMs looking to upskill in certain areas, the ability to send snippets of calls up the ladder became empowering—bringing up specific topics and getting clear answers. This has changed the team's perspective on coaching altogether. "I ask them to send me calls that they think they knocked out of the park or ones they want feedback on," says Chelsea. "Feeling like 'I get to shine, but I also get to improve' helps them feel like coaching is not a negative thing, but a growth experience."
Holding each other accountable
Khoros' CS team functions on five pillars—though before Gong they felt more like loose concepts to drive towards. These pillars are:
Drive a build value with our customers

Product knowledge roadmap

Effective communication

Active listening

Developing and delivering a plan
Khoros needed Gong in order to weave these core concepts into their coaching, putting them at the forefront of CSMs' minds. "To actually tie the pillars to a way to coach and assign a number to them—that didn't happen before we started using Gong," says Chelsea. By using scorecards derived from the pillars, the CS team became not just more engaged in overall goals, but more aligned across regions.
"This is the first time everyone across all tiers and regions has the same access to score their team all using the same rubric," says Kristin. "That's the really nice thing about Gong: we have a streamlined way to do it across all teams."
When feedback is streamlined like that, it makes one-on-ones more focused and effective, resulting in faster improvement. "For my feedback meetings now, I go to the Teams section, look at all the calls I've rated so far, and get an average of where they sit now so we can have a plan of which two pillars they could be targeting to make improvements," says Chelsea.
"Even just having one meeting about one tactical skill a CSM could improve on, or a goal, it does increase their skill set in that specific pillar. It's calling it out, getting a plan, and that accountability of knowing I'm checking it on a weekly basis and can see that improvement."
Taking action and running with the results
When team members can improve with greater ease, the question of career advancement is a natural next step. "The more data people have on their own calls, the more they understand 'these are the things I need to work on to potentially expand to the next stage of CSM'," says Kristin.
Because coaching is aligned with the pillars and a shared rubric to score against, helping CSMs understand where they need to improve in order to ascend the ladder becomes a simple formula. "I'm aware of the goals of my team members," says Chelsea. "I can show them what level they're at. If they want to move to a senior level, we can be very tactical with where they need to improve, so that when the time comes for promotions they can show the progress."
One action that's already made a big difference was a focus on retaining customers by talking more about values and outcomes on calls. "We used Gong trackers to see if there was an increase with our CSMs talking about value and outcomes with our customers because that's our North Star," says Kristin. "My hope is to track it for a year or two and see that the numbers keep increasing."
Tying those clear goals to coaching and scoring has illuminated a pathway to success that often felt muddy prior to using Gong. "When it comes to our CSMs," says Kristin, "we want to help them get to where they want to go."
Have questions or want a custom demo?
We're here to help! Click the button below and we'll be in touch.
Request demo