Business Financing Leader Funding Circle Credits Gong With More Successful Customer Interactions
The challenge
Funding Circle wanted a platform that would identify key trends and risks inside its customer interactions. They also wanted to be able to test new initiatives and coach employees on best practices so they could guarantee quality as well as compliance with internal policies and procedures.
The outcome
Using the Gong platform's advanced AI capabilities, Funding Circle vastly improved the quality of its coaching and its understanding of market trends. It also transformed its business efficiency and compliance by using faster and more effective testing and monitoring.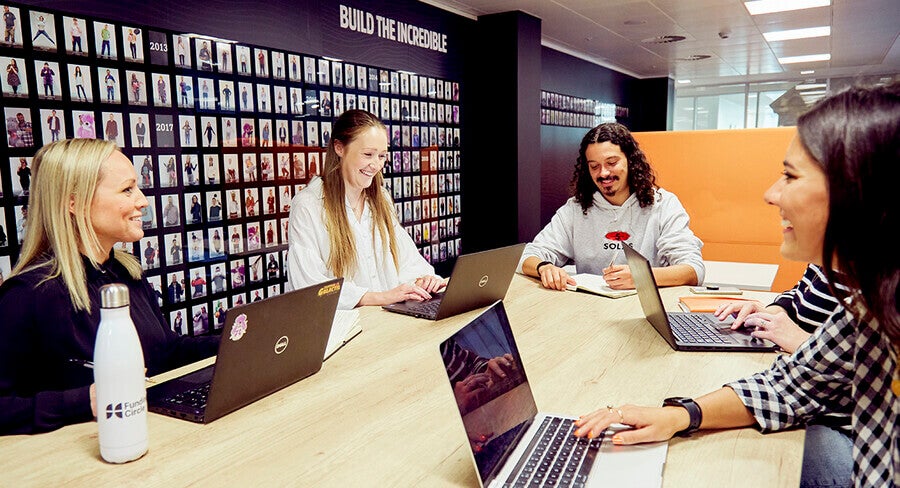 HEadquarters
London, England
Industry
Business Financing
In a win for business financing leaders everywhere, Funding Circle got more than they bargained for from Gong. They're ready to share how they did it.
Founded in 2010, Funding Circle originally operated as a peer-to-peer marketplace. It's now one of the largest online platforms for small business loans in the world, having helped 130,000+ businesses borrow more than £14.5 B (~$18B USD).
Peter Lindeman, Head of Quality Assurance and Control at Funding Circle, runs a team that's responsible for ensuring that customers are treated fairly and in compliance with the company's agreed policies, procedures, and regulatory requirements. When he first approached Gong, his focus was on improving the quality of customer calls and compliance using coaching. He wanted managers to have advanced visibility into customer interactions so they could improve their quality assurance (QA), compliance, and messaging initiatives through coaching.
Gong's Revenue Intelligence Platform was a perfect fit for the needs of this highly regulated, global, business financing powerhouse.
A focus on QA, coaching, and customer insights leads to real-time agility and understanding the daily challenges our customers face.
Funding Circle had tried other solutions, but it was hard to customize and update their tracking features in line with the company's real-time requirements. Business financing is subject to the whims of global market systems that can turn quickly based on political and world events. Lindeman needed a solution that would keep his team one step ahead of the market. Gong was the right solution.
Gong's versatile keyword trackers were a step in the right direction. Funding Circle now monitors keywords in real time inside customer interactions, and updates those trackers with ease in just a few clicks. This enables Funding Circle managers to spot emerging market trends as they happen and tailor their coaching accordingly.
Funding Circle has gone even further by using Gong's proprietary AI-powered Smart Trackers. This allows them to track key concepts, no matter how they're phrased, and enables them to track emerging trends and gain a fuller understanding of the daily challenges their customers face, and respond accordingly.
With Gong's insights, managers can easily recognize the best practices happening on calls — like behaviors or talk tracks — and replicate them across a team. They're also able to track whether agents are in compliance with the policies and procedures that guide customer interactions in business finance.
These steps have been major wins for quality improvement and real-time agility on Funding Circle's frontline teams.
New message testing is faster and more effective
Once they realized the extent of Gong's AI-backed capabilities, Funding Circle incorporated Gong more deeply into their monitoring and testing (M&T) program. This allows them to make well-informed decisions from day one with respect to new messaging roll outs. They can also ensure that regulatory requirements, policies, procedures, and best practices are followed. Relying on keyword trackers enables the team to take on increased levels of M&T.
"We saw Gong's larger value when we realized we could use the platform for coaching and for monitoring and testing our latest test scripts," said Peter Lindeman.
The team now runs faster testing for new talk tracks because the tracking and evaluation functions are automated in Gong. It takes fewer resources to run higher-quality testing, saving the company both time and money. Gong also helps the team ensure that Funding Circle's new messaging initiatives are agile, and that compliance on new selling scripts is monitored. (The latter is a critical component of rollouts in business finance, as well as many other heavily regulated sectors.)
As Lindeman said, "Having increasingly automated M&T processes means we're able to pick up a wider scope of testing and highlight emerging areas of risk and, furthermore, with less resource" Gong's insights enable everyone with a hand in the rollout to pivot quickly and ensure its success.
Visibility into market trends enables customer-friendly responses
Lindeman noted that one of Funding Circle's enduring challenges (as with other businesses) was a lack of clear visibility into key market trends and emerging risks from specifically, an overall customer's perspective. With Gong's advanced visibility, Lindeman's team now analyzes customer interactions at scale to highlight key market trends and emerging risks it might otherwise miss.
For example, they identify the micro- and macro-economic obstacles that borrowers regularly mention. The company periodically reviews this interaction-based data as part of its customer insights reporting (CIR). It's incredibly useful in increasing the company's responsiveness to changing market dynamics, and lets them make smart business decisions that address their customers' stated needs.
Gong bankrolls success across the global company
Funding Circle's Quality Assurance and Control team now use Gong's data and analytical capabilities to keep key stakeholders within the business up to date on insights into customer interactions. This allows the teams to remain agile in the face of market trends and ensure the top-shelf quality their customers expect during interactions with a global business financing leader.
Lindeman's team regularly learns about new ways to use Gong's AI-backed capabilities to extract more information from their customer interactions. Where they once needed to improve the quality of their calls, compliance, and coaching, they are now positioned to tackle broader market issues affecting the business.
Have questions or want a custom demo?
We're here to help! Click the button below and we'll be in touch.
Request demo