Sales Tracking Software: Stop Losing Winnable Deals
See every detail in your pipeline with sales tracking software from Gong. Gong is a Revenue Intelligence platform that gives you access to every touchpoint, every deal, and every insight across your sales team. Build your sales dream team and drive revenue with sales tracking software from Gong.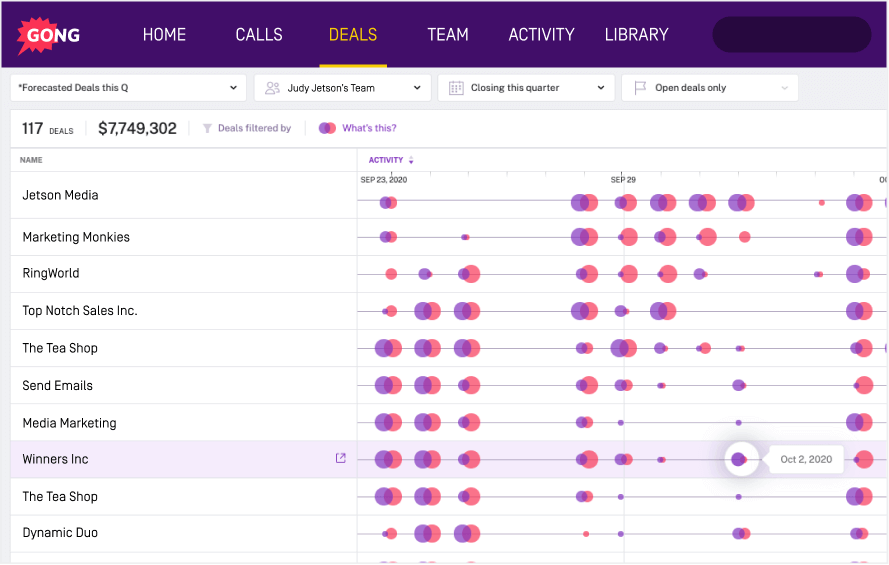 6 Reasons Why You Should Use Sales Tracking Software
Wondering what sales tracking software can do for your team? I asked our customers. Here's what they had to say:
Reason #1: Airtight Activity Data
Sales tracking software provides the hard data you need to assess individual and team performance, strengthen your pipeline, and reach your revenue targets. No more opinions, just the facts.
Reason #2: Total Deal Visibility
Gong's sales tracking tool gives you access to every customer touchpoint (call, email, web conferencing) throughout every deal, providing a clear view into your pipeline.
Reason #3: Next-Level Pipeline Management
Get more deals across the finish line with sales tracking software. Quickly audit deals to see what's happening throughout your entire pipeline, identify deal risks early, and proactively steer deals back on track to closed-won.
Reason #4: Hyper-Personalized Coaching
Unlock each rep's full potential and build your dream team with sales tracking software. Quickly identify coaching opportunities for any rep and any call, and deliver the personalized feedback for reps to maximize their potential.
Reason #5: Reps Can't Get Enough
Who knew?! Actually, we did. Reps can't stop raving about Gong's sales tracking tool because it helps them perform at their best. They can review their game tape, learn from top performers on the team, and see exactly where they need to focus to beat their personal best (and then some).
Reason #6: Share the Voice of the Customer
Gong helps you gain a deeper understanding of what matters most to your buyers. Get unfiltered feedback from the market, see what messaging is hitting (or missing) the mark, and help reps tailor their pitch to match what customers want.
Why Use Gong For Your Team's Sales Tracking Software?
Gong gives you complete visibility into every deal in your pipeline. You'll know exactly where to focus first in order to keep revenue moving in the right direction.
Gong also captures your team's customer-facing conversations across email, phone, and web conferencing. Gong's AI then analyzes every detail to help you close more business.
Gong gives you the sales tracking tool you need to quickly see the critical insights for every deal in play, without having to waste time searching for the data. Nice to have a little less on your plate, right?
So... How Does Gong's Sales Tracking Software Work?
Glad you asked. Here's how Gong's sales tracking software helps sales leaders hit their most ambitious revenue targets.
Step 1
Gong's AI captures and analyzes every deal touchpoint, including phone, web conferencing, and email.
Step 2
Gong breaks down stats and trigger events for each deal so that you can quickly see where your attention is most needed.
Step 3
Gong's sales tracking software provides data-backed recommendations to help you guide your team and close more deals.
Step 4
Gong stores the details from every deal, and lets your team tap into key insights to help improve future performance.
Sales Tracking Software, And More?
It's true. Gong does so much more than just track sales. Gong is also the #1 Revenue Intelligence platform. It uses AI and machine learning to give you total visibility into what's happening with your sales team, your deals, and your market.
Revenue Intelligence means making better decisions based on customer reality instead of opinions. Here's what that means for you:

People Intelligence
Transform your sales team into a finely-tuned deal making machine.

Deal Intelligence
Keep your finger on the pulse of your pipeline and get more deals closed.

Market Intelligence
Stop guessing. See exactly what your customers respond to so you can double down on what works best.
Awwww. For Real?
Gong makes tracking sales calls so much easier.
Best investment in a sales tracking and recording software. Period.
I love being able to see how other sales leaders are performing and tracking their progress.
Gong is way ahead of any other call tracking software I have used.
The Truth Is In The Numbers
3,000+ Reviews From Sales Professionals Like You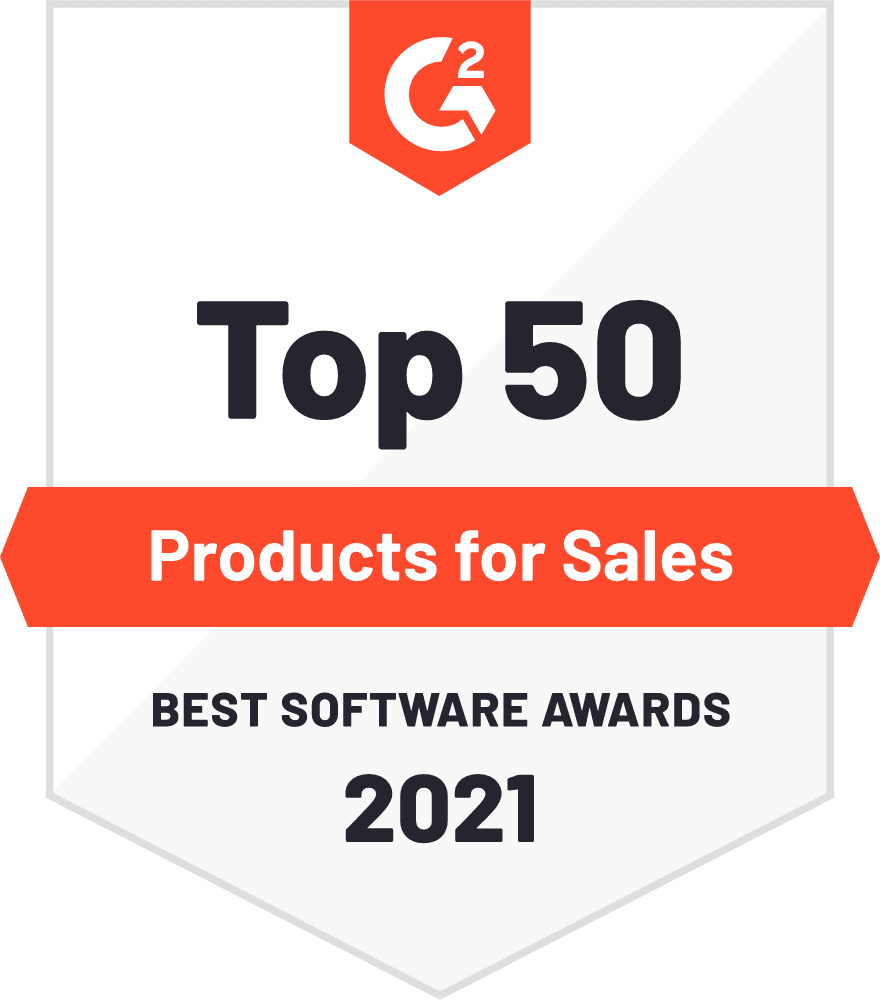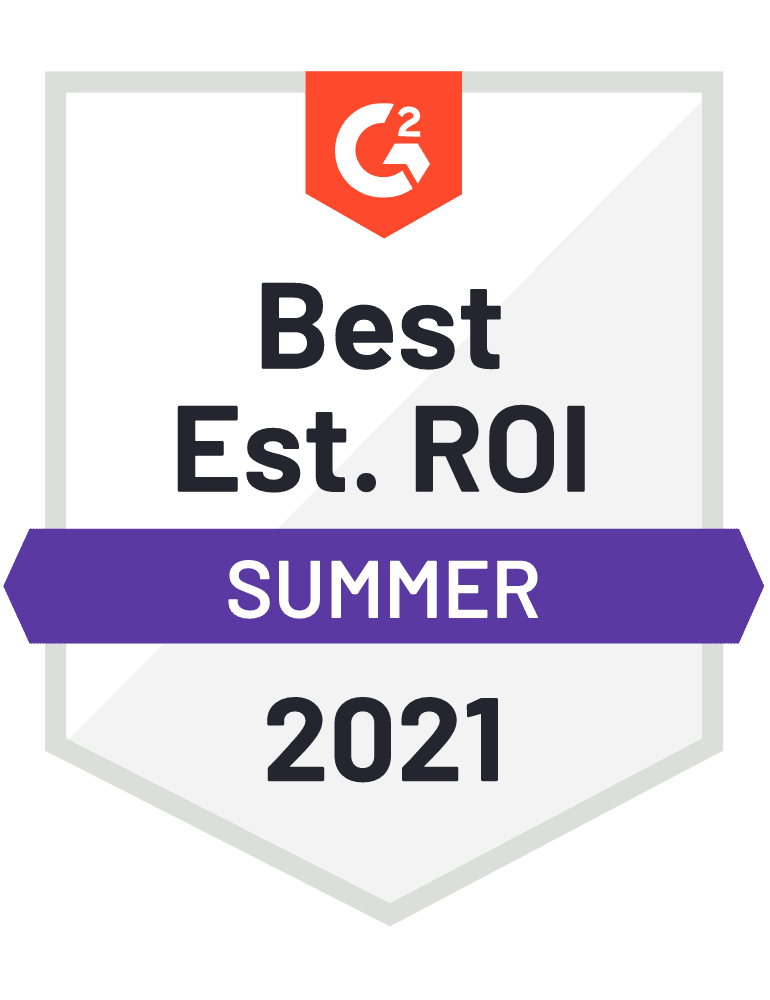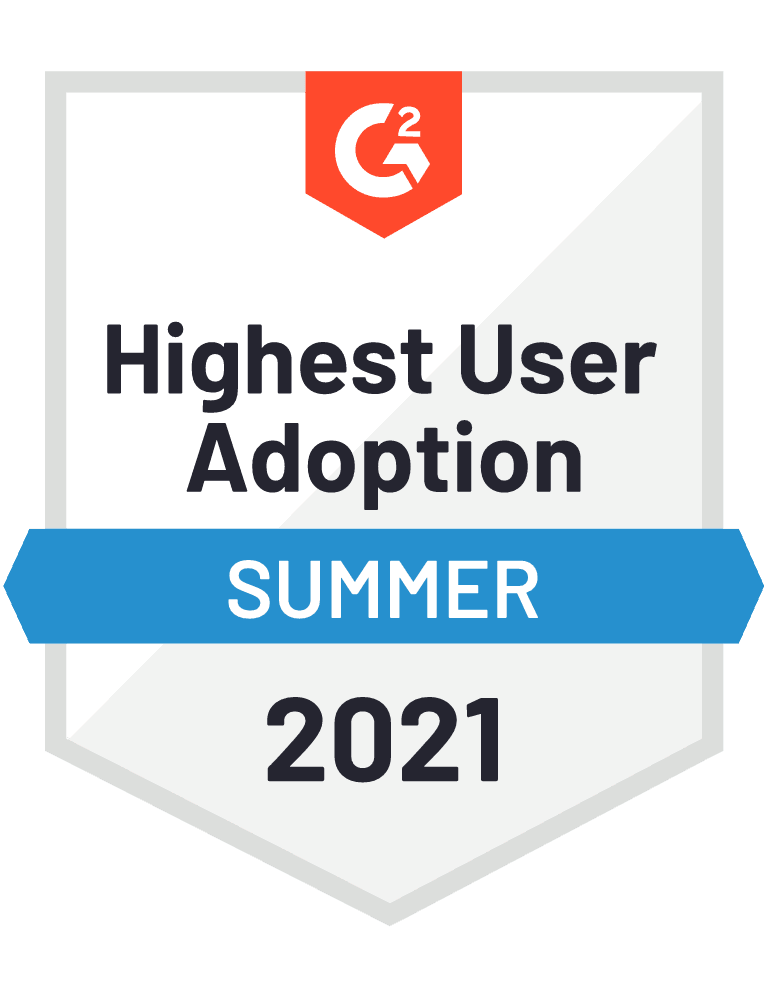 Questions? Here Are the Answers.
What is sales tracking software?
Sales tracking software enables sales managers to monitor key activity in their deals and track activity data. There are two main types of indicators that can be tracked:
First: pipeline health indicators. Sales tracking software shows up-to-date information on all deals like emails, calls, and next steps so sales managers can rely on accurate data in their forecast.
Second: activity data. These indicators are used to determine sales productivity by looking at emails sent, calls made, meetings booked for each rep and across teams. Sales managers use sales tracking software to improve team productivity and sales effectiveness.
How does sales tracking software work?
Sales tracking software connects to your team's most-used tools to measure team activity and understand what separates top producers from average performers. Sales tracking software integrates with your team's calendar, email, webconferencing, and dialer software to measure activity. It then pulls data from the CRM to understand what good looks like so you can coach reps to right behaviors.
Which metrics can sales tracking tools follow?
Sales tracking tools give you complete visibility into your team and your pipeline. Sales managers use it to monitor the following metrics:
Pipeline metrics: Seller and buyer activity on an account, Next steps, Competitor mentions in deals, Opportunity stage and forecast information
Activity metrics: calls made, calls connected, emails sent, emails received, meetings booked
How does Gong's sales tracking software work?
Gong's sales tracking software isn't rocket science. But it is science. Here's how it works:
Gong records and tracks customer-facing interactions across webconferencing, phone, and email to bring you unimpeachable activity data.
Gong's AI engine ties conversations to outcomes logged in CRM to capture what sets top performers apart.
Gong's deal boards gives you an up-to-date view of your pipeline so you can sniff out shaky deals and course-correct.
Gong gives you total visibility into your team, your deals, and your market – based on data from real-life conversations.
Which calls does Gong track?
Gong provides customizable options for defining which calls it tracks. Gong will record a call based on your customizations, and any changes you make in your auto-dialer software.
Is Gong's sales tracking tool compliant with our privacy policy?
Compliance is a big deal. Whether it be data retention or recording consent, we've got your back. You can review our security certifications here. 
Some countries and US states require that both parties on a call must be notified that the call is being recorded. As a best practice, we recommend including this notification regardless of the call participants' locations.
Here's how Gong helps you:
A personalized consent page hosted by Gong for obtaining recording consent. Team members send invitees the link to this page instead of the conferencing provider's link. After invitees consent to be recorded, they are directed to the meeting.

Use our calendar add-on! Install the

Gong for Google Calendar add-on

domain-wide or per individual to easily schedule meetings using the consent page in the native calendar app.

Audio prompt. Participants hear the prompt when they join the call, telling them that the call is being recorded.

Pre-call emails. Participants can receive an email 10 minutes ahead of the scheduled call reminding them of the call and that it's recorded.

With Gong, you can set your compliance settings to meet your local and company requirements. We've got you covered.
Does Gong's sales tracking software integrate with my tools?
What information about my deals can I access with Gong's sales tracking tool?
Using Gong's sales pipeline software, you can see all customer touchpoints by call, email, and web conferencing. You can see scheduled next steps. You can see whether an email has been answered (and who on the buyer side answered it). As well as all CRM data associated with that account.
Calls and emails

Account status

Opportunities

The sales engagement map

Call details
What stats can I get about my team using Gong's sales tracking software?
Talk Ratio – The average percentage of all the call in which your seller spoke. The recommendation is for no more than 65% of the time.

Longest Monologue – The duration, in minutes, of the longest speech on the seller side. The recommended maximum length is no more than 2m 30s.

Longest Customer's Story – The duration, in minutes, of the longest customer-talking segment. This includes short team member interruptions. The recommended length is between 1 and 2 minutes.

Interactivity – This shows how often the conversation switched back and forth from team member to customer and is on a 0–10 scale. The recommended grade is 5 or more.

Patience – This shows how long the team member waited after the customer completed talking before taking over the conversation. The recommended wait time is between 0.6 and 1 second.

Question Rate – This shows how frequently the team member asked questions during an hour of conversation. It is recommended to ask 18 or more questions.
How does Gong help me manage my sales pipeline?
Gong allows you to review your sales pipeline more accurately and in more detail by using data and insights extracted from your sales calls.
Review recent calls for topics discussed, competitor mentions, objections, and customer questions. Use these insights to inform the next steps required to move the deal forward.

Set up filters to receive alerts on calls that may require attention.

Define granular filters to find calls that match certain criteria spanning call content (keywords, trackers, topics), call dynamics (talk time, longest monologue), Salesforce.com data, and more.

Save useful searches and get notified on calls matching those criteria. For example:

Notify me immediately on high-interest deals, for example: deals in stage 4 where the deal size is over $20,000 and the customer mentions a competitor.

Include in my daily digest all calls where the prospect talked about a discount.

Include in my weekly digest all calls where my sales team suggested a multi-year deal.
Does Gong's sales tracking tool keep my recordings and data secure?
Gong offers the highest level of security to all customers. Gong is compliant with SOC2 Type II, EU Privacy Shield, and GDPR (General Data Protection Regulation). Recordings and all other data (such as transcript data) are stored in Amazon data centers, and are encrypted at rest and in transit.