How Tinuiti Used Gong to Close 50% More Recurring Revenue from Cross-selling
50%
increase in recurring revenue
The challenge
Tinuiti had a manual sales process with little to no analytics or data-backed insights. In order to continue growing at scale, they needed an all-encompassing solution.
The outcome
With Gong Tinuiti was able to identify cross-selling opportunities through Gong Trackers — identifying keywords mentioned in sales and client conversations to unlock tremendous growth opportunities, leading to a 50% increase in recurring revenue from cross-selling year-to-date vs. the prior year.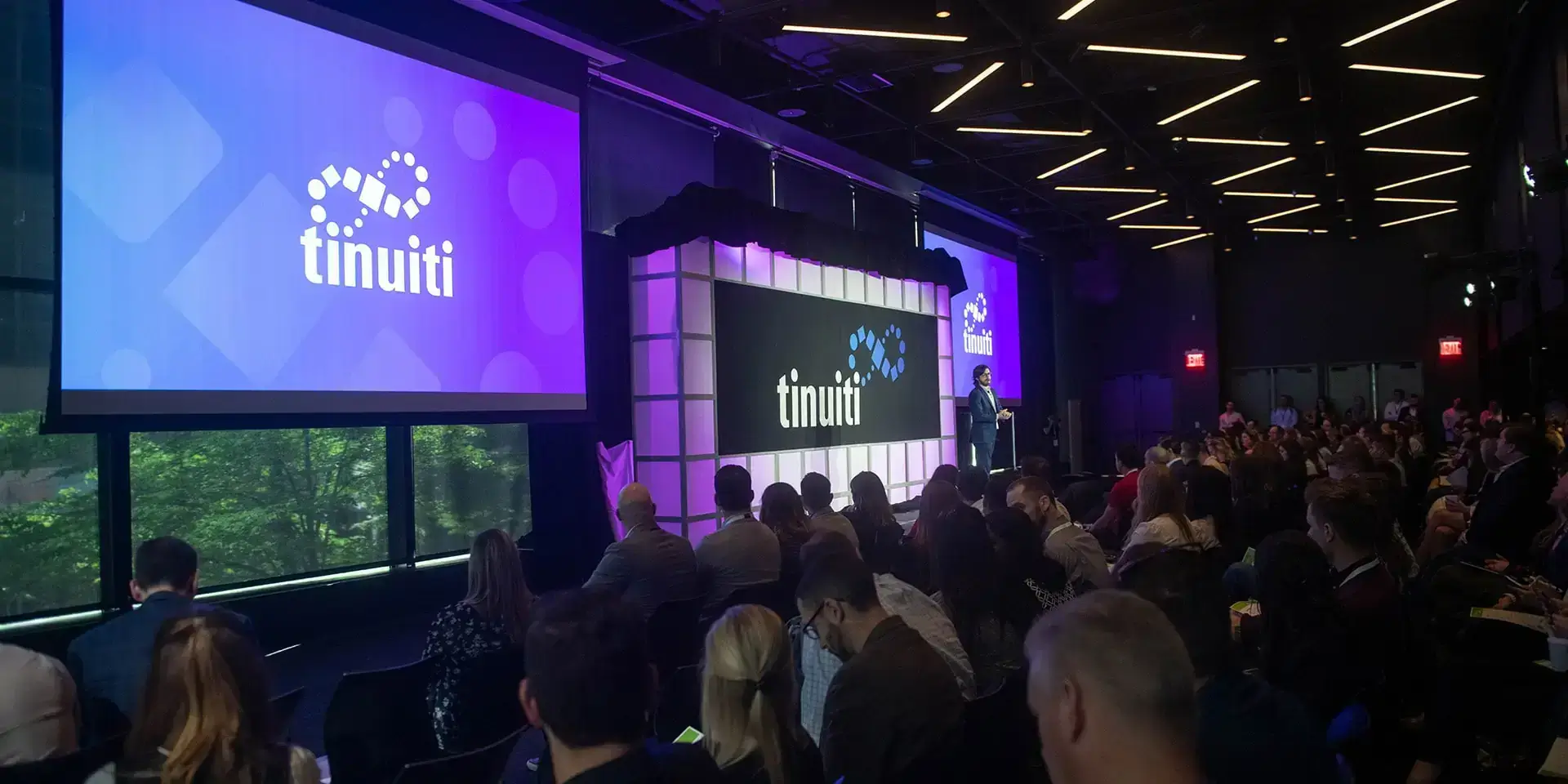 Headquarters
New York, NY
Industry
Advertising and Public Relations
Google.
Facebook.
Amazon.
Known in the advertising world as the Trioploy, these three companies dominate the digital advertising space. Tinuiti "partners with brands to identify, engage, and acquire customers across the Triopoly and other platforms, to retain and reactivate them across their larger media mix and digital journey."
Jesse Eisenberg, Chief Commercial Officer at Tinuiti, manages "all departments that generate new revenue and enable revenue retention." With a long, complex sales process, Jesse knew the importance of capturing, storing, and ensuring sales information was quickly and accurately searchable.
Easier said than done.
"Many things within our sales process were manual," said Jesse. "In order to coach, managers had to attend the call. Other than win rates and sales cycle duration, there was no analytics to compare account managers."
Tinuiti always seemed to have the data… but it was rarely enough data and often not the "right" data.
If Tinuiti was to continue growing and evolving, something needed to change.
Gong was the catalyst.
Tinuiti has leveraged Gong to identify cross-selling opportunities through Gong Trackers — identifying keywords mentioned in sales and client conversations to unlock tremendous growth opportunities, leading to a 50% increase in recurring revenue from cross-selling year-to-date vs. the prior year.
Gong: "The best thing since smartphones."
As the Director of Sales Enablement at Tinuiti, Des Fountain knows a thing (or ten) about how technology can impact an organization.
Des manages the onboarding of the sales team, assists in the day-to-day training of various tools (including Tinuiti solutions), and supports follow-up coaching and closing of new deals.
When she joined Tinuiti, Sales was the only team using Gong. Project #1? Fully utilize everything Gong had to offer. Then implement trackers to identify at-risk clients as well as cross-selling opportunities with existing clients by expanding Gong to client service teams.
Check. Check. And… CHECK. Des knocked all of the above out of the park.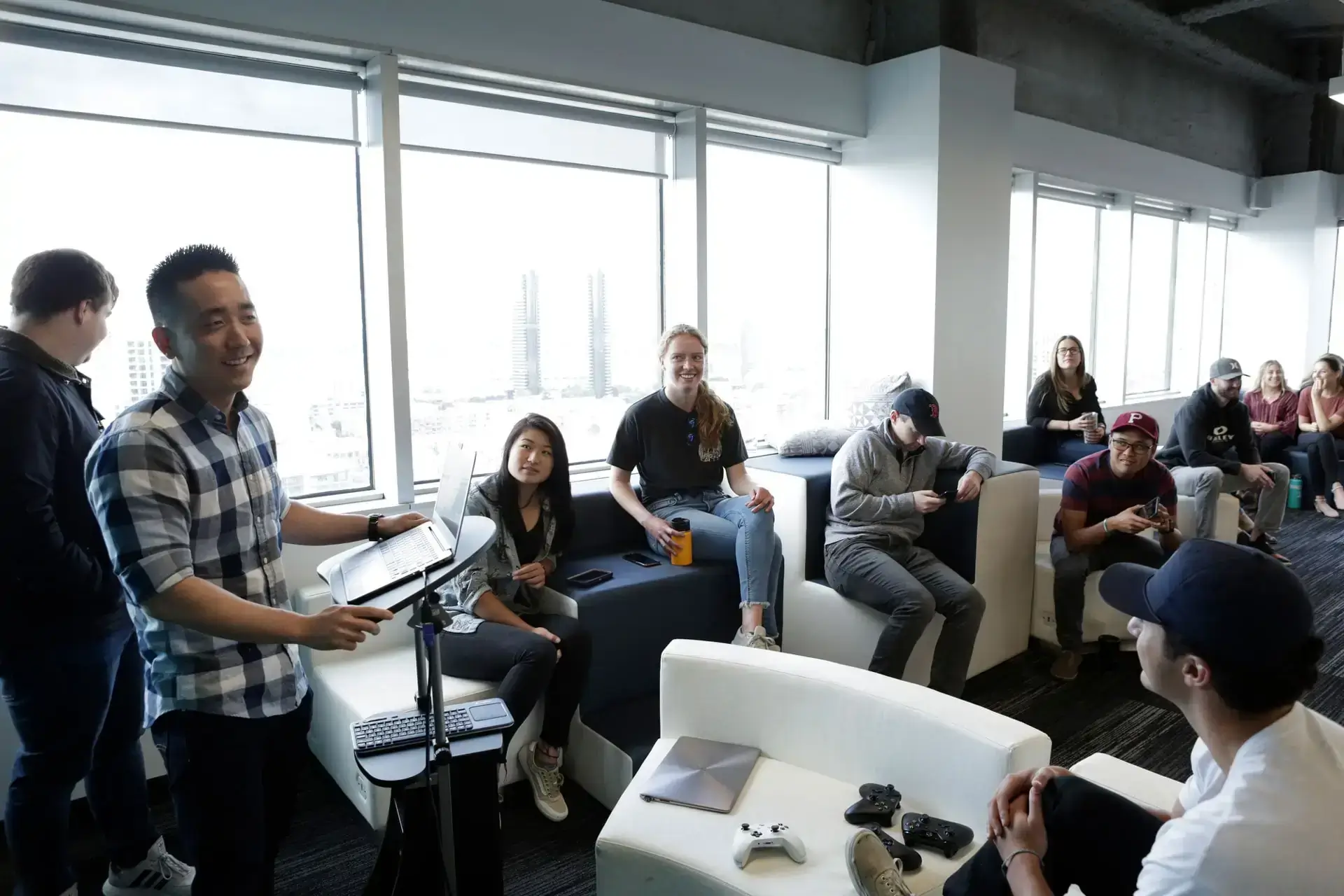 Gong adoption was "quicker than most other tools we've brought on in the past," said Des. "It's just so intuitive and user-friendly." Account managers started listening to their own call recordings to help drive content for follow-up emails.
Client Strategy leaders bragged about how Gong saved them time by being 100% present during the call and not having to schedule a time to join other people's calls. Managers no longer had to "finagle schedules to attend every scheduled call."
With Gong, they listen to (the important) calls on their own time. Bonus: increased playback speed led to more efficiency, as did the ability to listen to calls on the Gong app while on the plane en route to a sales pitch. Efficient and productive.
"Gong is the best thing since smartphones," Des shared. "The platform contains so much power, so much information at our fingertips. We continue to learn new ways to best utilize all this insightful Gong information."
Gong for coaching
Tinuiti has leaned into the power of Gong for coaching, helping the team understand what sets its top performers apart.
Jesse spends significant time looking at Gong Analytics. "The ability to easily and quickly and visually see how account managers performed against each other — talk time, talk ratio, patience, etc. — has been incredible."
Gong Analytics has helped Tinuiti "dive deeper" to understand better where to spend coaching time.
Atypically low patience score? The rep is not practicing active listening and maybe interrupting a lot!

Excessively long monologue? Gong makes it "wicked easy" to see who that person is.
An added, unexpected bonus? The ability to aggregate common topics across the client base allows Tinuiti to "keep a pulse" on various trends and inform marketing content prioritization.
But Tinuiti went beyond the Gong for Coaching use case.
From Sales to Client Strategy
Sales and Client Strategy at Tinuiti work hand-in-hand. Gong plays a considerable role in this collaboration.
Client Strategy uses Gong to look back at sales conversations to ensure an optimal handoff, get to know their (new) client's personality, what they were looking for/hoping to accomplish, and more.
"Gong helps accelerate the transition from Sales to Client Strategy," said Des. The team can fast-forward calls to find precisely what they need to get up to speed. This means managers can "be in many places at once."
Additionally, the Client Strategy team records all calls and shares them with its clients to ensure they are on the same page.
Trackers and daily email alerts have been huge for Tinuiti when identifying at-risk clients. This insight and "here is what to do next" action items mean the Client Strategy team can be more proactive.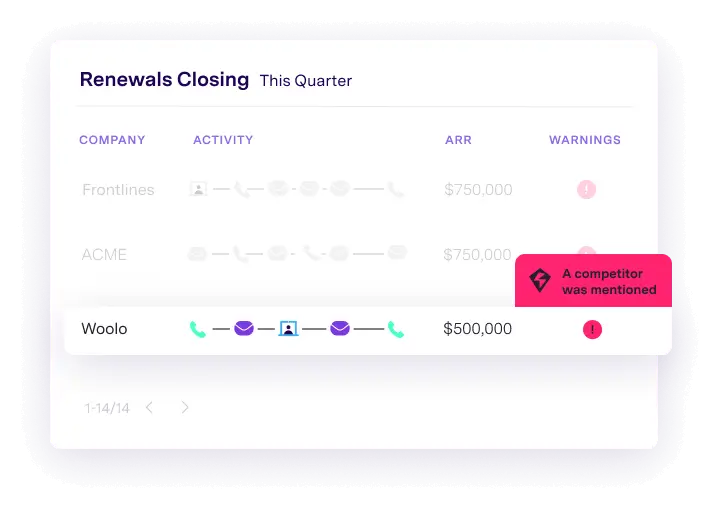 Tinuiti tracks keywords (like "frustrated") to get warnings about clients who may be unhappy. This triggers an email to a manager. The at-a-glance emails make it "so easy for our team to click on a call in the timeline and get to the exact part they need to hear," says Des.
As the person responsible for all departments that generate and enable revenue, Jesse really loves how they can use alerts to cross-sell.
In fact, these keywords have bumped up cross-selling at Tinuiti, a 50% increase in recurring revenue from cross-selling year-to-date vs. the prior year, to be exact.
The Gong-Tinuiti Future
A connected client ecosystem.
That's how Jesse envisions the sales process evolving through the partnership with Gong. "No matter if you are in sales or marketing or on the delivery services team, I see a customized client view with all attributes: NPS, open activities, and recent Gong trackers mentioned."
Gong: One view. One platform.
Jesse also believes more agencies will realize the power of Gong. Agencies often use "borrowed talent" from the delivery team to help pitch. It becomes more challenging to iterate and improve win rates as you lose the repetition and practice.
This is where Gong comes in, giving leaders the means to listen to (and weigh in on) critical pitches.
Des says it best: "You can teach someone a process all day long, but it won't 'stick' until they can hear a real case scenario."
Here's to more hearing (of Gong calls, that is)!
Have questions or want a custom demo?
We're here to help! Click the button below and we'll be in touch.
Request demo