How Funnel Increased Messaging Adoption by 76% Across Global Teams with Gong
76%
increase in new messaging adoption
The challenge
Funnel faced adoption and standardization challenges that are typical of fast-growing and globally distributed teams during strategic initiatives like messaging rollouts. These included difficulty in tracking and managing the rollout and its adoption across multiple locations and time zones and in numerous languages and dialects.
The outcome
Funnel used Gong's Smart Trackers and Initiatives board to run the strategic initiative more efficiently and achieve an impressive 76% hike in their new messaging adoption on calls. Their messaging rollouts are forever changed by their newfound adoption tracking abilities, which enable alignment across their globally distributed teams.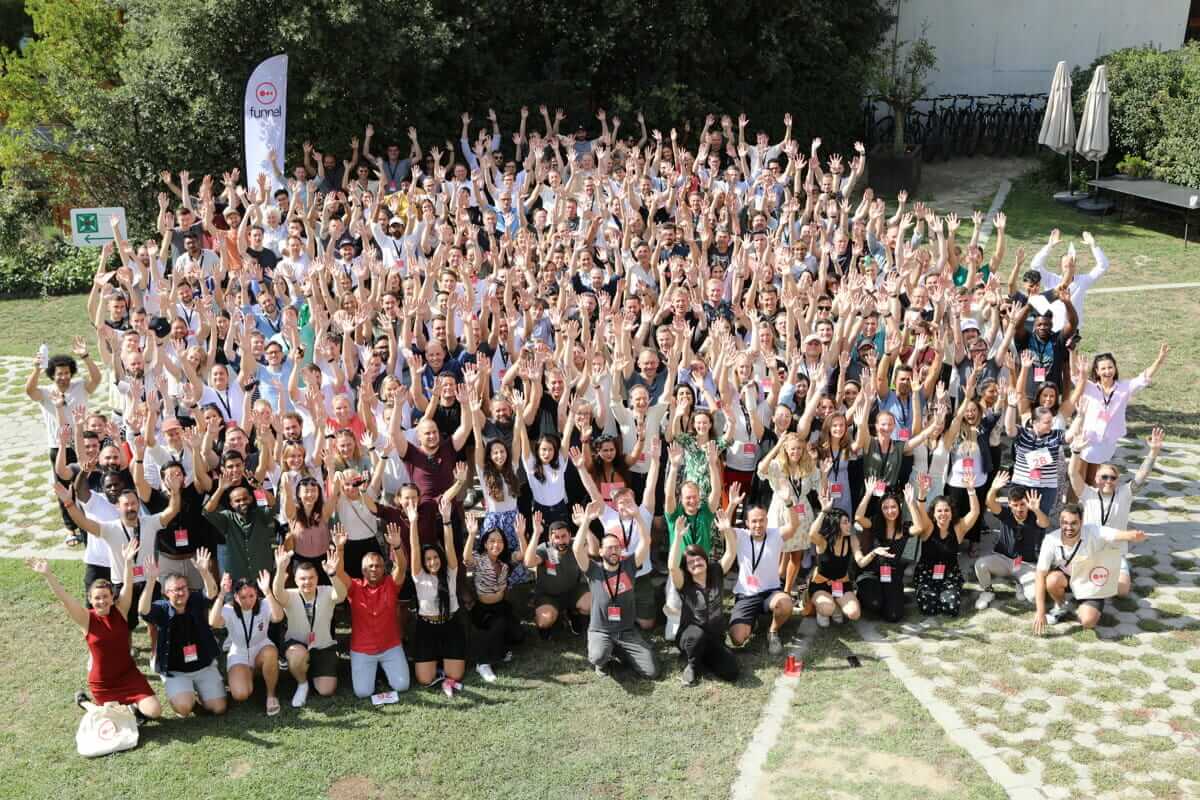 HEADQUARTERS
Stockholm, Stockholm County
industry
Advertising Services
A 76% boost is a reason to cheer, especially if you're Funnel's Sales Enablement team.
That's the astounding jump they experienced in sales calls that mention Funnel's new messaging, thanks to Gong. It's the result of a strategic initiative designed to align their globally distributed teams around new messaging.
Funnel is a Marketing Data Hub that connects multiple platforms and allows marketing teams to assess their performance. It's truly a global organization, with headquarters in Stockholm, Sweden; offices in Boston and Dublin; and Australia.
When Katie McCullagh, Global Sales Enablement Manager (Dublin), and Angela Baldacci, Global Sales Enablement Manager in the US were asked to run a strategic initiative promoting Funnel's new messaging to globally distributed — and quickly growing — teams, they leaned into Gong. 
Funnel was at a critical juncture in its growth and faced some challenges in adopting and standardizing new messaging, all of which are typical of fast-growing and globally distributed teams during rollouts. These included working across multiple locations and time zones and in numerous languages and dialects. 
Based on past challenges, Katie and Angela's top priorities were:
Gamifying the uptake of strategic initiative rollouts:

This would result from tracking the new messaging's adoption, then pivoting based on adoption-related insights.

Greater business efficiency:

They would achieve this through global alignment around new messaging that worked.

Gong's Initiatives board and Smart Trackers made tracking adoption easy
Gong's Initiatives board and Smart Trackers made tracking adoption easy
Gong had already streamlined and improved Funnel's coaching, onboarding, and skills development for the sales team. Now, Katie and Angela were keen to test out the benefits of its Initiatives board for rollouts. This feature was built to track the adoption of strategic initiatives like this new messaging rollout, so decision-makers could steer the initiative in real time based on its adoption and results in the field. 
Gong's Initiatives board made it easy for Katie and Angela to iterate and pivot quickly during the rollout based on their ability to filter adoption rates for any team, individual, or time zone. Gong's Initiatives board kept them focused on adoption metrics and helped them bypass the issues that typically result in misalignment on global teams (location, language, etc.). Angela describes the Initiatives board as, "So powerful. Incredible from a data visualization perspective — a single click shows us how our initiative is performing. No exporting. No manual calculation."
They also set up Smart Trackers — Gong's AI-powered way to pick up on themes or topics within calls, not just keywords — to track conversations that indicated adoption, no matter the language or dialect. "Going through the process of creating a Smart Tracker is really fun for the person creating it, and it's amazing to see how Gong's AI constantly learns to detect unforeseen challenges we'd otherwise miss," says Angela.
They had all the adoption information they needed to pivot quickly,  in real-time, and in one place.
"Gong gamification" helped achieve a 76% boost in new messaging use
Katie and Angela added some healthy competition to their strategic initiative. They hoped a little gamification would inspire widespread message adoption and align global team members around consistent use of the new messaging. "Gong helped us drive a strategic initiative and align global teams around new messaging in a way that was engaging and insightful," said Angela.
With a 76% increase in the number of calls using the new messaging in just one month, their plan paid off. Here is how they gamified their strategic initiative using Gong's Smart Trackers and Scorecards:
Goal

: They aimed to incentivize new message adoption and align globally distributed teams around a strategic initiative.

Process

: They created a scoring system using Gong's Smart Trackers, whereby salespeople earned points by using the company's new messaging on calls, and managers earned points by assessing those calls using Gong's Scorecards to rate customized criteria and highlight where calls needed improvement.

Results

:

Within one month, 76% more of the 1,000+ customer interactions across the revenue org mentioned the new messaging.
Bonus

: New messaging was top of mind for every revenue team member in the org.
This approach helped solidify the use of Gong by both managers and reps during new strategic initiatives. The winning team's manager scored more than 80 calls!
Funnel forever reshapes its strategic initiatives
"With Gong, there's infinite flexibility and possibility when we roll out critical business initiatives." Angela finds that every time the Global Sales Enablement team hits a potential roadblock, there's always a way to use Gong to solve the issue. She found it wasn't as easy to remain flexible with other software.
"Gong has been an incredible platform … Even the different language versioning has really helped in our tracking." In short, says Angela, "I love Gong and will advocate for the platform every day."
Kaite agrees. "Even if we weren't global, Gong has been so pivotal to the success of a sales org to see what team members do, how they excel, and how they learn from each other."
Today, the Global Sales Enablement team relies on Gong during the planning and execution of its strategic initiatives, wherever they take place around the world.
Have questions or want a custom demo?
We're here to help! Click the button below and we'll be in touch.
Request demo