Sales Enablement Software For Data-Driven Teams
Boost sales productivity, improve rep performance, and ramp new hires faster with sales enablement software. Gong analyzes your reps' conversations to uncover hidden growth levers. See how our solution can empower your sales enablement team to monitor training effectiveness and share best practices.
5 Reasons Why You Should Use Sales Enablement Software
Rather than tell you, we asked our own customers why they would recommend Gong for sales enablement. Here's what they had to say: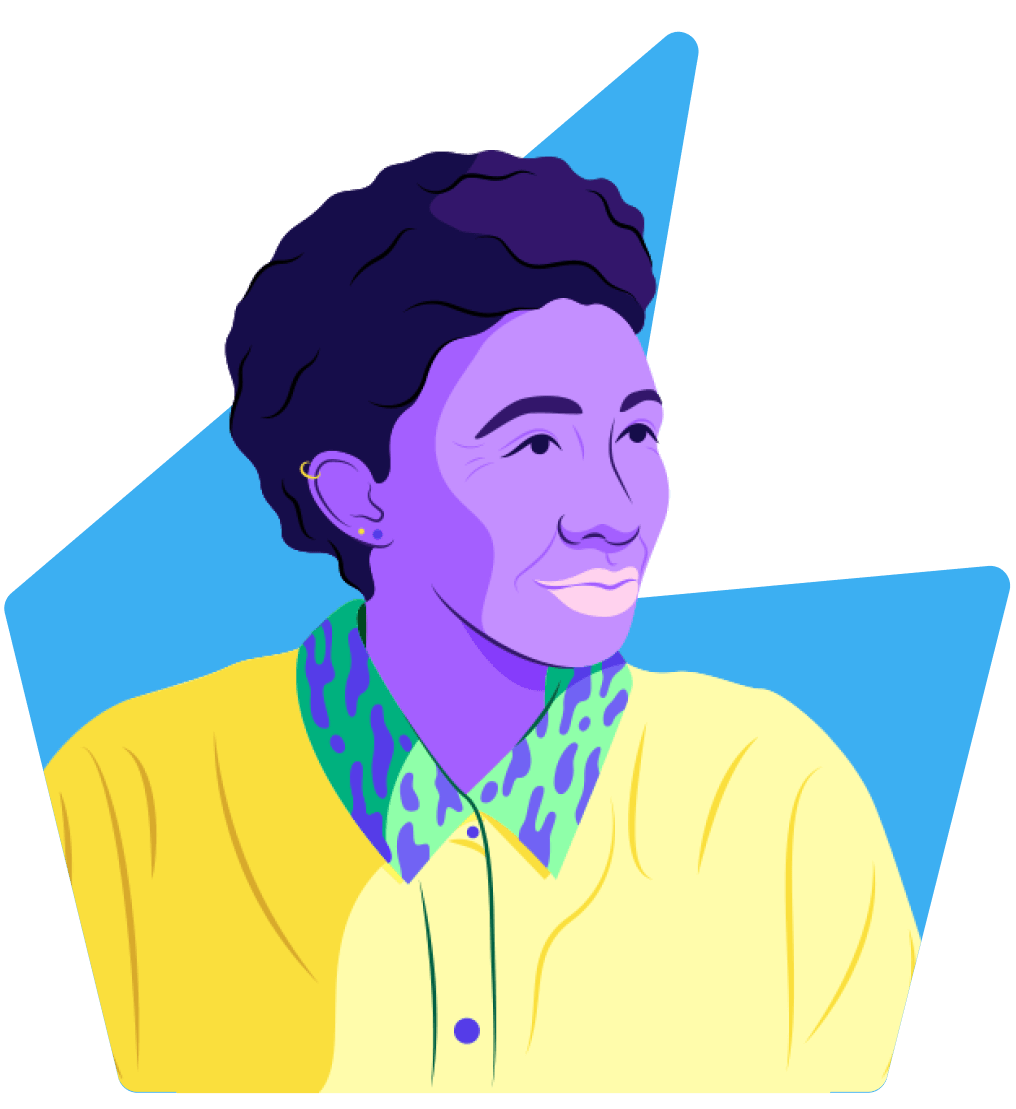 REASON #1
A Top Productivity Hack for Sales Enablement
With Gong's sales enablement technology, sales leaders can be in ten places at once. Instead of spending time shadowing calls, reps and their managers can pull up calls on-demand—from any device. What's more, Gong pulls together the right data to show you exactly where to focus your training.
REASON #2
Pinpoint Areas of Improvement
Identify true training needs using data from real-life sales calls. Maybe Team A is consistently failing engage the right titles within their accounts. Or maybe Team B isn't building a business case around the correct value propositions. Now you'll really know where to focus your sales enablement efforts to boost each rep's performance and drive revenue.
Reason #3
Monitor Talk Track Adoption
Nothing is more frustrating than developing and rolling out new talk tracks, only to find that reps aren't using them properly. With Gong, you can confirm that reps are using the messaging, training, and enablement materials by tracking the use of words and phrases in conversations. No more guesswork. More like clockwork, with Gong AI constantly recording and analyzing interactions.
Reason #4
Build Personalized Development Plans
Zoom in on each individual rep's coaching needs using data from the sales enablement platform. Deliver personalized feedback based on actual interaction data and call recordings to put reps on track for success. When needed, share the best practices of top performers so reps can see what they should be aiming for.
Reason #5
Give Reps a Tool They Can Swear By
Sales reps love Gong for a simple reason: it constantly provides ideas for improvement. Each day, reps can use Gong to review their game tape, learn from their top performing teammates, and make sure their next call is their very best.
Meet Gong. Your Sales Enablement Team's New Favorite Tool.
Gong's recommendations are grounded in your team's data. Our sales enablement software not only records every interaction—every call, email, web conference, or otherwise—but performs deep analysis of those interactions on an ongoing basis.
Because your team's best sales conversations are like no other. With Gong, you'll know exactly what good looks like. That way, you can hand your reps a living, breathing playbook of best practices that they can use to become quota-crushing superstars.
Gong's sales enablement software works like no other. Its capture and analysis of your team's customer-facing conversations across email, phone, and web conferencing means you can track in real-time whether messaging, methodology, and enablement materials are being used in the field. Not only that, our software will show you direct ties between sales strategies and closed-won business so you can replicate winning behaviors.
If that weren't enough, Gong gives reps the tools they need to self-train using real-life conversations. It's like giving reps a fish AND teaching them how to fish at the same time. With Gong, reps can step up their game any time, any place.
Oh My Gong, The Features!
Automatically find sales enablement opportunities
Gong keeps a deep store of data that shows you where your team needs sales enablement the most. Use Gong to extract the insights you need to drive high-impact enablement programs. Many teams find that Gong reveals opportunities where they never thought to look.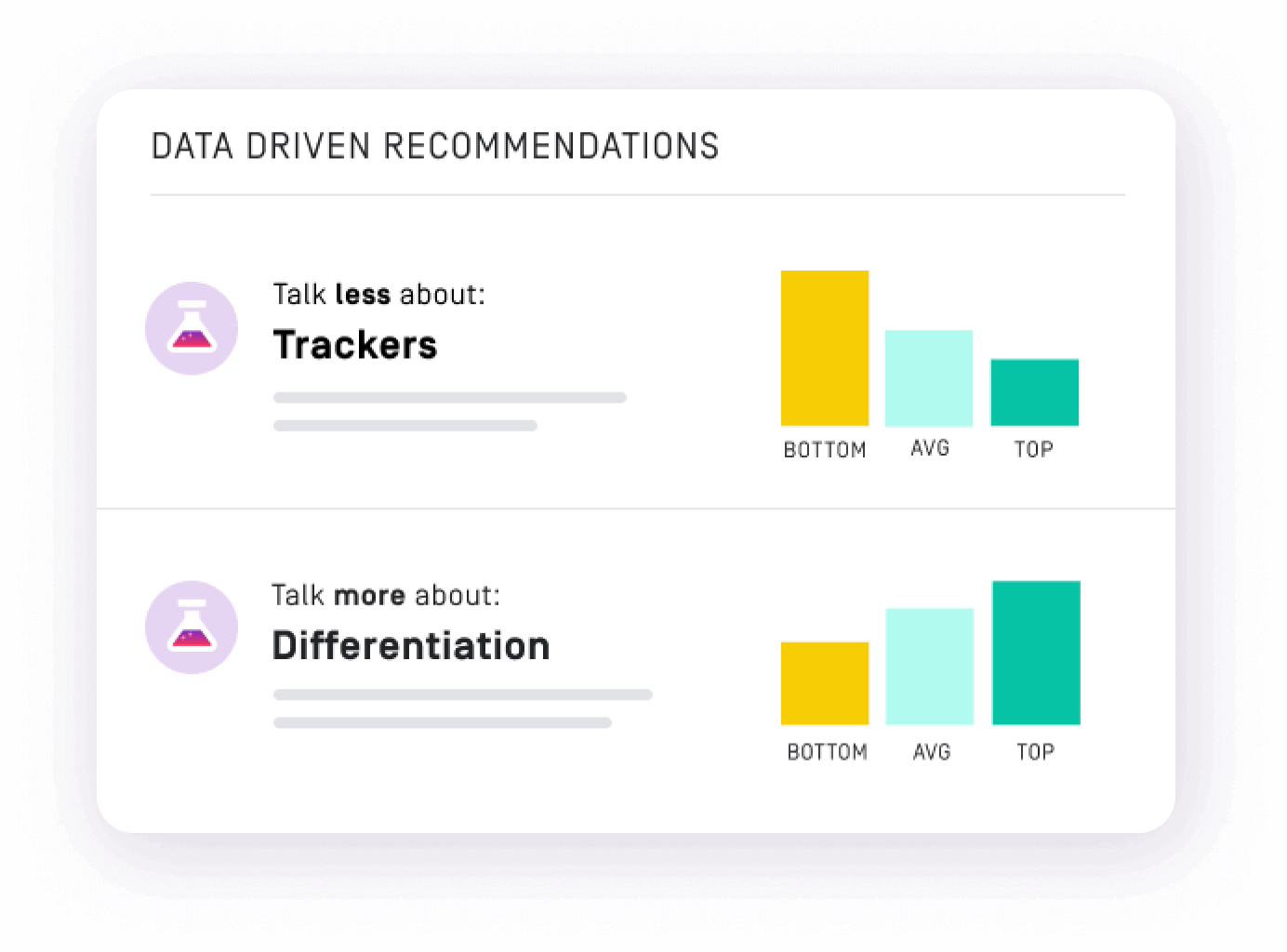 Create data-backed battle cards
Use data from successful sales cycles to create the ultimate talk tracks for your reps. It's a classic show-don't-tell approach, in which reps can listen to actual sales calls from top performers on your team.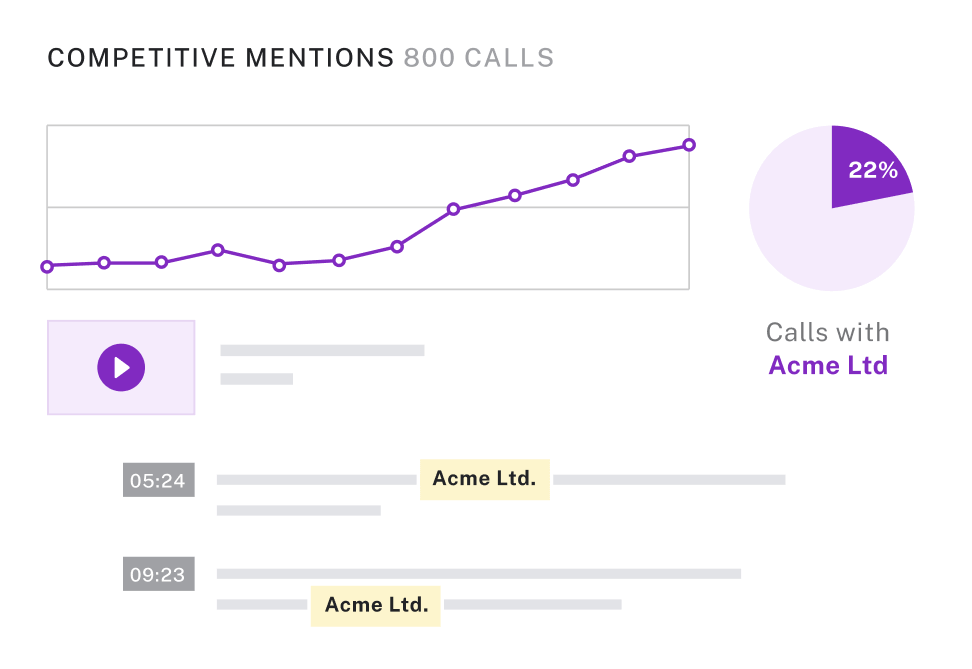 Measure training effectiveness
Track progress on your key sales enablement programs to identify reinforcement needs and quantify ROI across initiatives. You'll see precisely where and how your strategies and sales enablement tools have traction, and where specific reps need help getting up to speed.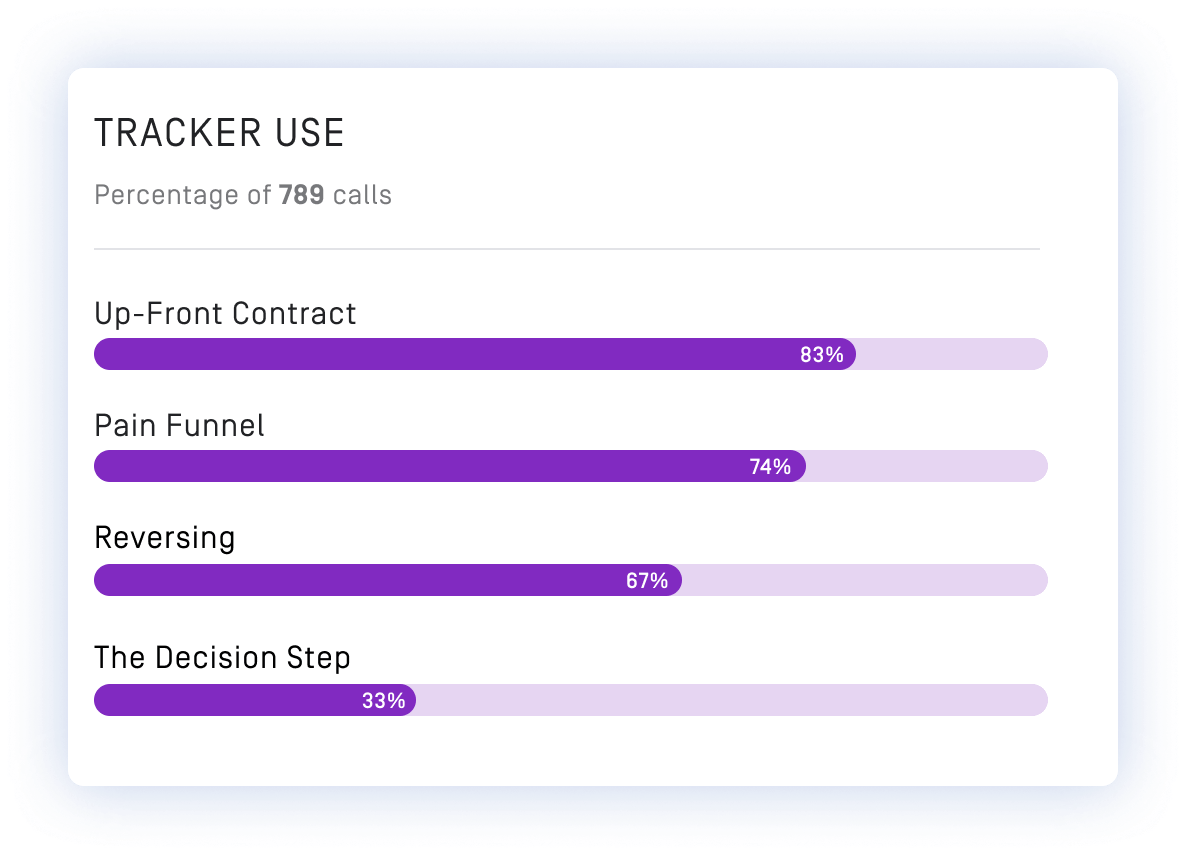 Show Me How Gong's Sales Enablement Software Works
Don't mind if we do. Here's what goes on behind the scenes to make a must-have among sales enablement tools:
step 1
Gong captures your team's sales conversations and analyzes them with AI technology.
step 2
Gong breaks down stats for each rep (talk ratio, questions, customer monologues) and for your entire team so you can identify where they most need help.
step 3
Gong notifies you when specific words or phrases come up in conversation so you can monitor adoption of your enablement programs.
step 4
Gong stores all your team's best-practices and lets you organize them so that reps can access real-life examples to drive their performance.
More Than Sales Enablement Software
You read that right. Gong is the leading Revenue Intelligence platform. With Gong, revenue leaders can get total visibility into their team, their deals, and their market. 

So, what's Revenue Intelligence? It's the new way of operating using customer reality – instead of opinions. And here's what that means for you:
People
Understand what good looks like for your team and your calls. Build a winning playbook for your sales team. Turn managers into all-star coaches.
Deals
Get a reality view of your pipeline. Track touch points on all your deals and all your channels to stop deals going dark and see them through to the finish line.
Market
Uncover a gold mine of insights from your customer conversations and crack the code to capture an unfair share of your market.
Goodbye Opinions. Hello, Reality.
Join us (along with thousands of sales and revenue leaders) in a moment of silence. In loving memory of our dear old friend, opinions.
We Didn't Ask Them To Say This
Gong is one of the best sales enablement tools out there. It is so easy to use and the benefits so high that it is truly a no-brainer for any sales team.
Gong is a sales game-changer. I cannot think of a better enablement tool for new reps to ramp up quickly…and for seasoned reps to stay sharp and continually improve.
I love how I can use Gong to amplify all of my sales enablement and training initiatives especially on the continuous learning front and after sales people have gone through the basic onboarding.
"Gong is a sales game-changer."
3,000+ Reviews Agree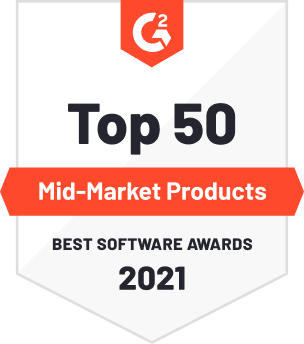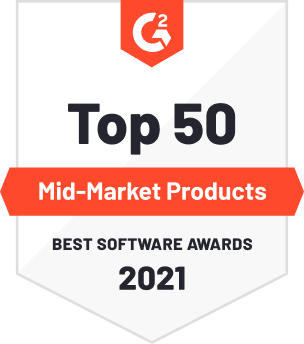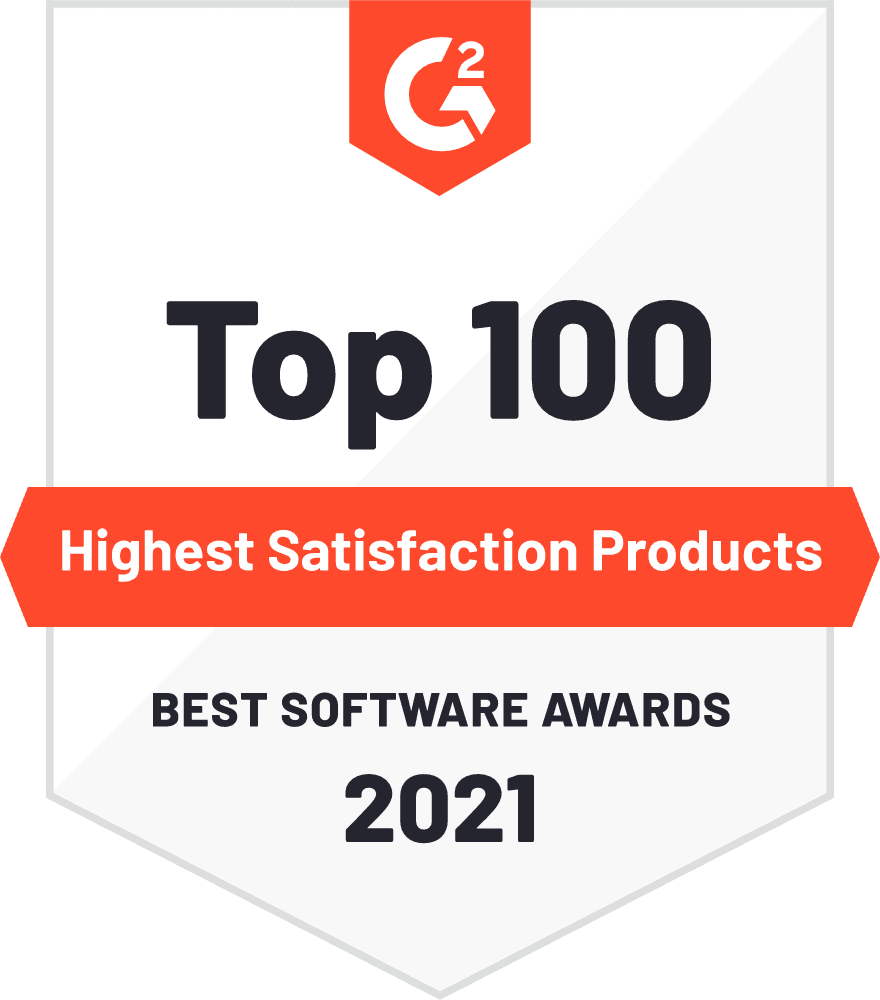 Demo Gong's Sales Enablement Platform Today
It's so simple it'll feel like cheating (except it's not).
FAQ
Less Questions. More Answers.
What is sales enablement software?
Sales enablement software provides a repository of sales resources for your team, as well as the ability for enablement teams to track the impact of their initiatives with data. Sales enablement platforms are especially valuable for onboarding new reps, improving quota attainment, and surfacing insights into team and rep performance. While many sales enablement tools will offer only a searchable knowledge base of sales content, best-in-class enablement platforms will also include data on rep performance based on critical KPIs (win rates, conversion between stages, and adherence to sales methodology). Thankfully, Gong does it all.
How does sales enablement software work?
Sales enablement software stores your team's best practices so they are organized, searchable, and actionable. Sales enablement platforms also provide data to guide your enablement programs: What common objections are your team coming up against? Where can your team improve? Which team members are adopting new training and messaging? Which ones aren't and need a refresher? What is the ROI of your sales enablement program? Armed with data, your enablement team can define priorities, target training on certain groups, and deliver results to the revenue organization.
How can I use Gong to track new messaging adoption?
Your enablement team can monitor new messaging, product rollouts, updated talk tracks, and sales methodology compliance by your sales team directly in Gong's sales enablement software. Here's how it works:
Set up trackers: Automatically detect use of certain words and phrases by your reps, your prospects, or both.

Set up email alerts: these notifications will let you know if the key messaging is or isn't being used on calls. That way you'll know in real-time if new messaging is catching on, and what to do about it.

Review stats: These dashboards will give you a trend of how effectively messaging is adopted over time, and give you the tools to determine which areas to focus on. You can also break down by team or by rep to opt for a more personalized approach and to surface coaching opportunities.

Topics: Identify patterns across thousands of conversations that you wouldn't be able to do without AI. Even better, Gong's AI will ID which patterns lead to successful closes, doing the leg work for you so you don't have to listen to hours and hours of calls.
Can I use Gong to certify reps on new messaging?
Yes, you can. We understand how critical new messaging is to sales success, and how much work most teams put toward developing it. Your sales enablement team can use several features in Gong to maintain script adherence across their team.
Library: select great calls or snippets to show reps what good looks like. Build tribal knowledge from the ground up.

Scorecards: create custom scorecards so that you and other members on your team can offer structured feedback to reps on their performance on a given call.

Upload a recording: new reps can upload a recording of themselves giving your pitch so that you can review it in Gong.
How does Gong help new reps onboard faster?
Time is money, and the sooner you can get new reps dialing, dealing, and closing, the better. Sales enablement teams can use Gong's platform to get reps to quota in record time. Here's how:
Show it all: using libraries, you can curate conversation snippets from every stage in your sales process to get reps up to speed on each step to close. They'll have all they need to self-start, self-study, and self-monitor.

Ask managers and reps to participate: let your team pick their best calls so that you can compile the best practices from across your organization.

Make call-shadowing easy: let new hires access your team's best calls at any time. You can also incorporate certain calls or folders into your Learning Management System workflow, by linking to them in relevant sections.
How does Gong help sales managers deliver consistent feedback?
Using the power of Gong's sales enablement platform, you'll be able to ensure homogenous coaching and feedback for all the reps on the team.
Set alerts for managers: that way, they'll all track the same behaviors across their reps.

Create standardized scorecards for managers to deliver feedback using the same criteria every time.

Let reps listen to calls from their peers across the organization so they can take on best practices from their peers.
What's more, managers and other sales reps can leave comments on specific parts of calls so that reps can easily go back and see exactly where they need to improve.
How does Gong promote self-learning?
As much as every sales manager wishes they could be in fifty places at once, they can't. Not only would they burn out, but it's not a model for scalable sales success. Instead, sales reps need resources they can access on their own. Here are actions your team members should take to make Gong's sales enablement software part of their daily self-coaching routine:
Get the highlights: Listen back to important moments in calls and identify action items or critical details to unlock deals.

Stay in the know. Before talking to a customer, listen to previous call highlights. Capture call notes and comments in Gong so they're aligned with the relevant parts of the conversation. Gong comments allow the call organizer, their peers, and their manager to review a call within minutes with the full context for each call. Comments can include bookmarks for important segments of the call, coaching tips, deal notes, and other relevant points.

Make it a habit. Listen to at least one or two call recordings per week–their own and their peers', and leave feedback. Treat other team members' calls as learning experiences, particularly calls made by the team's top closers. Listen to recently closed-won or closed-lost deals, and deals in specific vertical markets.

Tag a friend. Use @mentions in comments to request help, ask questions, or share information the team should know about. Savvy reps will leverage this for positive moments, such as clever objection handling, driving concrete next steps, etc.
Can I integrate Gong sales enablement tools with my existing tech stack?
Yes, chances are strong that you can. Currently, Gong offers dozens upon dozens of integrations. That includes everything from calendars and email clients, to salesops, events, and business intelligence. Featured integrations include:
Google Workspace

Salesforce

Zoom

Slack
Do you have any sales enablement case studies?
Yes, we have a growing catalog of customer success stories, featuring enterprise companies, small businesses, and everything in between. Here are some select case studies that focus on Gong's sales enablement tools:
Thank you for your submission.