Company News
Gong Releases Customer Relief Package to Help Remote Sales Team Work Better Together
SAN FRANCISCO – March 26, 2020 – Gong, the revenue intelligence platform leveraging artificial intelligence to replace opinions with true customer reality, today released key product features geared towards managing remote teams and making them effective and productive, especially given the current health crisis impacting sales teams across sectors.  Gong simultaneously announced their first full-day virtual conference, #celebrate Online, to be held on April 7th.  Additionally, the company launched the Remote Sales Center with educational and data-driven content for remote sales professionals.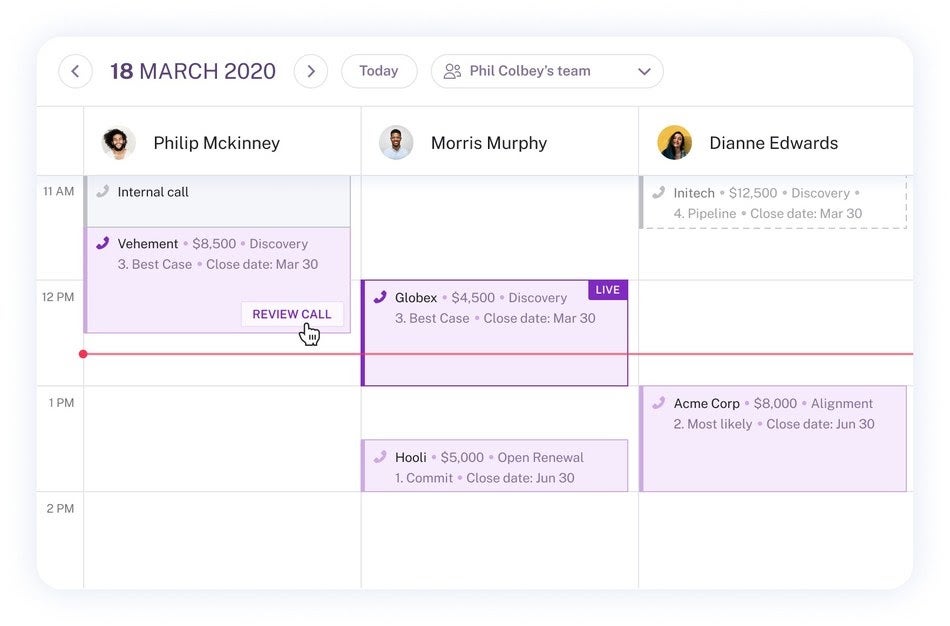 Activity Calendar: Quick view of customer conversations across team members
New Product Capabilities for Remote Teams
Remote sales is the new normal for sales teams today – whether by choice or circumstance.  Leaders of remote sales teams need to ensure they have a pulse on their customer reality, especially since walking across the sales floor and checking in on deals is not an option.  The newly launched Activity Calendar provides front-line managers with a calendar view of their team's scheduled customer calls. Now, sales managers can quickly ensure their sales reps are productive and focused on high priority customers and sales reps can better plan their work-week and identify where they may need coaching.
Companies are actively trying to understand how Coronavirus is impacting their customers' reality.  Gong introduced an out-of-the-box Tracker to quickly identify calls and emails where the virus is mentioned by customers, as well as the surrounding context of the conversation.  This level of market intelligence allows sales reps to truly understand the voice of the customer and how they believe their business will be impacted in these uncertain times.
Udi Ledergor, CMO of Gong elaborated, "We are committed to our customers through all circumstances – times of rapid scale and times of uncertainty.  The current situation has focused us on how we can provide immediate value to our customers, even when they can't be on the sales floor. Gong is uniquely positioned to surface the rapidly-changing customer reality, so sales managers can provide timely guidance to their teams and make them as effective as possible."
Celebrate Online Virtual Event
Gong is committed to identifying sales best practices and educating sales professionals on how they can reach their fullest potential.  To this extent, Gong announced its first virtual conference #celebrate Online to be held on April 7th.  This one-of-a-kind event will include speed networking, virtual breakout sessions, and presentations on operating remotely from experienced sales leaders.  #celebrate Online follows a sold-out roadshow that Gong hosted in key cities across the US in February.
Useful Content for Remote Sales Teams
Additionally, Gong developed a Remote Sales Center which includes thought leadership and best practices for managing remote inside sales and field sales teams. 
About Gong
Gong enables revenue teams to realize their fullest potential by unveiling their customer reality.  The patented Gong Revenue Intelligence Platform™ captures and understands every customer interaction, then delivers insights at scale, empowering revenue teams to make decisions based on data instead of opinions. Over 900 innovative companies like AutoDesk, Service Titan, KeepTruckin, Pinterest, LinkedIn, Hubspot and Drift trust Gong to power their customer reality. With Gong, customers experience improved win rates, increased deal sizes, and accelerated employee ramp-times. Gong is a private company headquartered in San Francisco. For more information, visit www.gong.io or follow us on LinkedIn.
For media inquiries contact: 
Sheena Badani
press@gong.io