Company News
Gong Launches Deal Intelligence to Transform Revenue Pipeline Management
SAN FRANCISCO – March 10, 2020 – Gong, the revenue intelligence platform leveraging artificial intelligence to replace opinions with true customer reality and transform revenue teams, today announced the launch of Deal Intelligence, redefining how revenue teams manage their pipeline to identify and reduce deal risk and win more business. With the launch of Deal Intelligence, Gong continues its mission to help revenue teams operate based on reality instead of opinions.
Today, sales leaders need to have lengthy conversations with sales reps to understand the current state of their deals. This often leads to a lack of trust, productivity loss, and worst of all, slipped deals. Deal Intelligence provides sales leaders with a clear, up-to-date view of what is really going on in every deal so they can quickly identify at-risk deals. Sales professionals can finally shift their attention from recapping the past to strategizing on moving deals forward.
"Deal Intelligence allows us to do quicker pipeline inspections and validate with a third party that we really are where we say we are in the process," said Armen Zildjian, VP of Sales at Drift. "It is not to micromanage but to continue to coach and give reps the next best step with the customer, so we really can rely on that business."
These AI-driven Deal Intelligence capabilities are now available to Gong customers:
Deal Board

: Quickly understand which deals are healthy and which require immediate attention.

Deal Warnings

: Easily spot warning signs such as a lack of recent activity so you can course-correct in time.

Account Page:

Find all deal-related interactions in one place – across email, web conference, and phone – so you can proactively identify risks.

Engagement Map:

Ensure a deal is multi-threaded and reps are engaged with the right people in the right way.
"Over 50% of sales reps are expected to miss quota this year, which is astonishing and a problem ripe for solving," said Amit Bendov, CEO and Co-Founder of Gong. "Deal Intelligence provides an accurate view of every deal so that sales reps can focus on de-risking deals, sales managers can provide targeted coaching, and sales teams can exceed their targets. This is all possible due to recent advancements in AI that helped make Deal Intelligence a reality."
Dan Gottlieb, Sales Analyst at TOPO, added, "Consider what can be done when you have every phone call, email, and customer interaction automatically captured and the ability to analyze those interactions. It will allow organizations to get a sharper picture of prospect intent and where an account is in the sales process."
Learn more about Deal Intelligence here.
Deal Board: Summary of all deal interactions for your team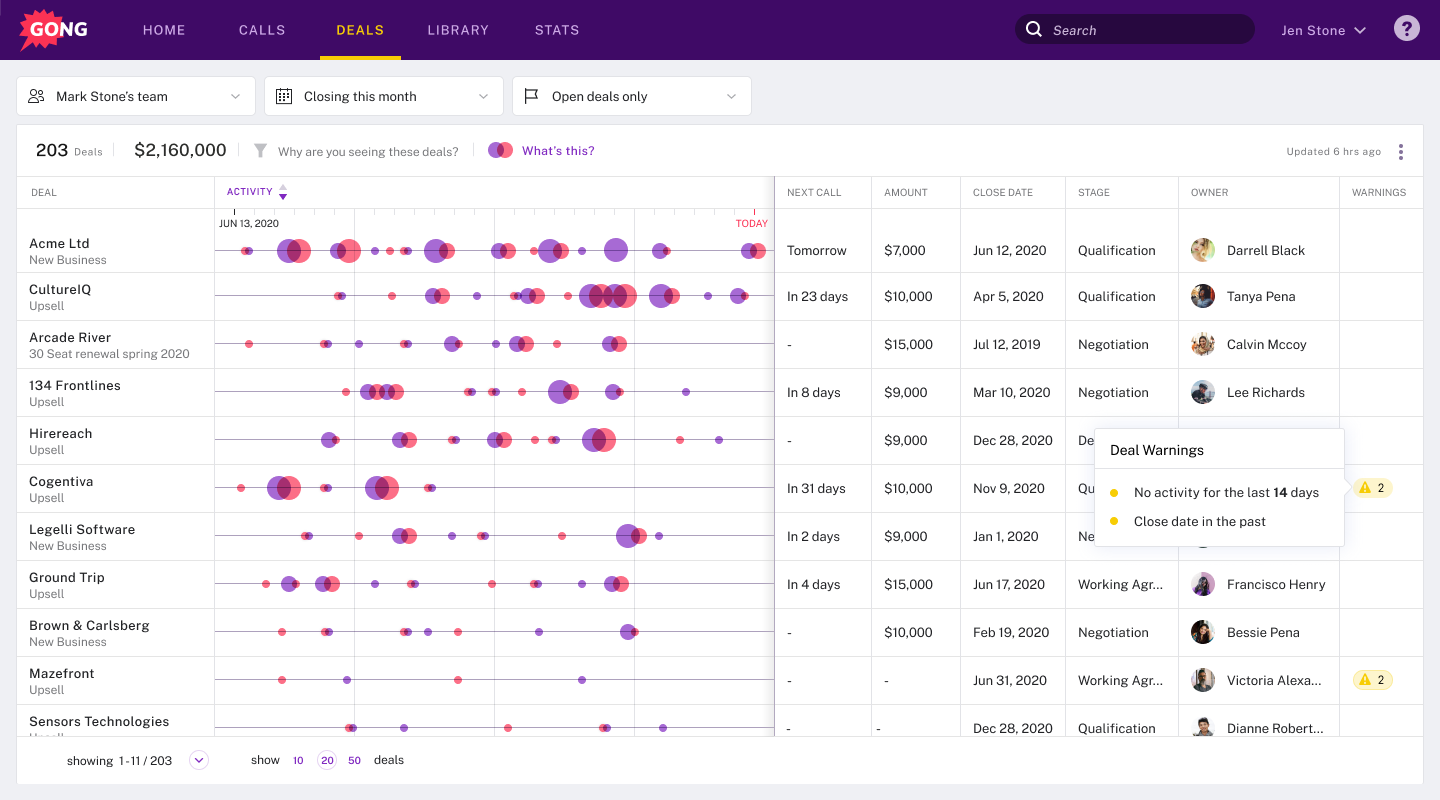 Account Page: Find all the interactions within a given deal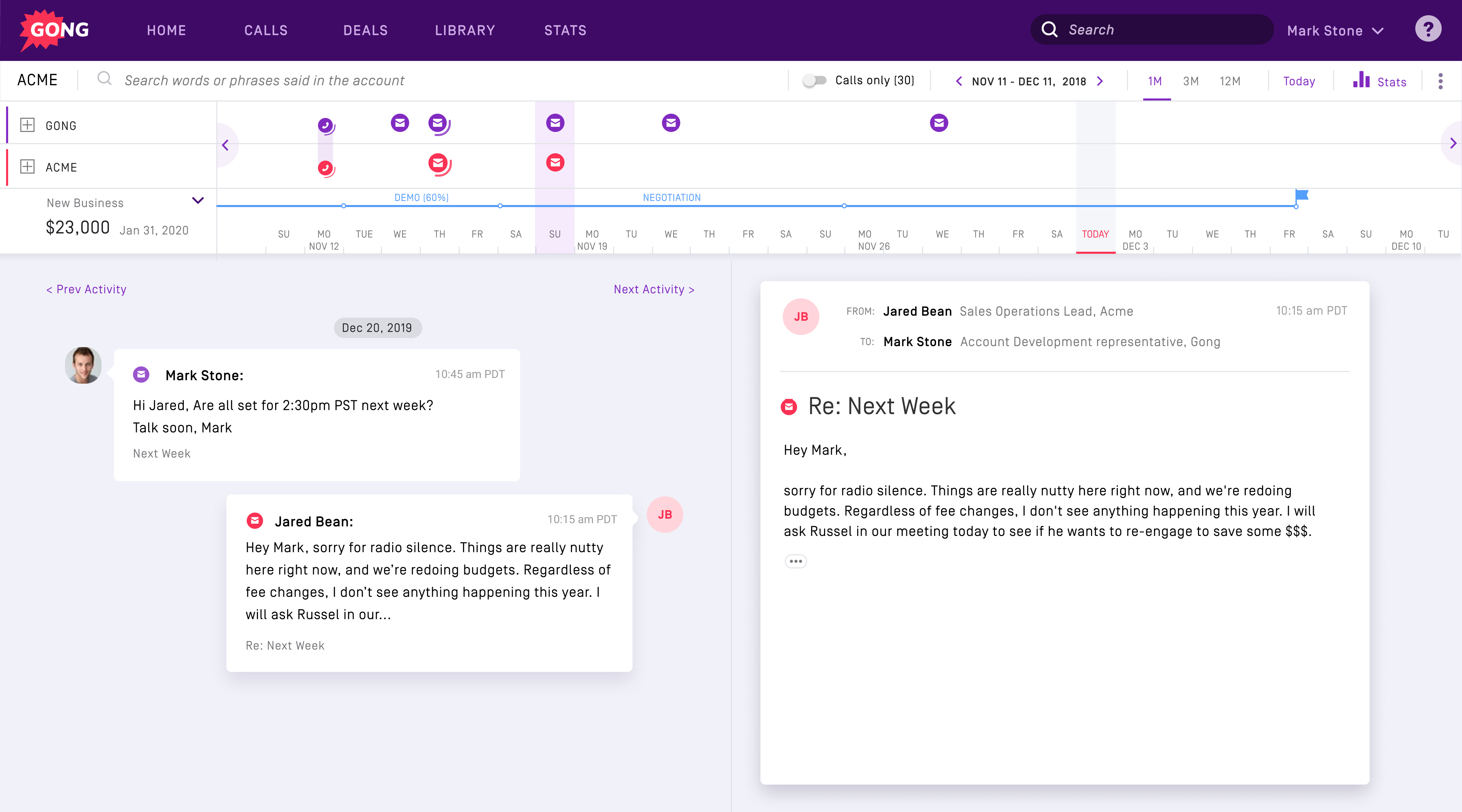 About Gong
Gong enables revenue teams to realize their fullest potential by unveiling their customer reality. The patented Gong Revenue Intelligence Platform™ captures and understands every customer interaction, then delivers insights at scale, empowering revenue teams to make decisions based on data instead of opinions. Over 900 innovative companies like AutoDesk, Service Titan, KeepTruckin, Pinterest, LinkedIn, Hubspot and Drift trust Gong to power their customer reality. With Gong, customers experience improved win rates, increased deal sizes, and accelerated employee ramp-times. Gong is a private company headquartered in San Francisco. For more information, visit www.gong.io or follow us on LinkedIn.
For media inquiries contact:
Sheena Badani
press@gong.io