Blog
What Is a Strategic Sales Plan?
As a sales manager, you're like a general marshaling your troops (or sales reps) into battle. It's your job to lead your team through the trenches and give them direction so they'll know which markets or territories to target and how best to attack.
That's why having a strategic sales plan is vital.
It sets out everything your sales team needs to know about your sales process, including what they need to do at every stage of the B2B sales funnel to convert high-value leads.
In other words, a strategic sales plan helps your sales reps avoid firing aimlessly into the market and missing more often than they hit.
In this article, we'll look at what a strategic sales plan entails, why your sales team will have a hard time selling well without one, and how to build a successful strategic sales plan.
What is a strategic sales plan?
A strategic sales plan is a detailed strategy that outlines how you'll target and sell to high-value prospective clients. It outlines a clear path to reaching your sales goals.
Strategic sales focus on relationship selling or using a consultative approach. That means taking time to understand a prospect's pain point and personalizing your pitch to highlight how your product can solve it.
A strategic sales plan is a lot of work. But it shouldn't just cover who you'll target or what outreach tactics your reps will use — it should cover every stage of the sales process.
Why is a strategic sales plan essential?
A strategic sales plan is essential for targeting high-value enterprise clients for several reasons.
Improves rep performance and increase revenue
Your sales team is crying out for clarity. 70% of reps say their company's sales process has become more challenging over the past 12–18 months.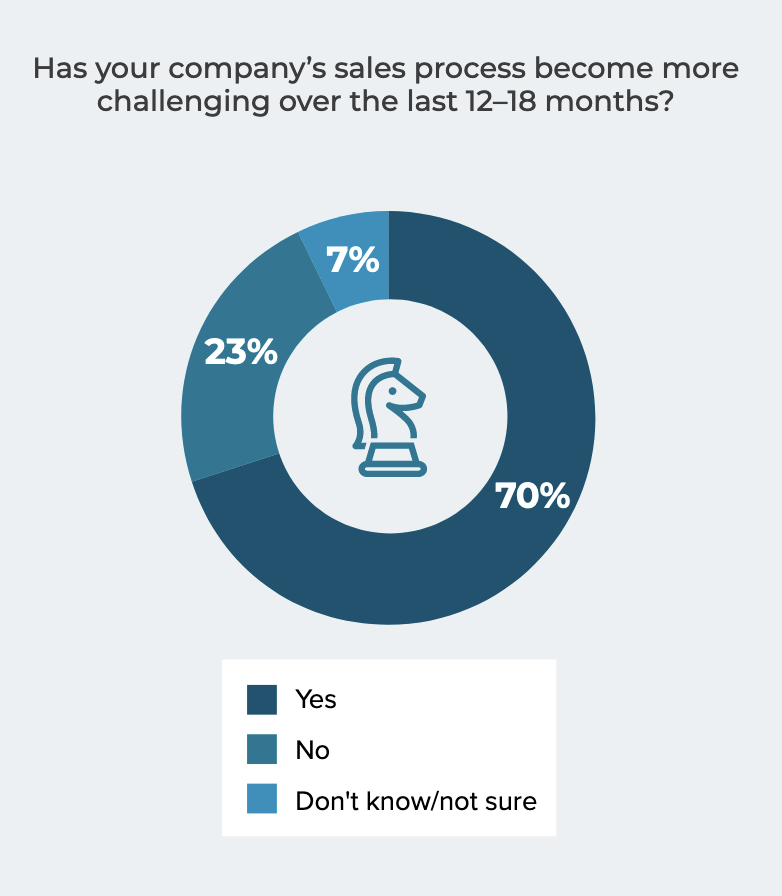 A strategic sales plan helps make everything much more straightforward. It shows reps exactly who they should be targeting and the actions they need to take at every stage of their pipeline.
Creates strong buyer relationships
When your reps are crystal clear on their sales strategy, they have more time to spend with potential buyers. This does wonders for the buyer-seller relationship.
A strategic sales plan also helps give buyers the sales experience they want. While 88% of buyers do business with trusted advisors, just 40% of decision-makers describe the sales profession as trustworthy.
Targets and closes high-value clients
You can't close enterprise accounts with transactional sales tactics. As you can see from the diagram below, enterprise deals are high-value and highly complex.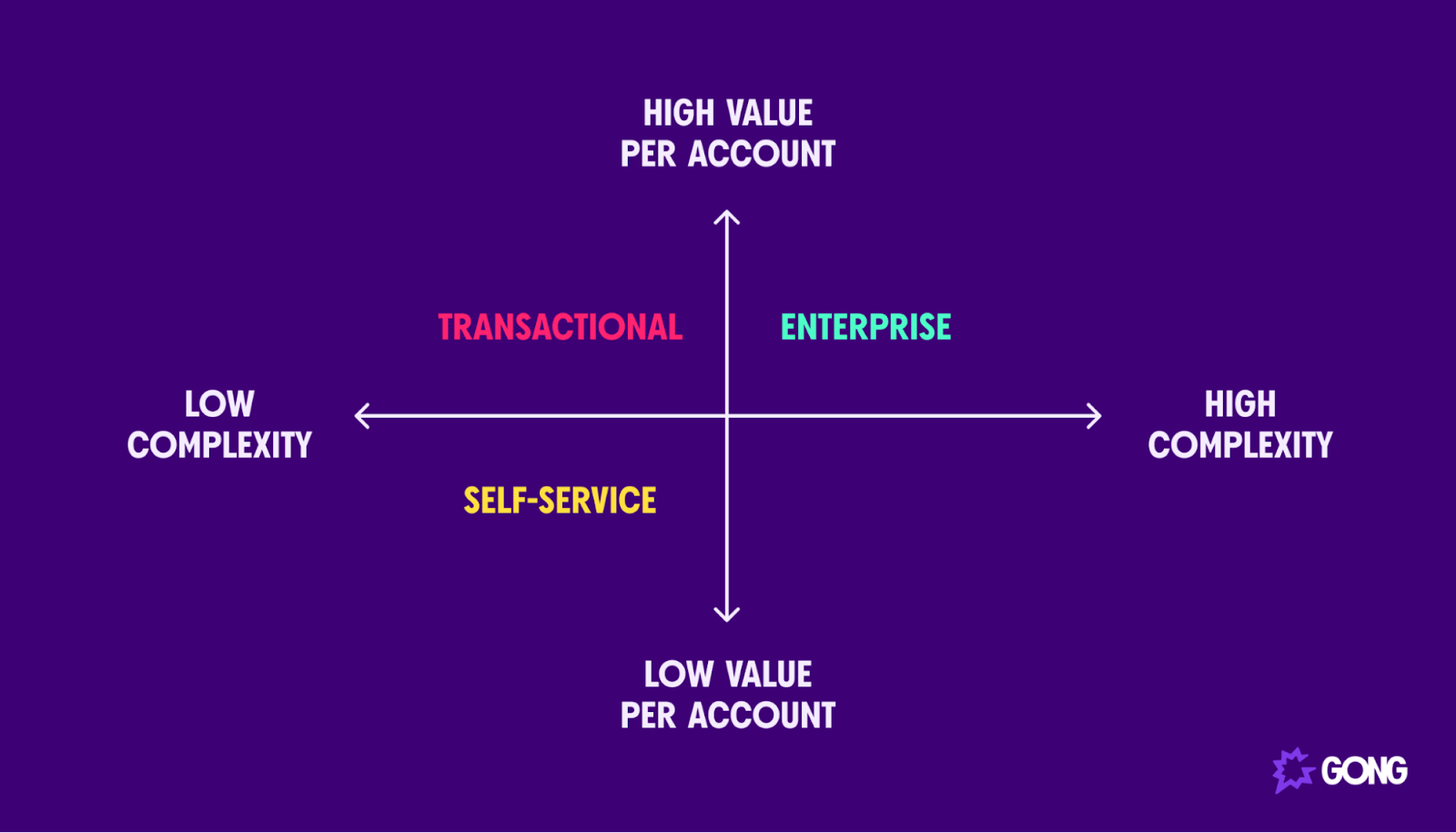 These deals require a well-defined and executed sales strategy — one that helps reps focus by defining exactly who they should target, arms them with a sales methodology suitable for winning enterprise accounts, and outlines the exact steps they should take.
How to create a killer strategic sales plan
Make sure your strategic sales plan covers everything it needs to by following the six steps below.
1. Set goals
The very first thing you need to do when creating a strategic sales plan is set at least one realistic and achievable goal. Otherwise, your reps will be left to their own devices. Everything else you do going forward will relate to these goals, so spend time getting them right.
In some cases, your goals will be set by executives. Such goals might include a revenue target or the acquisition of a market share.
Try to choose a sales goal that aligns with your company's wider objectives. Perhaps you're trying to enter a new market, for instance, or you want to launch a new product. Both of these would make excellent goals for your strategic sales plan.
Whatever your goals, make sure they follow the SMART framework. That means they should be:
Specific
Measurable
Attainable
Relevant
Time-based
Once you've set a goal or two, use both historical and future data to see if they really are achievable.
For instance, look back over previous quarters in your CRM to analyze whether you could have achieved your goal in the past, and then forecast sales in the future to see if it's still likely you can achieve your goal given the current market climate.
You should also set quotas for your reps while setting sales goals. When setting these quotas, bear in mind that not all of your reps are going to achieve their targets.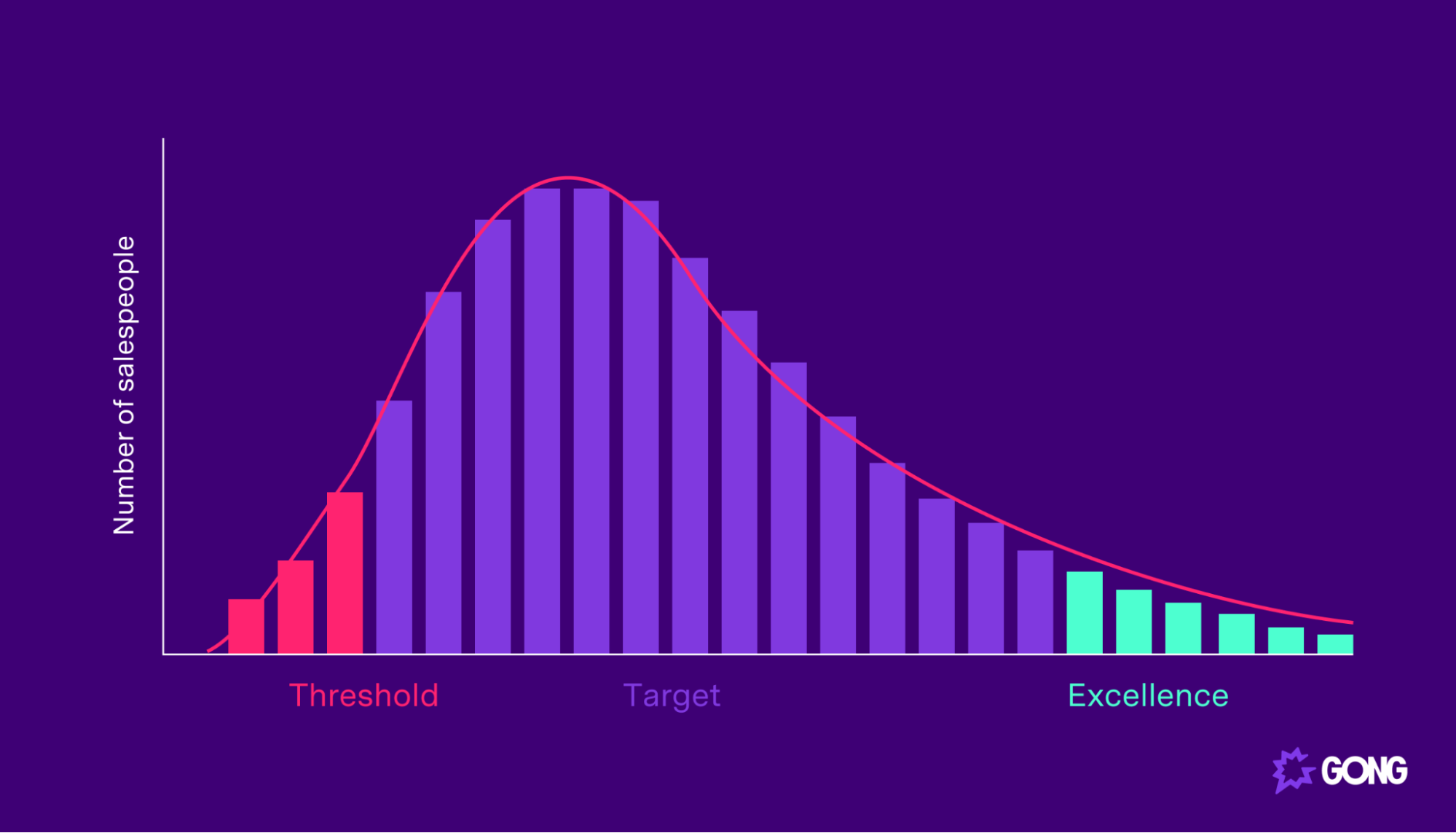 40% of reps fail to hit their targets. As you can see from the image above, that means the bulk of your sales reps will fall somewhere in the middle, just about hitting their targets.
With this in mind, try to strike a careful balance between pushing your sales team and making their quotas achievable. If, after six months, your reps' success looks like the graph above, you're on the right track.
2. Outline your ideal buyer
The second part of a strategic sales plan is knowing who you should target. The better you define your ideal customer profiles (ICP) and buyer personas, the more your reps will be able to target and personalize their approach.
An ICP is a detailed description of your best accounts' firmographic, behavioral, and environmental qualities. It includes information like their industry, location, revenue, and employee account. When finished, it should look something like the image below.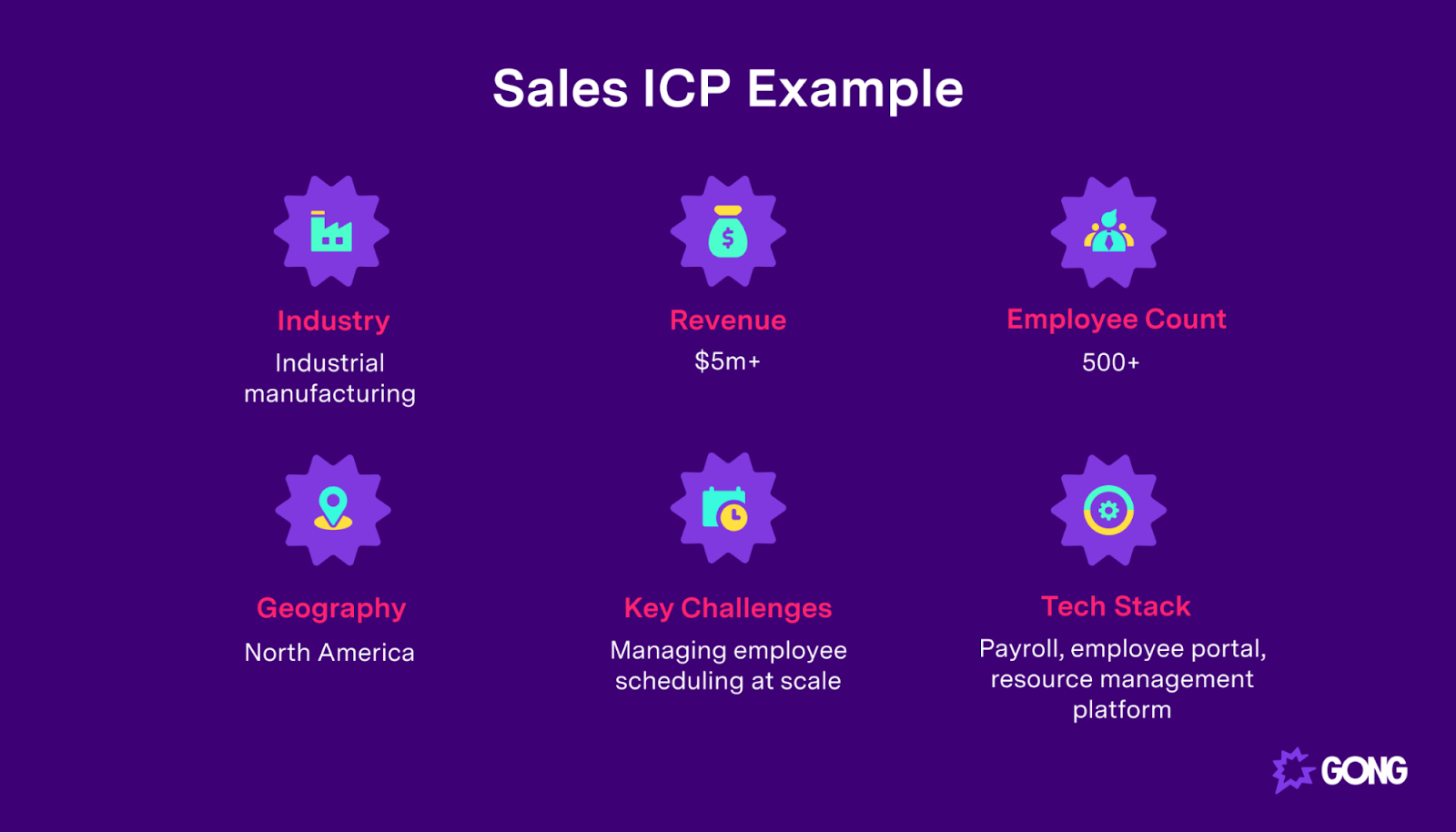 A buyer persona is a description of the decision-makers at your target companies. It describes who they are and what they do but also includes qualitative data, like their pain points, goals, and challenges.
If you want to supercharge a strategic sales strategy, then focus on accounts that share the same characteristics as your best buyers. How? By making your ICPs and personas data-backed by pulling data from your CRM and other sales tools. If you do this, you'll be using the same strategy 56% of reps are using data to target accounts.
Once you've identified your ideal buyer, make sure your team is only targeting accounts that match your criteria. A strategic sales plan takes a long-term approach to relationship-building and converting deals, so you don't want your reps wasting time on companies that were never a good fit in the first place.
3. Choose a relevant sales methodology
Your sales methodology is the framework your sales team will use to close accounts. Every sales strategy needs a relevant sales methodology to guide the selling process.
When building out a strategic sales plan, you'll want to choose a methodology that sees your sales reps act as consultants when talking to target buyers and encourages them to challenge the buyer's point of view.
Why?
Because 89% of buyers are more likely to consider brands that challenge their way of thinking.
Several methodologies worth considering are:
Any of these will provide the consultative approach you need to win high-value accounts.
4. Define your sales process
A sales process is a set of repeatable actions your sales reps need to complete during each sales cycle. As part of your strategic sales plan, you'll want to map out exactly what these steps are.
There are a couple of reasons you should do this. First, it'll ensure your reps are following a repeatable process every time they speak to a buyer. Second, it'll help you analyze and optimize your sales processes by identifying bottlenecks.
If you haven't created a pipeline yet, you can use your sales funnel as a jumping-off point.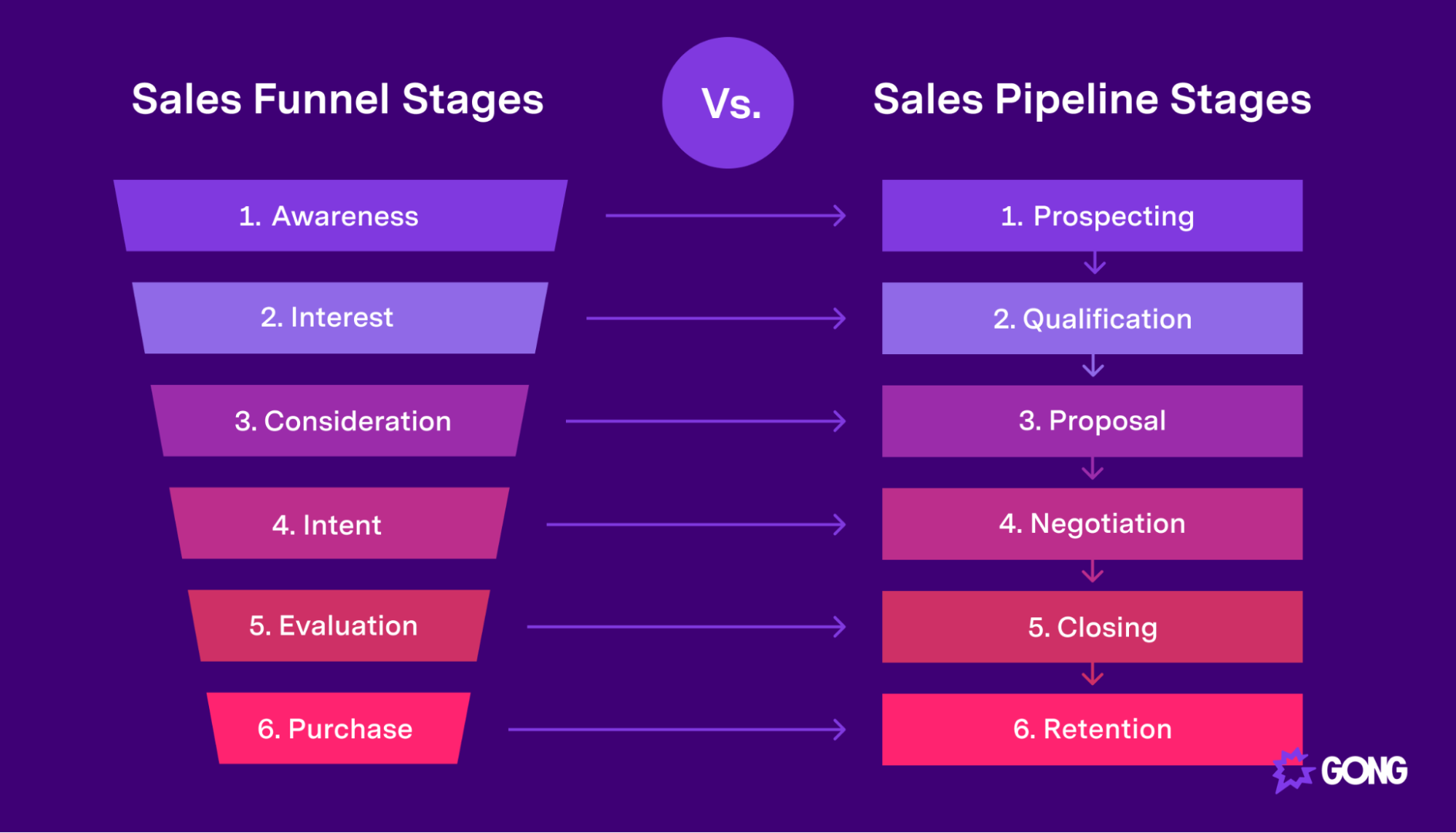 A typical pipeline will have the following stages:
Prospecting
Qualification
Proposal
Negotiation
Closing
Retention
As you can see from the image above, these match reasonably well with each stage of your funnel. Prospecting matches the awareness stage, closing matches the evaluation stage, and so on.
A sales process also gives you much-needed visibility into your pipeline, allowing you to better track metrics at every stage. Not only will this keep your sales reps focused throughout the buying process, it'll also help you measure and optimize your strategic sales plan.
If applicable, you should designate roles for your sales reps at this stage. For instance, some sales managers prefer to divide labor by having a set of (usually junior) reps responsible for prospecting and booking meetings and a set of (usually more experienced) reps responsible for negotiating and closing deals.
5. Equip your team with sales enablement collateral
Your strategic sales plan should include all of the sales collateral and resources sales reps have available to them. These resources could include:
Don't just compile them in a folder and forget about them.
Make sure they form a core part of your onboarding process for new reps. Additionally, ensure that best practice demonstrations are available should reps ever need advice on how to use battle cards or present a case study.
At this point, you should also draw up a training process so that any new reps you hire can quickly get up to speed on your sales methodology and processes.
Make sure your team understands your product or service like the back of their hand. Two of the three biggest deal-killing sales behaviors are the seller delivering misinformation about a product and the seller not understanding their own product or service.
Tools are also essential.
A CRM is a given so that your reps can automate many of their non-selling activities, but consider using another sales intelligence tool, like Gong. With Gong Assist, for instance, sales reps can receive AI-powered advice on the next best steps. Gong Assist can even automate some of those processes on behalf of your reps.
6. Measure your success
Even the best-made strategic sales plans will need to be optimized and improved. That's why the final part of a sales strategy should cover how to track and measure your team's success.
Tracking the right sales KPIs is crucial. If you don't already have tracking set up, start by measuring some or all of the KPIs in the image below.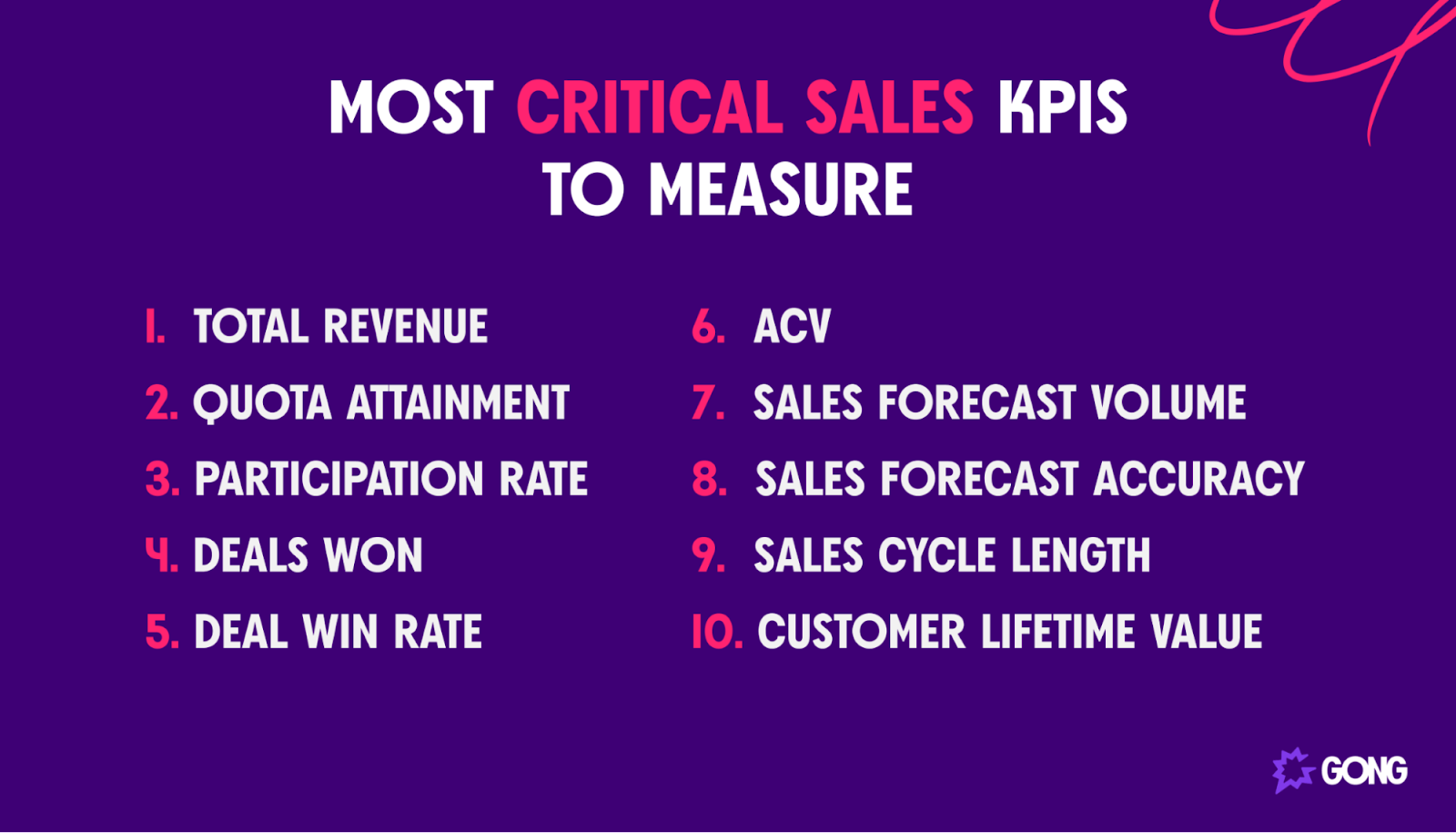 Then, turn those metrics into an informative sales report you can share with your team and bosses. A sales report can also help you improve your strategic sales plan (by improving ICPs, for example) and set more attainable goals (by improving forecasting accuracy).
But this is only possible if you analyze your reports and take action. Schedule regular meetings with your team and senior stakeholders. Review your progress and look for ways to optimize your sales process and overarching strategy.
Make Gong a part of your strategic sales plan
As a leading sales tool, Gong can play a pivotal role in planning, executing, and monitoring your strategic sales plan. You can use Gong to give your team access to valuable sales data, and Gong Assist to advise on next steps.
You can also monitor your team's pipeline, spot at-risk deals, and forecast future sales to determine whether your strategic sales plan will deliver the results you want.
Get started with Gong today or download our high-growth sales plan template to start creating your strategic sales plan.