Blog
These 6 Questions Will Help You Choose a Conversation Intelligence Platform
Sales Enablement
Sales Management
Choosing a conversation intelligence platform can be confusing, which is why we just launched a short

buyer's guide

to help you make sense of your options.

Even though the space is young, it has

blown up

with competing products and alternatives.

Many of these options are designed for

completely different types of sales organizations and use cases, 

even though they look similar on the surface.

The underlying technology can be 

totally different

.

If you're not careful, you may find yourself with a product that's completely unfit for your team.

For those of you on the market, we carefully designed

six vital questions to ask yourself when evaluating conversation intelligence.

These are pulled directly from our 

conversation intelligence buyer's guide

and will help you

quickly

narrow down your options

, landing on the best fit specific to your business.

If you fail to ask yourself even one of these, you risk ending up with shelfware.

Here they are.
1) What problem are you solving?
"A problem well-defined is 90% solved."
The problem you're trying to solve with conversation intelligence software is the "lens" through which you'll evaluate each vendor.
The more specific you can be about your use case and problem, the more clearly you'll see which vendors are a fit (and which are not).
Here are a few key "problem areas" and use cases to think about:
Manager-led sales coaching

Rep self-coaching & peer learning

Knowledge sharing across the organization

Onboarding new hires faster

Pipeline and deal management

Quality assurance & ensuring consistency

Sales process improvement

Sales readiness
Here's your homework…  
Physically write down the problem you're trying to solve
.
Writing things down breeds clarity.
2) Does your sales team share their screen?
If your sales team shares their screen on web conferencing platforms, make sure the solution captures video recordings.
Many solutions on the market capture only audio.
If you rely on screen sharing during your sales process, it doesn't matter how cool the other capabilities are: if they don't capture video, its usefulness is cut in half.
If this is your case, be sure to ask the vendors you're evaluating about their video recording and capture capabilities.
On a related note, many of the platforms that
don't
capture video refer to themselves as "voice analytics" rather than conversation intelligence.
If that describes the vendors you're evaluating, be sure to double check their video capabilities.
3) How complex are your sales team's conversations?
Some solutions are better tailored for professional sales teams doing complex discovery calls and demos, while others solely cater to quick, transactional calls that last only a few minutes.
Ask each vendor about their ideal customer profile.
Better yet, check out what their customer community looks like on their website, and on product review sites like
G2 Crowd
.
Do they primarily serve account executive teams?
SDRs?
High-velocity sales teams?
Call centers?
Customer service?
Evaluate the demo in terms of what type of sales organization the solution was designed for.
If you manage a B2B account executive team engaging in long sales conversations and the vendor you're evaluating designed their product for transactional conversations, you're destined for shelfware.
4) Do you ever have more than two participants on a sales call?
Some sales teams often have multiple participants on the call beyond the rep and primary buyer contact.
In these cases, the buyer will sometimes show up with one, two, or even three colleagues to participate in the sales call.
Other times, you may have additional colleagues on the call for the sake of
team selling
.
If this describes you, you're going to want "multiple speaker separation" as a capability in the conversation intelligence platform you choose.
Some platforms can identify multiple speakers.
Some can only do two.
Others can't do speaker identification, which may interfere with the accuracy of the analytics.
Ask each vendor about their speaker separation capabilities and how many speakers they are able to separate.
Then compare that to how many participants you may have on your sales calls.
5) Do you already have call recordings in place?
Many conversation intelligence platforms provide recording if needed, but some don't.
If you need your vendor to provide recording, make sure calls are recorded automatically without relying on your reps to remember to record their calls before each meeting.
Why?
Because the reps that need coaching most somehow always forget to hit the damn "record" button on your web conferencing platform :)
If you're importing call recordings from another system, ensure the import process is automatic as well.
Don't let your reps become the point of failure by introducing manual tasks.
6) How high is your call volume?
If you'll have
thousands
of calls recordings in just a few months, you're going to want a solution that helps you take advantage of all that data, rather than leaving it gathering dust.
Make sure the solutions you're evaluating have capabilities that will actively help you take advantage of more data, rather than overwhelm you with it.
On the other hand, if you only have a handful of reps making a few calls per day, analytics will become less relevant and could be overkill (unless you're planning to grow and scale).
Get the full conversation intelligence buyer's guide
These six questions will go
a long way
in helping you make the right choice for your unique situation.
Unfortunately
, there's still more to consider (which is beyond the scope of this blog post).
You also have to compare product features and put each vendor through a strongly-defined checklist.
That's why we published our brand new

7-page
Conversation Intelligence Buyer's Guide
.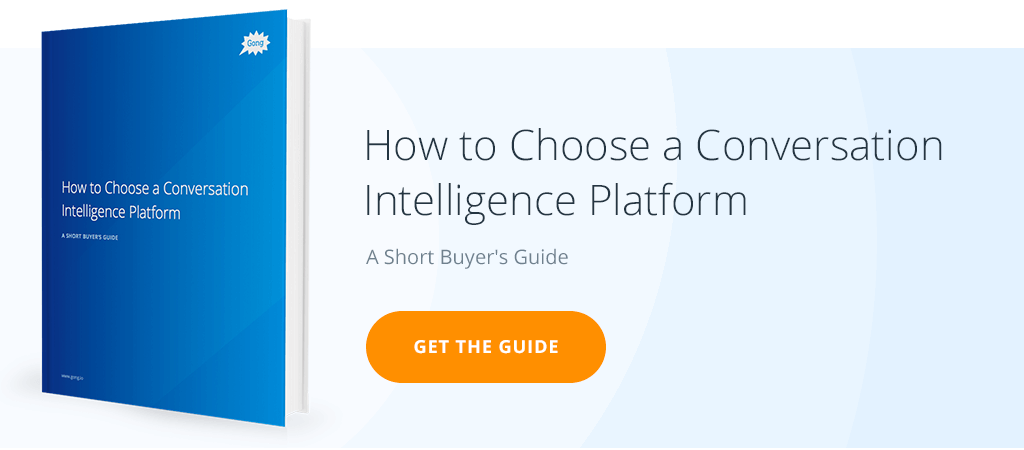 In this free buyer's guide, you'll get:
A feature-by-feature product checklist

to compare each vendor against (pages 5-7)

The

single feature

that makes conversation intelligence technology 

scalable

(hint: only a

couple

vendors on the market have this)

How to know which features are vital, and which are "nice to have" (page 5)

6 "checklist" items

every vendor you're evaluating should pass (page 3)

A 5-minute trick

you can do on G2 Crowd to

almost

instantly know which solution is the right one for you (page 3)

What is conversation intelligence + how it works
Click the banner below to have the Buyer's Guide sent straight to your inbox.