Gong Labs
4 data-backed ways to increase your email reply rate (and book that meeting)
This article is part of the Gong Labs series, where we publish findings from our data research team. We analyze sales conversations and deals using the Gong Revenue Intelligence Platform's proprietary AI, then share the results to help you win more deals. Subscribe here to read upcoming research.
You did your homework and wrote the "perfect" email to your prospect.
You crafted an attention-getting subject line.
Congratulated them on their company's new product release.
Shared how your offering has helped other leaders in their role.
But still no reply…
Sound familiar?
You're not alone.
Earlier this year we surveyed hundreds of sellers. A whopping 97% told us they weren't happy with their email reply rate.
We also asked them for the most effective way to increase their reply rate. Their number one answer was better personalization.
These are the top 4 approaches to email personalization
To bring science back to the art of email personalization, we analyzed more than 30,000 prospecting emails from more than 250 companies. We wanted to truly understand which approaches increase response rates.
The Gong Labs team used Smart Trackers to create more than 2,300 distinct classifiers and determine the type(s) of personalization sellers used in each email. These are the four most popular approaches sellers use:
Individual-based: This involves personalizing an email based on a single contact, which might include addressing their experience, personal life, hobbies, interests, etc.

Company-based: These emails reference the contact's organization by mentioning company news updates, new product releases, milestones, earnings reports, etc.

Activity-based: Such emails use intent or marketing data to reference web activity, content consumption, event attendance, conversations with other stakeholders, etc. (These leads are often already "warmer")

Industry-based: These emails reference how you've helped similar companies. They might include social proof, customer case studies, etc.
Each of these approaches impacts reps' success in different scenarios with different buyers. Below we reveal the right time to use each one.
Use individual-based personalization in a bottom-up sales strategy
If you're trying to secure a foothold into an account at the individual contributor or manager level, personalize your email based on the individual to increase your chance of success.
One-to-one personalization (i.e. addressing a recent promotion, specific interest, hobby, life event, etc.) more than doubles the reply rate of non-managerial buyer personas. That said, when sellers engage a director or above using this strategy, we only see a 50% lift in replies.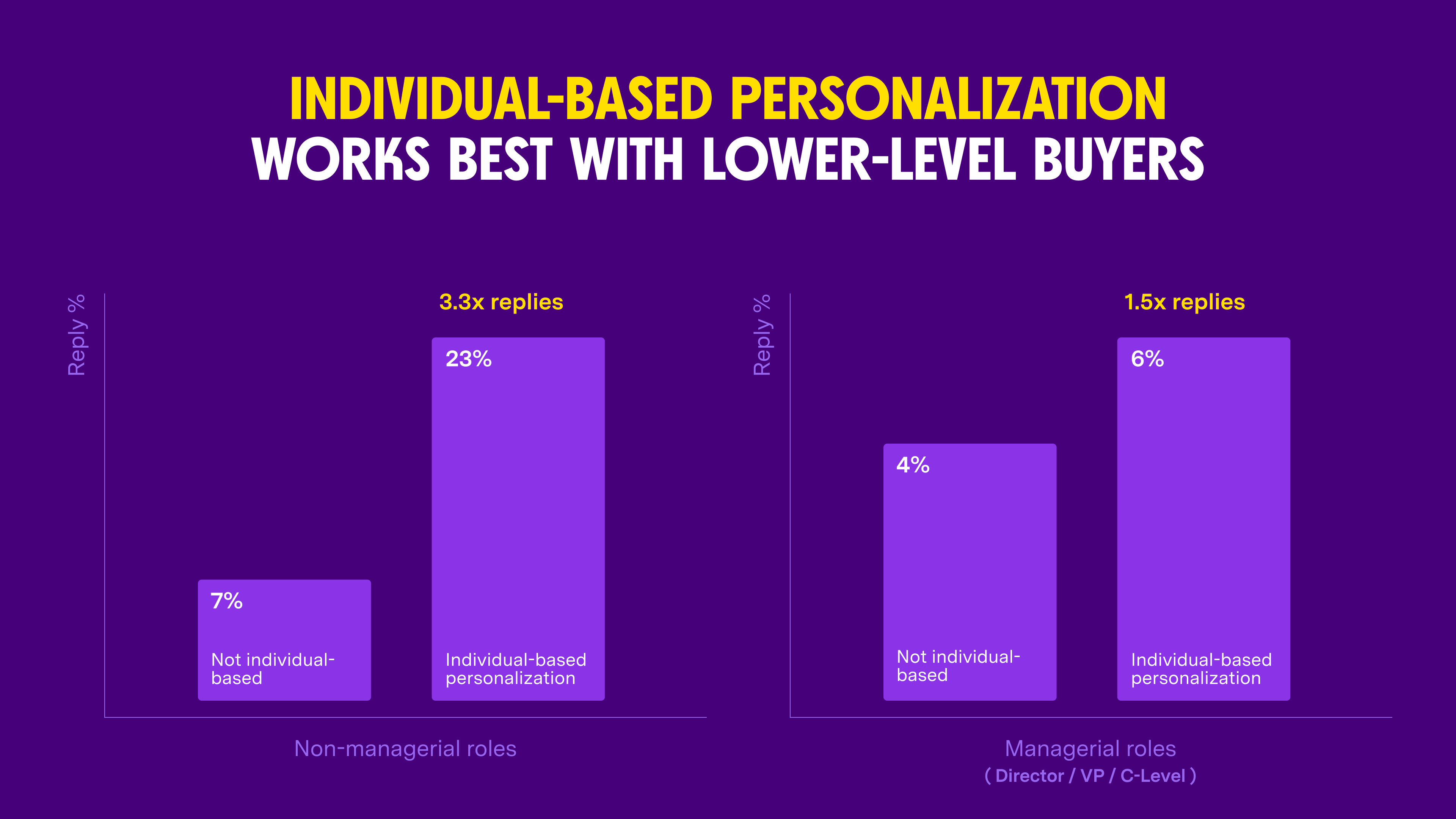 There's no doubt that this level of personalization often piques the recipient's curiosity when it reaches their inbox, but the real test is if it gets them to act on your offer.
Though it's effective, individual-based personalization is typically the most time-consuming approach to emails as it requires research before every send. Use it tactically to ensure you spend your prospecting time efficiently.
Lean into a company-based approach when engaging execs
Company-based personalization boosts replies from people who are higher up the org chart.
Engaging executive buyers (directors and above) using a company-specific topic triples prospecting email reply rates.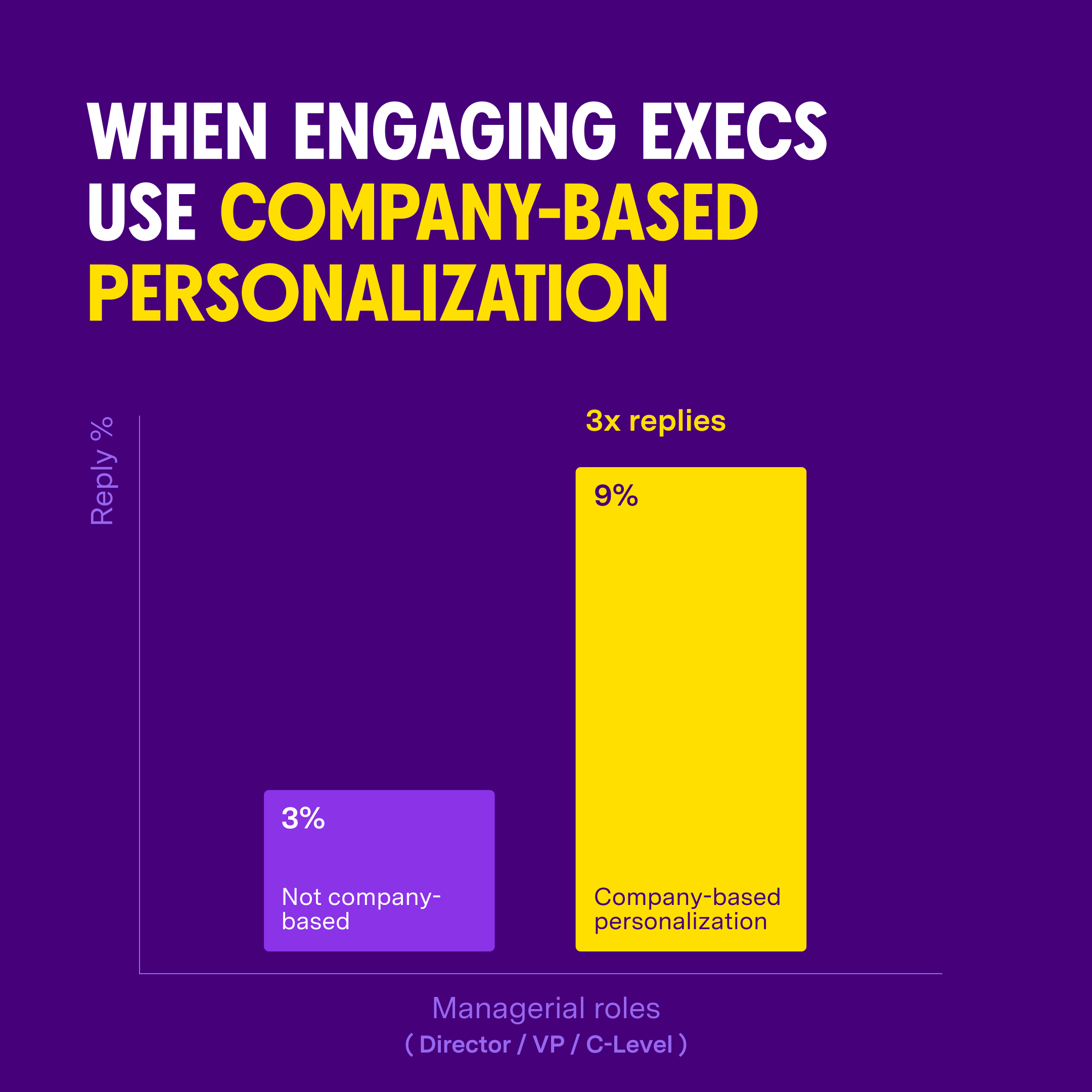 Interestingly, we found little correlation between higher reply rates and company mentions with lower-level buyers.
That makes sense though when we think about why this works so well with leaders. Consider what's top of mind for them: They're responsible for delivering on the business's strategic priorities. By doing your research on company websites, press releases, and financial reports, you can zero in on their organization's big bets.
This shows you've taken the time to truly understand their needs, which gives you credibility and allows you to showcase how your offering can help them deliver and exceed their business goals.
Land meetings using an activity-based approach
Want to 3X your replies AND scheduled meetings? Use insights into which activities the account has already completed in the buying journey.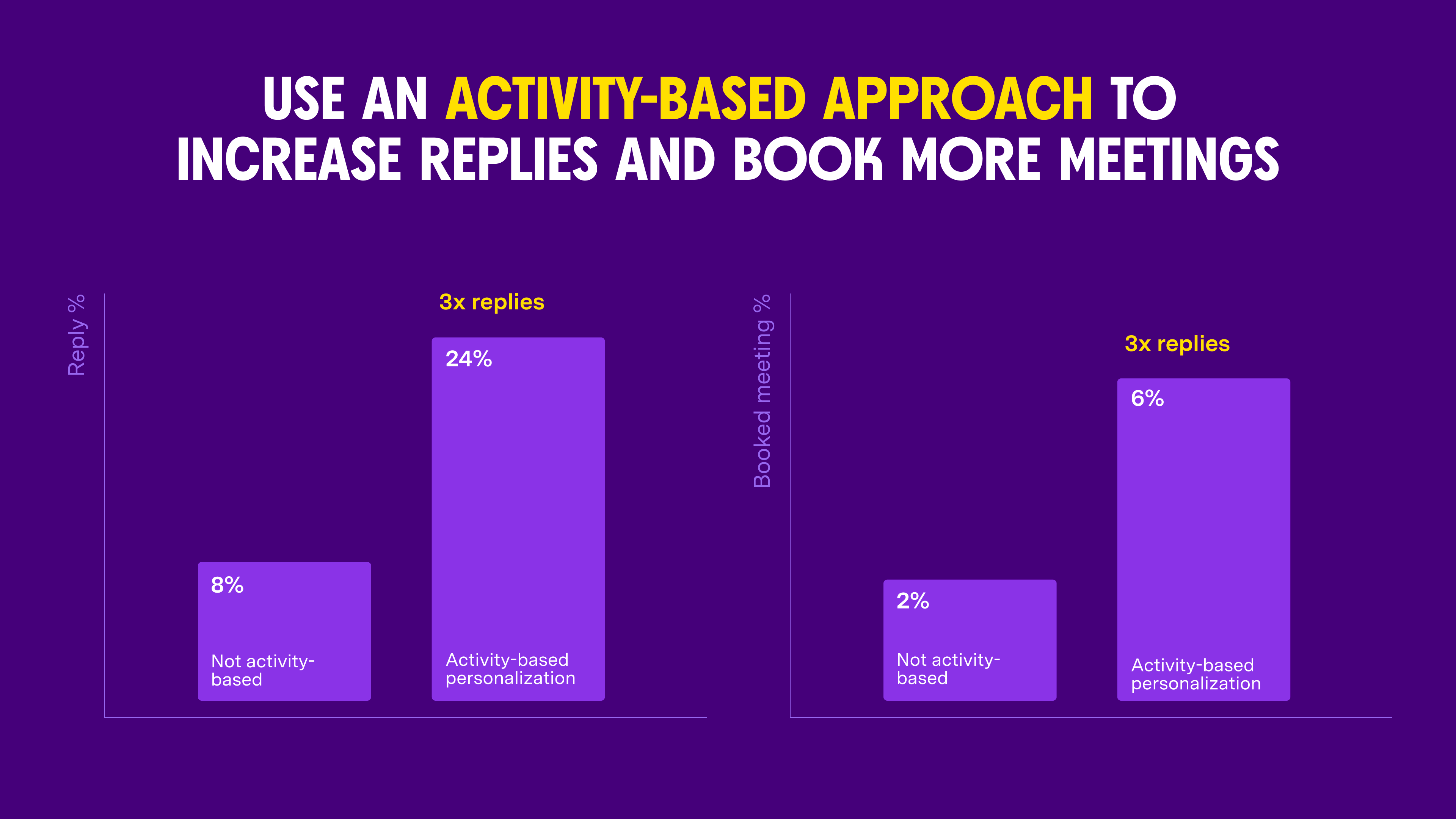 Multi-threading is critical to closing any large deal. If you want to get deeper into accounts and show familiarity and understanding of the prospective buyer's organization, you can reference previous conversations with colleagues, downloaded content, attended events, or a relevant social post with which the prospect engaged. Our data shows that this approach is highly effective in getting the prospect to not only reply but ultimately take a meeting.
Gong's Revenue Intelligence Platform offers teams complete visibility into account activity. Leverage its insights to identify intent, establish interest, and tee up next steps where you can add value as a subject matter expert. It's all in the name of alleviating their pain and shifting them away from the status quo!
Scale your personalization with industry-specific social proof
Looking for an effective approach you can use with multiple contacts? Use an industry-specific personalization strategy.
Create a list of people who operate in the same vertical, then tailor your messaging based on industry insights and trends. This approach correlates with an 88% increase in prospect reply rates.
Use examples or case studies that resonate with your prospect's industry or pain points. By showcasing how your product or service has benefited similar businesses, you provide tangible evidence of the value you offer.
Including snippets of positive feedback or success stories in your emails builds trust and credibility. It reassures prospects that others have had a positive experience with your offering, making it more compelling for them to consider.
(Pssst: If you need some help with your next prospecting email we put together these 7 tried and true templates after analyzing 304,174 emails. Use them to start booking more meetings from your outbound prospecting emails.) 

Before you hit send, ask yourself: Is this relevant?
Generative AI makes personalization easier than ever. As a seller, you can ask these technologies to craft prospecting emails based on any of the criteria above to streamline your research efforts and craft hyper-personalized emails in seconds.
But so can your competitors…
The bigger issue?
Irrelevant personalization still falls flat. No matter who (or what) crafts the email, it must be backed by the right context, intent, and activity data.
The alarming truth is that even though these approaches are used today, 87% of buyers say the sales emails they receive don't address a relevant challenge facing their organization. In other words, these approaches are nothing without a true understanding of how you'll help solve the prospect's pain.
If you're still not convinced, Dan Smith, industry expert and Chief Learning Officer at Winning By Design had this to say: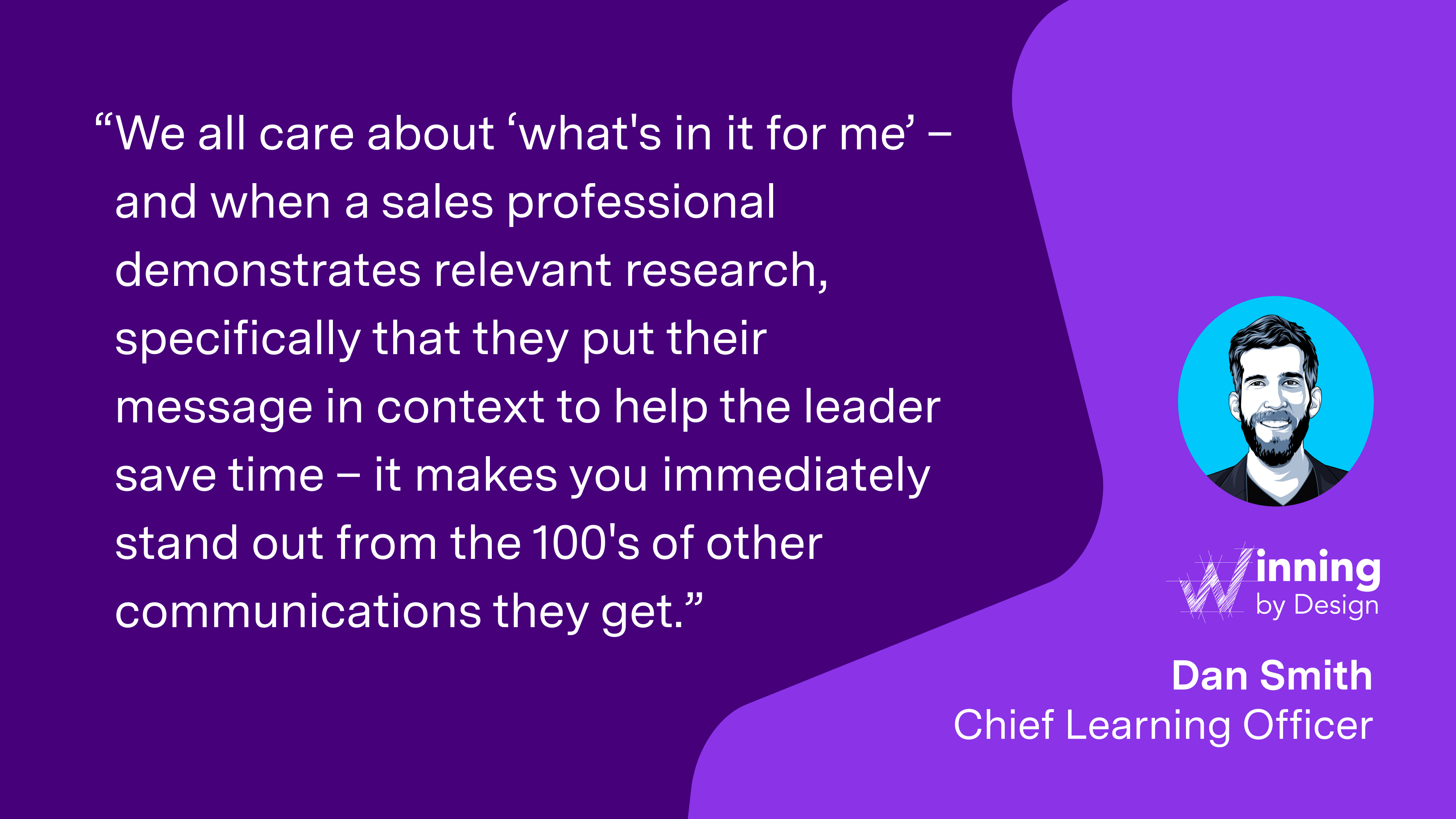 To stand out from your competition, it's more important than ever to make sure all your customer-facing teams can access the insights and data they need to create a highly personalized experience. That means giving them access to a solution like Gong Engage, sales engagement powered by a comprehensive view of every customer interaction.
Boost replies and book more meetings with tried and true templates
Not sure where to start?
Check out these cold email templates using Gong data and the best-performing emails we've ever sent. Give them a try for yourself (and thank us later).