Blog
What is Revenue Intelligence? Why Gong Pioneered The Category in 2019
sImagine a world where you had a single, full, real-time, unfiltered, unopinionated source of truth.
Let's break down those "sources of truth":
Single: No silos. No need to pull go to sales and marketing and customer success to retrieve relevant data.
Full: No "partial truths." Not a slice of reality. Not a few recorded calls and video chats. All. Full.
Real-time: No need to wait a few days or weeks to get the insight you need. No reason to hire an outside firm to dig through the data and present a pretty report that is outdated and useless by the time you get it. 
Unfiltered: You CAN handle the truth. No censoring. No filters. What you hear (and what your reps say) is what you get.
Unopinionated: Nobody driving the narrative, softening what you heard. You get it all. 
Good news: You don't need to imagine this world. It is here. Now. Here at Gong, we call that Revenue Intelligence.
So what is Revenue Intelligence?
Revenue Intelligence automatically captures customer interactions, analyzes them to provide insights, and applies those learnings to determine the next best action for winning outcomes across an organization's go-to-market strategy.
Hard stop. 
That's it. That's all. Simple. Easy.
Hold on. Not so fast, my friend.
Let's try that again. Revenue Intelligence is easy… if you use Gong (of course).
Why Revenue Intelligence transforms your entire company?
Revenue Intelligence taps into your most important data source: the unfiltered voice of your customers.
Revenue Intelligence supercharges your organization in 3 critical ways:
Unlocks reality with complete visibility into performance and market.
David Ellis, Sales Director at LinkedIn, summed it up nicely — "Revenue Intelligence enables us to go from hypothesis to data to actionable insights. This enables us to improve the skills of our reps, enhance the conversations we are having every day, drive greater customer success, and advance our vision of economic opportunity."
Revenue Intelligence does this by capturing and transcribing all customer interactions to provide an unfiltered, unopinionated source of truth.
But besides just knowing where to look for actionable insights, Revenue Intelligence records and analyzes everything. 
Gone are the days of sales teams manually describing a fraction of customer interactions. Instead, every single source and signal — emails, calls, metadata, relationships, and more — are automatically collected with Revenue Intelligence. 
This means: 
Hearing the customer's voice completely unfiltered

Getting real-time feedback to inform foundational changes

Avoiding fluff, eliminating bias, and ultimately deepening knowledge about buyers
You and your team are now fully equipped with data-driven insights… empowered to identify actionable next steps.
Leverages an autonomous system to drive successful outcomes
In 2022 (and beyond), automation is the key. 
Revenue Intelligence works within any go-to-market model by applying insights to provide automation. 
Automation translates to: 
Improved measurement

Refined forecasting

Instant warnings and recommendations
With Revenue Intelligence, managers and reps have the best chance of success and ultimately drive revenue. 
As Morgan Jacobson, Principal Manager of Sales Strategy and Systems at HubSpot shared: "Since adopting [Revenue Intelligence], we've seen a significant increase in our productivity per rep. New reps are ramping up faster and getting over 100% quota within the first few months of their ramp." 
Revenue Intelligence means more focused sales reps as the need to take notes during a call goes away. Meetings are now more efficient as every interaction is now captured automatically. Mundane tasks are also automated. 
Revenue Intelligence means salespeople can now focus on what matters most — SELLING.
Aligns revenue teams around customer interactions.
Great sales organizations engage everyone — EVERYONE — within their company… marketing, customer success, product, etc. 
Great sales organizations treat neighboring departments as collaborators, not competitors. 
Revenue Intelligence helps build and grow those interoffice relationships. #BridgeBuilders
Revenue Intelligence helps create a sense of connection among various teams by driving reality-based collaboration, communication, and alignment.
As Aisha Wallace-Wyche, Vice President of Global Training and Enablement at Diligent shared, 
"Revenue intelligence is fully integrated across all team functions. Gong has become the foundation of our business model for knowledge sharing."
How does Revenue Intelligence work?
Said another way, "How is the (Revenue Intelligence) sausage made?
Let's take a look under the hood!
The beating heart of Revenue Intelligence is what we call the conversational repository. 
This repository — powered by conversation intelligence, of course — saves all customer interactions and turns them into the new single source of truth about your business.
Need a refresher on what is conversation intelligence? Read on here.
Next up: AI and "exciting automation stuff."
Capture interactions. Record and transcribe (automatically) all customer interactions, from video calls to emails to straight-up old-school phone calls.

Bonus: Native integrations with leading platforms mean data flows seamlessly between systems. 

Deliver insights

. Interactions are analyzed. Insights are derived. Oh, and all of this is tied to outcomes, deepening your understanding of what drives high-performing talent, wins more deals, and resonates within your market. 

Derive intelligence

. Yes. We just used the word "derive" twice. The REALLY fun part is when those insights drive automation — inputs for measurement improved forecasting, warnings, and recommendations. All of that "derived stuff" ensures managers and reps have the best chance of success. AKA, they WIN more.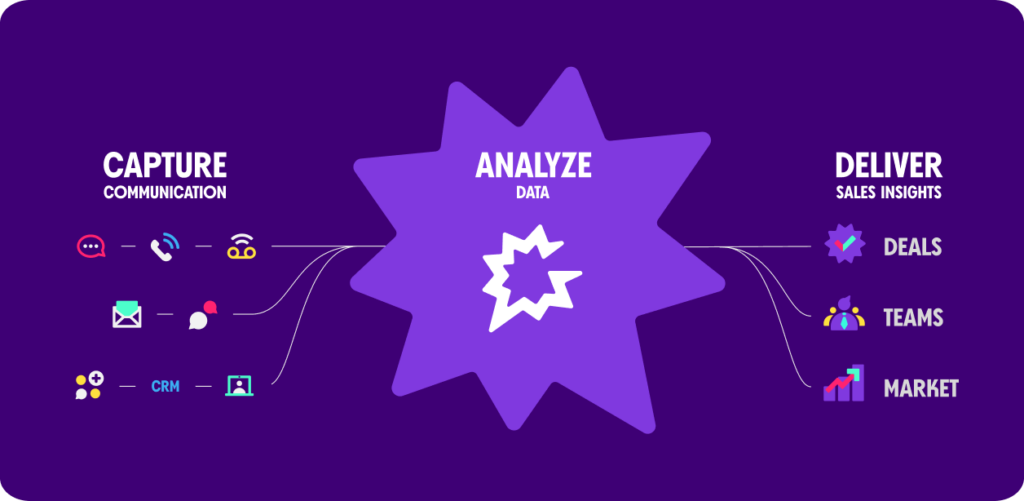 Gong customers use Revenue Intelligence in the following four areas: 
1. TEAMS
When it comes to teams, productivity is the name of the game.
Rapidly deploying the behaviors of the most successful reps is how you win.
Patchy call notes. Biased one-on-one conversations. GONE. 
With Revenue Intelligence, reps and managers work from unadulterated call recordings, allowing them to surface concrete opportunities and areas for growth.
As Shimona Mehta, Managing Director of Europe, Middle East, and Africa at Shopify, said: "Working with Gong has exponentially improved our ability to build a learning environment for our sales team and empower our sales coaches to support our reps in their development."
2. DEALS
Your organization lives (and dies) with deals.
And the health of your deals matters — a lot. Revenue Intelligence helps to examine and analyze that deal health. Maximize your open pipeline and protect your customer base from churn.
That's what Bluecat does. Jason van Ravenswaay, Bluecat's Head of Global Sales Operations, uses Deal Intelligence for the team's larger deals. "It helps to really understand the sentiment of each customer and whether or not the engagement is going up or going down…"
3. MARKET
The voice of the customer is essential. The unfiltered voice of your customer is a game-changer. 
Revenue Intelligence means getting real-time feedback to inform fundamental changes in product direction and Go-To-Market (GTM) strategy.
"Gong has really given us the insight to be able to competitively attack the market better, to be able to train and validate that our training is actually working with our reps, that they're not just internalizing it, but actually applying it correctly." — Michael Hoy Director of Corporate Sales at Pendo.
4. FORECASTING
Understanding the reality of every deal… like what is really happening… means  sales forecasting is no longer an art but a science. 
Better analytics. Sharper metrics. Clearer progress indicators. #WinWinWin
This kind of forecasting is paying dividends (literally) for Vinit Patel, Co-founder and COO at Filtered:  "When a rep says, 'This deal will close this quarter,' we can listen to the sales calls to really unpack what's going on. You're telling me this deal will close in two weeks' time, but no one has spoken to this customer in the last three weeks? There's no way this deal is closing in two weeks."
Where does Revenue Intelligence fit into the modern sales stack?
Social selling tools.
Virtual dialers.
Virtual presentation tools.
Compensation calculators.
Database products. 
Database cleaning products.
Oh, and 461 CRMs. 
YIKES.
As of 2021, there are 1,078 enterprise sales products on the market.
Take a second to let that number soak in.
The sales industry is one of the most tech-heavy sectors.
But let us be clear: Technology is our friend, not our enemy (or frenemy).
The good news: 2 out of every 3 sales organizations will have moved from intuition-based to data-driven decision-making by 2026 (Gartner). And 3 out of 4 will have replaced traditional sales playbooks with AI-based selling guides by that same time. 
Revenue professionals need more insights and actions, not more unintelligible raw data (not more disparate, hastily-stitched together, point-to-point solutions).
A centralized solution that delivers a seamless experience. We call that Revenue Intelligence, aligning organizations around the authentic voice of the customers to, well, #UnlockReality. 
BUT WAIT. Isn't that what so many other sales tech companies are promising? A unified platform based on sales engagement, forecasting, and sales assistants. Yup.
However, "the others" rely on self-reported opinions and sales notes and CRM fields, and manually entered data and second-hand information. 
Revenue Intelligence is different because it puts customer interactions — what they say, write, chat about, browse, and read — at the center of everything. It builds off what's really happening. It's the only unified platform built on truth, not opinions. 
Revenue Intelligence software is your Reality Platform. 
Gong pioneered the Revenue Intelligence category in 2019. Why?
Glad you asked.
It started in 2015 when Gong's founder, Amit Bendov, was the CEO of one of the hottest enterprise analytics startups (pre-Gong).
He noticed that sales were falling.
Those 3 words, it turned out, were the spark that inspired Revenue Intelligence 4 years later.
Pre-2015, deals were closing, and customers were happy. Sales. Renewals. Upsells. Things were humming. 
But then everything changed. Reps were winning fewer deals. Revenue was sliding. Growth was stagnant. Amit asked his executive team, "What (the heck) was going on?" 
Nothing obvious stood out. No recession. No COVID.
Every stat, figure, and metric suggested things should be good to great.
When Amit got into the data, it became more evident. The company's CRM was great at recording what happened but not why it happened. 
Sure, there were comments like "No Budget" or "Bad Fit" to signify why deals were not closing, but the vagueness of these reasons was not enough to understand the true WHY.
Inaccessible and incomplete information was driving opinion-based decision-making. 
To compound the issues, departments were misaligned, lacking a common understanding of the voice of the customer. 
And this was not a problem unique to Amit and his company. These common revenue challenges undermined otherwise outstanding organizations all around the globe. 
Amit did what any successful entrepreneur would do — he addressed the problem head-on and offered a solution. He began listening to his company's most valuable asset: customers and the interactions and conversations people had with marketing, sales, support, and customer success. 
Through this effort, Amit found all the answers he was looking for. But… the way he went about acquiring this data was far from scalable — too many calls, too few hours in the day. 
He teamed up with Gong co-founder Eilon Reshef to flip the old CRM model on its head and deliver insight where previously leaders had none. 
Revenue Intelligence was born.
Amit and Eilon uncovered that buyers had changed, but sales organizations were doing things the "way they always had."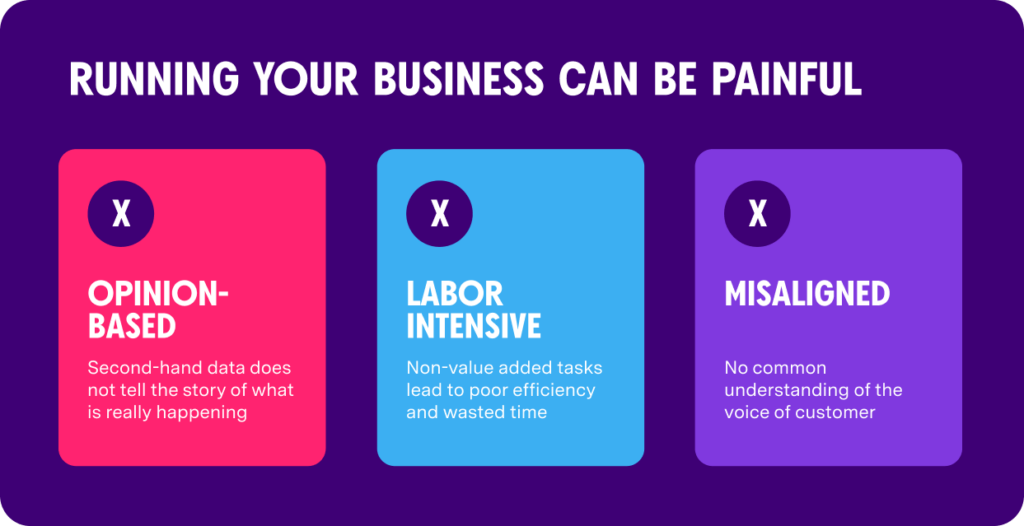 All 3 of the above "pains" slow down employee productivity and erode engagement… disjointed customer journeys and needlessly increase churn.
A quick history of sales: sales used to be simple… err… simpler. Reps were the guardians of information. Pitch. Pitch. Pitch. Sell. Sell. Sell.
The Internet — coupled with content marketing and buyer-centric sales — changed everything.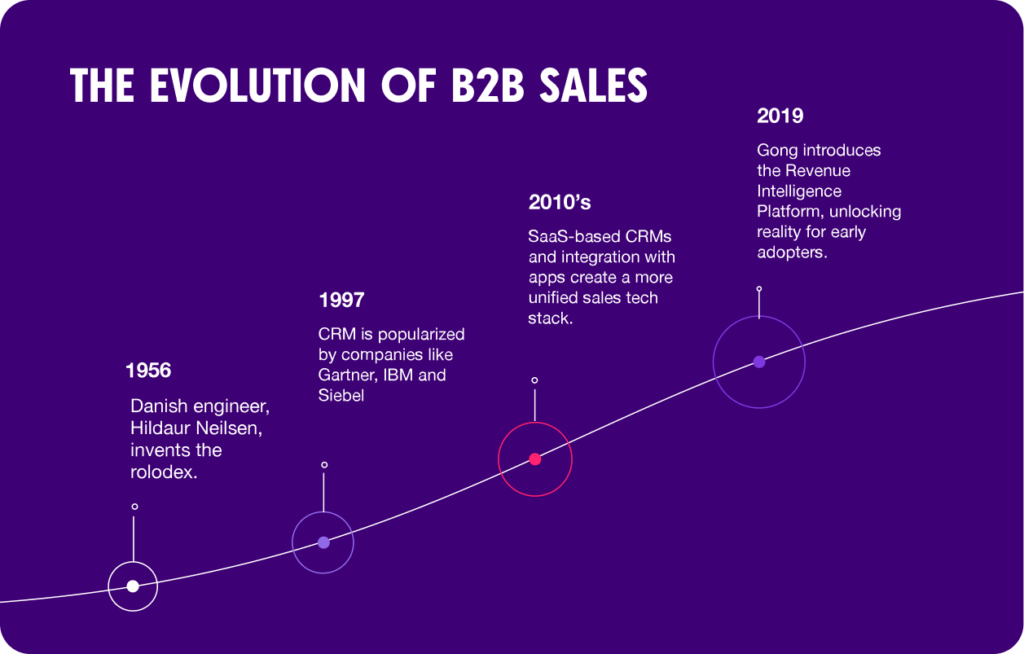 Buyers have become self-directed and self-educating. 
Fact: Two-thirds of buyers prefer to gather information on their own and 60% prefer not to interact with salespeople at all. 
That's a decent size pivot from a few decades ago, right?
Buyers now have (way way way) more power… and data, and information, and reviews, etc. And the buyer's journey is less linear than it's ever been.
This bears out in the data as well. For example, three-quarters of buyers admit their latest purchase was very complex or difficult.
Salespeople want to focus on meaningful (sales-related) work — discovery calls, writing proposals, technical discussions, and so on. Instead, workloads have become dominated by "shallow work."
And then COVID hit. Overnight, the world went remote. And sales organizations had to pivot quickly and hard. The impact on sales teams around the world changed was immediate. And things will never be the same.
Today's organizations must drive alignment across locationally independent teams and modify their structures and strategies to meet buyers' expectations. 
"We thought we knew what was driving sales excellence. We thought we knew what our partners thought about us, what the competitive landscape looked like, what the macro drivers in their space were. We thought we knew what drove sales rep behavior change. We had an idea when we were in the office, but were far from exact. When we moved to remote, things got even murkier." -—Stephen Capezza, Senior Vice President of Premier Agent Sales & Partnerships at Zillow Group
B2B sales haven't responded to the sea of change. Instead, leaders are relying on opinion-based insights and decisions. Reps are burdened by labor-intensive work. As a result, departments are misaligned and pulling in separate directions.
CRMs typically operate as systems of record for companies. But if you've ventured into your organization's CRM, you'll know that they're not exactly a beacon of excellence when it comes to data quality. CRMs are infamous for being out-of-date.
CRMs are often incomplete and really only capture a small portion of the actual call. What are the odds the rep enters the "most important" parts of the actual call? Well, no matter what, they are likely losing close to 99% of the words spoken in the call. Equally as bad, reps are spending hours in their CRM, re-writing conversations they've already had.
Imagine the uptick in sales productivity if your reps could reclaim a few days per week to actually do their job -— SELLWednesdays, Thursdays, and Fridays for selling.
Gong's Revenue Intelligence to the rescue!
We ❤️ our clients. We ❤️ our raving fans.
There. We said it.
Hubspot. Sendoso. Demandbase. Uberflip. monday.com. Filtered. These are just a handful of organizations using Gong.
Read more about how some of the world's fastest-growing sales teams are leveraging the insights gained from using Revenue Intelligence.
If you are still reading this (you are), we hope your interest has been piqued. We hope you are saying, "Uh yeah. This is pretty cool? I'm all in." … or maybe just interested.
Either way, we will make it silly easy to test out the power of Revenue Intelligence. 
Click that fancy button below, and let's chat: