Blog
5 Best Sales Enablement Tools on the Market in 2022
By ignoring sales enablement, 65% of the sales content you've painstakingly developed to close deals will sit on your servers or computers unused. That's hundreds of working hours wasted for nothing. Investing in a sales enablement tool and using it effectively ensures that no case study or white paper sits around unused. 
Not only that, but you can use smart tools to analyze sales calls, identify what top performers do differently, and better train your sales staff. You can even use platforms to streamline your sales team's onboarding and ongoing training — leading to a better-equipped and better-performing sales team.
That's why organizations that focus on sales enablement have an average win rate of 49% on forecasted deals, compared to the 42.5% for companies that don't. 
But what is a sales enablement tool? How can you use it to boost your sales and get more out of the marketing content you produce?
In this article, we'll answer all these questions and more. Read on to learn how the right sales enablement software can transform how you do sales, and lead to a lot more closed deals. 
What are sales enablement tools? 
A sales enablement tool is a system that grants users visibility over the sales lifecycle, including content, marketing materials, and, finally, sales calls. It's all about helping sales reps effectively use the data, information, and resources they have at their disposal to close more deals.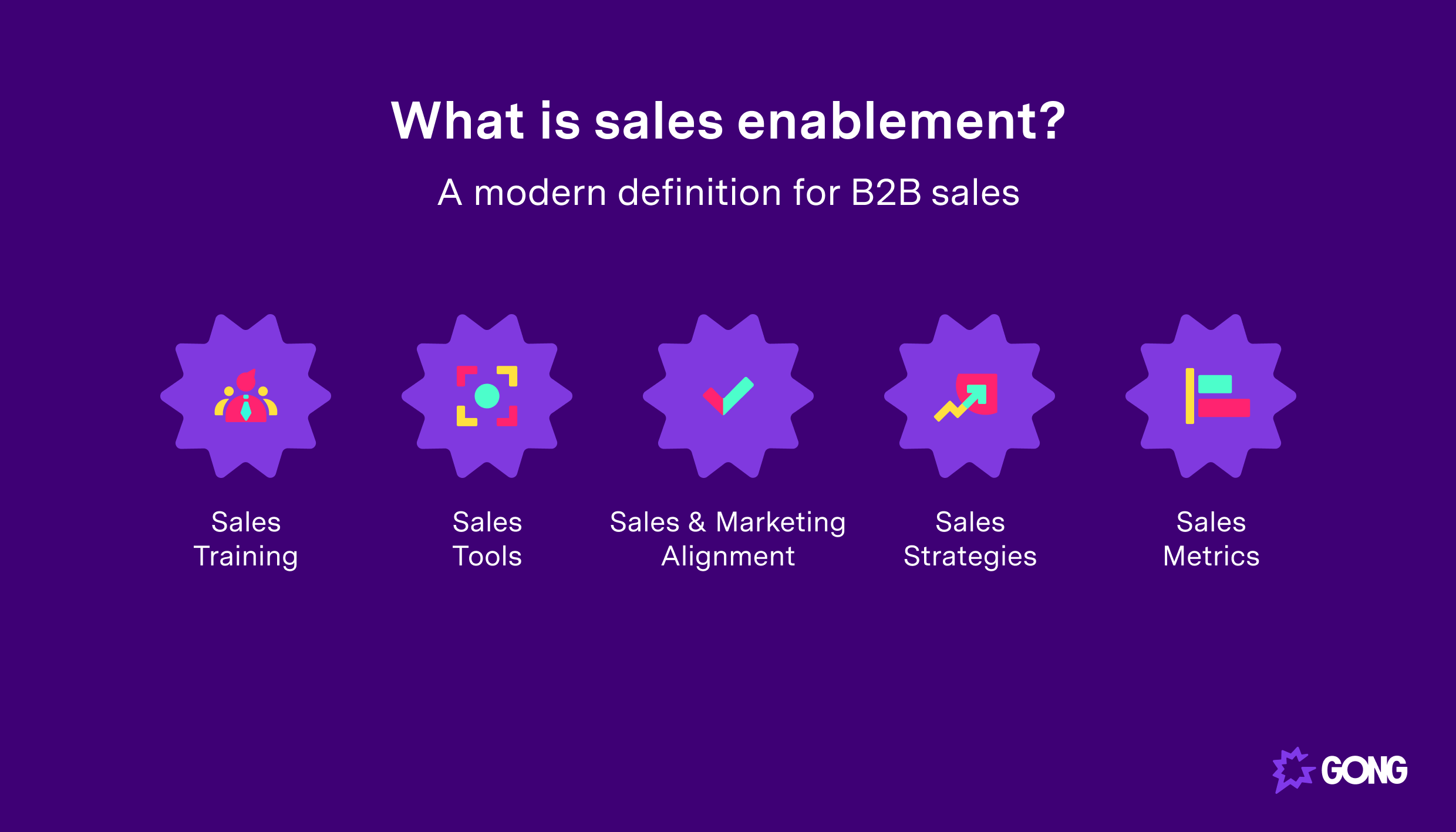 The term also encompasses sales training systems that let you instruct your team members based on real data garnered from real customers.
Your sales and marketing departments must work closely together, which is why they should share data and resources freely. Integration between platforms is crucial to identify high-value or ready-to-close prospects.
Sales enablement tools are also great for tracking sales performance over time, giving you a total view of how your sales efforts have contributed to your bottom line. In other words, you can figure out which initiatives are delivering results, and stop wasting money on things that aren't moving the needle.
Modern sales enablement platforms focus on improving the effectiveness of your sales team. That includes improving how you onboard and train new sales reps, real-time data on sales rep performance, and more. These tools can help you get the absolute best out of every single rep.
Certain sales enablement tools also help sales reps access the right materials when speaking with prospects. For example, if a potential buyer has questions about the results seen by similar companies, your sales rep can use the software to pull up relevant case studies quickly. Not only can these tools help to pull the right materials when needed, but they also aid your sales team in using them where they're most effective. 
Key sales metrics are also recorded on these platforms so that you can identify improvement opportunities. This also keeps sales reps accountable for their goals by measuring their progress. 
What should you look for in a sales enablement tool?
Now that you understand a little bit of what a sales enablement tool can do, you're probably thinking about investing in one. 
However, there are hundreds of sales enablement tools out there. So the question becomes, which sales enablement tool is right for me? What am I looking for? 
Unfortunately, there's no textbook right answer for exactly which platform is best for every single company. 
Instead, you have to consider several criteria when looking for a sales enablement tool. We've outlined some of the most important below, but every company has different needs. What might be a perfect fit for Company A could be absolutely useless for Company B. 
That's why you need to figure out what features enable your sales enablement strategy (pun intended) and compare every tool to that list. Here are some important factors you should consider before purchasing a sales enablement tool.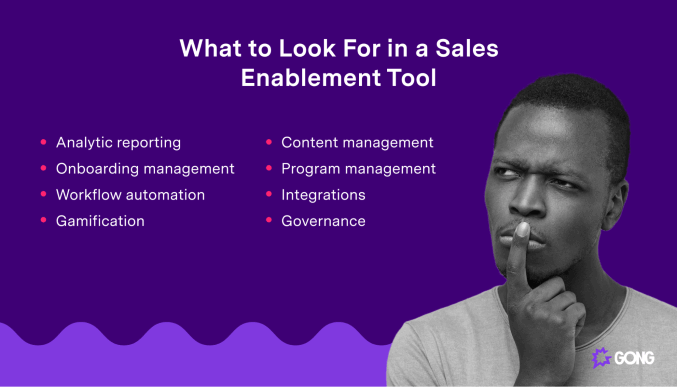 First, make sure that your chosen platform has detailed tracking, reporting, and analytics. This will help you gain insight into your sales team and content and how they contribute to results. The more detailed the analysis, the better. 
For example, insights into the likelihood of a deal to close, its potential value, or the exact actions that make prospects sign a deal are obviously valuable to your sales team. You can use this data to prioritize leads and figure out how to connect with your prospects so that your reps can close more deals. 
Sales onboarding management is another aspect of sales enablement software. This is a feature that will help you properly train new sales representatives. The platform enables you to welcome and train these team members and get them ready for the task at hand. It ensures that every new sales representative in your organization receives the same training, backed by data. 
Workflow automation is another feature you might need. This process automates several mundane tasks associated with the sales process, allowing your representatives to focus elsewhere on more important matters. 
Gamification allows you to take your sales training to the next level with interactive games and quizzes designed to improve knowledge of the sales process, making learning fun and more retainable. 
A sales enablement tool should have a robust content management feature, labeling and storing all sales content for representatives and marketing personnel to access at a moment's notice. 
Program management features allow you to deploy interconnected training programs designed to help your customer-facing personnel better understand their jobs and execute their duties more meaningfully.
The tool that you select shouldn't stand on its own. It needs to integrate with the various tools you already use. This includes project management software, marketing tools, and your CRM. 
Finally, a lot of the information associated with your sales process is proprietary, and you can't just allow all users to have unrestricted access to the system. That's why it's important to have a governance feature that ensures only certain people can access specific data. 
The 5 best sales enablement tools 
Now that you know what you're looking for, let's look at five of the best sales enablement tools out there. 
1. Gong – best for analyzing deals and improving sales performance
Gong is the first pick on our list. Maybe we're a little biased here, but when we've seen what our platform can do for sales teams firsthand, it's hard to rank it anywhere else.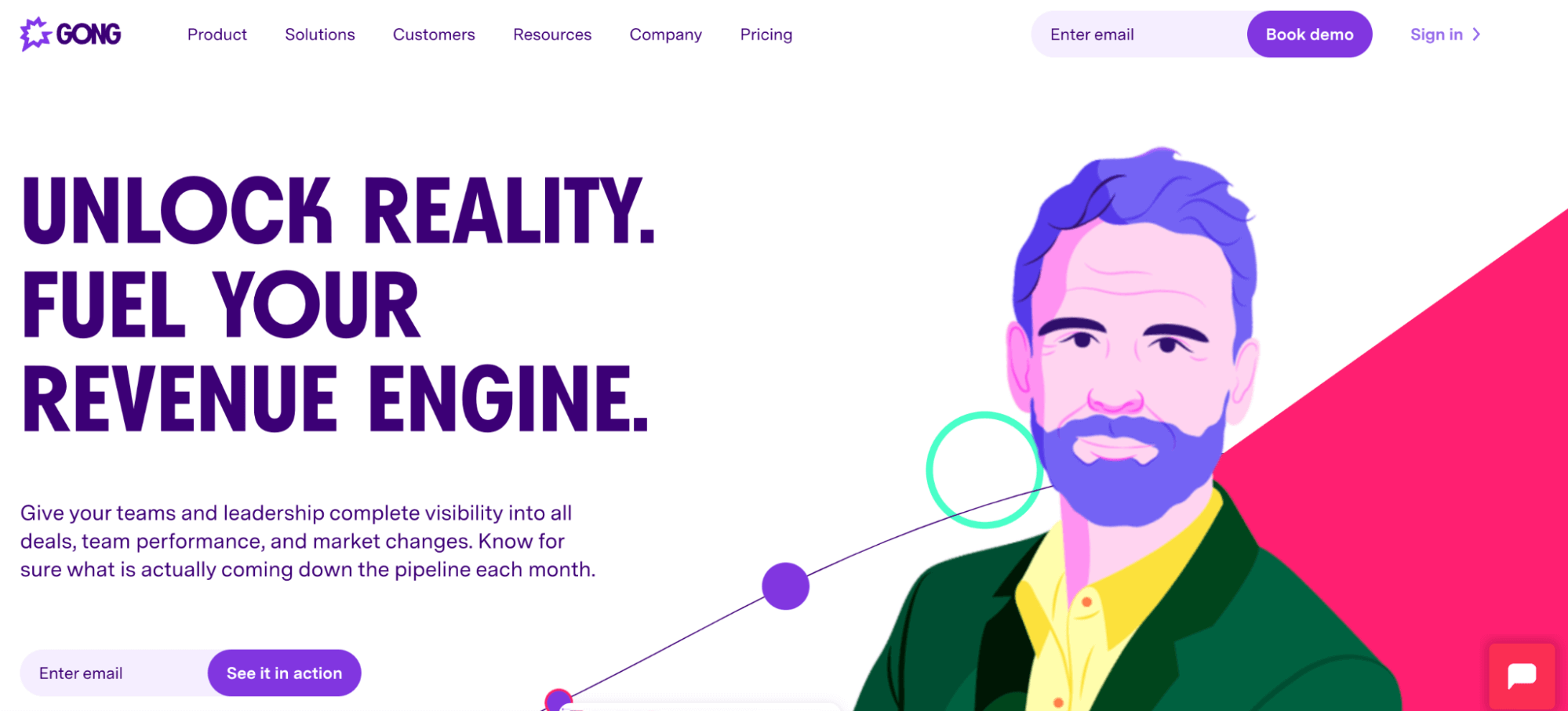 Gong is a revenue intelligence program that allows customer teams to have total visibility into the deals, market advancements, and sales performance metrics that breed profitability. We do this by analyzing customer-facing interactions. This includes buyer interactions over email, the phone, and web conferencing. 
Why is this needed? Because sales reps are often too close to these conversations to accurately understand the buyer interactions through their notes alone. Gong offers an objective look at your sales interactions — which deals are likely to close and which aren't, high-priority prospects, and more — using automation and data to drive a more connected and effective sales team.
Plus, Gong allows you to pinpoint exactly what separates top-performing sales reps from other team members. We're talking: call length, sales questions, topics, and even specific keywords. These data-driven insights can show how to close deals effectively, and replicate top-performer results across your entire team (or at least get close).
Gong integrates with many apps, including Hubspot, Salesforce, G Suite, Teams, RingCentral, and Slack. 
Gong's pricing depends on each specific company's needs and team size. For more information, reach out and request a quote today.
2. Seismic – best for content utilization
Seismic runs on a platform powered by AI. It allows you to plan campaigns, engage audiences effectively, and plan your sales strategies around content. When using Seismic, you can automatically personalize your content in the most effective way for positive customer interactions.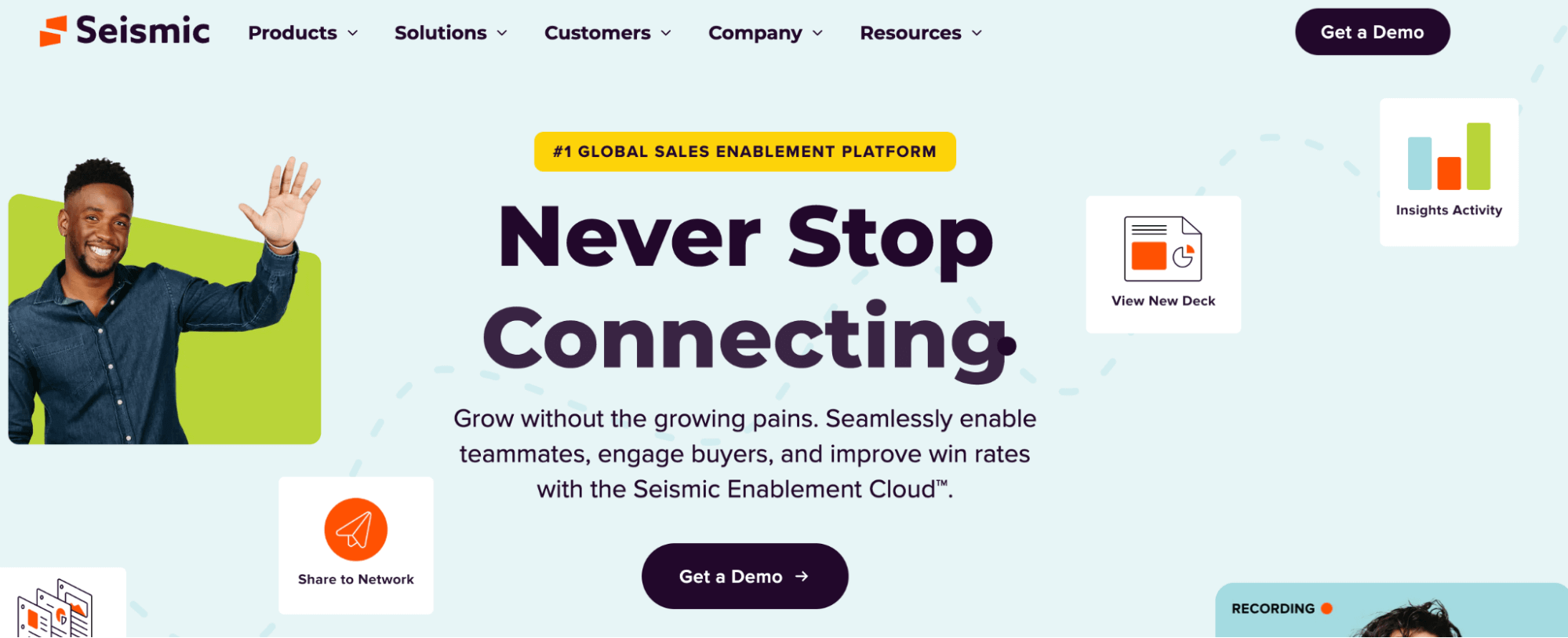 Your sales staff can use Seismic to find and share meaningful, personalized content in seconds. Seismic can provide your sellers with as much or as little content customization flexibility as you're comfortable with.
The engagement tracker included with Seismic shortens the sales cycle significantly by putting all information at your team's fingertips. The user-friendly dashboard of this solution helps you optimize your performance by leveraging organized data that provides valuable insights into your sales process. 
You can also use Seismic to customize the control permissions for your content. The content compliance tools offered let you apply automation to your approval processes and content workflow. This platform's machine learning capabilities work to constantly improve the enablement process as a whole. That's why it's a popular option with enterprise-level companies. 
Seismic doesn't make pricing publicly available. Contact the company for more information.
3. Showpad Content – best for tailored engagement
Showpad is a platform designed for reps dealing with digital-first buyers. It empowers them to provide quick and effective solutions to these customers on demand while tailoring the engagement process to your company, speeding up the sales cycle and closing deals faster.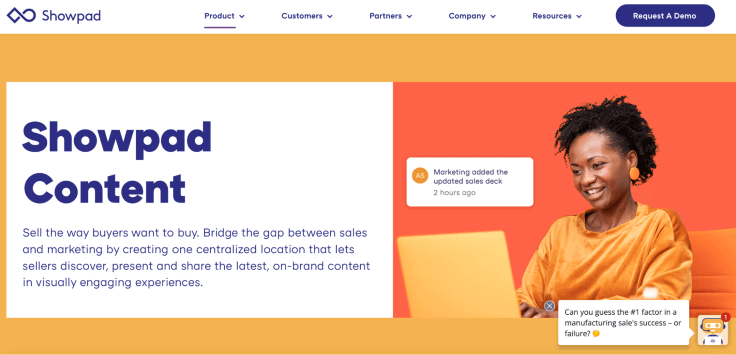 Showpad Content creates a centralized location for your sales reps, where they can sift through content that can be found, shared, and presented to customers at a moment's notice. It connects with CMS and DAM systems, which allows you to import your entire content library. Once that's done, Showpad's content management system can keep track of your assets and even notify team members of new or updated content. 
The AI-driven search function of Showpad Content allows reps to gather content from the home screen, with smart recommendations popping up based on machine learning solutions. You can apply additional filters to narrow your search, finding the right content needed to close any specific deal. You can also group content by contextual relevance, allowing sales reps to give more empowered pitches to customers across your target demographic. 
Showpad Content has three different pricing tiers. They're Essential, Plus, and Ultimate. The company doesn't make pricing for these tiers publicly available, so you'll have to contact Showpad directly for more information. 
4. Guru – an all-in-one platform for sales and marketing campaigns
Guru is known in the sales enablement world as a knowledge management platform. Companies use Guru to ease the transition between onboarding and training. You can also use the platform to share and access sales documents (and for other departments).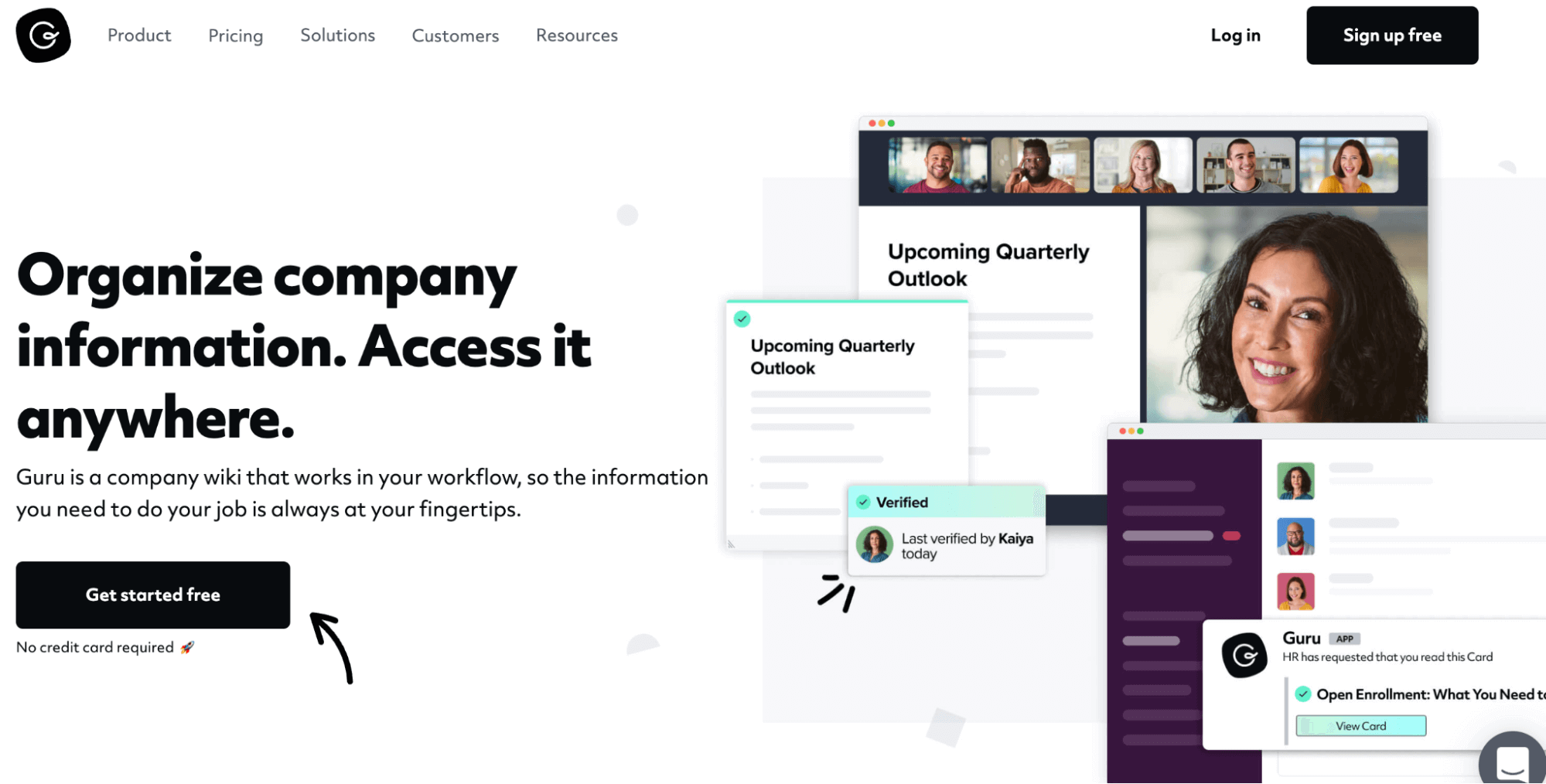 This sales enablement solution harnesses the power of AI and includes a powerful search function that's both effective and user-friendly. You can build and manage your knowledge base, keeping your information up to date for team members to access at will. 
Guru even has a Google Chrome extension that makes it easy to use from anywhere. 
There's a free Starter plan for teams with up to three users. If you have a larger team but still want the features of the Starter plan, it's $5 per user per month. The Guru Builder starts at $10 per user per month. After that, you have the Expert plan, which costs $20 per user per month. 
5. Highspot – advanced tools designed to create action from strategy 
Highspot is a sales enablement tool that lets reps create guided custom conversations and experiences for customers. This helps to provide relevant information specific to the customers they're interacting with.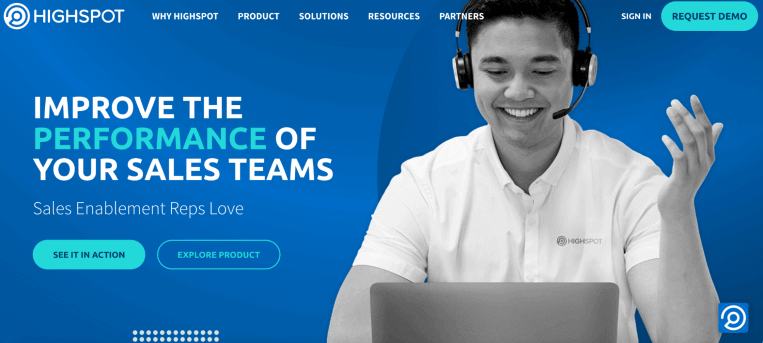 It does this through training, intelligent content management, customer engagement, contextual guidance, and detailed analytics. Highspot also provides rep coaching and content management features. With this platform, you'll even find onboarding features for new sales associates. And you can use it for ongoing training, helping with reskilling, upskilling, and overall improvements to sales rep performance. 
Highspot doesn't publicly announce pricing. Contact the company for a quote. 
Conclusion 
You and your sales managers can use a sales enablement tool to leverage your data and better prepare the sales team of your dreams. Start by exploring the options on this list. Compare the features of each selection to your specific needs as a company.
Gong is a user-friendly platform that will allow you to improve your customer-facing conversations and create a more informed and effective sales team. For more information on how Gong can help revolutionize your sales process, reach out to us for a demo.