Blog
How to Create a Winning Sales Cadence
Every good sales manager knows the importance of having a plan. It's why you spend so much time building the perfect sales process and sales cycle.
But what about outreach? Are your salespeople following a plan here, too, or are they shooting from the hip?
If you want to maximize your reps' performance and make the most of their sales pipeline, you need to help them plan all of the touch points they wish to have with prospects in advance.
You need to help them build a sales cadence.
In this article, we'll explain why your sales reps need to create a sales cadence and how they can do it. We'll also provide best practices for improving sales cadences in the future and give you a sneak peek at what a great sales cadence looks like.
The power of a great sales cadence
A sales cadence is a pre-arranged series of actions a salesperson takes to close a sales prospect. A great sales cadence will use a range of outreach methods, including cold calls, email, voicemail, and social media interactions.
The idea behind creating a sales cadence is that reps don't need to think about their next action with a prospect. Rather than worrying about calling or sending an email, they can simply refer to their sales cadence and take action.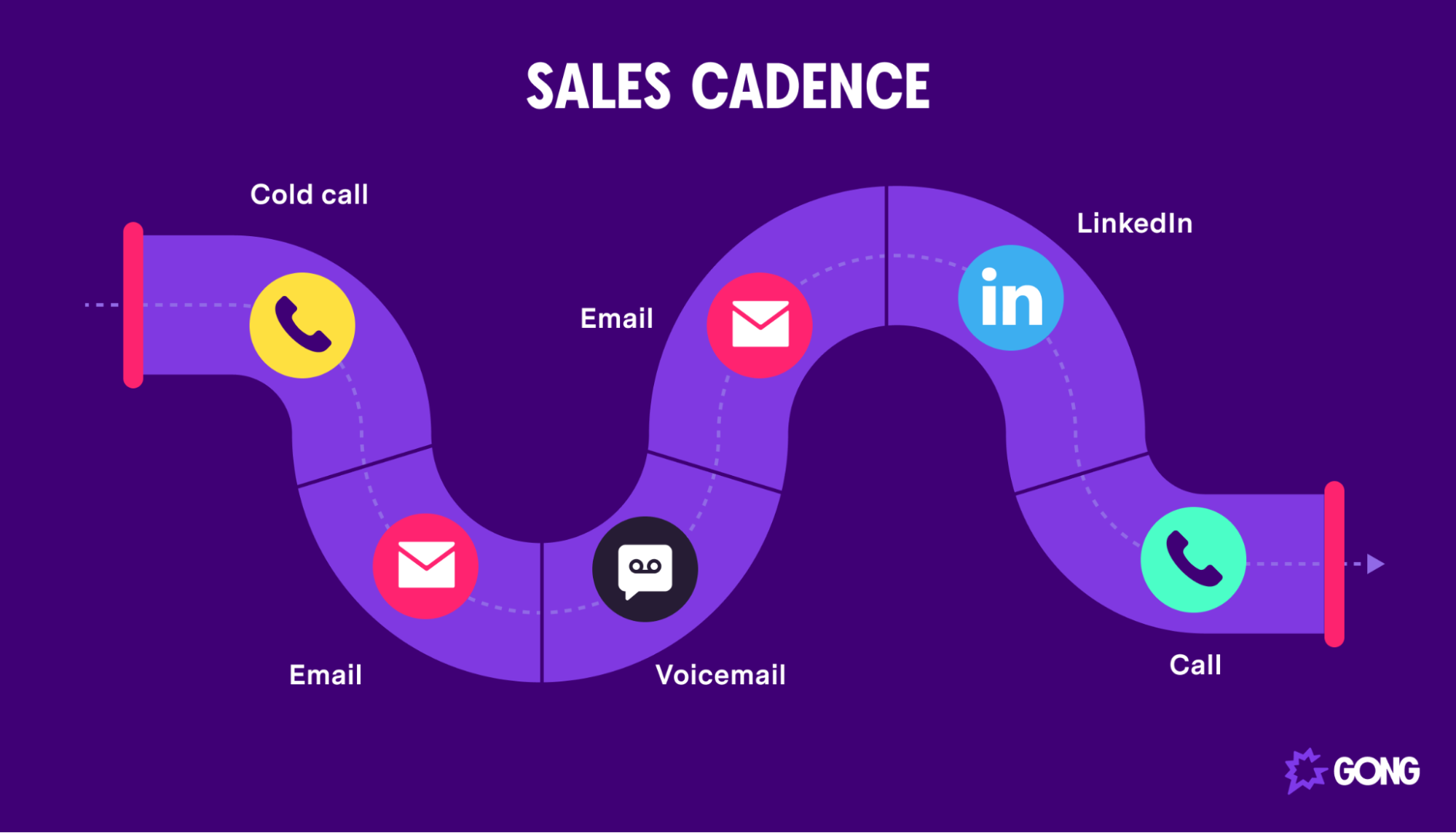 This prescribed approach to outbound sales may seem restrictive, but there are plenty of benefits to creating a sales cadence:
Provide a framework for sales reps
Sales cadences help every salesperson become a better seller. They also help recruits make their first sale faster since they don't have to waste time discovering the approaches that work and those that don't.
As a sales manager, it also makes it easier for you to train reps since everyone uses the same approach.
Speed up the sales process
Reps don't have to think about what they do next when they use a sales cadence. A structured process is a great way to make your team more efficient and effective — they'll be having more conversations each day and using a proven method.
Track and improve your sales process
A structured framework makes it easier to keep track of your team's success. You can optimize your sales process by split-testing different approaches.
Easy to scale
Sales reps will find it easy to keep track of how they've approached a couple of prospects, but it's a lot harder when juggling dozens or even hundreds of potential buyers. A sales cadence makes sure they know who they need to speak to, when they need to speak to them, and how they need to reach out.
No sales strategy is perfect, however. The biggest issue with sales cadences is that they can't be customized for individual prospects. They have to be broadly effective for everyone in your team's pipeline, not just a single account.
How to build an effective sales cadence from scratch
Want to build a sales cadence? Follow the tips below.
Understand your prospects
You need to really understand who your prospects are and what they want to create an effective sales cadence. Once you've created a sales cadence, you can use it for every prospect. But that doesn't mean sales cadences can't vary massively between different companies or even between sales teams in the same organization that sell different products.
Step one is to refer to your ICP and customer personas to think about what outreach methods are going to work best for your target audience and how often you should contact them.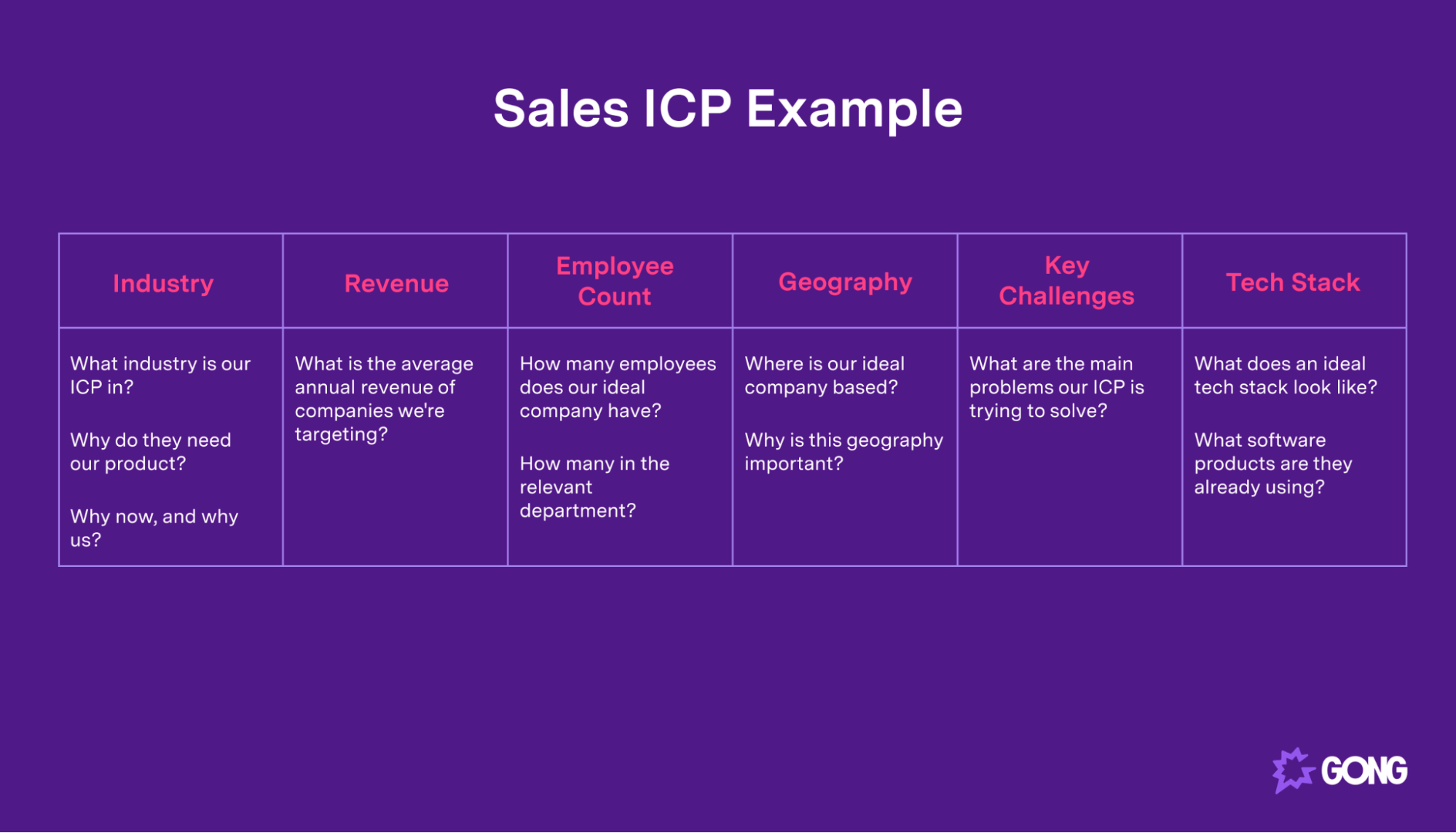 An omnichannel approach is always best. You'll want to decide on two outreach channels as a minimum, but there's no reason you can't use four, five, or even more. If you think your prospects will respond to a particular method, then go for it!
Don't forget, you can always tweak your sales cadence in the future if one outreach method isn't pulling its weight.
Decide on your number touch points
Probably the hardest part about developing a sales cadence is deciding how long you want the cadence to be. You don't want it to be so short that you miss the chance to convert a potential buyer. But at the same time, it shouldn't be so long as to put off the prospect from ever taking your phone call again.
We'd recommend aiming for around six to 12 touchpoints. But if you really want to create an effective sales cadence, dive into your historical sales data and see how long it takes to convert prospects on average. Then tailor your cadence to match.
Next, define how long to leave between each touchpoint. This is also a bit of a balancing act. You want to give prospects time to reply, but you also want to make sure they don't forget who you are between each touchpoint.
Map out what you'll do at each touchpoint
Your sales reps should have an idea of what they want to say at each stage of their sales cadence — and every cadence step should have a clear goal.
For instance, the goal of the first steps could be to build rapport, while the goal of steps four through eight could be to educate and sell.
To do this effectively, sales reps must know the product's value proposition and have an idea of the common pain points their buyers face.
How reps behave during each touchpoint will need to change over the cadence, too.
For example, reps may want to own more of the call early on and less of the call in later conversations when prospects are expressing pain points.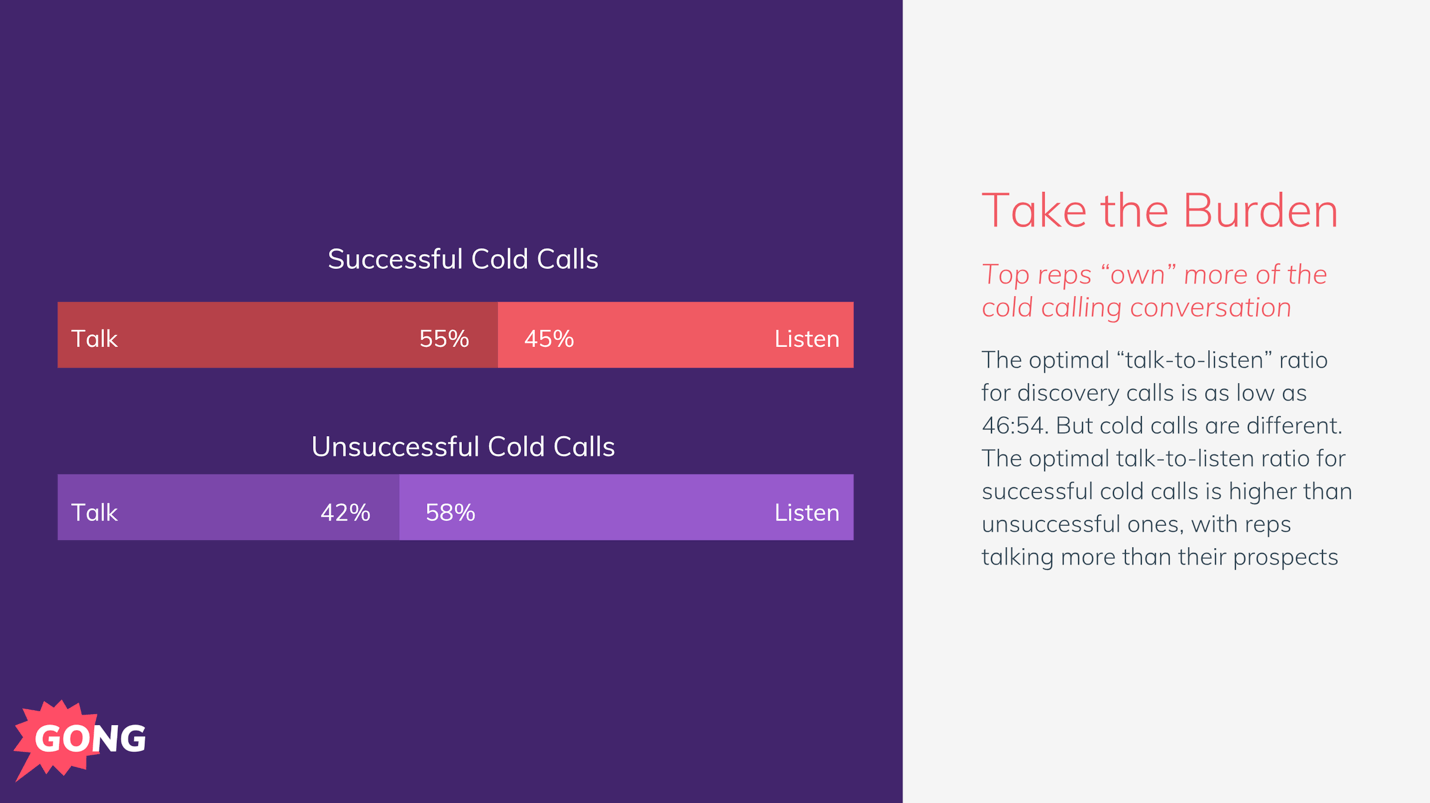 It'll also be important to tailor their messaging to the method of outreach. No one wants to listen to a five-minute voicemail, for example, but our research shows that longer follow-up emails are more effective than shorter ones.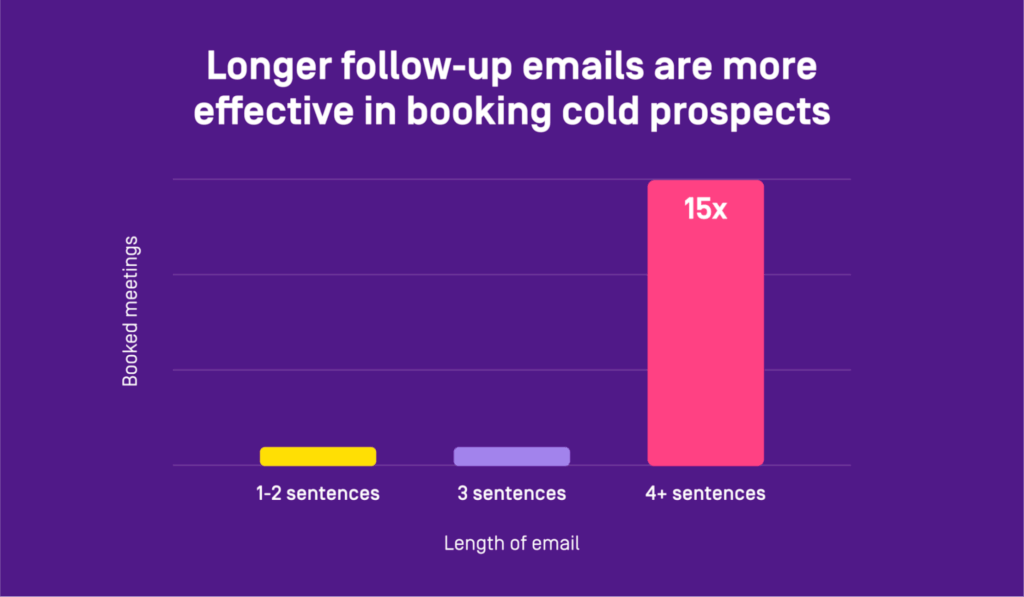 Before finalizing the sales cadence, it can be helpful for reps to collect a range of sales collateral that they can send across as and when needed. It's always helpful to have content to hand if prospects ask for it.
In some cases, sales reps may choose to email across a case study as one step of their sales cadence.
Choose the right tools
Every great sales cadence relies on at least a few tools to help SDRs succeed. At a minimum, your team will need a CRM (like Salesforce), email automation services, and a VOIP system.
If you really want to supercharge your team's efforts, then consider integrating an AI-powered platform like Gong Engage that provides daily tasks to keep SDRs on track.
Gong Engage gives reps a live list of prioritized actions to help them sell more effectively. From the image below, for example, it prompts you to follow-up with certain prospects or try to book a meeting. In some cases, Gong Engage could replace your standardized sales cadence with a version that's completely tailored to your list.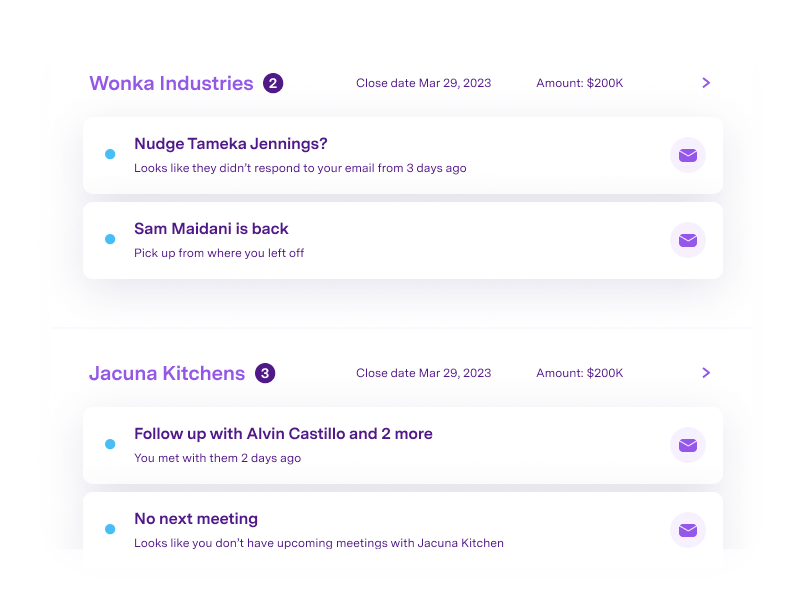 Gong Engage also automates mundane tasks like updating your CRM and drafting emails, so your team can spend even more time selling.
Track, test, and optimize
Rarely will your team nail an effective sales cadence at the first time of asking. That makes it essential to experiment with different outreach methods, different numbers of touchpoints, and different gaps between each touchpoint.
Try tracking the following metrics to improve your cadence:
How many touch points it takes to book a prospecting call or demo

Email open rates

Response rates for each contact method

Engagement rate of sales content

Sales cadence conversion rate
Once you have a good baseline, try A/B testing one cadence against another. For example, if your emails get high open and response rates, you could try adding more emails to your cadence and removing phone calls. Don't rush to a conclusion, though. Make sure you test cadences over a statistically significant number of prospects.
Four sales cadence best practices
If your team has a sales cadence in place, here's how you can optimize it moving forward.
Change up your timings
If your sales cadence isn't as effective as you like, it could be an issue with your timings. There are a couple of strategies to fix this.
The first is to increase or reduce the time between each touchpoint. If you feel your team comes across as pushy, try leaving a day or two more between each contact. If your sales cycle is too long, try reducing the gap.
The second time-based strategy is to change the time and days you contact prospects. You'll probably find prospects most responsive to sales calls early in the morning, just before lunch, or when they are finishing for the day.
Between those times, focus on touchpoints that aren't time-sensitive, like email and LinkedIn messages.
Take it down a notch
While you should have a goal or purpose in mind for each touchpoint, you don't have to sell every time you speak to a prospect. Or, to put it simply, don't be pushy and ask for a meeting at the end of every phone call or email.
In fact, our research finds that specific calls to action (are you free for a demo on this date?) and open-ended calls to action (when are you free to meet?) pale in comparison to interest-based calls to action. Interest-based CTAs (are you interested in exploring this further?) have a 30% success rate compared to just 15% for specific CTAs.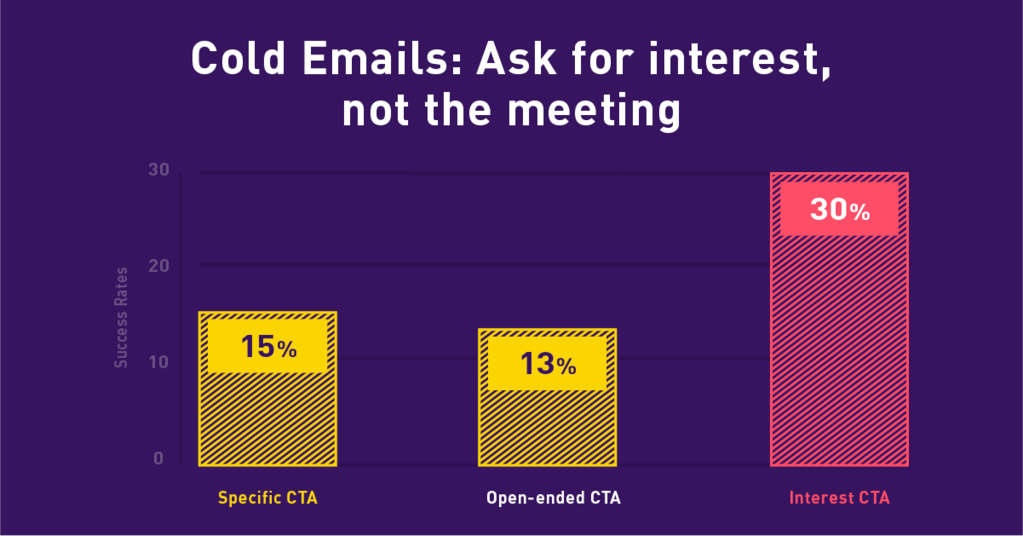 Mix up your outreach channels
Does your cadence go cold every time you send a message on LinkedIn? Do prospects never pick up your sales calls?
Maybe one communication channel just won't work for your team's buyers. That's not a big deal as long as you keep changing up your outreach methods until you find a combination that works.
Don't be afraid to throw your sales cadence out of the window for a high-intent buyer who says they don't want to be called or to email. Personalizing your approach to their wishes is better than losing a‌ nailed-on account.
Know when to cut your losses
At some point, outreach just wastes everyone's time. If you keep getting rebuffed or your calls and emails go unanswered, don't worry about stopping the cadence early.
But make sure to formalize things with a breakup email. These emails often feature an apology for taking up so much of their time and helpful information that could alleviate pain points.
If you think there's still a chance of a sale in the future, then promise to follow up with them in six months or a year and mark the prospect as such in your CRM.
An effective B2B sales cadence example
If you need more help creating an effective B2B cadence, try adapting this sales cadence example below:
Day 1. Cold call
Cold calling remains one of the best ways to reach new prospects. Use this as a chance to establish a rapport and qualify whether there is a need for your product.
Day 3. Email follow-up
Leave it a couple of days, then follow up your call with a personalized email. It's up to you whether you mention your previous call in this email. Our research shows that doing so doesn't help you book more meetings.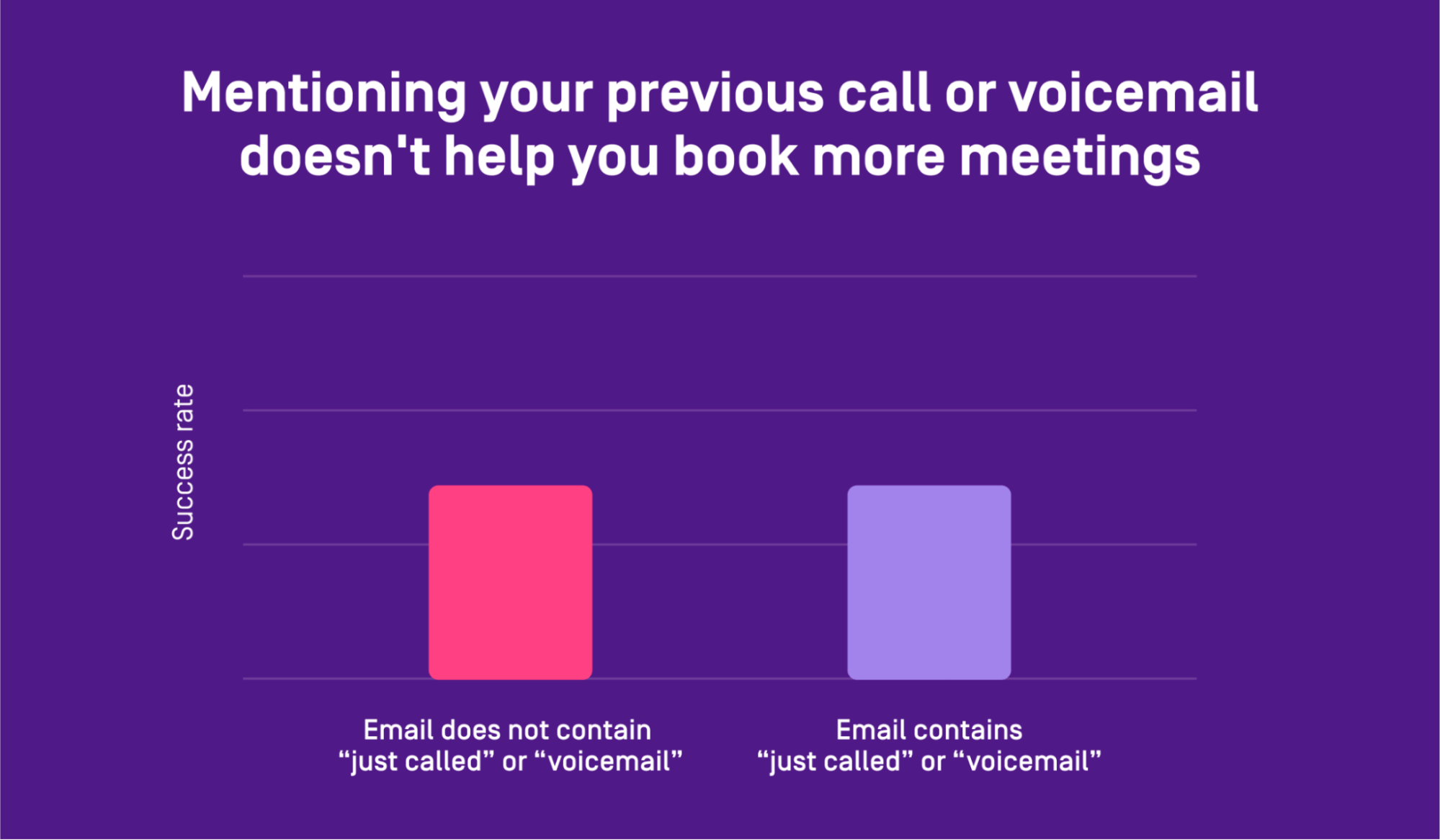 Make sure you include information relevant to the prospect and mention their pain points and how your product can help solve them.
Day 6. Call or voicemail
Your email probably won't get a response, but even if it did, reach out to the prospect by phone next. If you've established they need your product, you can use this as a discovery and find out how to personalize your offer to the prospect.
If things go well, ask them if they'd be willing to book a demo.
Day 10. LinkedIn message
If your prospect hasn't booked a meeting or responded to your previous messages, give them a nudge on LinkedIn. Hopefully, they've accepted your connection request, but you can use InMail if not.
Step 5. Email a case study
Emailing your prospect a relevant case study or one-sheet is a great way to kickstart the sales sequence and encourage them to book a demo call to find out more.
Step 6. Call
If you don't get a reply to your email, follow up over the phone. It can be easier to get a yes when you catch the prospect off guard.
Step 7. Email relevant content
Showcase your credentials as a consultant by sending over non-sales-related content relevant to their industry. This could be a blog post or whitepaper — just make sure it offers real value to the prospect.
Step 8. Call
Still no reply and no meeting booked? Give it one last shot over the phone.
Step 9. Break-up email
If you've not had any luck by now, it probably isn't worth your time to carry on. End the cadence with a break-up email, but leave the door open to pick things up again in the future.
Hit the right note with Gong
Carefully crafted sales cadences are key to a successful sales process.
You should now have everything you need to build a perfect cadence. But why not guarantee yourself the best chance of success by downloading a bundle of our best email sales templates? They'll help you hit the right note at every touchpoint.
Get our bundle of top-performing sales templates!
Prospecting. Follow-up. Multi-threading. Negotiating. Closing. These templates have it all. And they're yours — for free.