Blog
Quarterly Business Review (Examples, Templates, and Agendas)
Quarterly business reviews (QBRs) are a crucial component of the customer success management process.
They give the customer success manager an opportunity to reconnect on customer goals, align on strategic direction, and share insights on upcoming feature releases (a great way to encourage retention).
Few disagree that the QBR is a valuable activity, but many struggle when it comes to determining what should be included in the agenda.
In this article, we'll explore several quarterly business review examples. Use them as inspiration for designing your own QBR agendas to strengthen customer relationships and drive retention.
3 quarterly business review examples
Let's start by looking at three examples of quarterly business review agendas. If you're new to QBRs, you may benefit from skipping ahead to our 101 on quarterly business reviews before circling back to these examples.
1. Generic quarterly business review example
Our first QBR meeting example is a generic agenda that you can use to review the past quarter's performance in any business context.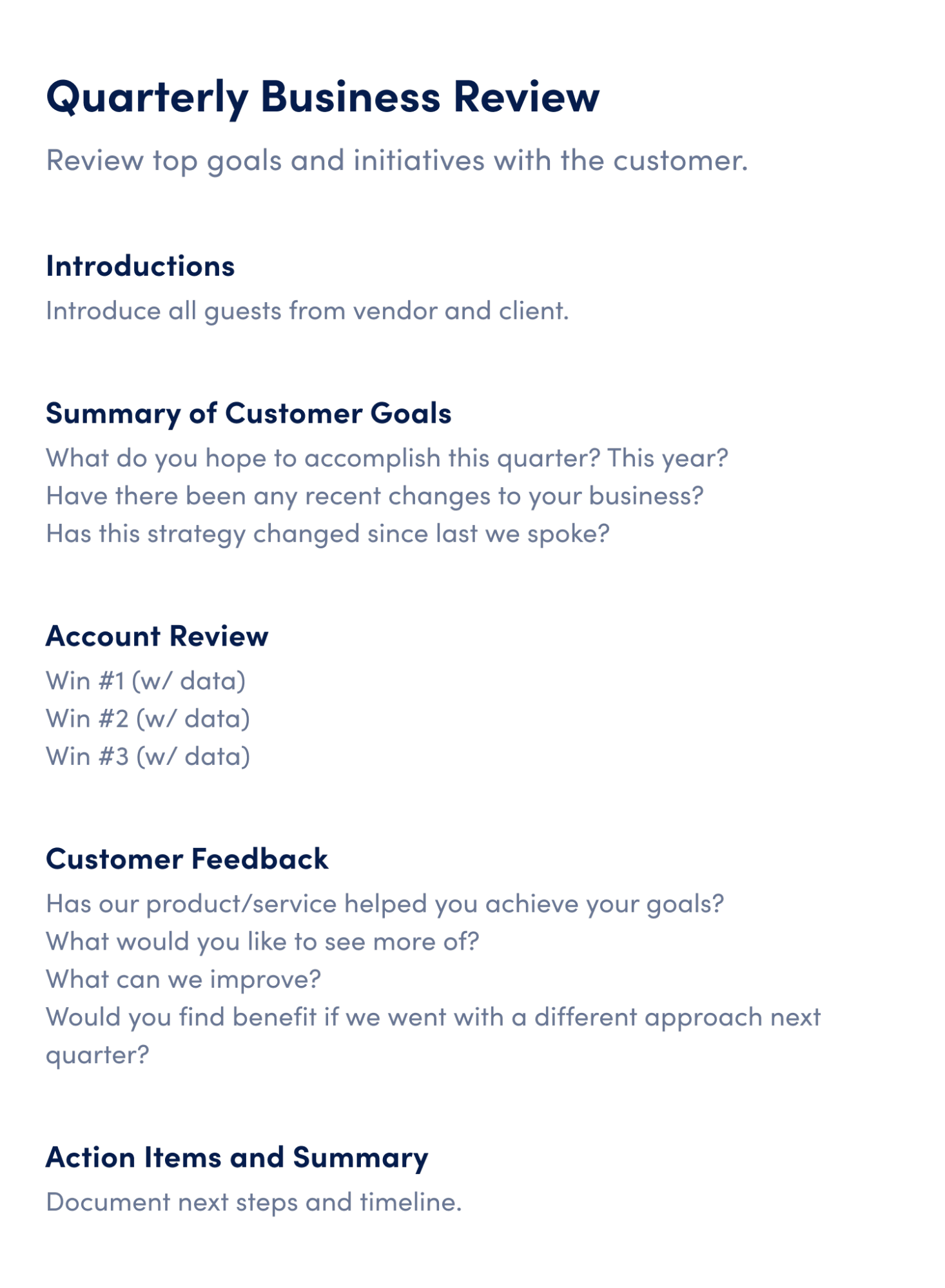 Like any good quarterly review, this QBR example kicks off with a recap on the buyer's key goals and what they want to accomplish.
This helps the account manager or CSM realign with the customer's definition of success, as business objectives can shift over time.
2. SaaS quarterly business review example
Our second QBR example is an executive business review built specifically for companies that sell software products.
This regular business review allows the CSM to dive deep into product usage analytics, a best practice for SaaS QBRs.
They can address any roadblocks in product adoption to help the buyer get more out of their platform. It also serves as the perfect opportunity to introduce new features that might have been released since the last quarterly business review.
3. Project-based quarterly business review example
Our third quarterly business review example is for companies that need to provide their clients with project updates, such as website development agencies and construction companies.
This example covers key KPIs like customer health index and scorecards. It also covers action items from the previous review, as well as the buyer's goals so the account manager can update their understanding of what defines success for that client. Because it's a project-based QBR, it includes space to discuss potential risks.
The ultimate quarterly business review agenda
Looking for a QBR template to manage customer relationships and ensure your business review agendas are consistent across the board?
The agenda below is what we at Gong believe to be the ultimate QBR agenda, drawing from the examples discussed above, as well as our own experience.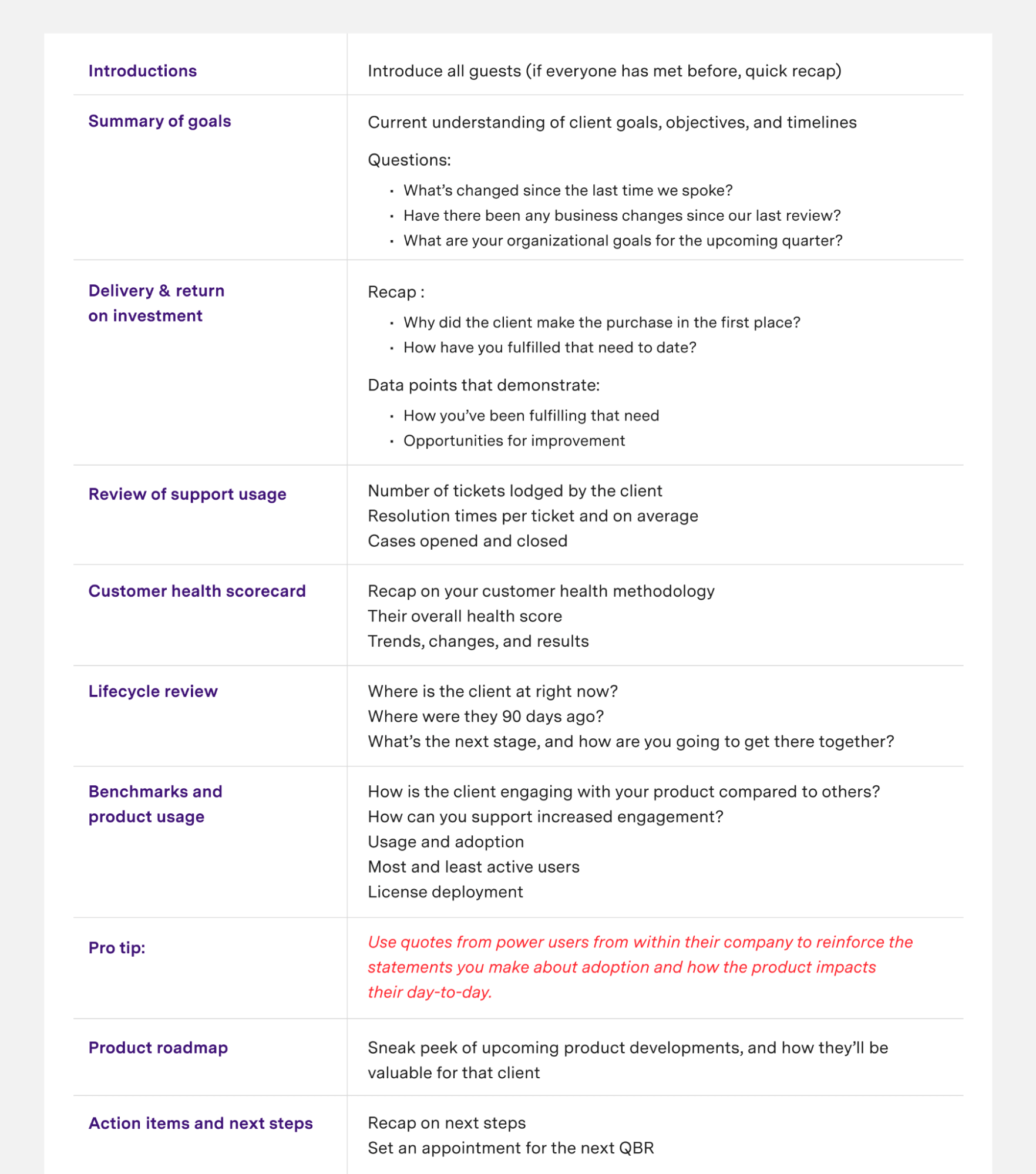 Note that the QBR agenda is broken down into 9 core sections:
Introduction/agenda setting

Summary of goals

Delivery and return on investment

Review of support usage

Customer health scorecard

Lifecycle review

Benchmarks, KPIs, and product usage

Product roadmap

Action items and next steps
Let's look at how to use the nine critical sections in practice.
The ultimate example of a QBR agenda
By examining several QBR examples like the ones discussed above, we've created the ultimate agenda for you to use in your own customer success strategy.
Introductions
Introduce all guests (if everyone has met before, provide a quick recap).
For example:
Meeting attendees:
Customer Success Manager

Content Marketing Manager

Content Specialist
To discuss:
This is our first meeting, so let's clarify roles. My role is to help you both get the most out of Semrush in your day-to-day activities. I'd like to know more about the distinction between your two roles and how you work together.
Summary of goals
Recap on your current understanding of your buyer's goals, objectives, and timelines.
For example:
My understanding of goals and timelines comes from Angela Burke, the Account Executive who helped you get set up with Semrush initially. Here's what I understand:
Goal 1: Speed up the keyword research process for your agency clients.

Goal 2: Establish real-time keyword position monitoring for existing clients.

Goal 3: Assist with identifying opportunities for optimization.
Timelines: Complete these initial goals within 6 months.

I'd love to get your feedback on whether I've understood all of this correctly, or if anything has changed.
From there, dive into some specific questions about the customer's current situation to align with any changes in strategic direction or objections.
Sample Questions:
What's changed since the last time we spoke?

Are the above goals still relevant?

How have you progressed toward them in the last quarter? Where do you need help?
Have there been any business changes since our last review?

I understand you currently serve small and medium businesses in the trades (plumbers, builders, roofers, etc.) on website rebuilds and some content production. Is this still a reasonable summary?
What are your organizational goals for the upcoming quarter?

Have any of the above goals been ticked off?

What still needs to happen?

Any new goals?
Delivery and return on investment
Discuss how your product utilization data relates to the buyer's objectives. Use the following questions to guide your conversation:
Why did the client make the purchase in the first place?

As per the goals above.
How have you fulfilled that need to date?

My usage data tells me that keyword research is being completed regularly but position monitoring hasn't been set up yet. Do you need assistance with this?
What opportunities for improvement exist?

Discuss position monitoring as the goal has not been achieved.

Are you facing any challenges with this? Are they from a technical or time standpoint? We could go through it now, and I have some content I can send to support.
Review of support usage
Review instances where the buyer has accessed customer support, and how well their support tickets have been handled.
For example:
Number of tickets lodged by the client

2 tickets lodged last quarter

Difference between Semrush and GA4 analytics

Struggling to connect customer website to position monitoring
Resolution times per ticket and on average

Ticket 1: 36h

Ticket 2: 13h

Average: 24.5h
Cases opened and closed

2
Customer health scorecard
Review your customer health scorecard and key metrics.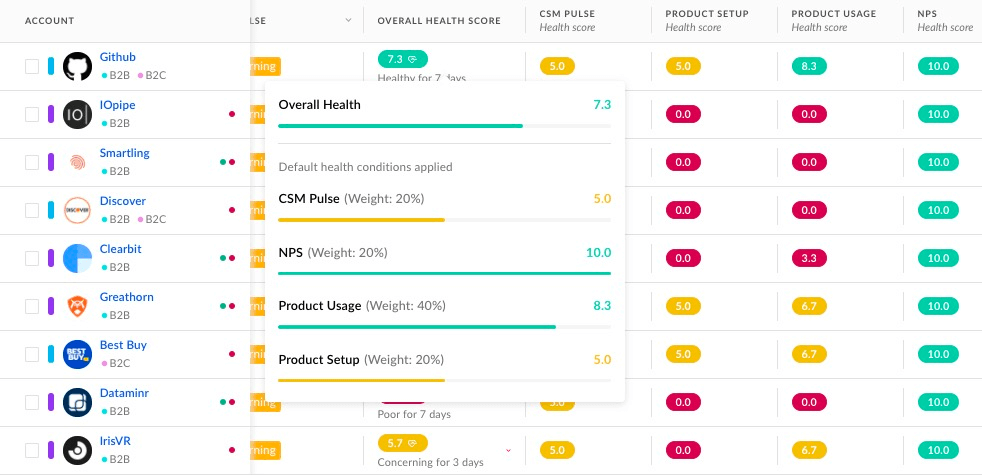 For example:
Recap on your customer health methodology

This is the first time we've discussed this. Let's walk through the various measurements and how we use that to identify areas to assist.
Their overall health score

Currently in the green.

Review all areas and confirm it seems correct from their perspective.
Trends, changes, and results

None to review as this is the first QBR.
Lifecycle review
Discuss the buyer's current lifecycle stage. Use the following questions to guide your review:
For example:
Where is the client at right now?

End of first quarter with us (common early churn point, seek to mitigate by doubling down on the success so far)
Where were they 90 days ago?

Signing up
What's the next stage, and how are you going to get there together?

It seems we still have some goals to meet (2 and 3 as per above). I will do some product education on the call, and provide helpful content post-call. Then, I'll schedule a 1-month check-in notification to gauge progress and avoid being in the same place for the next QBR.
Benchmarks and product usage
Use your product usage data to compare performance against internal benchmarks.
For example:
How is the client engaging with your product compared to others?

On-track for a first quarter user.
How can you support increased engagement?

Per above under "What's the next stage, and how are you going to get there together?"
Usage and adoption

Both users are active. Interested in learning more about their roles and the company in general to determine if user growth is possible.
Most and least active users

N/A – both active
License deployment

N/A – both active
Product roadmap
Give your buyer a sneak peek into upcoming product releases, and discuss how they relate to their goals.
For example:
Sneak peek of upcoming product developments and applicable client value

I'll need to gain a deeper understanding of their operations before I can point them in the direction of helpful new product developments. Hold off until next quarter.
Action items and next steps
Close your QBR conversation by recapping on the discussion and assigning action items.
For example:
Recap on next steps

Send product education content.

Check in after one month.

Anything else as discussed in the meeting.
Set an appointment for the next QBR

Same time next quarter work?
A brief 101 on quarterly business reviews
Whether you're new to quarterly business reviews or simply looking to refresh your memory before building out your own agenda, the answers to these questions will help you understand what a QBR should look like in practice.
What is a quarterly business review?
A quarterly business review (QBR) is a formal meeting held every three months between your client stakeholders and a customer success manager (CSM) or account manager, depending on the industry.
At each review, your CSM will take the following four actions:
Provide a recap on their understanding of a buyer's goals

Ask for clarity on any changes

Review product usage, adoption, and challenges

Agree on plans for moving forward including any strategic changes or product education required
The intention of the QBR is to ensure continued alignment with customer goals and intentions, with the end goal of improving customer retention and reducing churn rates.
Why should success teams run QBRs?
Holding business review meetings on a quarterly basis offers four important benefits:
Improved alignment with key business goals

An opportunity to celebrate and reinforce success

Development of buyer relationships
All of this feeds into the overarching goal of QBRs and the customer success department in general: improved retention.
If a CSM's understanding of their buyer's goals is outdated, they're going to make flawed recommendations that fail to catch potential churn signals.
A good CSM works to foster a strong relationship with their clients through regular QBR meetings that ask questions about customer needs, business developments, and satisfaction with product usage.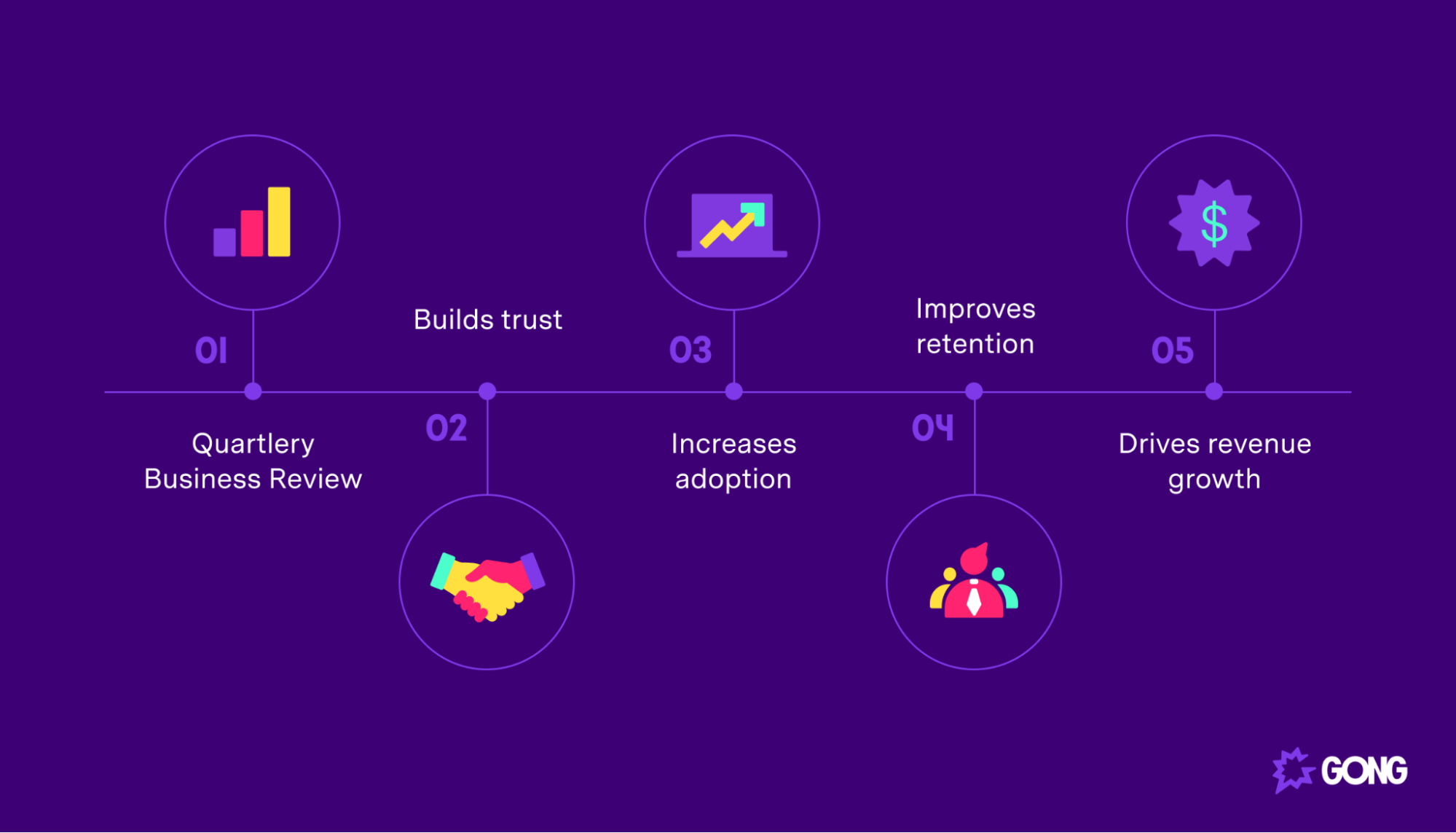 This makes them better prepared to provide strategic advice, recommendations, and product-related education.
What are the goals of a quarterly business review?
Quarterly business reviews have five primary goals:
Review business progress

Build trust with the customer

Increase adoption of product features

Improve retention

Drive revenue growth
Trust is built through building a personal relationship and through the CSM demonstrating that they care about their customer's goals.
Adoption is increased through product-education based on a CSM's understanding of their buyers' goals and needs. All of this drives retention, as satisfied buyers are less likely to churn.
QBRs can also be used to spot revenue growth opportunities, for example, when a CSM identifies that a buyer could benefit from upgrading their plan to one that offers a specific feature relevant to their needs.
What should be included in a QBR agenda?
QBR agendas can look different across companies, industries, and verticals. For instance, a CSM at a software company will discuss product adoption in their QBRs, but this isn't always relevant for a marketing agency to discuss with their client.
There are, however, some similarities across the board. All QBR agendas should include the following:
A review of implementation or usage

A review of performance and value delivery

An alignment with the buyer's strategic goals

A discussion about obstacles and challenges faced in the previous quarter

A plan for future growth or changes

A sneak peek of upcoming developments or service offerings (if appropriate)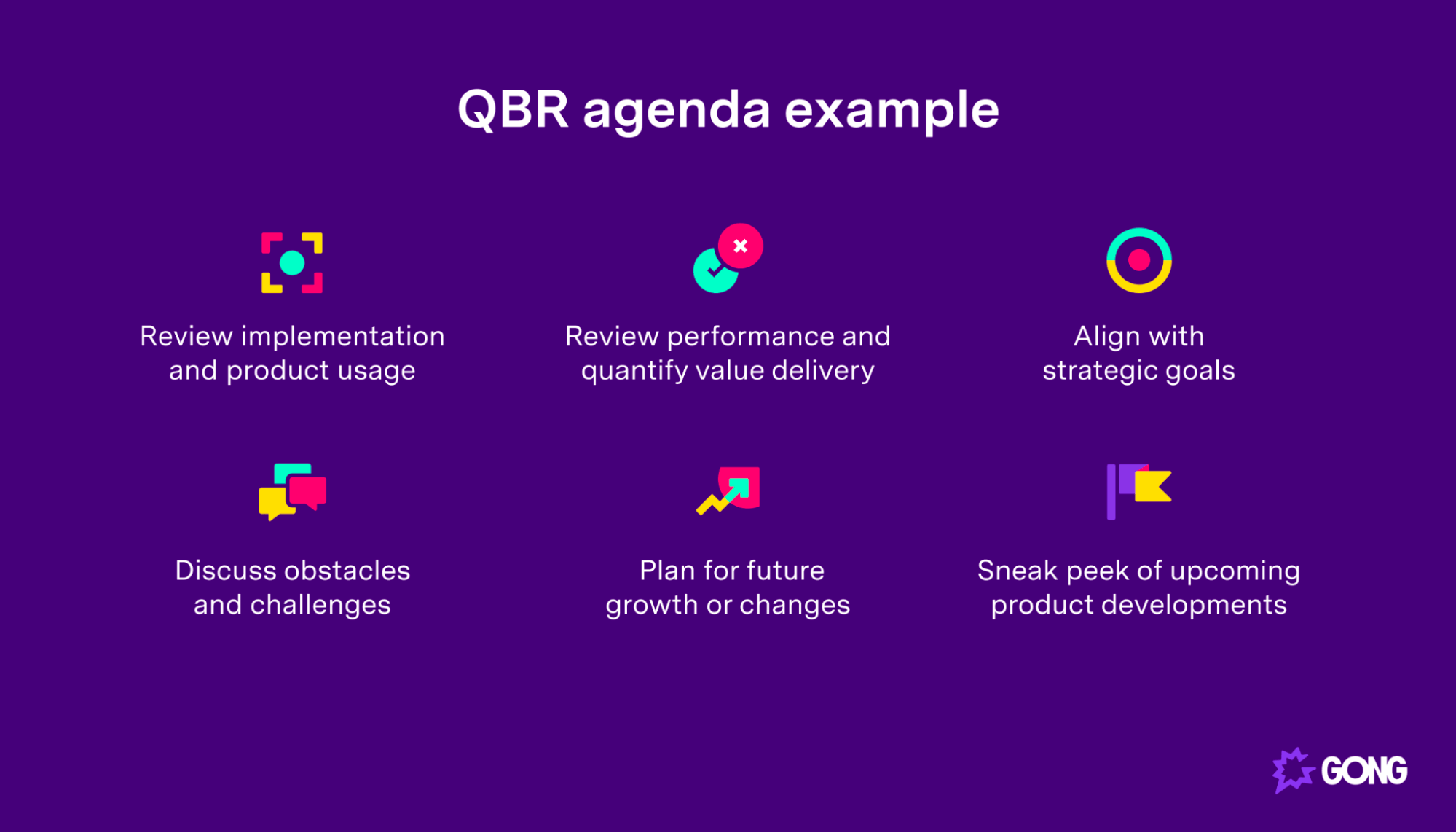 Ready to create your own QBR agenda? Learn how in our guide: How to Create a Quarterly Business Review Agenda.
Use Gong to improve your quarterly business review agendas
A good QBR shouldn't be an arbitrary reading of product usage, result, and challenges.
Great CSMs will use these meetings as opportunities to forge relationships with buyers, identify at-risk accounts, and spot opportunities to upsell or cross-sell.
Gong's revenue intelligence platform is perfect for helping customer success teams identify what works, and then replicate that across all conversations.
Automatic churn signals allow CSMs to get ahead of renewal conversations by catching key terms like "downsizing" or mentions of your competitors.
Conversation intelligence pulls insights from your highest performers' conversations, helping you coach your team to drive revenue growth and improve retention.
Request a demo with our team today to discover how you can drive performance in your QBR conversations.