Blog
We Just Got Tickets to the Big Game
Gong, the reality platform leveraging artificial intelligence to transform revenue and customer-facing teams, today revealed the sound of success – understandable in any language – in a new commercial that will air during the Super Bowl. The spot, highlighting Gong's ability to help businesses increase sales, is running (loudly) on NBC and on social media, here.
The new Super Bowl commercial communicates the benefits of the Gong Reality Platform™ in a fun, visceral way. "If after seeing the ad you don't recognize the sound of winning, or associate it with Gong's brand name, you probably had your sound muted," said Udi Ledergor, Gong's Chief Marketing Officer. "We love helping our customers win more sales and we enjoy celebrating them in a fun, loud way."
Gong first ran a Super Bowl commercial last year, targeting the Seattle, San Francisco and New York markets. The ad helped create the company's biggest-ever sales pipeline and strong social media buzz. But how does a B2B saas company with a fairly narrow customer base and highly technical product find itself advertising to the 100M+ viewers of the Super Bowl? Actually, it makes sense for Gong. Our customer base of sales leaders from various industries also happens to love sports. These people are competitive by nature and many are passionate sports fans.

What about the cost? Advertising at the game is prohibitively expensive. A national spot at the game can cost anywhere from 5M up, but that is a national media buy. Udi Ledergor, CMO at Gong, chose to buy media at specific metro areas where he expects to find large swaths of his target customer. By focusing only on these regions, Udi was able to secure media for a fraction of the price of a national buy.
This year's ad will again run in the San Francisco Bay Area and expand to the Chicago and Boston markets – a reflection of Gong's growing focus on new industries and geographies that are rapidly adopting its solutions.
So what's the big idea? Aren't Super Bowl ads supposed to be funny? Most definitely. You are basically pitching to millions of fans who are watching the game to relax and have a great time. The last thing they want is to be sold to. So entertainment value is key. Gong went to Barrett SF for creative that would break thru the noise. Barrett is an independent agency started by Jamie Barret, Creative Director from Nike, Weiden Kennedy and other great creative shops. His team showed great interest in helping us create this 30 sec spot. "Gong is all about helping sales teams sell more," said Todd Eisner, Partner, Executive Creative Director for BarrettSF.. "The fact that the company is named Gong gave us license to celebrate that in the loudest way possible." The idea was simple and fool-proof: equate the look and sound of Gongs as the sound of winning. 
Shot in Los Angeles during a second spike in Covid, the set of almost 100 people were all required to have vaccines and wear masks. To ensure a successful shoot and add plenty of comic relief, well-known director Harold Einstein was hired to bring the funny script to life. Harold is well known for ads by Little Caesars Pizza, Kayak, and Geico, amongst others. He brought a thoroughness to each of the scenes and a sense of humor that ensured success.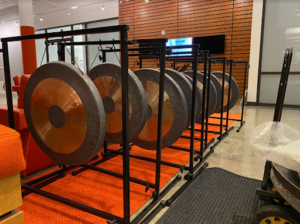 Upon arriving on set, one thing was apparent, this spot would be showcasing Gongs. The world famous Gong Shop based in San Francisco had sent down a collection of Gongs of all sorts of shapes and sizes. There were Gongs that stood 6' tall, Gong's that fit into briefcases, one fashioned onto the wheel of a wheelchair, even a pair of earrings made out of tiny but functioning Gongs. The spot featured a popular actor walking through his office, explaining how he provided Gongs to his sales team to help them celebrate their deal wins. What follows is a chaotic cacophony of Gong sounds that challenged sound limits set by the FCC. No Gongs were harmed in the making of this spot.
The new Gong commercial first ran January 30 during the NFC Championship game and is scheduled to run during the Super Bowl game on Sunday. The spot is supported by social media efforts on Linkedin, Instagram and Twitter. 
Readers can view a video on the making of the Gong Super Bowl commercial here.