Blog
4 LinkedIn InMail examples to learn from
Salespeople have their plates full.
Not only do they have to find qualified leads, but they need to properly engage and nurture them towards purchasing.
Sometimes, just getting a prospect to respond is a herculean task. To solve this problem, salespeople should engage and meet prospects on the platforms where they spend their time.
That's why so many salespeople are turning to LinkedIn InMail to reach out and engage prospects.
In this post, we'll highlight four effective types of LinkedIn InMail examples and extract key insights from them.
Before we dive in, let's review LinkedIn InMail and its effectiveness.
JUMP TO EACH SECTION TO LEARN MORE
How can you make your LinkedIn InMail more effective?
LinkedIn InMail is the platform's messaging feature which enables users to message one another.
Only LinkedIn Premium Users can message those who they are not connected to on the platform. Each plan allots a different number of monthly credits:
Premium Career: 5 credits

Premium Business: 15 credits

Sales Navigator Core: 50 credits

Recruiter Lite: 30 credits
However, it's valuable to send an InMail without sending a connection request and a connection message. This can put your lead salesperson into contact with a decision maker without cold calling or beginning with an awkward phone conversation.
LinkedIn is an effective way to find, engage, and qualify prospects in your target audience who may be interested in your product or service, and InMail is one of the best ways to do it.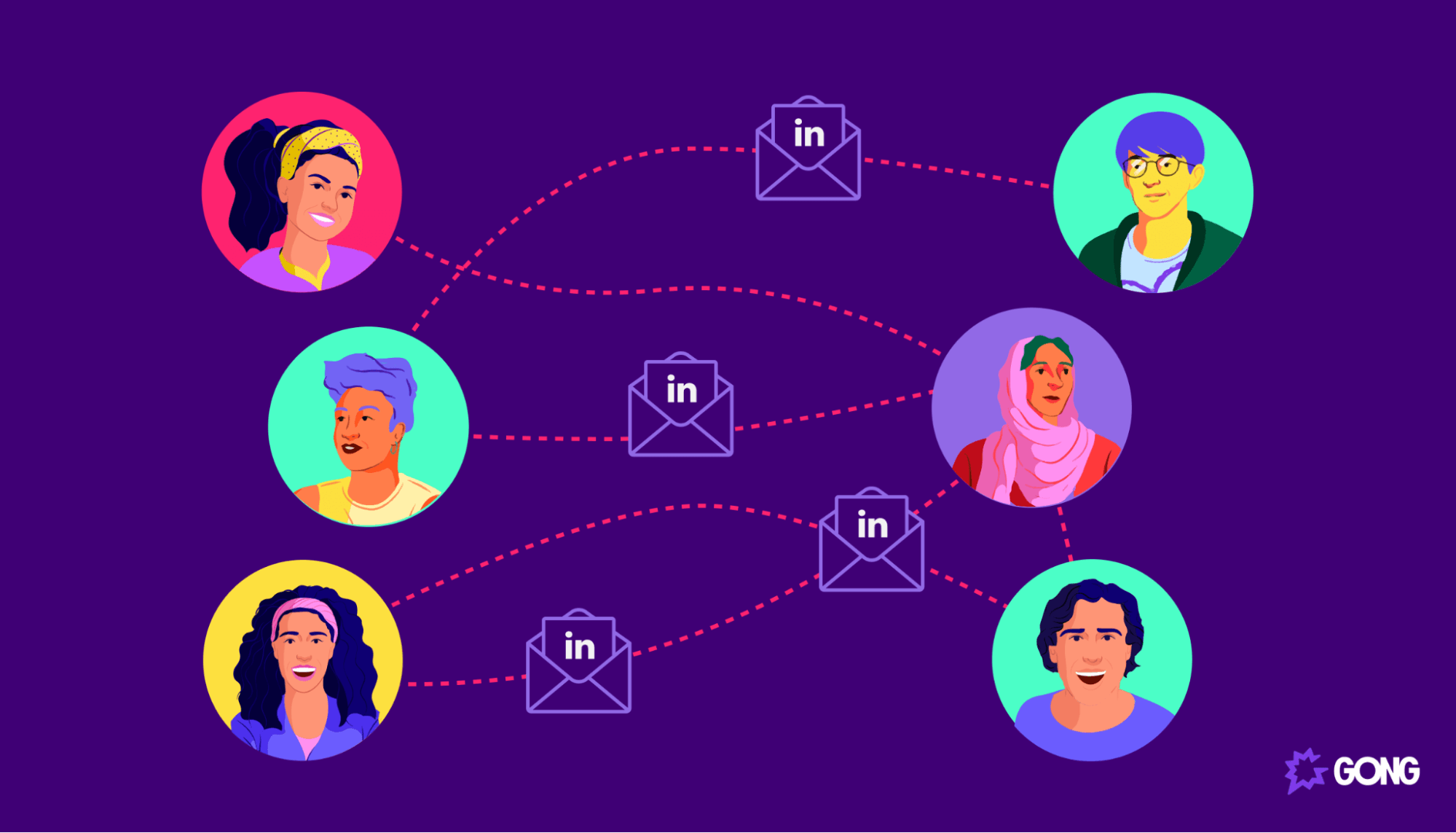 Don't just blindly send out the same message to thousands of people who you think might be interested in your product or service.
Although this may be easier, it is not the route to take.
In fact, research shows that personalized InMails perform 15% better than bulk, copy and pasted InMails.
Your prospects want to hear from you, from a human. They do not want to be on the receiving end of a blanket message sent to everyone. Take a few moments to personalize each email with the relevant use case and solution-based approach that best suits their needs.
Fortunately, there are message templates for your sales outreach that follow LinkedIn best practices. Use these as a starting point to drive lead generation and increase your sales pipeline.
With LinkedIn InMail message templates, you don't have to worry about using a fancy email marketing platform, integrations, or hiring a copywriter.
Instead, you can use the expert tips in this blog post to transform your sales development and lead generation tactics with your sales team.
Business owners, sales managers, LinkedIn Sales Navigator account holders can benefit from these InMail templates and message examples.
Just keep it brief. Under 400 characters preferably.
People are busy and most only skim their messages.
While 90% of all LinkedIn InMails exceed 400 characters, those under 400 characters experience a 22% higher than average response rate. By keeping it short, you increase your chances of a reply.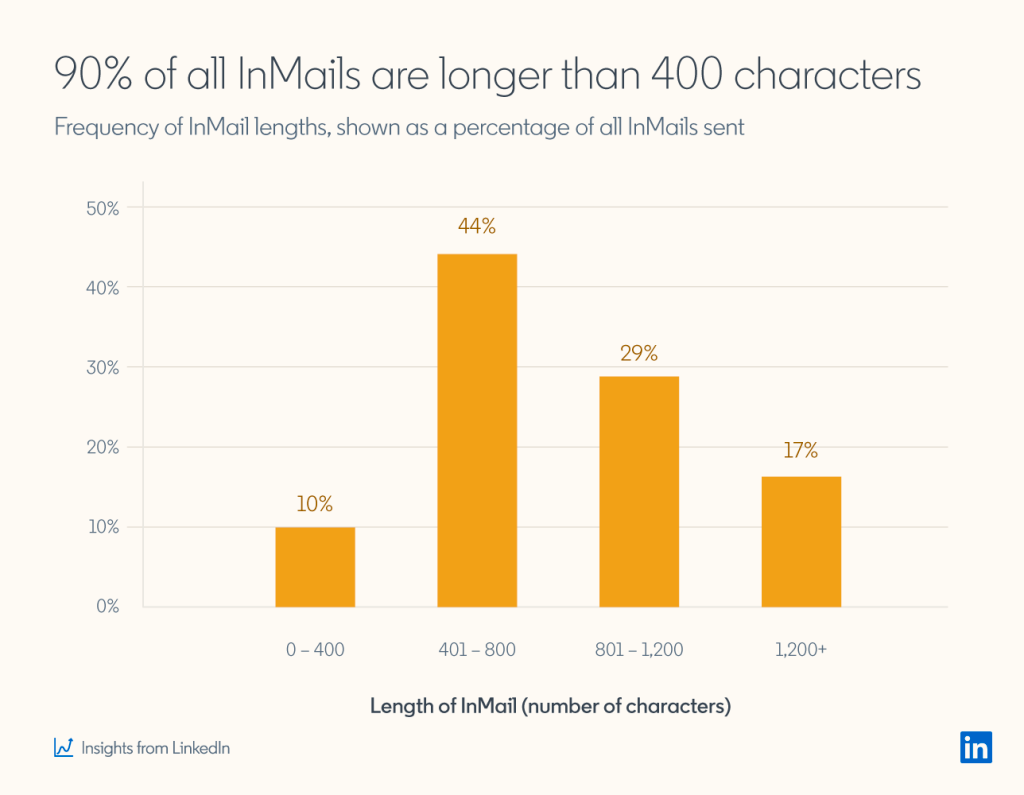 A new prospect doesn't need your company's origin story. Be direct in how you can benefit them and nudge them closer to an initial conversation.
Now that you've reviewed the general structure and recommended length of a winning LinkedIn InMail, let's take a look at the types of content you should include.
4 Types of LinkedIn InMail outreach (with examples)
With these LinkedIn InMail examples, you can craft your own communication in the most impactful way.
These LinkedIn InMail examples can serve as a template for the type of outreach you can personalize and customize based on what is working for others.
Each example varies slightly from the last in terms of style, tone, and approach.
However, every message should have these three elements: the prospect name, the product name, and the company name.
Let's take a look at some of the best LinkedIn InMail examples to make your outreach more effective.
1. Short and sweet LinkedIn InMail
Out of all the types of LinkedIn InMail examples, your prospects will appreciate a simple, straight-to-the-point approach that provides the prospect with enough information to understand your company and offer.
After all, reading an unannounced message is likely not at the top of your prospect's to-do list.
Personalize the message, highlight the problem, provide your company's product or service solution. That's it.
Keep it skimmable. Either they're intrigued or they'll pass.
That's why what it says is just as important as the style and size of it too.
Let's take a look at an example of a short and sweet message: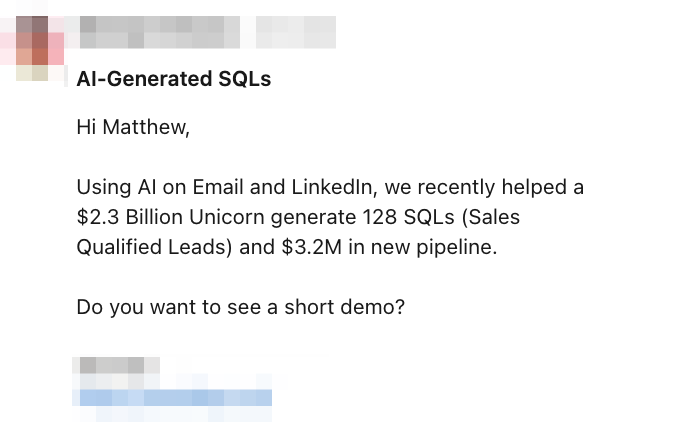 The example above is a pitch for a company offering an AI sales tool.
The subject line is simple: "AI-Generated SQLs" and highlights the result the prospect could get (e.g. more SQLs) and the approach the software takes (e.g. AI-generated).
This subject line effectively tells the recipient what the message is about without even opening it.
The message is skimmable with only two sentences.
The first highlights the problem (e.g. not generating enough SQLs), the solution (e.g. using AI on email and LinkedIn through their software), and the result ($3.2 million in new pipeline).
And the second one is the pitch: a "short demo" for the reader with the formal ask for next steps.
2. Bulk, sponsored LinkedIn InMail outreach
Another approach is less personalized, but casts a wider net. That's when you message your sponsored LinkedIn InMail outreach in bulk batches, sending the same message to many contacts.
Although you reach a lot of people, this route isn't the most effective.
Personalizing your approach will resonate more with the intended recipient. After all, if you're talking about their industry and use case, they will feel like your product is for them.
In this example, the InMail highlights a "Commerce Trends 2023" report— a relevant piece of content that the lead might be interested in: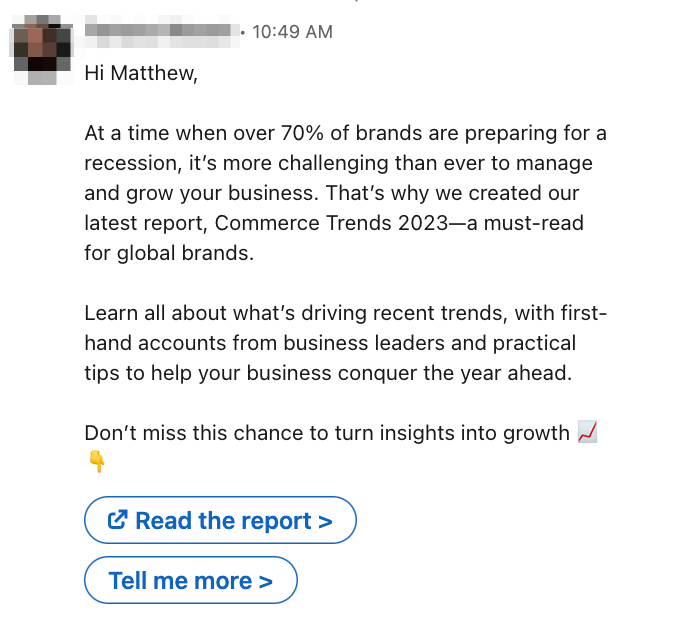 Instead of going straight for the demo, they offered a lead magnet to engage me while also attempting to nurture me. It is a unique approach, it doesn't take any of my time, and it provides me with value. Plus, by downloading, they'll get my contact information and know that I could potentially be interested in their product.
The challenge, though, is that their content, "Commerce Trends," is a broad topic. It has to be since they are sending this message in bulk.
But would I be more interested if the content was personalized to me and my industry? Probably.
That's the drawback of bulk, automated sponsored LinkedIn InMail messages.
Want to make your messages more impactful?
Paint a picture for the recipient with a problem and solution focus.
3. Problem and solution focus outreach
The problem and solution focus outreach is a simple way to align your company with the prospect.
The problem and solution outreach outlines the problem that they believe the prospect experiences and briefly introduces their product or service as a solution.
Take a look at this problem and solution focused outreach example:
The sender recognizes the potential issue I may be having "with proper targeting when building out lead lists" and offers their product as a solution.
The challenge? You have to guess your potential prospect's problem instead of asking them for it directly.
However, a thorough amount of research and personalization can counteract that, making this a worthwhile template to consider using.
4. The offer
Another impactful way to get your prospects' attention is to provide them with an offer. It doesn't necessarily have to be related to your product.
An offer can range from anything including a free trial of your software to a $100 Amazon gift card for sitting through a demo.
Here you can see LinkedIn Jobs is offering a free job posting to use their platform:
If I was looking for a spot to post a job, this offer may have come at the right time.
Once I post one job description, I might find it useful to post more.
I may appreciate their time saving job description template with my company name and be hooked by the response rate I get.
You can use the offer to hook new buyers and create habits with your products — or you can just give them something they want (like an Amazon gift card or download template they need)!
Conclusion
Social media platforms like LinkedIn are an impactful way to find, engage, and nurture prospects towards conversion — all while increasing their response rate in the process.
With these LinkedIn Inmail message examples, you can launch effective cold-outreach campaigns that generate new leads for your business. But as the leads come in, you'll want full visibility over them and the entire sales process.
With Gong, you can get complete visibility into your deals, team performance, and market changes. Capture all sales conversations and get the insights you need to grow revenue more efficiently.
Reach out to book a demo today.