Blog
#BelongAtGong: Our Annual DEI Update
Gong's platform transforms revenue organizations. It harnesses customer interactions to gain insights that increase business efficiency, improve decision making, and accelerate revenue growth.
The platform is impressive, yes. But customers can't achieve these benefits without a diverse team of incredible humans — people who are valued, empowered, seen, and included.
As the Chief People Officer at Gong, I spend a considerable part of my role ensuring that Gongsters know that they can belong, thrive, and do their best work at Gong.
While our company has always prided itself on creating a culture of belonging, a few years ago we really leaned in and made a more intentional effort — and measured and reported that data.
The result was #BelongAtGong. It's our way of creating a culture of diversity, equity, and inclusion (DEI) where all are welcome.
A brief history of #BelongAtGong
In August of 2020, I shared this post, which focused on our commitment to a culture of inclusion and belonging. Later that year, we were determined not to let 2020 slow our DEI efforts. We launched our first annual pay parity analysis, partnered with organizations that source and train talent from underrepresented and non-traditional backgrounds, and volunteered in mentorship programs to increase the accessibility of the tech industry to underserved communities.
We continued our DEI focus and investments in 2021, shared our achievements, and then took things one step further with continued transparency in 2022.
We're proud of our momentum, and want to share some highlights, data, and priorities for the coming year.
#BelongAtGong in FY23
Through this report and internal employee meetings, we remain committed to data transparency about our workplace diversity. We'll also hold ourselves accountable to fair and equitable pay by conducting our third annual pay equity analysis.
We continue to prioritize hiring talent from diverse backgrounds, and as such, we identify opportunities to equip our managers to build diverse teams.
Our company remains devoted to having dedicated DEI team members who invest in the employee experience of our Gong Circles. These groups provide support, connection, learning, visibility, and more for underrepresented communities at Gong. Last year we launched a 'Circles Playbook' to help our groups scale and mature. Each Gong Circle has an executive sponsor (a VP+ leader), and we've also introduced a senior advisor role (a director+ leader) to the groups to further support the mentorship and development of our Circle Leads and members.
The entire organization recognizes multiple cultural and commemorative events, including the Lunar New Year, MLK Day, Black History Month, Women's History Month, International Women's Day, Asian and Pacific Islander Month, Juneteenth, Pride, Hispanic Heritage Month, Diwali, Trans-Awareness Day, and more — with a focus on celebration and creating awareness, allyship, and action.
How we focus on employee health and wellbeing
Gong's DEI efforts align with our deep commitment to caring for the health and wellbeing of our employees. Here are a few examples of how we lived our values on our US team in FY 2023:
After the Dobbs decision was announced, we followed our operating principle to #ActNow by offering four workshops focused on employee support in the post-Roe world. We also gave managers resources on "Leading in Uncertain Times" and changed our health care plans to cover travel and lodging expenses associated with out-of-state abortion procedures.

We partnered with Carrot Fertility to provide employees with fertility, family forming, and pregnancy support/resources.

In the past year, we also introduced new health insurance plans with Cigna and Kaiser that include expanded gender-affirming care services.

We increased the number of employee sessions available with Modern Health, Gong's partner in providing mental wellness support.

We launched the Gong Wellbeing Fund, which provides employees with a monthly stipend for physical, financial, mental, and general wellbeing services and programs.
Learning and development opportunities continue to grow
You know what they say: Always be learning (and growing and developing). This is reflected in our #WantMore operating principle.
Over the past year, we piloted allyship training with the NeuroLeadership Institute. This four-week program reached 150 of our employees and informed new allyship offerings we'll bring to Gong in FY24.
We developed and launched training content about inclusive leadership in our "Manager Onboarding" and "Unlocking Leadership" courses. Our aim is to support our people managers in building and fostering diverse and inclusive teams.
We continue to deliver our #BelongAtGong session as part of the onboarding process.
In addition to investing in our employees' training, our Israeli team partnered with Shavot, a non-profit organization that focuses on leadership education for girls to reduce gender gaps. Through this partnership, 60+ employees participated in hackathons, workshops, shadowing opportunities, resume reviews, interview skills training, LI profile reviews, and more.
FY23 by the numbers
At the end of the day, numbers matter. So how did our efforts translate into employee demographics?
At the end of FY23, women comprised 45% of our global workforce, a slight decrease (1%) from a year ago. Additionally, 39% of Gong's senior leadership positions — defined as director and above — are held by women, again, a slight decrease (1%) compared to last year.
We also announced two additions to Gong's Board of Directors: Sonya Huang and Kelly Breslin Wright.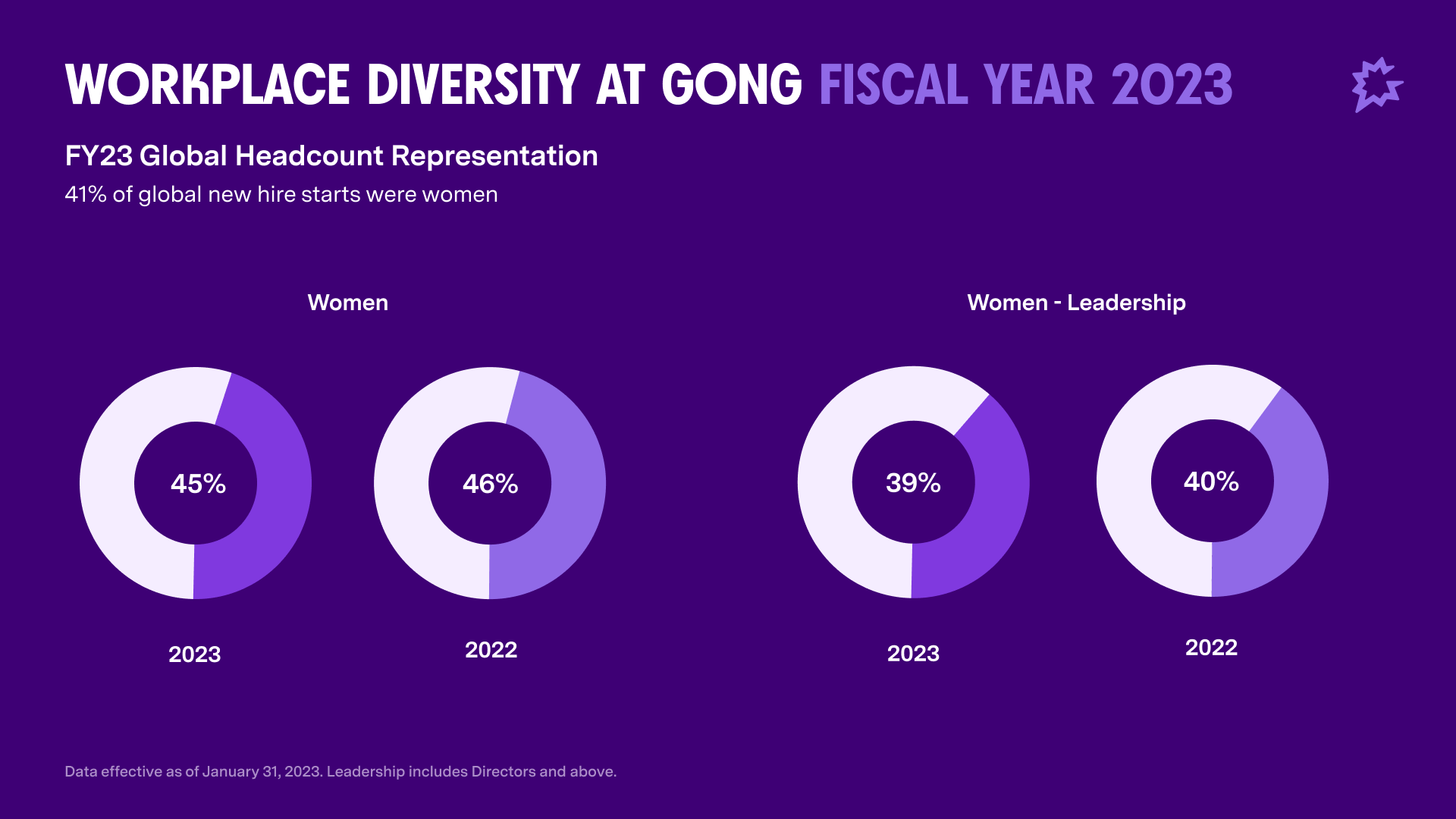 Our Underrepresented Group (URG) numbers remained steady. At the end of FY23, employees who identified as part of an URG comprised 30% of our US workforce, a slight decrease (1%) from a year ago. In the US, 32% of Gong's new hires in FY23 were from a URM group.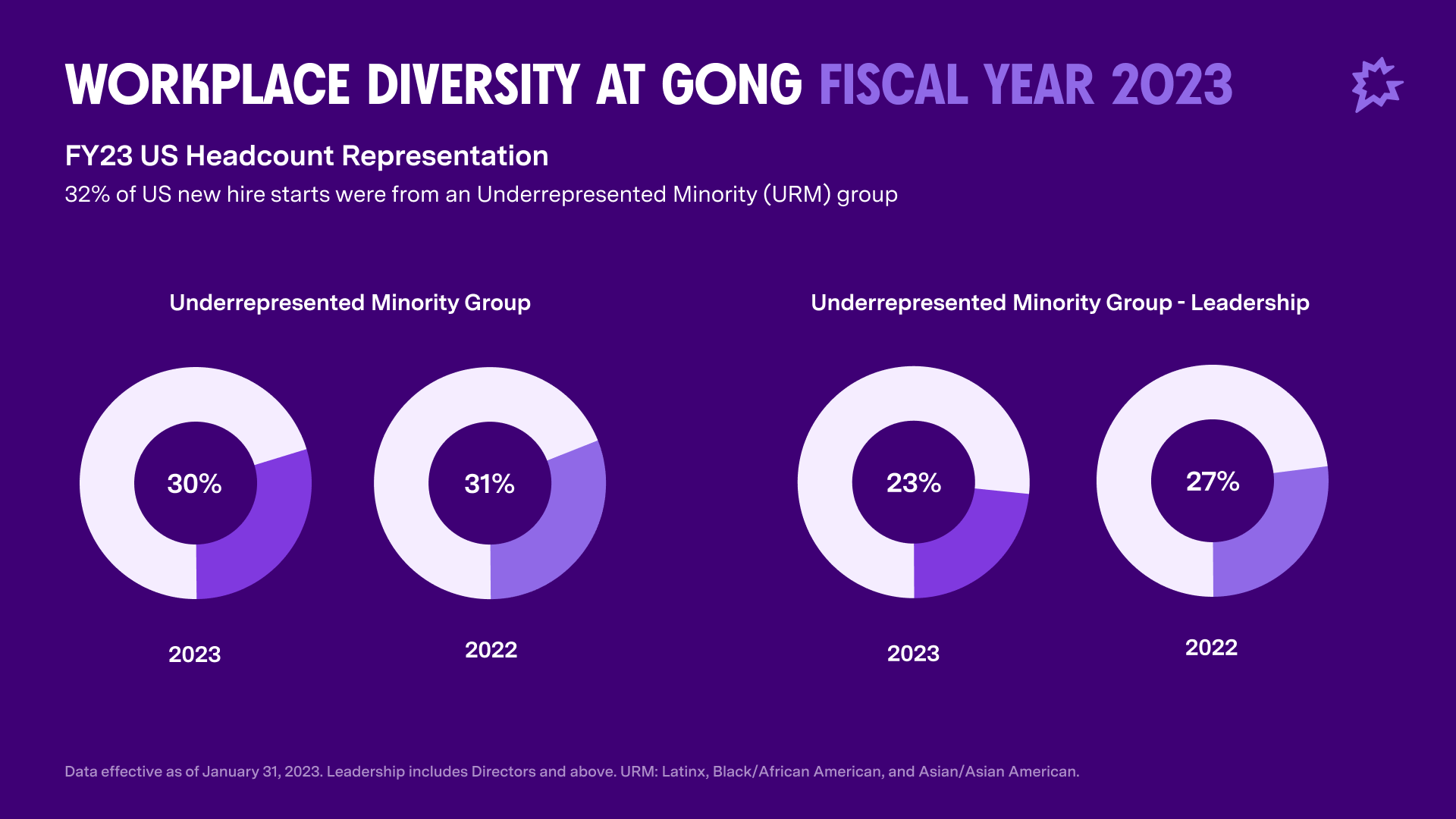 Our #NoSugar assessment in these areas is this: We remain steady year over year, but certainly, there is room for improvement.
What's on the docket in FY24
As we embark on this new fiscal year, we're building on momentum from last year, with a focus on attracting and selecting diverse talent as well as developing, growing, and retaining underrepresented colleagues. I want to share a few new initiatives we'll introduce as well…
Attract and select
We recently implemented a new applicant tracking system, which we'll use to build diverse "talent communities" for job sourcing. We're evaluating new functionality within this system to introduce "inclusion nudges" throughout the recruiting cycle to make sure we minimize the introduction of bias and ensure we have an inclusive, fair, and equitable hiring process.
Our talent acquisition teams in the US and Ireland are building "Hiring Toolkits" for all roles to ensure we run a consistent hiring process across all candidates for the same role. In addition, we are launching an on-demand course for hiring managers on running a better, more inclusive interview process to build diverse teams.
Finally, we're using our own platform in the hiring process to encourage consistency and surface best practices for inclusive interviewing.
Develop and retain
We are excited to learn from our allyship training pilot, which focused on how to create space and personal accountability and show up as an ally for underrepresented colleagues. Later this year we'll launch updated offerings on allyship for our people managers and individual contributors.
Gong's flagship leadership course for people managers continues to evolve. It includes content that supports leaders in bringing our Leadership Principle to Cultivate Belonging and Diversity within their teams to life.
We continue to provide professional development opportunities for our Gong Circle members, as well as an enhanced learning stipend for Circle Leads. We're excited to share that we recently launched a new Circle, The Village, to provide support and a voice for parents and caregivers to help strike harmony between work and family life. In addition, we are expanding our WMN@Gong Circle from the US and Ireland into Israel.
This year we will continue to focus on employee health and wellbeing. We're kicking things off in the US with the creation of a "Parental Leave Playbook" to support employees and their managers during parental leave.
——
I am proud of our year-over-year investments and efforts to ensure that Gong is a place where all are welcome, and can thrive and belong. I'm excited to see the impact our programs will have in the coming year, and look forward to reporting the results back to you!