Blog
Gong's big achievements (that aren't about sales!)
Our Belong at Gong highlights from 2020
Gong had a heck of a 2020 by any measure, and we're hyped about our accomplishments in the field. (Ranking #1 on G2 felt great!) We're also VERY proud of what we've done INSIDE Gong this year in terms of diversity, equity, and inclusion.
I'll get to our program highlights in a minute, but in true Gong fashion, I want to tell you how we know our programs are working. Because anyone can put programs in place, but it's critical to uncover whether they REALLY make employees feel safe and seen. The data always tells us what's what.
A great start for DEI programs 
In the summer of 2020, as we established our DEI strategy, we partnered with the consulting firm, ReadySet. Our plan was to start by getting a pulse on how our Gongsters felt about their experiences, so we ran an inaugural 'Belong at Gong Survey'.
We had an 85% participation rate across the company, both in Israel and the US. We attribute that very high participation rate to employees knowing that leadership takes belonging incredibly seriously and relies on data for its decision making. 
Here's a sampling of the questions and results:
| | |
| --- | --- |
| Question: | Respondents who said "YES" |
| I would recommend Gong as a great place to work | 97% |
| Gong is taking action to build teams that are diverse | 92% |
| I feel respected at Gong | 92% |
| I feel like I belong at Gong | 90%  |
| Gong values diversity | 90%  |
Considering that we remotely onboarded over 200 Gongsters in 2020, our employees' deep sense of belonging and recognition of Gong's commitment to diversity within the company is all the more impressive.
Here's a bit about what we did to bring DEI to the forefront of our culture and operations in 2020…
Invest in parental leave
Enhancing our parental leave was a priority after hearing the feedback in our 'Belong at Gong  Survey'. We heard that employees wanted something more equitable, and while our response is NOT typical for a startup of our size and scale, it IS the right thing to do.
A significant proportion of Gong's employees work in sales, a field in which women are underrepresented. On most sales teams, women on parental leave face an unfair loss of income, because they lose their commissions. So we enhanced parental leave across Gong in the US to pay 100% of base salary AND 80% of the target commission/bonus. In Israel, which already has more robust parental leave than the US, we focused on leave for our non-birthing parents. We increased it from three days to two weeks of fully paid leave. 
Prioritize DEI (un)learning
No doubt, much of our success comes from our efforts to prioritize inclusion across our company, and that often means working to UNlearn our biases. We're at a critical growth stage as a company, and the importance of investing in diversity, equity, and inclusion NOW is not lost on us. It's particularly important that our leaders model the behavior we expect at Gong as we rapidly scale in size. 
That's why, in 2020, ReadySet facilitated an inclusive people management session for our leadership team. We also hosted monthly 'Belong at Gong' learning sessions that focused on unconscious bias, DIB (diversity, inclusion, and belonging), and more, so we can discuss issues openly and work through experiences of exclusion.
In addition, during our 2021 global company kickoff (GKO), ReadySet ran a session on ally skills to set the tone for this year, so ALL Gongsters can contribute to creating inclusive teams. We wanted to be clear that inclusion was NOT a one-and-done approach in 2020. It's a company priority that's here to stay. As one of our Gongsters put it, "This was such an awesome session for GKO. Not many companies would prioritize such an important, but non-revenue-related, topic. I'm so happy and proud to be here!"
How our people reacted
The response from our Gongsters has been AMAZING. 
They're chatting on Slack about inclusion-related issues and asking great questions, like "What's the difference between equity and equality?" (EQUALITY means everyone has access to the same resources and opportunities and EQUITY recognizes that everyone comes from different circumstances and needs different resources and opportunities to reach equal outcomes.)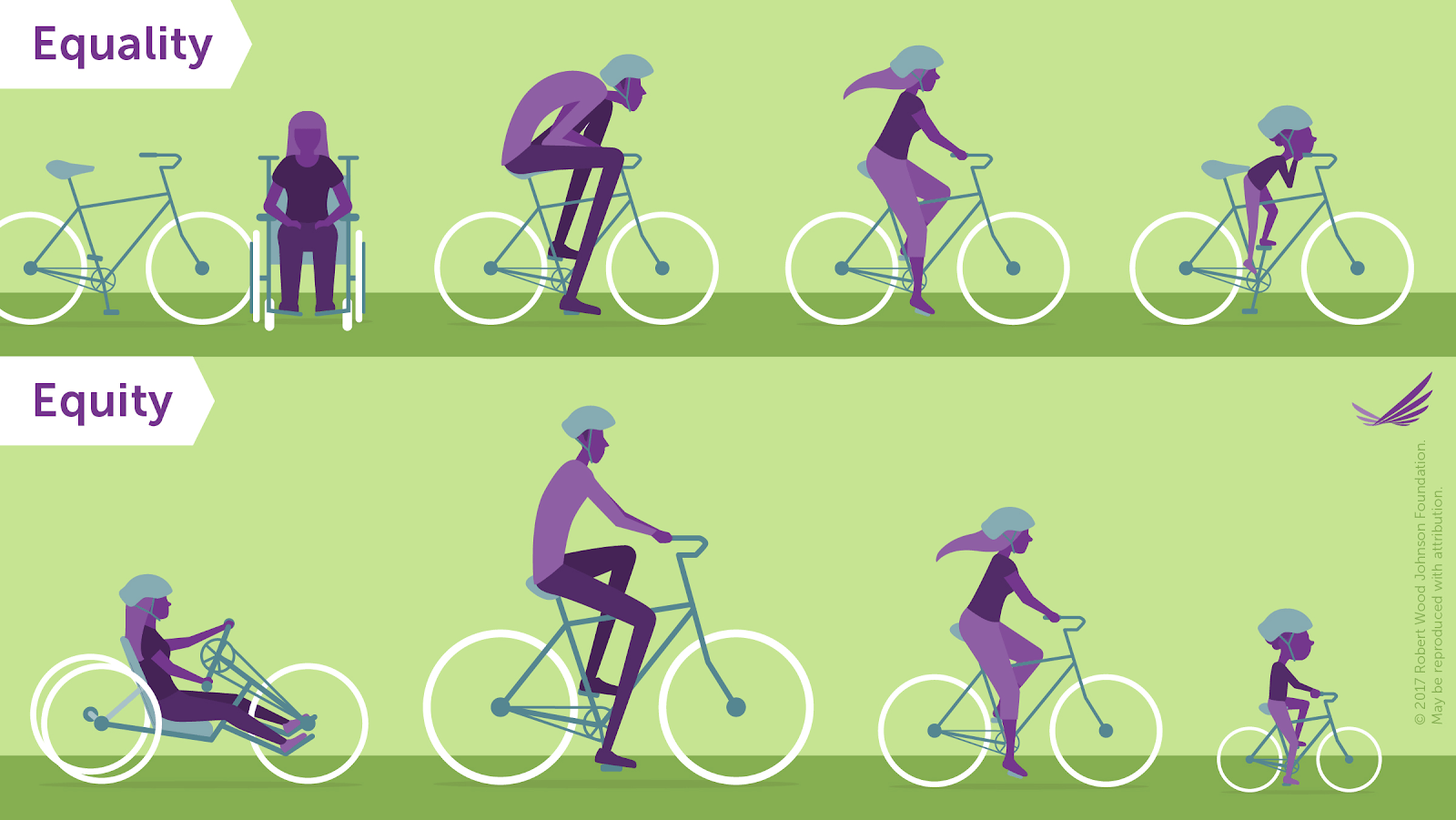 One Size Does Not Fit All
Employees have also asked how they can get more involved in promoting inclusion at Gong. So we're upping our game by hosting additional sessions they can participate in, including trainings on inclusive interviewing, diversifying the talent pipeline, systemic and interpersonal bias, as well as giving and receiving effective feedback. Gongsters will be expected to put their skills to practice in their interactions with colleagues and candidates.
Board diversification
Last week, we announced that Kelly Breslin Wright is the first woman on Gong's now six-person Board of Directors. She's a seasoned board director for public and high-growth companies, and has 30 years of experience in the industry. Given Gong's rocketship growth trajectory, Kelly's experience will help guide our company from go-to-market traction to global expansion.
Kelly is also active in multiple organizations that strive to increase the representation of women on corporate boards. She's also on the faculty of the University of Washington's Foster School of Business, where she teaches Go-To-Market and Sales Strategy. We are excited for the role Kelly will play in helping us advance our commitment to inclusion, equity, and diversity at every leadership level within Gong
Next steps
We recently started using our own software to detect exclusionary language used on Gong's own sales calls. Those of you who use Gong know that it tracks keywords and sends alerts when they show up on calls. We're using this tracker to help create a more inclusive environment by eliminating gendered terms like "you GUYS." Thanks for the inspiration from our raving fans, Sam Newman and Nancy Dabu!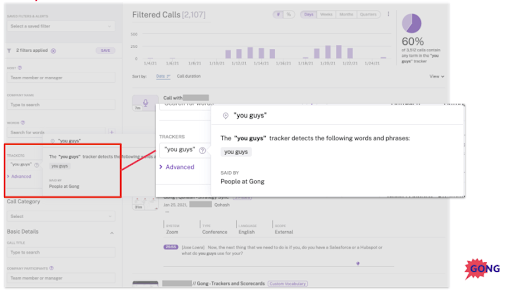 Inclusive Language Tracker in Gong
I've mentioned some other recent initiatives in previous posts (establishing an Atlanta hub, donating $25K to BLM organizations, implementing pay parity and the Rooney Rule, and more). But there's more coming in 2021! We'll keep you posted on our goals, impact, and Gong product features that can help your teams reduce bias in the workplace. 
In the meantime…want to contribute to change? Tell us the words you'd like to see added to our Inclusive Language Tracker!