Blog
Can't wait to meet you, Atlanta! New Gong Atlanta hiring hub offers REAL change, NOW.
We're strong advocates for diversity, equity, and inclusion here at Gong. As Gong's Chief People Officer, I'm proud of our commitment to a culture of inclusion and belonging. We've even named our collective efforts #belongatgong.
Recently, our executive team made a significant corporate decision guided by our commitment to #belongatgong. It's a path-defining choice to bring our corporate value, "Act Now" to life.
The news is real:
Gong is hiring in Atlanta, Georgia!
We're thrilled. Delighted, even. And bursting with anticipation.
(Of course, given the pandemic, we'll open virtually to start.)
Why Atlanta? Why now? Why Gong?
All good questions. Here's the story:
Our company focuses on real change, not platitudes. Yes, public statements help move everyone forward, but they have to be backed with concrete change to have real meaning.
We've considered opening a second office for a while now. After a round of consultations and planning during the winter, we were very close to a decision in the spring. But as you'd imagine, COVID-19 slowed our roll.
The shift to working from home got us thinking about what our offices of the future should look like.
And when the nationwide protests calling for justice grew after the death of George Floyd, we became even more introspective. We acknowledged that where we chose to land would have two-way results: we'd affect the community we chose, and it would affect us.
That's when we realized that opening a second hiring hub was an amazing opportunity to bring our values to life.
We deeply value diversity, equity, and inclusion, and ACTION. We believe our team composition should reflect our customers and our country. And we aim to work in communities where talented residents want more opportunities to shine.
Within days, we had pivoted our top choice … to Atlanta!
I'll tell you why. Atlanta is a dynamic city with incredibly diverse, talented people. It boasts a tech hub that's nourished by research from great universities and graduates who are ready to get in the game.
Positioning ourselves in Atlanta also allows us to hire more colleagues from underrepresented minority groups, particularly the Black community.
We're also excited to have a presence on both coasts so we have more access to our customers across the country.
I'm truly inspired by Gong's decision and can't wait to bring more of Atlanta's top talent on board.
And yes, we're already hiring remotely! SDRs, CSMs, Commercial AEs … it's all up for grabs, so tell the best people you know in Atlanta to give us a shout.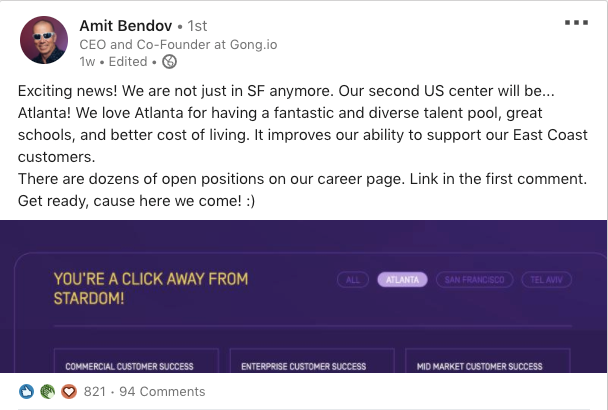 Seriously … your friends will love it here.
If you know talented people who want to join an organization that's values-driven, Gong's the right place to be. Here's the scoop on everything that's waiting for them inside the company at Gong:
We've implemented the Rooney Rule. That means there's a minimum of one female and one underrepresented minority candidates at the (now virtual) on-site stage for every hire on our US team. Pausing to ensure that we have reached a representative benchmark at that stage helps ensure an equitable process—and an equitable organization—in the long term. That matters because diverse teams are more successful teams.
We've also redesigned our onboarding program to promote inclusion. When a new Gongster joins the team, it's important to us that they find community and belonging through our employee resource groups (ERGs). Each one has an executive sponsor to champion their cause internally at Gong.
Proud Gongsters
Mission: To bring together and recognize LGBTQ+ Gongsters in a positive and non-judgmental environment — one where they can fully express their individuality, share their experiences, and feel safe in a community that is devoid of discrimination, prejudice, and inequality.

The NeighborHood
Mission: To drive a sense of urgency in providing awareness, a sense of community, and inclusion for Black Gongsters and the broader community.

WMN @ Gong
Mission: To provide a safe space for inspiration, collaboration, and development. We encourage women to shatter the glass ceiling both inside and outside Gong.

LatinX
Mission: To serve as a network of Latinx employees at Gong. We promote the cultural diversity and professional development of our group. By doing so, we hope to create a supportive environment for the Latinx community. We work to advance the understanding and promote the inclusion of employees who identify as "Latinx."
Asian @ Gong
Mission: To foster a safe environment for Gongsters, where they can share and reflect on experiences that are unique to the Asian community, as well as varied within the Asian community. We advocate for professional development opportunities for Asian people at Gong, and create a collective voice to promote anti-racism within Gong and within our communities.
We're proud of our peers who are making positive change inside Gong and in the community at large.
And this wouldn't be a true Gong article if I didn't drop in some metrics. (You know our folks are paying attention to the numbers behind the scenes!) We keep an eye on diversity and equality across our podcast guests, customer story protagonists, and conference speakers.
Since their inception, 42% of #celebrate speakers were women and 22% of the Reveal podcast guests were people of color. We've set higher targets for all external speakers to better reflect our customer base, and are excited to hit them in the near future.
We also commit to creating a more inclusive culture in the language we use and the characters featured in our branding. It's important to watch for gendered language in customer stories, tools, and resources to be sure we present women in leadership positions. Content that's crammed with sentences like "I asked the VP Sales and he said …" just don't reflect reality any more.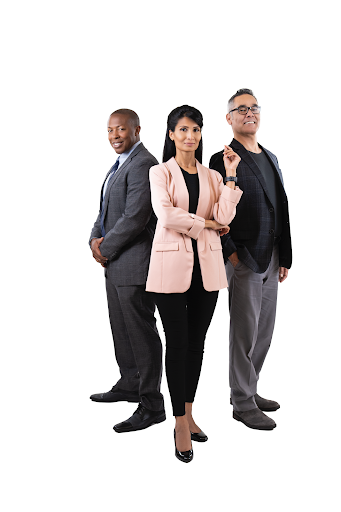 And finally, our website and social channels get a lot of attention. Those platforms are the perfect place to ditch the status quo and reflect REALITY. That's why we've just revealed some new Gong characters. Welcome, folks! Take a tour of our website pages to meet the latest additions to the Gong brand.
Here's the key takeaway: If diversity, equity, and inclusion are important to your organization, use it to guide your decision making, big and small. Let it permeate your teams and your major corporate decisions. Make your words come to life in concrete ways—like opening a hub in Atlanta!
We can't wait to meet you, our soon-to-be Georgia Gongsters. It's gonna be so good. Tell your favorite colleagues on social or apply on our Careers page today!