Templates
3 high-converting sales call templates
Is your go-to sales call script repeatedly falling flat? Are buyers not buying your pitch? Try this sales call template—three money-making sales call templates that will infuse every cold call, discovery call, and demo call with value.
With this template, you'll learn how to:

Ask better questions
Cold calls. Disco calls. Demo calls. When you're on a sales call, success comes down to your ability to ask questions that signpost your path to closed-won. Our sales call template shows you how.
Frame the offer for maximum persuasion
Use psychological shortcuts to influence decision-making and learn how elite sellers pack weapons of max influence into their call scripts.
Nailing next steps
Next steps are a huge part of deal momentum. Learn a simple script for locking in next steps before ending the sales call.
Classify the sales call
This sales call template includes scripts for cold calls, discovery calls, and demos. Start by focusing on the scripts for your particular sales call.
---
How to use the sales call template

Customize the template, mad-libs style:
Each simple fill-in-the-blanks sales call template is designed to help you frame the conversation for the biggest results. All you need to do is fill in the blanks based on what you know about your prospect (company name, pain point, etc.)

Learn the method behind each template:
Each template is presented side-by-side with additional content, instructions, and best practices—everything a rep needs to understand and make the most of each one.
---
Get the follow-up email templates and learn:
Pattern interrupt
Learn how interrupting trained reactions to sales calls (saying no, hanging up) can scramble your prospects brain and defuse their initial reaction.
Power of humor
One of the most personable ways to stand out on sales calls is to acknowledge that you're interrupting a person's day with some light humor.
3×3 research
Spend three minutes finding three relevant pieces of information about a prospect. We'll show you examples of how to tailor your call accordingly.
Long response triggers
There's a strong link between buyers' response lengths and closed deals. Learn how to signal to buyers that you want them to elaborate.
Mirroring
Keep prospects talking through the power of word reputation and intonation. Learn the secret to extracting long, info-rich answers.
Labeling
When you label a buyer's emotion, you make them feel deeply understood. Learn three sentence starters to use when labeling.
Before-after stories
Proving ROI isn't all it's chalked up to be—it can lead to a 27% drop in likelihood of closing the deal. Try telling this unique form of customer story instead.
Strong social proof
Instead of rattling off a few big-name customers, showcase customers that your buyer can actually identify with.
---
And there's so much more…
Making this one of the most valuable templates we've ever offered.
This sales call template is absolutely brimming with tips, first-party research, and bonus tips and tricks—11 pages of money-making scripts in total!
---
Frequently asked questions (FAQ)
What's included in the sales call template?
Glad you asked. The template comprises a number of situational scripts bucketed into three high-level categories:
Within each of these sections, you'll find a number of individual scripts. Objection handling, for example. Or tearing apart the status quo. The section for cold calling has eight individual scripts on its own. We provide you scripts and techniques for all of the different scenarios that tend to crop up during sales calls so that you're always ready to keep the conversation going.
Who is this sales call template for?
At a fundamental level, these scripts will help any sales rep who regularly conducts cold calls, discovery calls, or demos. But they're really for reps who need new ideas for their calls, or who constantly run into the same issues. We wrote these scripts based on our analysis of actual calls. We did the research and vetting, so you know each sales call script really works.
Why do most sales call templates fail?
If you've ever used a sales pitch template that fell flat on its face, or ran sales demos riddled with awkward pauses, then you know not all sales scripts are created equal. There are two primary reasons that most sales call templates fail:
They're too generic: Buyers listen to (and promptly discard) cold call after cold call, each and every day. Which means you have to find a way to stand out if you want to win. Most sales call templates only give you generic talk tracks, without the context you need to make them shine.
They're not backed by research and data: Just because a seasoned sales pro says it doesn't make it so. Each part of our sales call template is backed by our own research and analysis—no opinions or conjecture here.
What is sales enablement software?
Sales enablement software helps reps maximize sales productivity, from new-hire onboarding to personalized call coaching and training. The Gong sales enablement platform takes things a little further. We use powerful AI to automatically record, transcribe, and analyze every sales call, extracting the insights reps need to maximize their revenue generation.
Do you have any other resources for salespeople?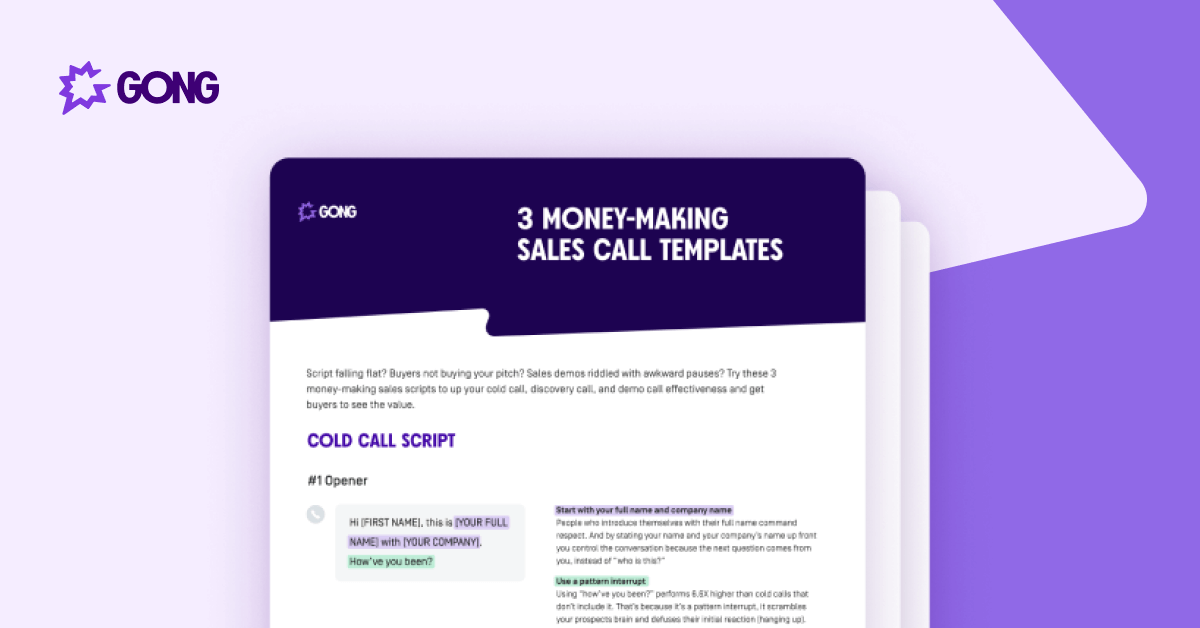 A sales call template like no other
Join the thousands of sales pros saying,
"Wow, they thought of everything."
Thank you for your submission.