Templates
Free Excel Sales Pipeline Template (It Works With Google Sheets Too)
Are your committed deals falling through the cracks? Falling short of revenue targets? Use this Excel sales pipeline template to overcome these challenges and exceed your sales goals.
Track every opportunity in your sales pipeline with this sales pipeline template. From discovery to close, you'll have visibility over every step of the process. The best part? It's 100% free and excel compatible.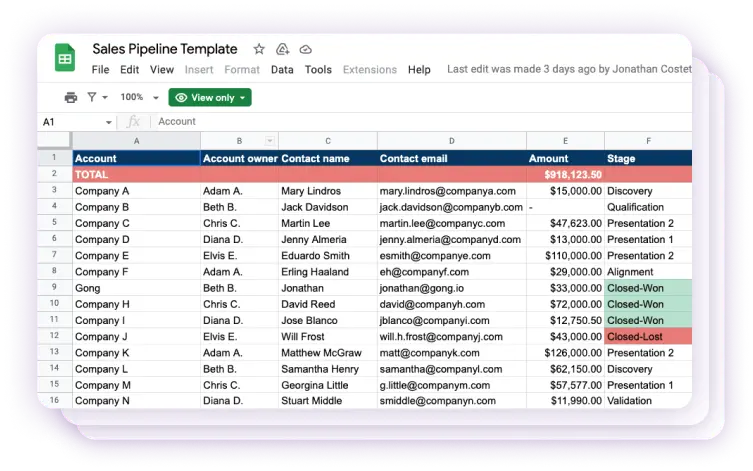 Measure sales performance

Get complete visibility into your sales pipeline. Set sales metrics and targets for each sales rep and update the template to measure their performance against targets.

See where deals are slipping

Every company experiences deal slippage (when opportunities in the commit stage don't close within expected time frames). See which opportunities are at risk of slipping so you can get them back on track.

Forecast with confidence

Calculate and view your roll-up forecast by reviewing opportunities in the deal stage and their estimated value. Use it to forecast revenue and improve financial planning.

How to use the excel sales pipeline template
Follow the instructions

There are a few things you'll need to do before using the template. Don't worry — it comes with instructions on how to set it up (and it doesn't take long).

Add your sales stages

No two sales processes are alike. The template is fully customizable so you can add the stages that fit your sales process.

Fine-tune your sales process

This template helps you understand what's working (and what's not) in your sales process. Use these insights to power up your sales strategy and close more deals.

Get the excel sales pipeline template & start tracking
Sales quotas

Set quotas and key metrics for each sales rep and measure their success rates. See who's reaching their targets and who's falling behind so you can refocus your sales strategy.

Last activity

Following up with potential customers is key to closing more deals, but correct timing is vital. See the last time you interacted with a prospect so you can set a timely reminder to follow up.

Deal sizes

Use the template to track deal sizes for each new opportunity (it even shows you the total value of your entire pipeline).

Forecast category

Forecast categories indicate the likelihood of an opportunity converting into a sale. The template automatically calculates win probabilities based on the estimated percentages.

Pipeline stages

Easily track the status of your opportunities across your entire sales pipeline.

Forecast revenue

Premade formulas automatically calculate values for each opportunity based on their amount and forecast category. Use it to make accurate sales forecasts and identify gaps in your pipeline.

Close dates

Record projected close dates for individual opportunities. Use it to see when deals are at risk of slipping and act before it's too late.

Pipeline reviews

See which deals are stalling or at risk of falling through. Conduct pipeline reviews and plan sales activities to keep them moving through the sales funnel.
---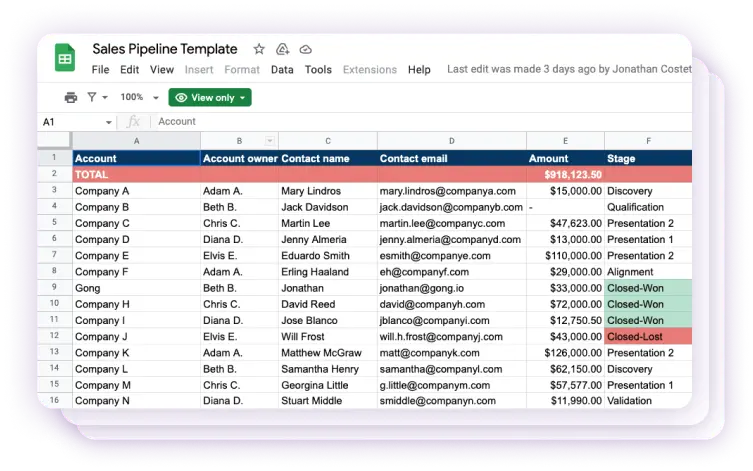 And there's so much more…
One of the easiest ways to visualize your sales process and manage opportunities in your pipeline
The Excel sales pipeline template is ready to go — all you have to do is enter your email address and you can start using it right away.
---
FAQS
What sales pipeline templates are included?
A: You'll get immediate access to our sales pipeline template. This template lets you manage your opportunities and track their status from qualification to close. Use it to forecast sales, revenues, and more.
Who is the sales pipeline template for?
A: We created this sales pipeline with the following groups in mind:
Sales managers and business owners: These sales templates enable every sales manager and business owner to measure sales performance and forecast revenue. They also provide a clear picture of your sales process, allowing you to identify and address bottlenecks. If certain sales deals aren't moving forward, you can dig deeper to find out why.

Sales reps: Manage and track your leads across each stage of the sales cycle. Record expected revenue, view your win probability rates, plan action items, and more — all from one location.
What format are the sales pipeline templates sent in?
A: You'll receive the sales pipeline template as a Google Sheet, but you can also open it in Microsoft Excel.
What are the stages of a sales pipeline?
A: Every company has a different sales process, but a typical sales pipeline consists of the following stages:
Qualification: Qualification is the process of evaluating prospects and determining if they're a good fit for your products or services. Whether they're a good fit is based on your ideal account profile (IAP).

Discovery: A discovery call is the first call that a sales rep makes after connecting with a prospect. It involves asking questions to uncover pain points and identify their goals.

Presentation: With a better understanding of the challenges that your prospects face, the next step is to give a presentation that showcases how your products or services can resolve their problems.

Alignment: Creating alignment makes sure that everyone from both sides of the deal is on the same page.

Validation: Validation involves uncovering and validating any objections that may prevent deals from closing.

Closing: The last pipeline stage is closing. You've won a deal and made the sale.
How do you create a sales pipeline in Excel?
A: While you can certainly create a sales pipeline from scratch in Excel, it's more efficient to download our template. It comes with everything you need to start tracking opportunities in your pipeline, and you don't have to spend time creating everything from scratch.
How do you keep track of opportunities in a sales pipeline?
A: Add opportunities into your sales pipeline and enter contact details into the template. Be sure to update the status as they move through the pipeline from one stage to the next.
Looking to power up your sales process?
A: Check out these resources below: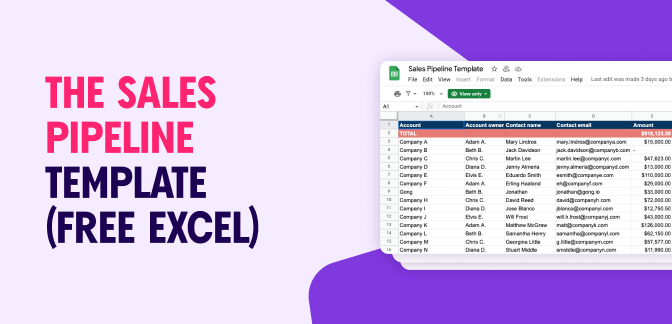 THE BEST SALES PIPELINE TEMPLATE
Easy-to-use sales pipeline templates for Excel and Google Sheets.
Thank you for your submission.