Guides
20 Powerful SPIN selling questions (and examples)

The best sales reps ask the right questions at the right time. These SPIN selling questions cover each stage of Neil Rackham's SPIN selling framework: Situation, Problem, Implication, and Need-Payoff.
Learn the proven SPIN selling questions that uncover pain points, convey value, and win bigger deals.
What you'll learn

Sales questions for the entire SPIN selling methodology
Get a full breakdown of the entire SPIN selling framework and the questions to ask in each stage as you guide prospects through the sales cycle.

Effective sales discovery
Sales reps often make the mistake of jumping into a sales pitch without understanding why their prospects are looking to buy. Use these information-gathering questions to uncover buying motivations and identify pain points.

Data-backed insights
How many questions should you ask during sales discovery calls? How can you draw out longer responses from your prospects? Find out with these insights based on data from hundreds of thousands of actual sales calls.
---
How to use these SPIN selling questions

Power up your sales process
Add these SPIN selling questions to your sales playbook and focus your sales strategy around a value-based approach.

Follow the framework
Strategy is nothing without execution. SPIN selling is most effective when you ask questions in the right order — jumping into your product's features will only turn prospects away.

Monitor your results
Implement the SPIN selling method and continue to refine your sales process with concrete data on what works and what doesn't.
---
Get the SPIN selling questions & within seconds you'll learn

High-impact sales questions
Powerful questions for each stage of the SPIN selling framework. Use these questions to understand why your prospects are looking to buy and what their biggest challenge is.

Demonstrate expertise
The language you use can make or break a deal. Learn how you can phrase your questions to demonstrate expertise and position yourself as a trusted advisor to potential buyers.

How to nail discovery calls
Asking too many questions can feel like an interrogation, but asking too few can make it difficult to uncover enough pain points. Learn the "sweet spot" number of questions you should ask per call.

Drive urgency
You've uncovered pain points, but don't stop there. Use these SPIN selling implication questions to intensify the problem and get prospects to feel the potential consequences of not taking action.

Pain points
Identify the exact problems that your prospects are trying to solve, so you can make your sales pitch more impactful and win more business.

Increase deal momentum
The finish line is in sight. Use these Need-Payoff questions to keep the momentum going and get your prospects sprinting towards signing the deal.

Triggering longer responses
The secret to closing more deals? Getting prospects to dive deeper into their problems and needs. Get the exact starter questions that are proven to elicit longer responses. Use these to eliminate one-sided conversations.
Fewer questions, higher close rates?

It's true. According to our data, asking fewer questions actually leads to higher close rates but only in specific situations. Learn when to choose brevity for effect.
And there's so much more

Make the SPIN selling method work for you and watch your sales soar

Get the exact questions that the top sales professionals ask to position themselves as credible advisors and win bigger deals.
---
Faqs
What's included with the SPIN selling questions?

A: You'll get a PDF that includes a sequence of questions for each stage of the SPIN selling methodology.
Who are these SPIN selling questions for?

A: These questions are perfect for:

Sales managers: Use these questions to build a better sales playbook and coach your sales team on how to bring more value to each sales call.

Sales reps: Learn the exact types of sales questions that uncover buying motivations and get prospects to view you as a trusted advisor. Leverage them to win bigger deals and crush your sales targets.
What format are the SPIN selling questions sent in?

A: You'll receive the SPIN selling questions in a PDF that you can open in Adobe Acrobat Reader or your web browser.
What is SPIN selling?

A: SPIN selling is a sales methodology that Neil Rackham developed with data from over 35,000 sales calls. Rackham published his methodology in his 1988 book Spin Selling. In the sales book, he describes a framework built around a sequence of questions that individual sales reps ask to discover customer needs, uncover pain points, and make larger sales.
What are the SPIN selling questions?

A: The letters of the acronym SPIN represent 4 categories of questions — each builds upon the last until a deal is closed. These categories are:

Situation: Situation questions help sales reps gather more information about their prospects. The goal is to get a clearer picture of what their current situation is like.

Problem: Problem questions get potential customers to talk about their problems. These are the questions that you ask to uncover pain points.

Implication: Implication questions get prospects to see the consequences of their problems if they're left unaddressed. They're designed to drive urgency.

Need-Payoff: Finally, Need-Payoff questions guide prospects to see the benefits of solving their problem. These questions increase deal momentum.
What are the stages of SPIN selling?

A: According to Rackham, the sales cycle consists of the following stages:

Opening: Instead of diving straight into product features, sales reps should first build rapport with prospects and earn their trust.

Investigating: The investigation stage involves learning more about your prospects' problems and figuring out how your product can help.

Demonstrating Capability: The next stage is where you tailor your sales pitch and demonstrate the capability of your solution (typically through product demos)

Obtaining Commitment: Finally, the last stage of the SPIN methodology is to overcome any objections and close the sale.
Looking for more tips to boost your sales?

A: Here are a few resources that you won't want to miss: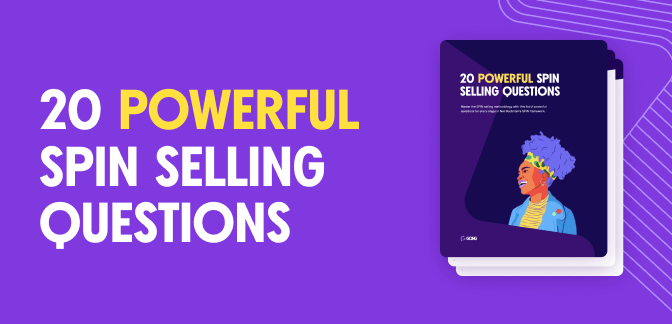 QUESTIONS THAT SELL
Get this list of powerful questions and close more deals.
Thank you for your submission.