Blog
Sales Call Recording Laws & Regulations (and How Gong Helps You Stay Compliant)
DISCLAIMER: The information provided on sales call recording laws is for
informational purposes only
and is not legal advice. If you have specific questions on compliance with any relevant laws, please consult your legal counsel.  
One-party vs. Two-party Consent in the United States
When it comes to sales and business call recording laws and regulations in the United States, each state adopts either a one-party or two-party consent policy.
One-party consent policy states that you'll you need consent from one of the parties participating in a call in order to record.
13 states have opted for a two-party (or all-party) consent policy, where all parties have to be informed that the call is being recorded.
Here at Gong.io, we always obtain consent from all parties, regardless of the call purpose.
Business Call Recording Laws by State:
This map of the U.S. indicates which states have one-party call recording consent laws, and which states have two-party.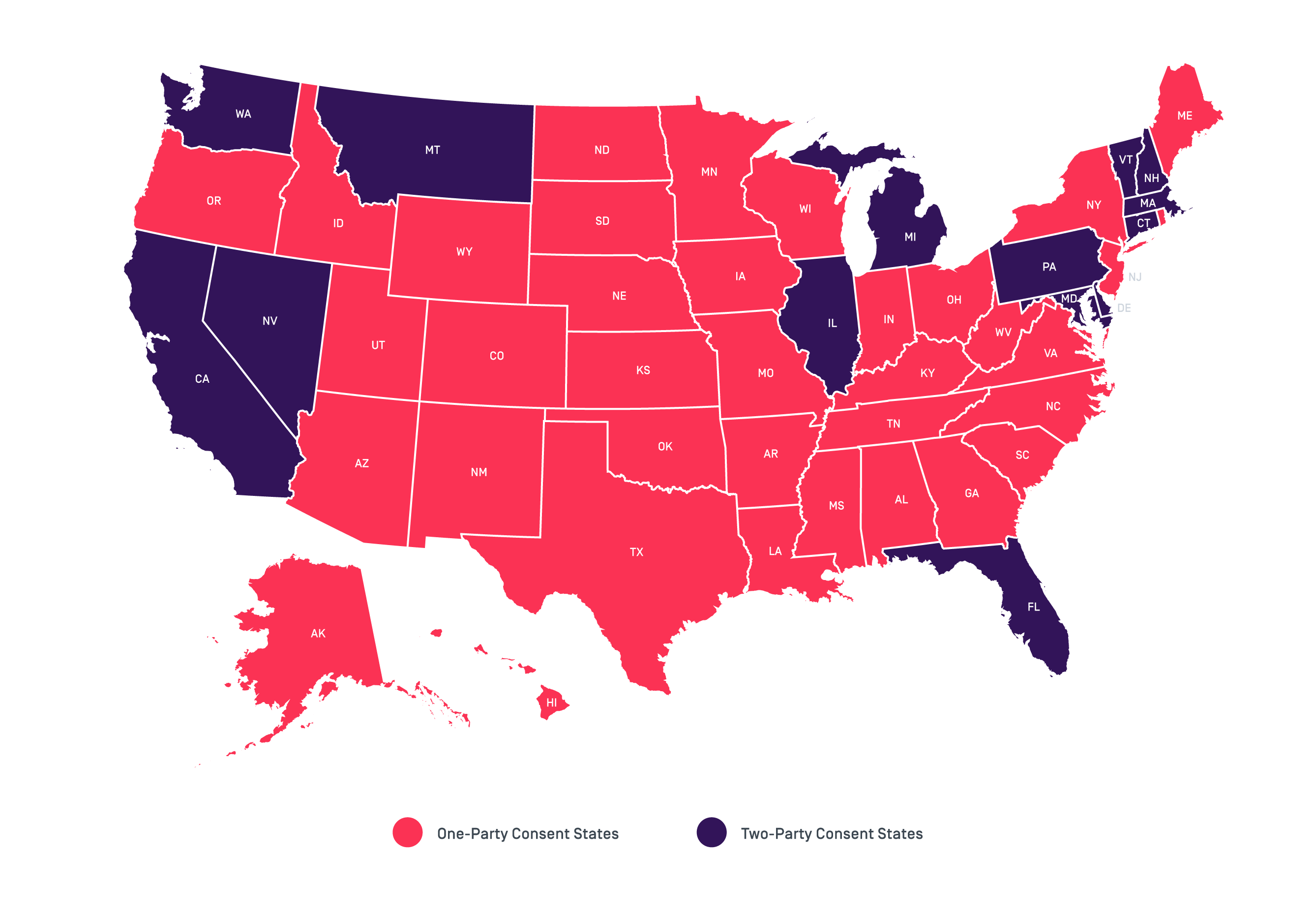 One-Party Consent States:
Alabama, Alaska, Arizona, Arkansas, Colorado, District of Columbia, Georgia, Hawaii, Idaho, Indiana, Iowa, Kansas, Kentucky, Louisiana, Maine, Minnesota, Mississippi, Missouri, Nebraska, New Jersey, New Mexico, New York, North Carolina, North Dakota, Ohio, Oklahoma, Oregon, Rhode Island, South Carolina, South Dakota, Tennessee, Texas, Utah, Virginia, West Virginia, Wisconsin, Wyoming
Two-Party Consent States:
California, Connecticut, Delaware, Florida, Illinois, Maryland, Massachusetts, Michigan, Montana, Nevada, New Hampshire, Pennsylvania, Vermont, and Washington.
International Call Recording Laws:
International business call recording laws and regulations vary widely. The local government's telecommunications authority should be consulted prior to initiating a call recording system.
Many countries do not have specific business call recording laws, or even regulations covering telecommunication issues. Other countries might specify details around how consent needs to be obtained based on subject matter. There are even some countries or industries that do not allow call recording at all. When in doubt, consult with a lawyer.
Australia
If a call is to be recorded or monitored, you must inform parties at the beginning of the conversation. This allows the respective parties to have the chance to either end the call, or to ask to be transferred to another line where monitoring or recording does not take place (if this is available).
In the state of Queensland, however, it is not illegal to simply record a telephone conversation if you are a party to the conversation.
For more details on Australia's call monitoring, check out the
surveillance and monitoring guidelines from the Office of the Australian Information Commissioner
.
Canada
Canada has an "all-party consent" approach. To record a call, you need to obtain informed consent by notifying others on the call:
(1) You intend to record the conversation
(2) Any purposes the recording will be used for
(3) That the call may only be recorded with each person's consent.
For more details on Canada's approach, you can take a look at the Privacy Commissioner's
Guidelines for Recording Customer Calls
.
Europe
Be sure you're compliant with the GDPR and other European regulations. The GDPR replaces country-specific data protection laws in each European Union member state.
Under the new terms, i
nbound and outbound calls require
consent from
all
participating parties
. You can conduct a one-sided call recording if it's legal in your country, if you have your employees' consent, and if your dialer system offers this feature. Otherwise, unless you are in a regulated industry requiring call recordings, we do not recommend recording calls or using Gong on outbound calls.
For incoming calls, allow the caller to explicitly agree to a recorded call. You might use a prompt such as: "Press 1 to allow this call to be recorded" or "Press 2 to continue without recording."
When you use web conferencing, deploy the 'Gong Welcome Page', which gives participants the option to join the recorded call or to join the call without it being recorded. Here's what that looks like: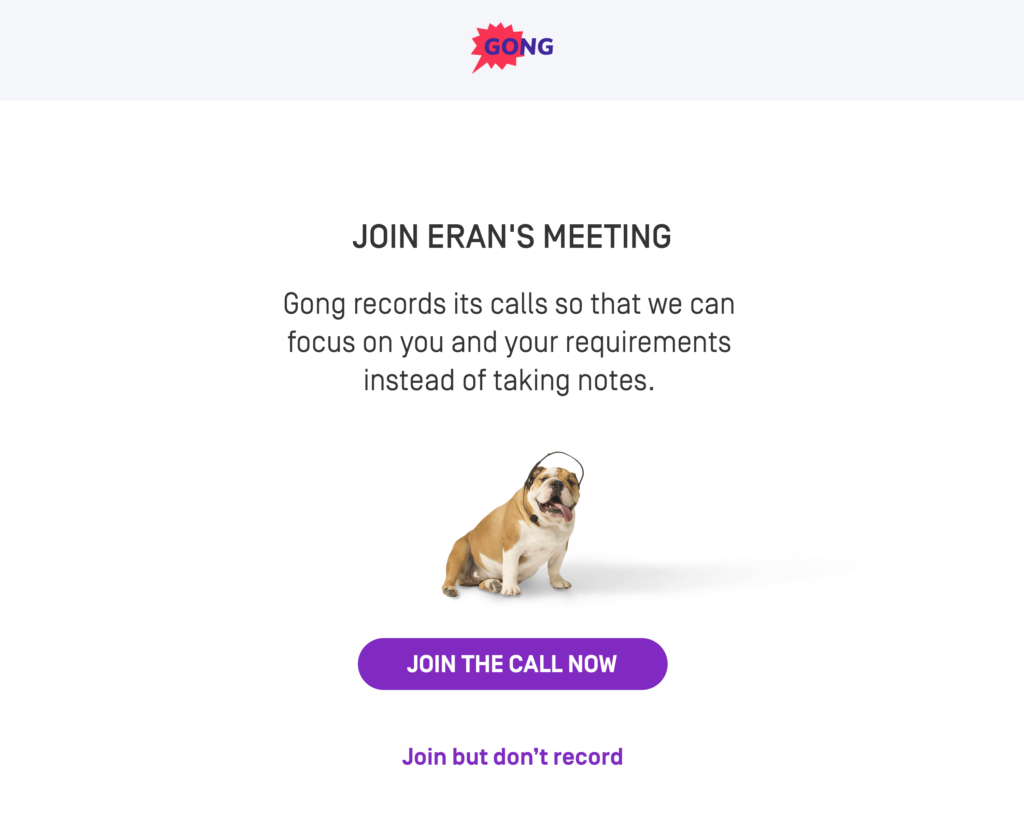 Calls recorded by the customer's phone system (SalesLoft, OutReach, RingCentral, etc.) are subject to the same privacy rules as sessions recorded by Gong. Review your call recording policies with your legal team, especially if you plan to start recording calls as a result of deploying Gong.
Note
:
There is live support for Zoom in Gong, and support for WebEx and GoToMeeting will be added in the spring of 2019.
Germany
Germany is a two-party consent country, meaning telephone recording without the consent of the two or, when applicable, more, parties is a criminal offense. In addition, Germany requires that VOIP users have a German address to use a German number.
Ireland
Irish law states that the purpose of the recording should be explained so the parties participating can give informed consent.
UK
Call recording in the UK is subject to several laws. It's best to think of the UK as a two-party consent jurisdiction.
Read about each of these laws in depth
here
.
Other Countries
Although certain countries have been listed above, it, by no means, is a complete list.
Before making a call to a new country, we recommend making sure that you and your legal team have an understanding of any regulations there.
How Gong Helps You Stay Compliant with Call Recording Laws
There are four ways Gong helps you maintain compliance with the above call recording laws.
1) 
Automatic Audio Prompt
Gong features a setting that allows you to play a short, automated message when new attendees join a web conference meeting. This automates the process of notifying your customer that the call is being recorded, and gives you the peace of mind that it happens on every meeting.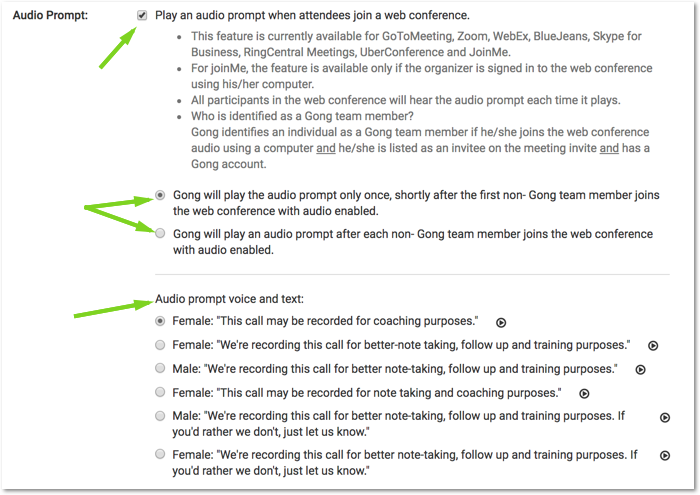 You have two options for playing the audio prompt:
One time: When the first 

external

 meeting attendee joins the call
Multiple times: Every time an additional external meeting attendee joins the call.
This second approach ensures every external meeting attendee hears the audio prompt, regardless of when they join the meeting.
2) Email Alerts
 for Calls Without Call Recording Notification Language
You can setup Trackers in Gong that alert you every time a particular type of call happens that doesn't contain compliance notification language.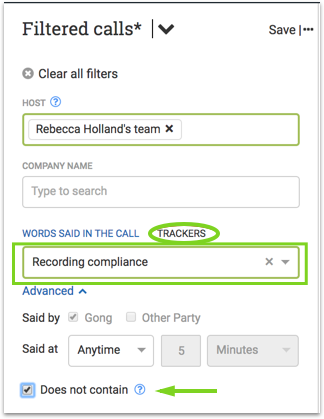 Once you save your filter criteria, you can then choose your email alert settings, opting to receive an email alert every time a call happens where recording compliance language was not mentioned.

3) Custom Legal Footers in Pre-call Emails
To notify meeting attendees ahead of time that an upcoming meeting will be recorded, you can configure Gong to send an automated email to all invited attendees a few minutes before the meeting starts, explaining that the meeting will be recorded.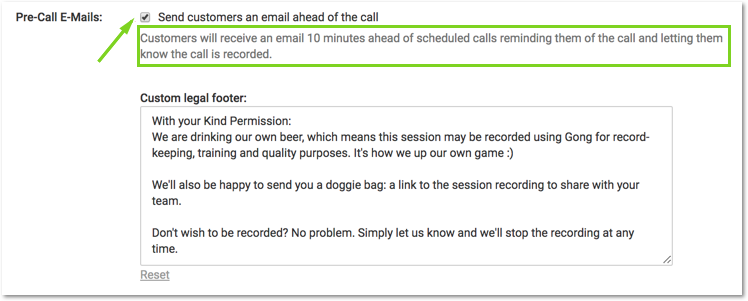 4) Redact Sensitive Information
Finally, if you're concerned that your calls may contain information that you'd rather not record (such as social security or credit card numbers), you can configure Gong to automatically "redact" segments of calls where sensitive information is mentioned.

All in all, Gong provides a lot of easy-to-use options for helping you maintain compliance with call recording laws.
Learn how to enable these features and more by signing up for a demo of Gong.io today.