Blog
Video: How Cirrus Insight, Greenhouse, and Gong Use Conversation Intelligence Software to Help Reps Sell Better
Sales Enablement
Sales Management
This guest post is from Conrad Wadowski of
Ops.tv
which identifies leading operators and does video research on how they make use of sales and marketing products.
—
At Ops.tv, we're obsessed with studying the ways people use and get value from SaaS. As part of our research agenda, we recently interviewed 20 sales leaders from some of the fastest growing technology companies to help us understand how they use the tools in their sales stack to make their numbers. In our research, we interviewed three sales leaders who use Gong, including:
Jake Holt, Director of Sales at Cirrus Insight
Tori Moss, Director of Sales Operations at Greenhouse
And of course, Amit Bendov, Co-Founder and CEO at Gong
This post dives into the ways Gong is being used in the wild. If you know of other sales practitioners you'd recommend we add to our agenda, feel free to reach out.
How Cirrus Insight Uses Gong (Featuring Jake Holt, Director of Sales)
Cirrus Insight
has a sales team of 19 that include 8 SDRs, 8 AEs and 3 CSMs. They've managed to grow from $30k to $850K MRR in the past 3 years. Before Gong,
Jake Holt
was having AE's manually download one recording per week as an MP4 file. He would then provide feedback over email with his own call rubric, which covered preparation, discovery and setting next steps. It consumed a lot of time to get the AE to download a recording, send an email, and to do the 30-minute feedback session. Jake mentions Gong "makes it really easy for me to go back and review demos when I can't be in 20 places at the same time. As a Director who needs to manage the team, Jake starts inside the Calls screen: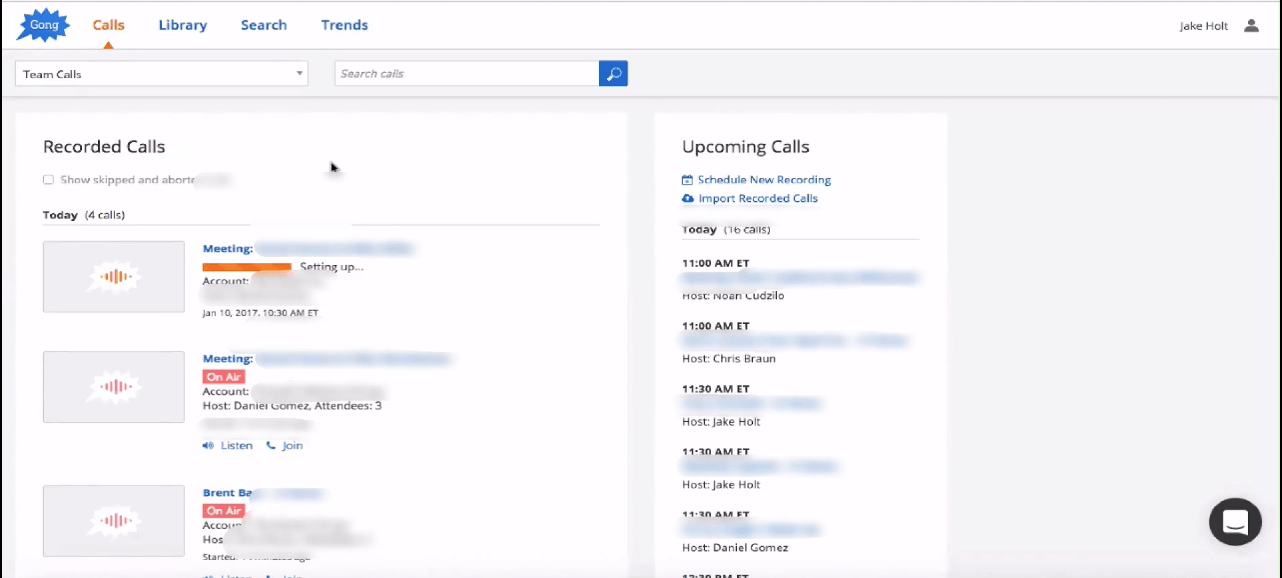 On the right, you can see upcoming calls that have been scheduled, and on the left calls currently On-Air, as well as previous calls and demos Jake can go back and review on-demand. Since calls are transcribed from speech-to-text, Jake will use the search feature to get an overall view of competitor mentions and other key trends. Here you can see a breakdown of how much the rep is talking compared to the prospect.
The ideal talk to listen ratio is 43:57
, so it's something he'll glance at before giving feedback on calls.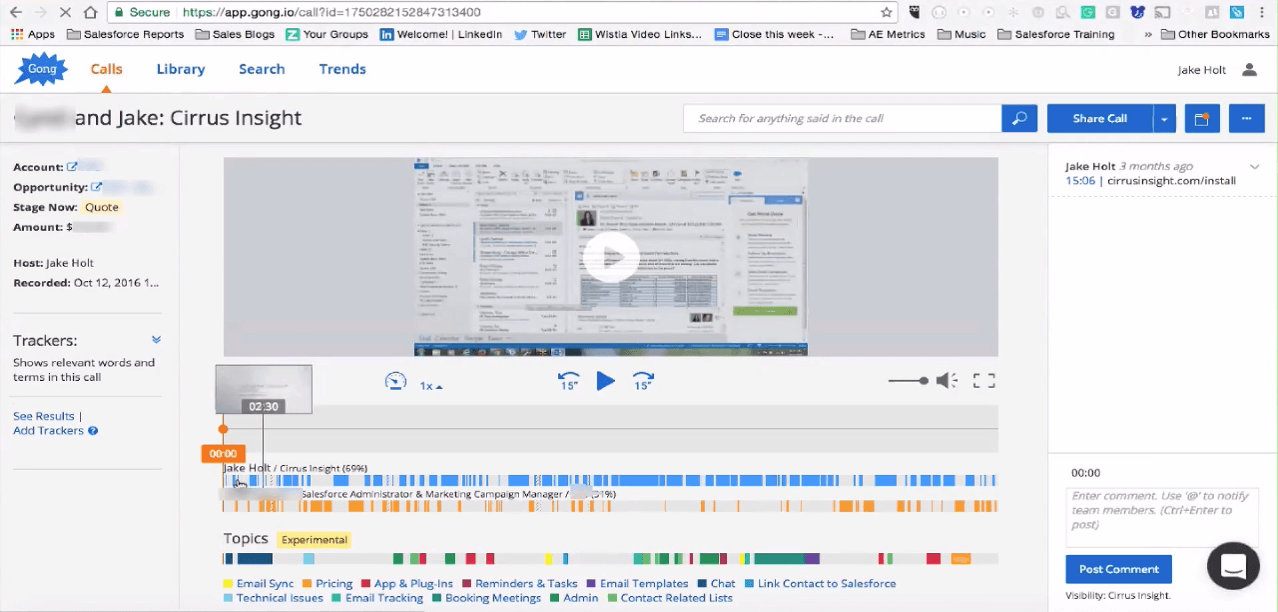 Next, Jake searches for keywords within specific calls, taking him to that point in the call. "If I don't have 45 minutes to review an entire demo, I can zero in on the key moments and write comments on the specific points on the calls timeline for targeted coaching feedback." Jake notes this shouldn't replace 1-1 time. But when each rep you manage does 5-7 demos a day, the math becomes impossible for you to coach effectively unless you have technology to leverage your coaching efforts.
How Greenhouse Uses Gong (Featuring Tori Moss, Director of Sales Operations)
Greenhouse
continues to be one of the fastest growing SaaS companies with a team of 50+ sales reps selling applicant tracking system (ATS) software focused on the mid-market (100-1000 employees).
Tori Moss
, Director of Sales Operations uses Gong as their tool for call recording, analytics, and sales coaching. A common use case is for their sales productivity manager – Natalie Lebow – to use Gong to coach reps on calls and work on building sales skills. With Gong, Natalie can "x-ray" a 1-hour demo so she can understand the call at a glance. She can immediately navigate to mentions of a competitor, budget, pricing, or any other key moment or topic that may have occurred throughout the demo.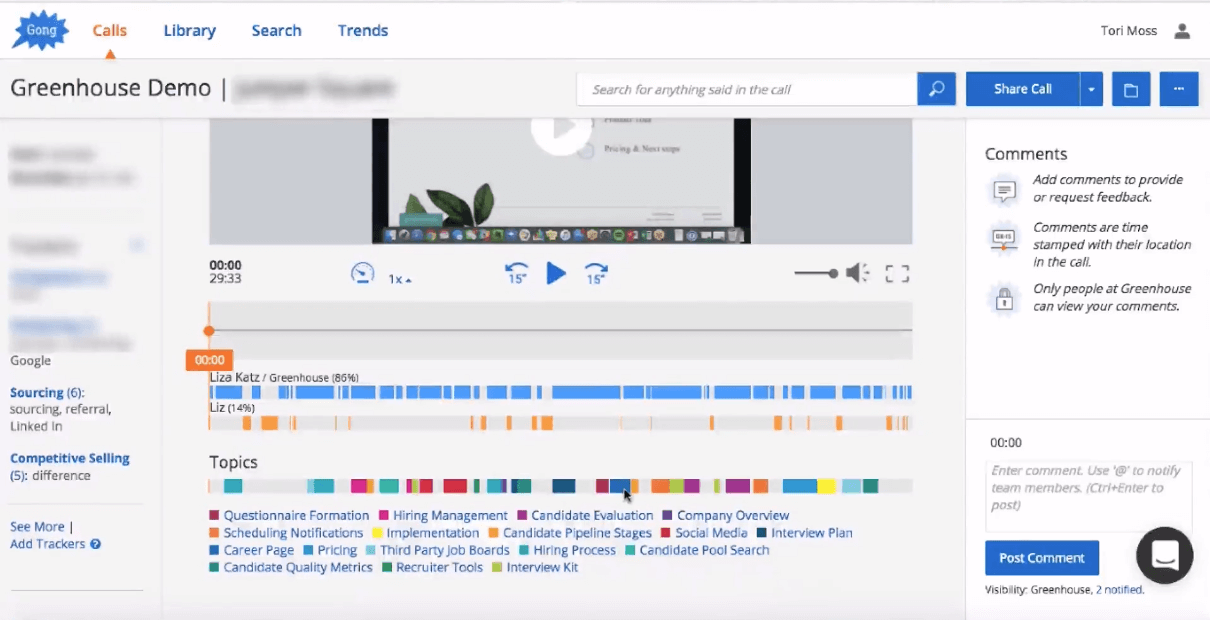 In the Call Interface view, she can see specific competitors mentioned within a call as well as topics discussed throughout so she knows where to direct her coaching and feedback efforts. On a macro level, Natalie can analyze the trends and patterns that are happening across all conversations on her sales floor. One way Greenhouse has used this is in creating focus around the use of the words "challenge" or "pain point" within the first 5 minutes of the call so reps can better tailor them demos.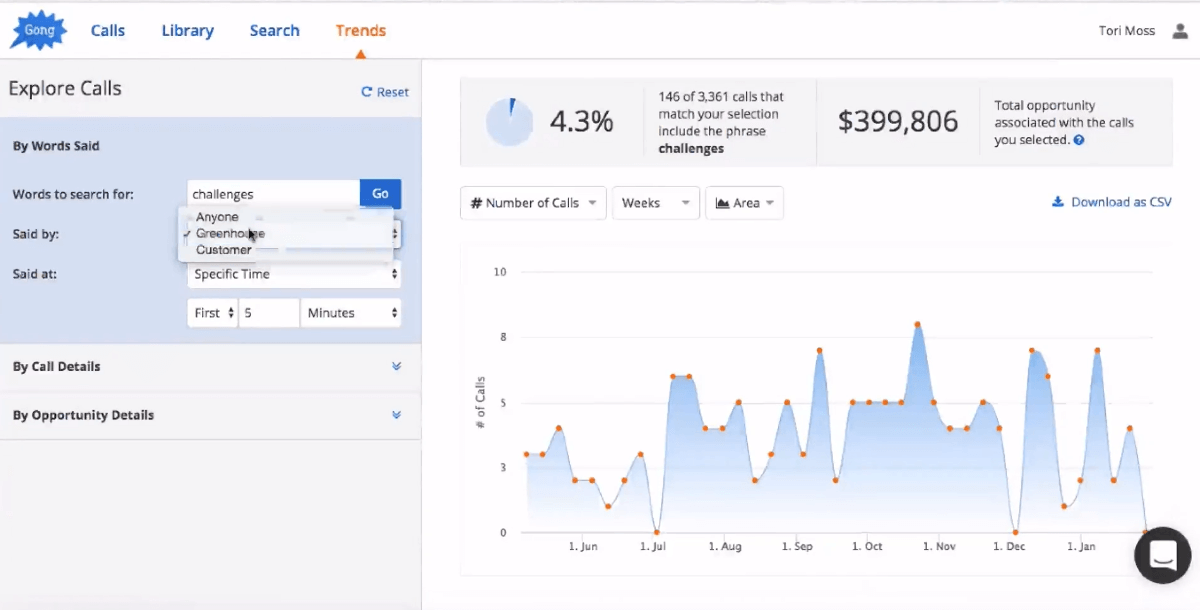 In this report, you can see if reps are bringing up these points or not, and how that's trending over time. Tori also notes Gong is a way for their team to quickly see mentions of a particular feature on a call. With
Gong's Salesforce.com integration
, she can see the percentage of calls where a particular feature is mentioned and the revenue associated to make a case for developing a feature with the product team.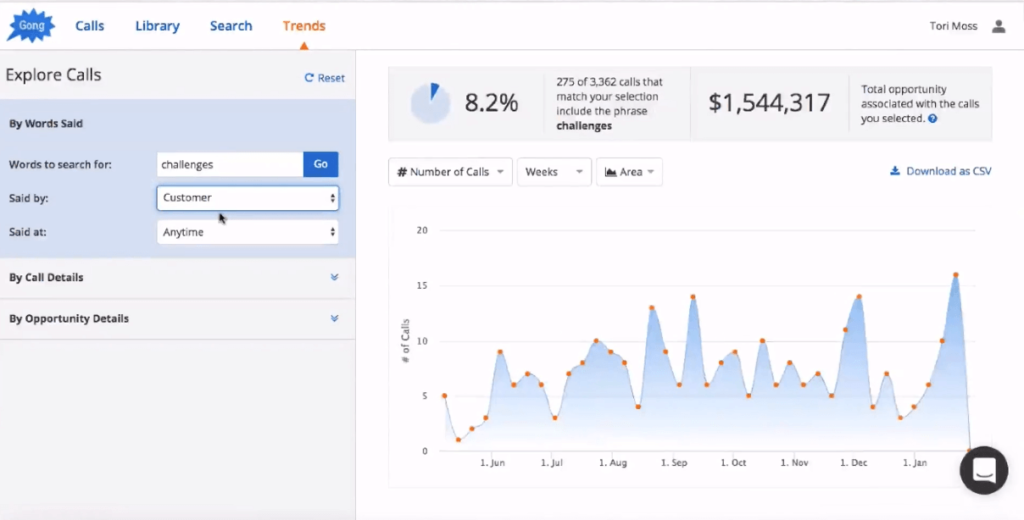 Want access to more research on how operators use sales & marketing products in the wild?
Get access to Ops.tv here
. And if you want to understand how your sales team can use
conversation intelligence technology
just like Cirrus Insight or Greenhouse,
request your demo here
. If you liked this article you may also be interested in:
Conference video recording
– US Patent Granted to Gong.io

If you liked this article you may also be interested in:
Sales demos
– 9 Elements of Deal-Closing Sales Demos, According to New Data