Blog
Choosing the Right Sales Engagement Software
There's no shortage of sales engagement software on the market, yet many teams are unhappy with the tools in their tech stack. According to research by Gong, only 12% of sales leaders and 16% of end-users are happy with their current tools.
Despite dissatisfaction with tools, 90% of sales leaders still plan to invest in sales engagement software—and that's because these leaders consistently rank sales engagement as a priority, emphasizing the significance of interactions between sales representatives and buyers or customers.
With a growing focus on enhancing both the quality and quantity of buyer-seller interactions, it's more important now than ever to evaluate the tools you have that help to drive sale engagement, productivity and efficiency.
In this post, we'll cover the benefits of effective sales engagement softwares, top features to look for, and how your team can get the most value out of your tools.
Why your sales team needs better sales engagement software
Sales engagement software is meant to help reps automate their outreach, manage leads, and optimize sales cadences. But as mentioned in the introduction, only a fraction of sales leaders and end-users are happy with the current state of their tools. So what does a "good" sales engagement tool offer?
Increased rep productivity
Simply put, there's a limit to how productive sales reps can become without using technology. Reps only spend a fraction of their time selling.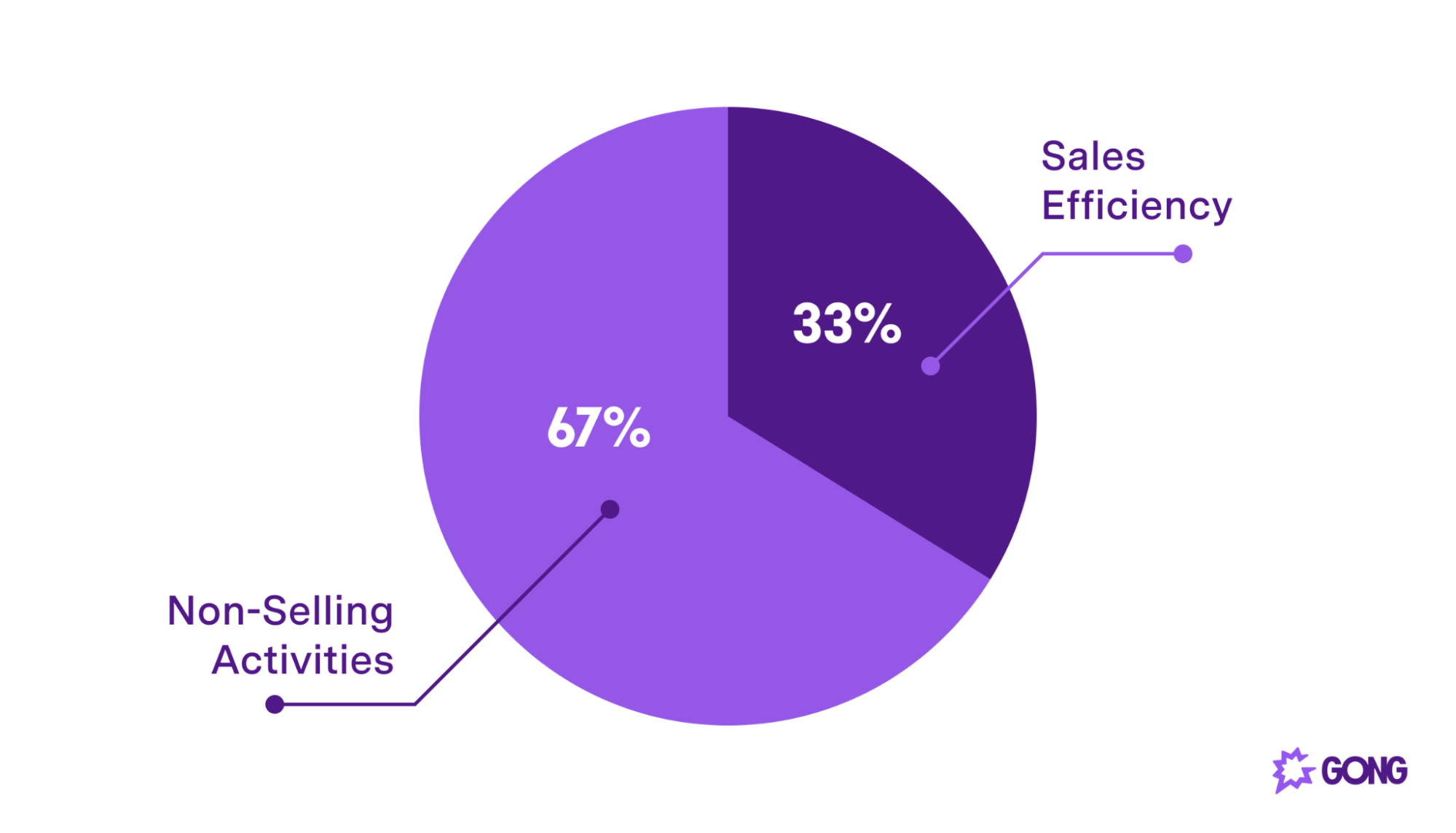 The right sales engagement platform can automate many of the daily workflows and processes reps have to do — sending follow-up reminders and updating the CRM. The result? The administrative burden on reps is significantly reduced, and they can spend more time talking to prospects and less time on non-sales activities.
Improved organization and streamlined data
Sales engagement software lets your sales reps access all the data their job requires in a single place. That means no more juggling a dozen applications or digging through folders to find the right one-pager — it's all available in one platform.
Better still, some sales enablement platforms will suggest the next steps each rep should take after a conversation with a prospect. That might be to create a follow-up email, send a document to someone mentioned on the call, or create a proposal. In doing so, reps don't need to think too hard about what they should do next, nor will they forget about what to do when they return to the software tomorrow.
Being more organized should also make your reps more efficient. They can respond to prospects much faster when the sales collateral they need is at hand, and they are less likely to get distracted when they don't have to open a new window or application on their computer.
More pipeline
A good sales engagement tool will help reps find and convert pipeline opportunities — a key focus for sales leaders. The vast majority of sales leaders (84%) are focused on improving pipeline performance as a top priority, according to our state of sales engagement report.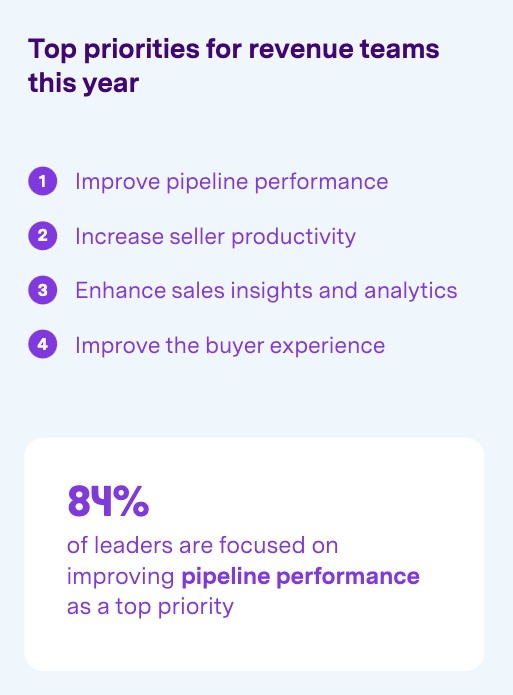 Sales engagement tools achieve this in several ways, such as scoring leads by their propensity to convert, personalizing sales messages, and accelerating the rate at which reps close deals.
Sales engagement software also helps your reps to reach prospects early in the buyer journey. So often in sales, the deal doesn't go to the best salesperson but the one that gets there first. The automation and personalization possible with sales engagement software allow reps to contact and follow up with prospects as quickly as possible.
Uncovered sales trends and customer insights
Gut feelings are great, but the only way to track what works when it comes to sales prospecting is by using sales engagement software. A good solution will have a robust analytics feature that shows you insights like which outreach methods are proving most fruitful, which industries are most receptive, and which messages are hitting home.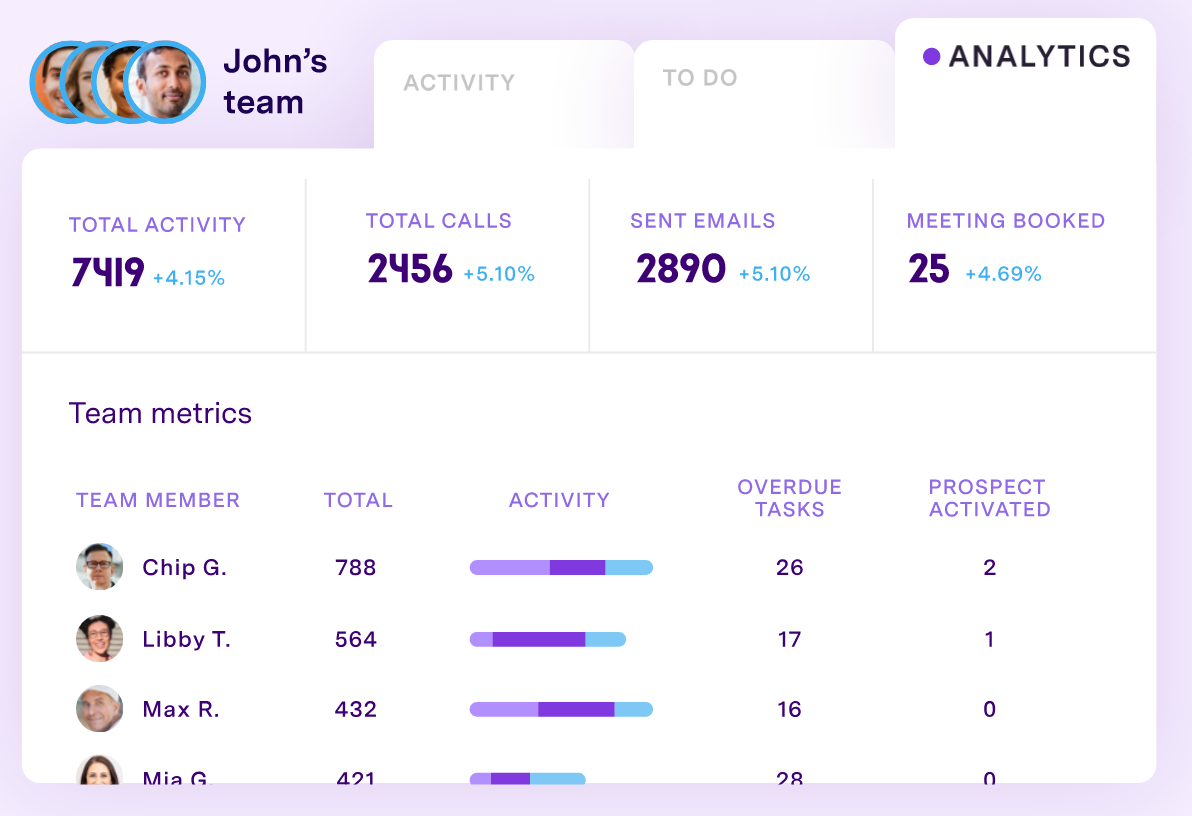 Some sales engagement software will go further, however, allowing you to analyze the effectiveness of individual sales reps. In the screenshot above, you can see each team member's activity at a glance, allowing you to measure each rep's individual sales performance better and tailor feedback and sales training where necessary.
Does your sales engagement software have the most in-demand features?
Sales engagement software that was effective five years ago may fail to pass muster today. It's important to understand the key features to ensure your platform still provides your revenue team with the necessary tools.
Some features, like automation and lead scoring, are a given. Others, like the ones listed below, are not:
AI: This is the most important feature in any solution—2023 and beyond. AI has become so prevalent so quickly that if your reps aren't using AI tools, they risk being left behind by competitors. As a result, choose a sales engagement platform that can analyze sales history to suggest the next best steps or automatically compose emails and other sales messages.

Personalization: Your software should make it easy for reps to personalize every interaction with prospects. If this can't happen automatically, thanks to the tool's AI capabilities, it should use features like dynamic content or email templates to accelerate the sales process.

Great UX: The best sales engagement solution is one your team likes, adopts and uses. Ultimately, the platform's design should make the lives of your reps easier. They should want to open the software daily, because it adds value or reduces mundane tasks that they come across in their daily workflows.

Centralized data: Try adopting a sales engagement software that consolidates as many disparate channels as possible in a single platform. The more data you can centralize, the more effectively you can automate workflows and reduce your reps' administrative burden.

If your existing solution doesn't have the features listed above, then you may want to choose a sales engagement software that does.
How to get the most from any sales engagement software
Whether you invest in new software or continue using your current solution, here's how to make the most of any sales engagement software.
Automate workflows and outreach cadences
Process automation is arguably the biggest benefit of any sales engagement software. It doesn't matter how many bells and whistles your platform has, whether it has generative AI capabilities or a native integration with your entire tech stack; if your reps aren't using your tool to automate as many of their workflows as possible, they aren't using it to the full.
The processes you can automate may vary depending on your platform, but they should include:
Updating your CRM

Creating sales cadences

Auto-dialing phone calls

Sending follow-up reminders

Note capture

Calendar booking and scheduling
Your sales engagement software should go beyond these basic features. With Gong, for instance, AI technology can analyze each rep's conversations, offer suggested next steps, and even execute them. In the image above, for example, Gong doesn't just suggest how the rep should follow up with Elaine but also offers to write the email.
Personalize across every channel, not just email
It's not enough for your sales engagement software to facilitate multi-channel communication like calls and LinkedIn messages; reps should also be able to personalize messages across all these channels.
Here's the rub. Most personalization attempts miss the mark. Only 13% of prospects think the seller's message addresses a relevant challenge, 9% think the message is truly personalized, and just 6% of prospects learn something they didn't know from messages.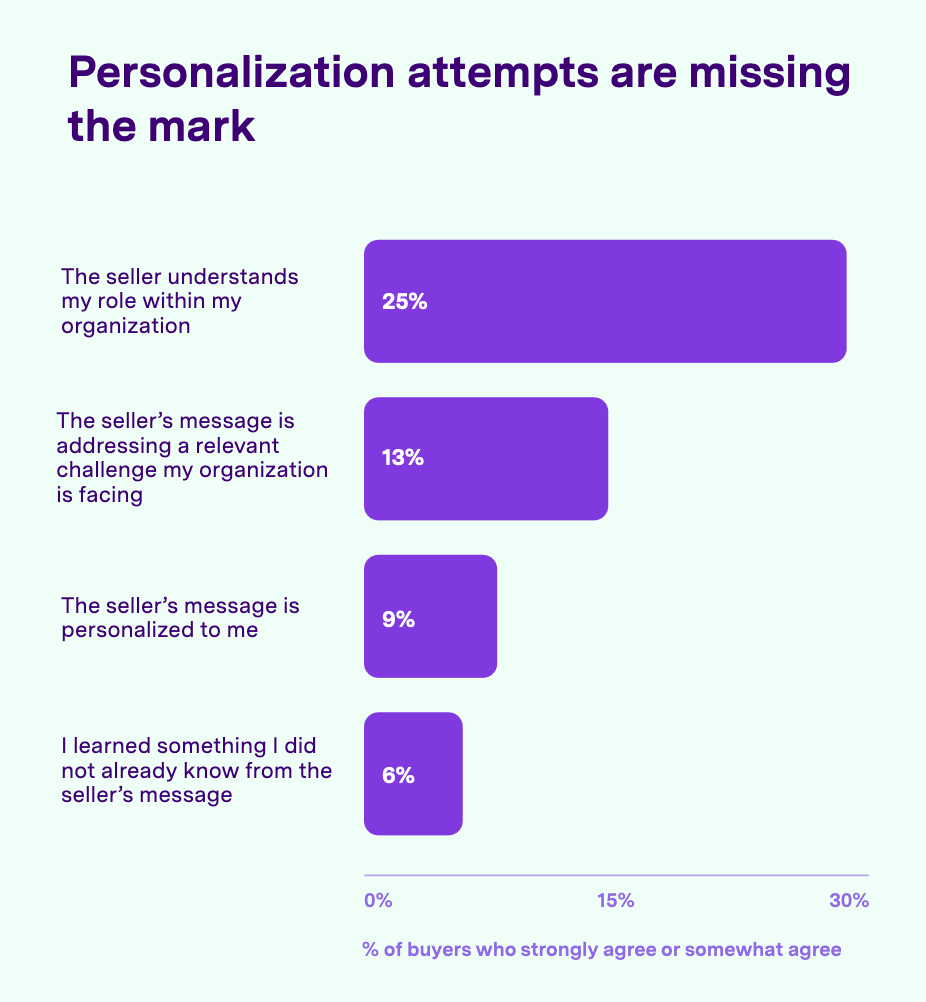 Make sure reps use the personalization capabilities of your sales engagement software — whether that's dynamic content, message history, AI insights, or something else — to tailor every outreach message to your prospect.
Integrate the rest of your tech stack
Never use sales engagement software in isolation. The tool's value lies in seamlessly integrating your sales process, automating repetitive tasks, and generating insights. So integrate your solution with other sales tools to eliminate data silos and ensure accurate insights.
Integrating as many of your applications as possible solves one of the biggest issues that revenue teams have with sales engagement software — a lack of updated data. By integrating your sales engagement software with your CRM, calendar, telephony system, and more, you're able to provide reps with an up-to-date and cohesive picture of what's going on across their pipeline.
Use AI to save time and boost win rates
If sales engagement software accelerates rep productivity, then AI is the equivalent of equipping your car with nitrous oxide. It turbocharges productivity.
Reps spend a huge amount of time creating highly personalized messages to prospects. Our research shows they spend up to 12 hours each week customizing 58% of all outgoing content. They know how critical personalization is to a successful deal, but it eats up a lot of time.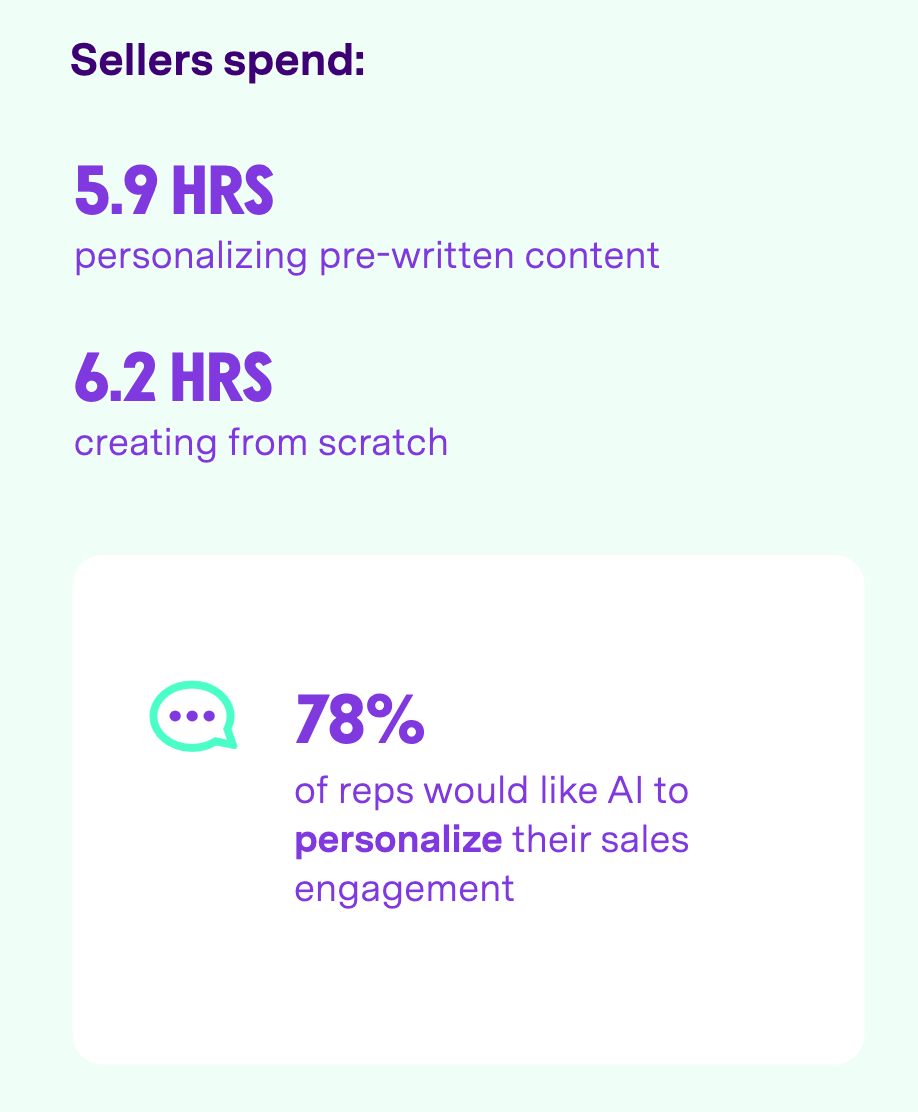 That's why 78% of reps want to use AI to personalize sales engagement on their behalf — and it's why you should make it a priority, too.
Modern sales engagement software comes with a raft of AI capabilities, including suggesting next-best actions and drafting entire personalized emails. There's no excuse not to implement AI technology if your sales engagement tool offers it or to switch suppliers if your current provider doesn't.
Implement it across your entire revenue ops team
Most commonly, sales reps are the primary users for sales engagement tools; however this results in numerous missed opportunities to drive revenue across other parts of the organization.
For example, customer success teams can use conversation histories to understand each buyer's specific pain points and tailor training to address them. VPs and stakeholders can use trend data to analyze better and forecast sales. Marketing teams can understand which messages move buyers to action.
Arm yourself with the industry-leading solution
Sales engagement software can increase productivity, improve organization, identify trends, and drive more pipelines.
But only if you have the right platform. Book a demo today to learn how our sales engagement platform can boost rep productivity, increase close rates, and give you complete visibility into your pipeline.