Blog
7 tips to nail your customer success strategy
For software as a service (SaaS) and subscription businesses, customer retention is the key to sustainable long-term revenue growth.
If you're making new sales each month but losing customers to churn, you're just burning time filling an empty bucket.
But, if you can keep churn low and retain buyers, new customer acquisition is much more meaningful for revenue growth.
Customer success is the discipline that focuses on retention. When it's done right, customer success (often abbreviated as CS) not only keeps buyers on board, but helps your team identify opportunities to grow revenue from each account.
In this article, we'll provide an answer to the question, "What does a good customer success strategy look like?" Then, we'll help you understand how to build a successful customer success strategy and team with seven powerful tips.
JUMP to each section to learn more
What is customer success?
Customer success is both a department and an approach to retention primarily concerned with helping buyers properly utilize your product to meet their organizational goals.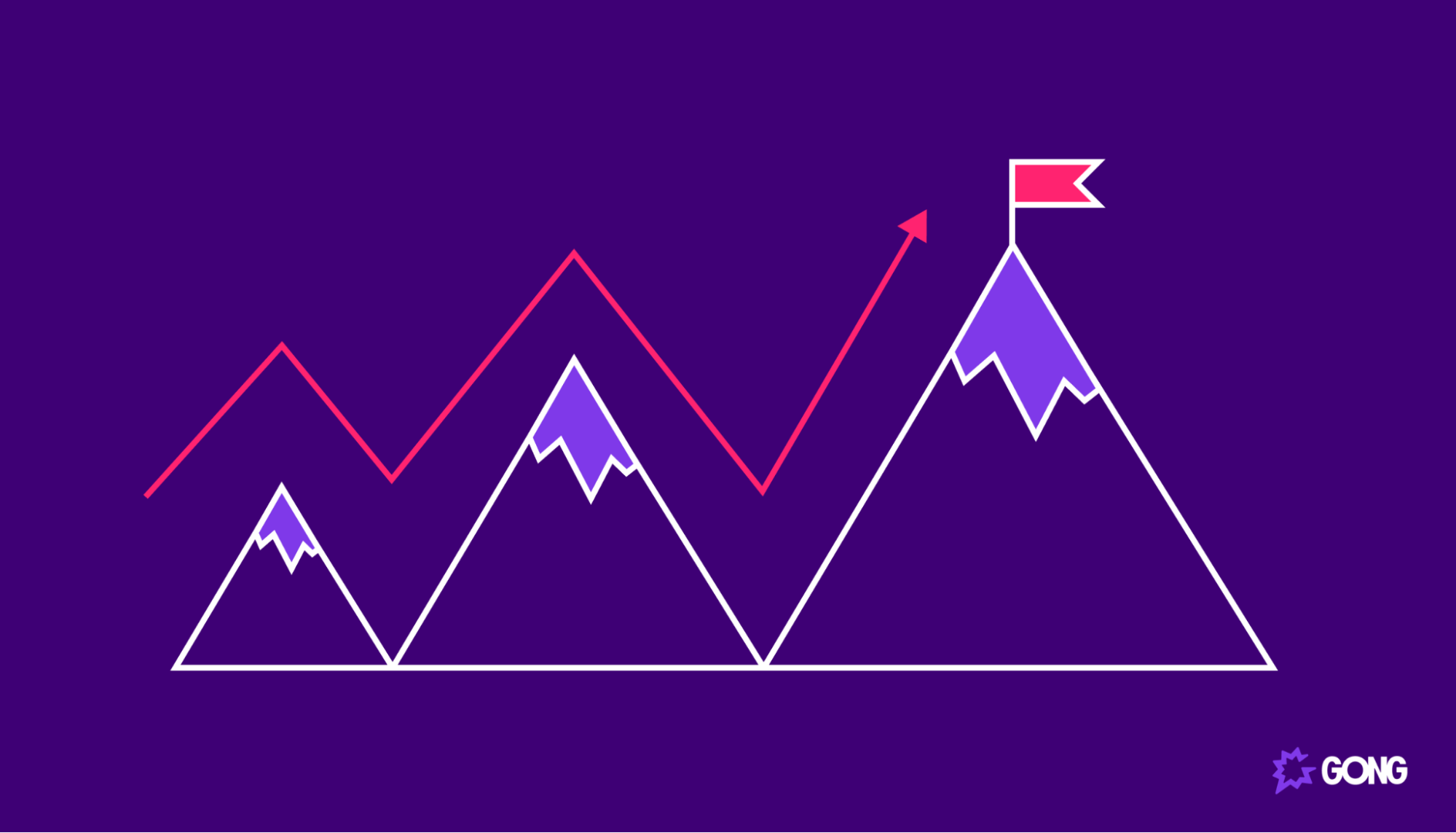 The idea is this:
Your sales team works hard to understand a buyer's requirements and create a solution to help them achieve their goals.
If you've targeted and qualified correctly, your product will be instrumental in helping them achieve those objectives (but only if it's used correctly).
The customer success team inherits control from the sales team once the contract is signed. Using the sales information gleaned during the qualification process, they design a plan to help the customer get the most out of the features and functions of their product in pursuit of their identified goals.
From a business perspective, the primary goal is improving customer retention (or reducing churn, depending on how you want to look at it).
When you consider the profound impact of customer churn rates on user and revenue growth, it's easy to see why customer success is a critical business investment.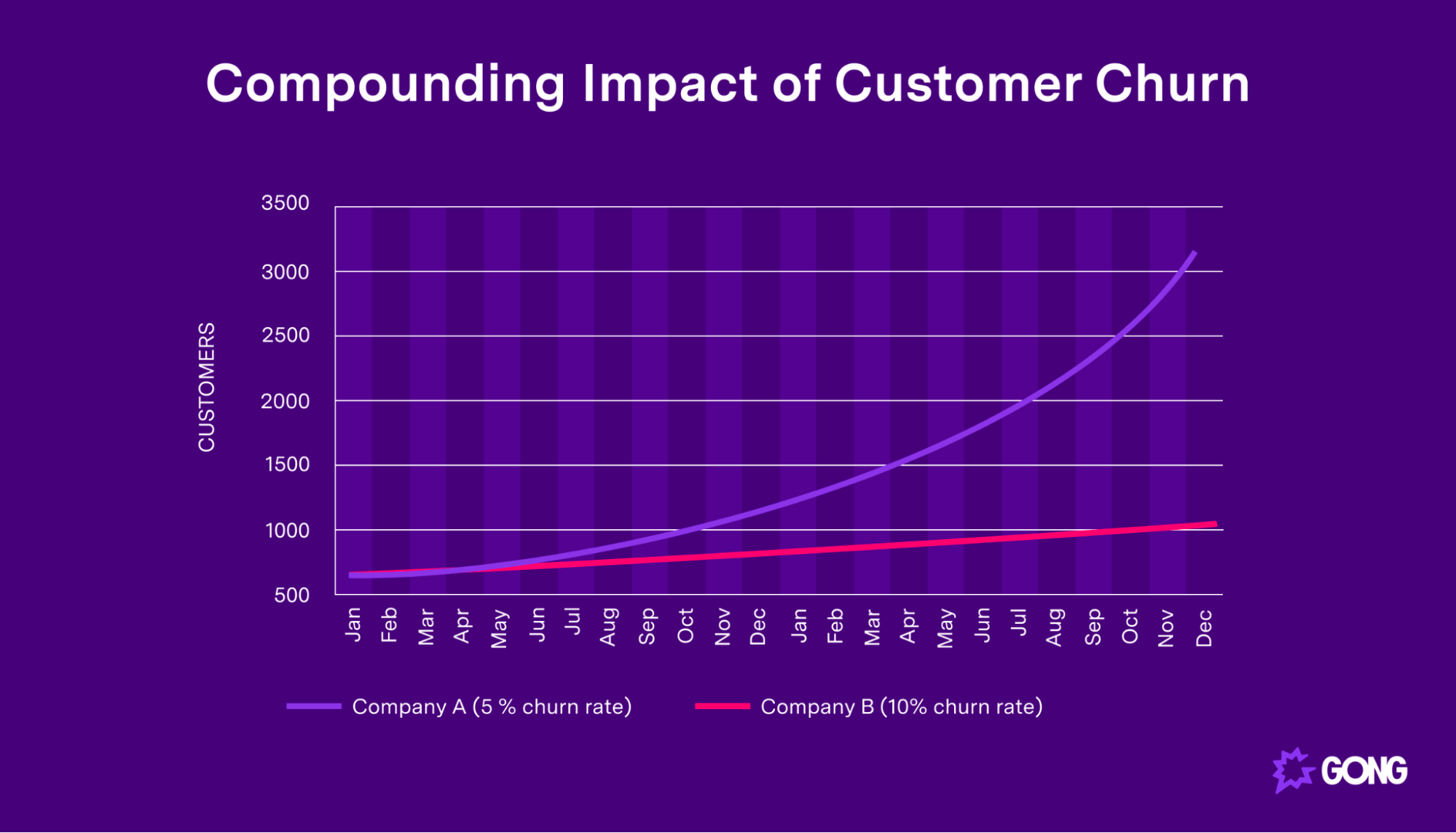 The customer success definition is based on a simple yet effective concept: the more a customer has embedded your product into their daily work life and is using it to achieve their organizational goals, the less likely they are to churn.
Many companies also use the customer success department as a way of driving revenue growth through account expansion.
Consider, for example, that you're a customer success manager at a CRM company.
Through an analysis of usage data, you identify that one of your Basic plan customers is sending an average of 5,000 emails a month, using templated content that they copy and paste into the CRM's email tool.
Your Advanced plan, however, includes an automation feature that would allow them to build custom email nurture campaigns, essentially putting this task on repeat and eliminating all of the manual work.
By successfully educating the buyer on the benefits of this upgrade (likely by demonstrating the impact of all of that saved time vs. the increased plan cost), you're achieving two goals:
Expanding revenue from existing accounts

Helping the customer achieve their organizational goals (the main pursuit of customer success)
The customer success department is, therefore, part of the revenue team, and collaborates with sales, service, and support.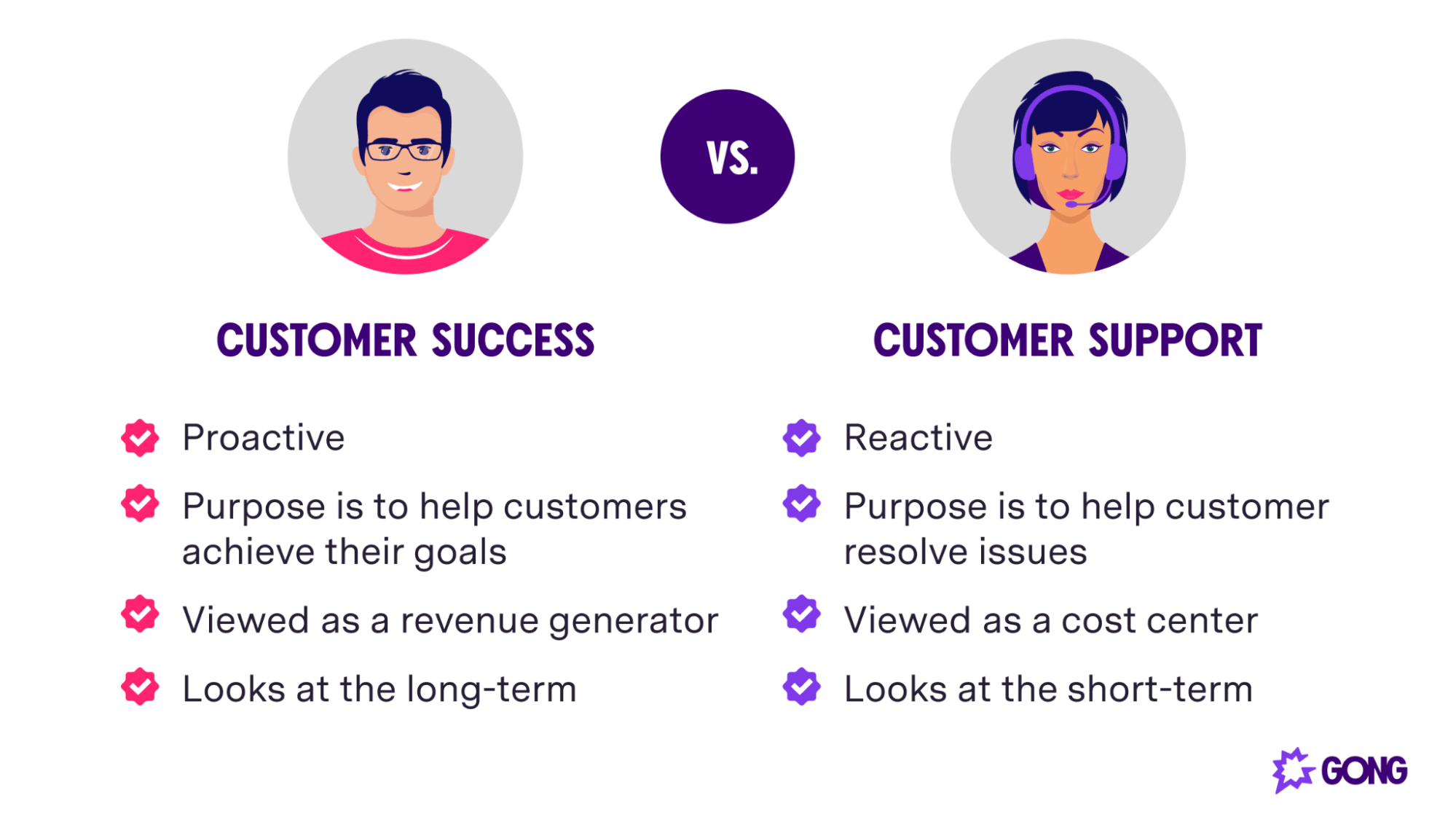 That's right, customer success and customer support are two different teams altogether.
Customer success vs. customer support
Customer success teams help your buyers achieve their goals by anticipating needs and questions, educating them on how to use your product, and acting as a trust advisor.
Customer support teams, on the other hand, help buyers resolve issues as and when they arise.
Customer support takes on a more technical role, and is generally involved in helping customers to work through bugs, as opposed to setting themselves up for success.
As such, customer success is a more proactive endeavor with a long-term vision, where customer support is entirely reactive and is more concerned with helping buyers in the short term.
How to understand your customers and nail your customer success strategy
Implement these seven strategies to boost your customer success team's effectiveness and help customers achieve their goals faster.
1. Invest time in understanding your customers' business needs
The first step in managing customer success is understanding what success means to your buyer.
That means moving beyond ideal customer profile (ICP) and customer persona documents (though these may be helpful for gaining a broad understanding of buying motivations), and using open-ended questions to identify the critical needs of your buyers.
Generally speaking, this conversation starts at the sales phase.
Sales reps use frameworks like the Challenger Sales Model or the Sandler Selling Method to discover customer needs. The information they uncover needs to be shared with customer success managers.
Take three broad steps to implement this data sharing:
Have sales and success reps work within a single platform to remove data silos

Design a standardized method of note-taking when documenting customer needs, to avoid key details getting lost in translation

Create a sales-to-success hand-off process (covered in more detail shortly)
Then, begin the customer success process with a kickoff meeting in which the CS manager recaps the information they have and dives deeper into customer goals.
For example, "Tom let me know that one of the reasons you decided to implement our CRM platform is to manage a fast-growing customer database. Tell me more about that from a sales and marketing standpoint? How do you intend to interact with those customers?"
2. Develop a careful handoff and onboarding process
There are three primary ways for sales reps to hand over important buyer details to customer success managers — while each is time-consuming, they're also more thorough. Run with the option that makes the most sense for your company:
The sales rep fills out a templated notes document or form in which they answer a series of questions about the buyer.

The sales rep creates a brief video to walk the customer success agent through key customer details, goals, and motivations.

Both parties meet to discuss the sales rep's understanding of the customer's needs, allowing the customer success manager to ask questions to extract more information and begin building a plan for success management.
Whichever route you choose, the handoff process should be supported by thorough notes stored within your CRM or sales engagement platform.
3. Focus on contextual product education
One of the possibilities that a dedicated customer success team opens up is the ability to educate buyers on how your product works in the context of that individual's role, company, and use case.
Most SaaS companies use automated customer nurture email sequences to deliver product education, like this one from Semrush: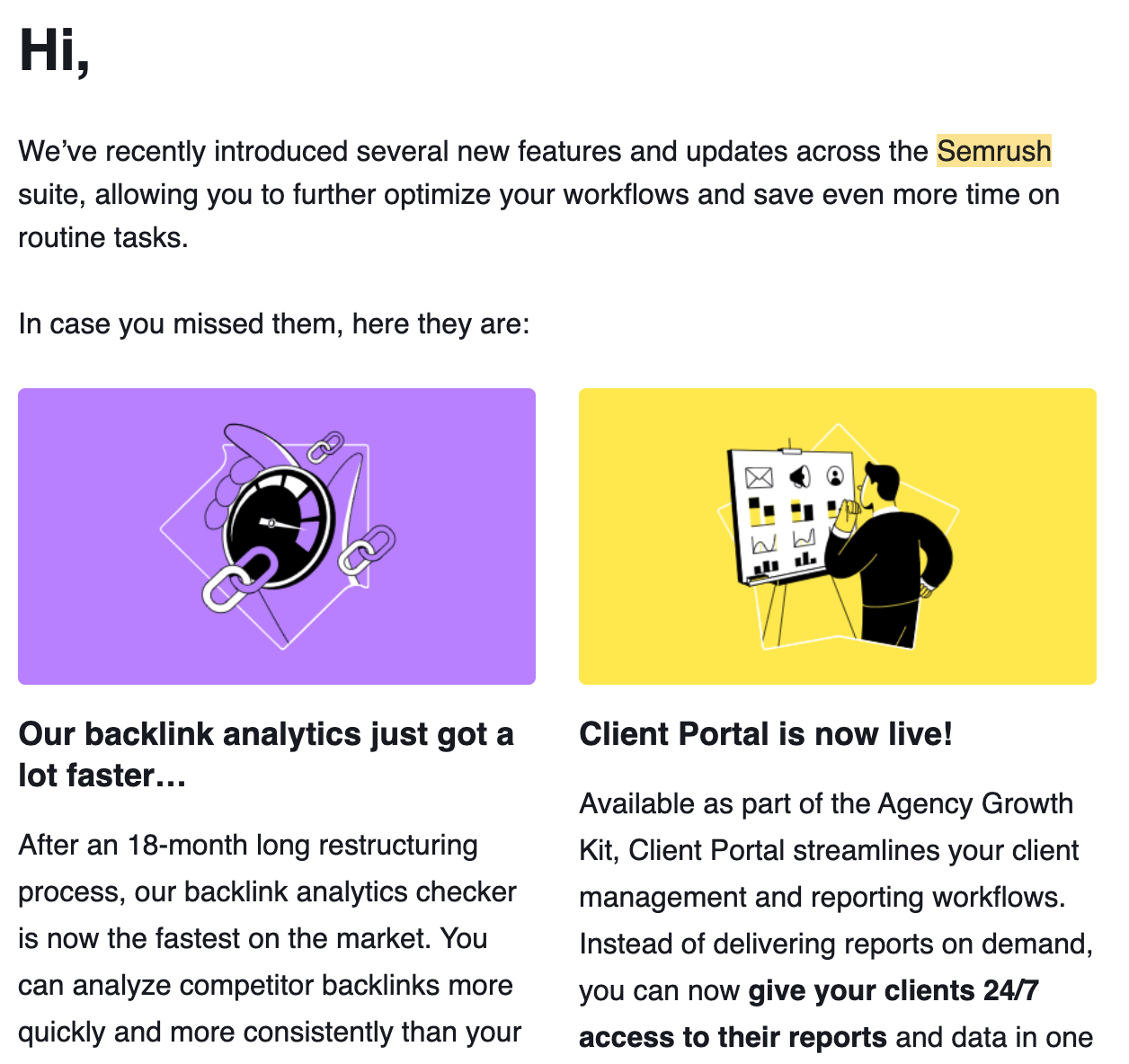 While this may be helpful (and is a low-cost approach), it's not particularly targeted.
Instead, build your product education around that account's requirements specifically. If, in this instance, Semrush's customer is a content marketing agency, their first step should be to pull together assets relevant to this industry.
Then, a customer success manager at Semrush should prioritize the distribution of content based on the buyer's needs, so they learn the most relevant and valuable features first.
4. Develop helpful content to support your customer success team
A good customer success approach is personalized to the buyer's needs, role, and industry. But there will also be some overlap if you're working at scale and have developed a targeted approach to lead acquisition.
Let's go back to Semrush. It's clear from their homepage that one of their key audience segments is agencies.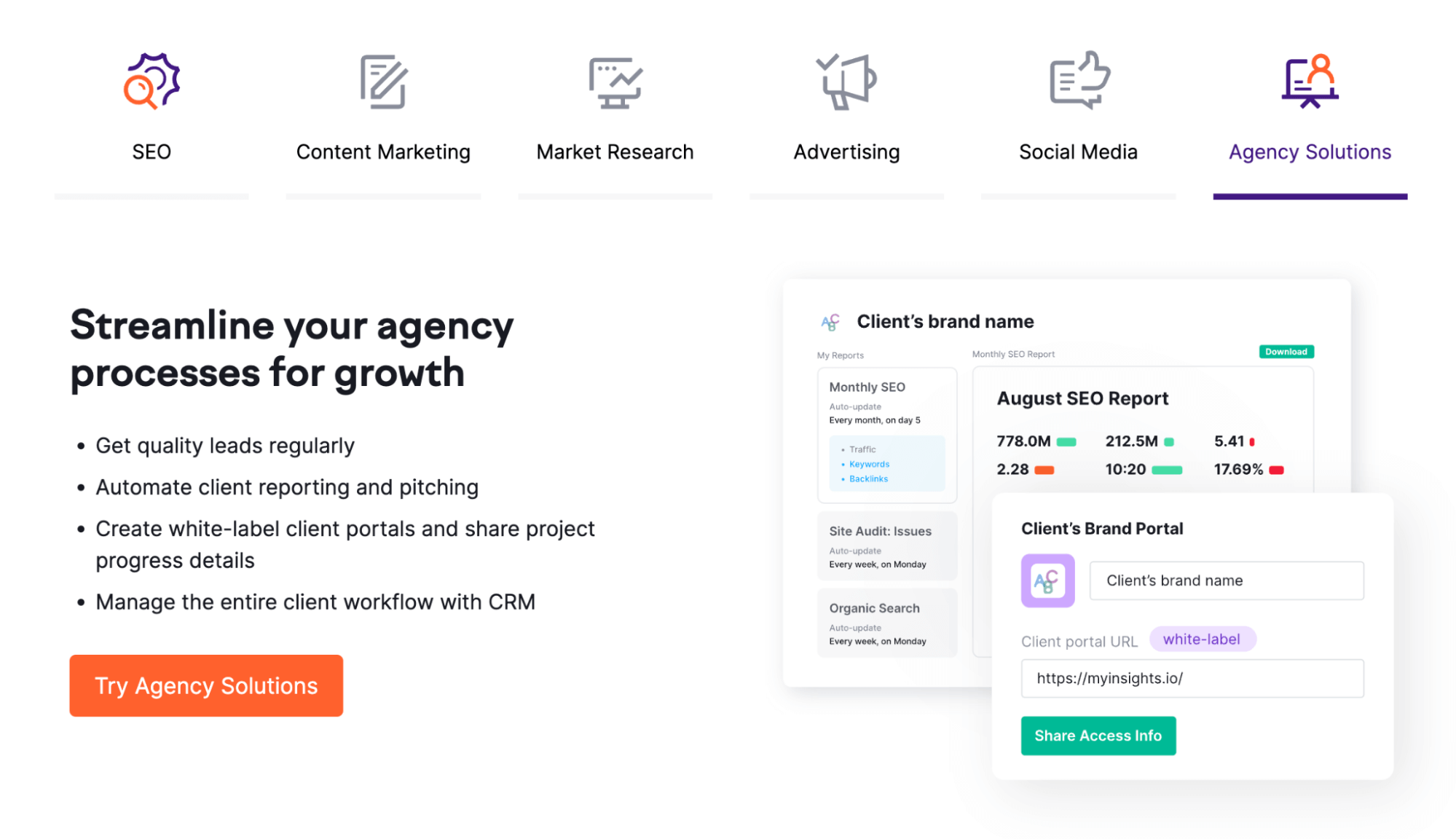 While each agency's services and internal processes may differ somewhat, they're largely facing the same challenges, pursuing the same goals, and using similar features within Semrush.
Pre-built content that targets specific use cases like these can help customer success managers support their buyers without feeling like they're explaining the same thing 50 times a month.
For instance, Semrush offers a number of free online courses: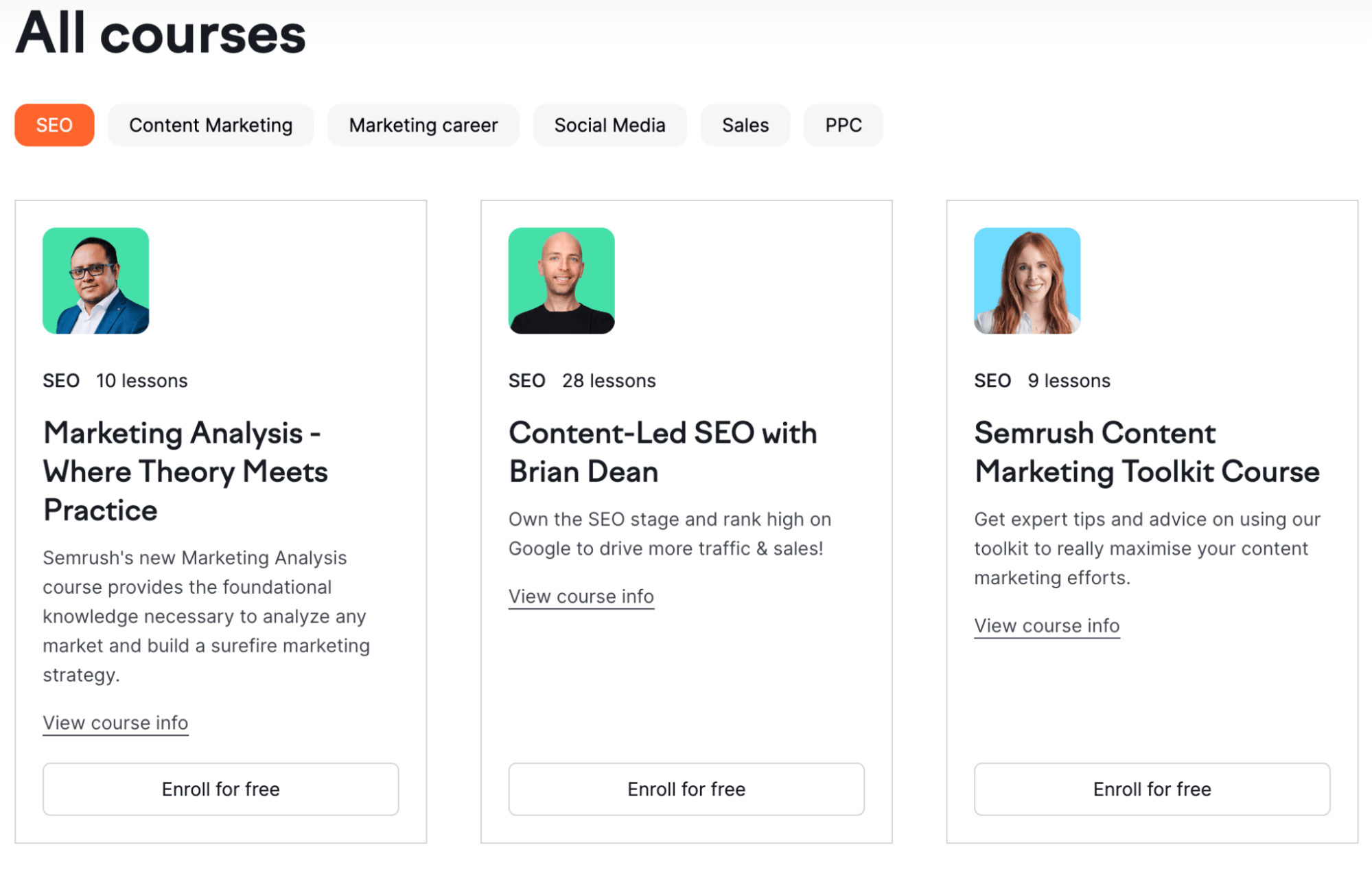 For content marketing agencies using Semrush to research keywords to use in their content strategies, the course "Content-Led SEO" could be an ideal asset for CS managers to help educate and support agency customers.
5. Use revenue intelligence to understand what drives account growth
Revenue intelligence is a software category that combines people, deal, and market intelligence to deliver powerful insights into actions you can take to drive account growth.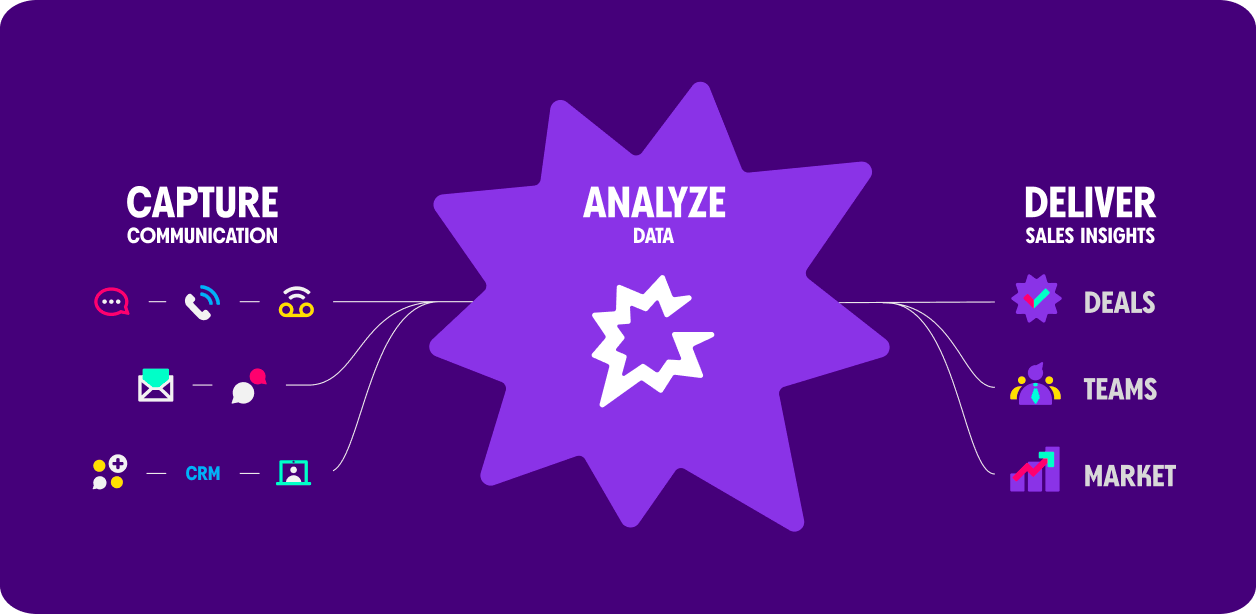 By analyzing communications with your buyers (be they via email, text, phone, or video), revenue intelligence tools compare different approaches to customer success and give you immediate insight into what works and what doesn't.
Consider, for example, that you have a team of five customer success managers. You have a company-wide churn rate of 5%, but this is propped up by one specific CSM who manages to keep their churn under 3%.
Revenue intelligence tells you what separates this individual from the rest. In this case, it may be that the highest-performing customer success manager reframes renewals in a way that avoids change, minimizing the prospect of churn at the renewal stage.
With this information in hand, you can provide further coaching to the other four CSMs to improve retention across the board.
6. Set up a process for catching churn signals early
Improving retention is as much about product education as it is about understanding what actions customers take before they churn, so you can jump in and solve objections before their mind is made up.
Gong's customer success platform can provide alerts to uncover early indicators of churn, such as if a customer mentions a competitor product in a conversation close to a contract renewal point.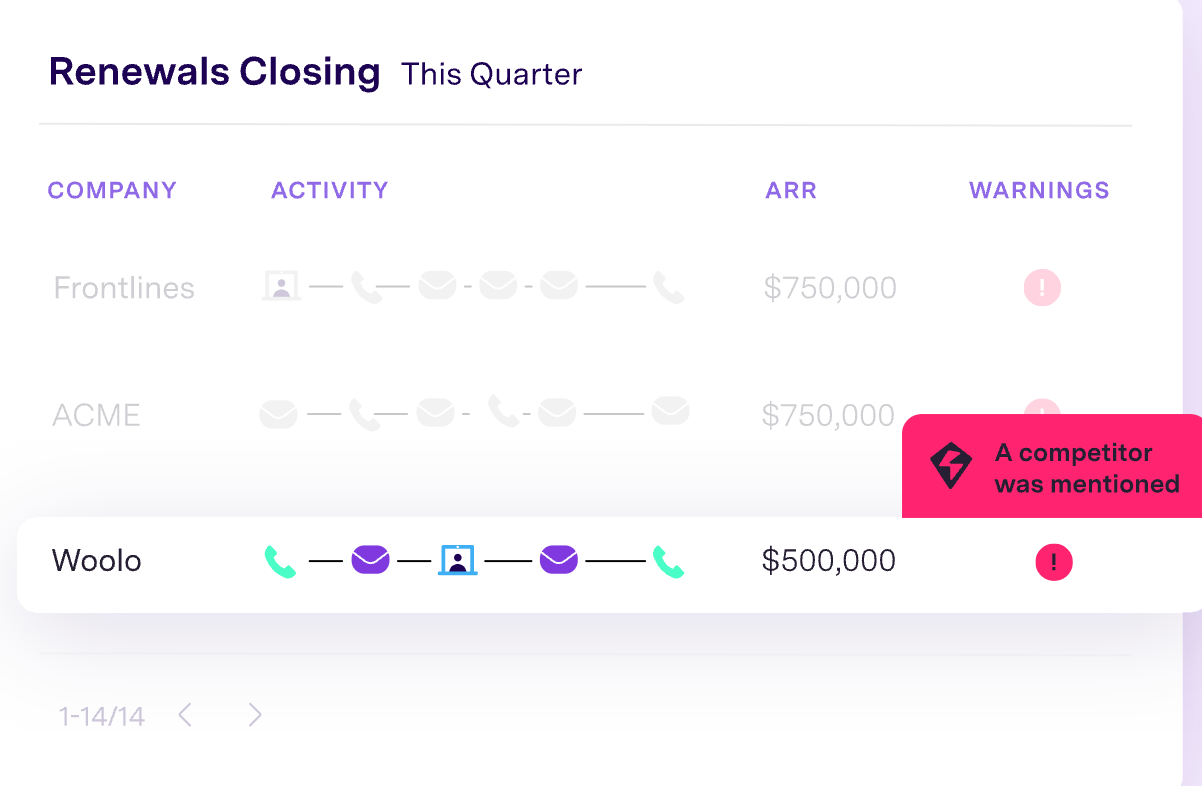 Then, you can use conversation intelligence to uncover the best word tracks and benefits to discuss to help buyers realize the value of your product and prevent them from jumping ship.
7. Drive recommendations using customer usage data
One of the best ways to ensure your product recommendations are relevant is to dive into customer usage data.
Software platforms like Mixpanel allow you to understand how a given customer is using your product and the features they're using (and, importantly, which they are not).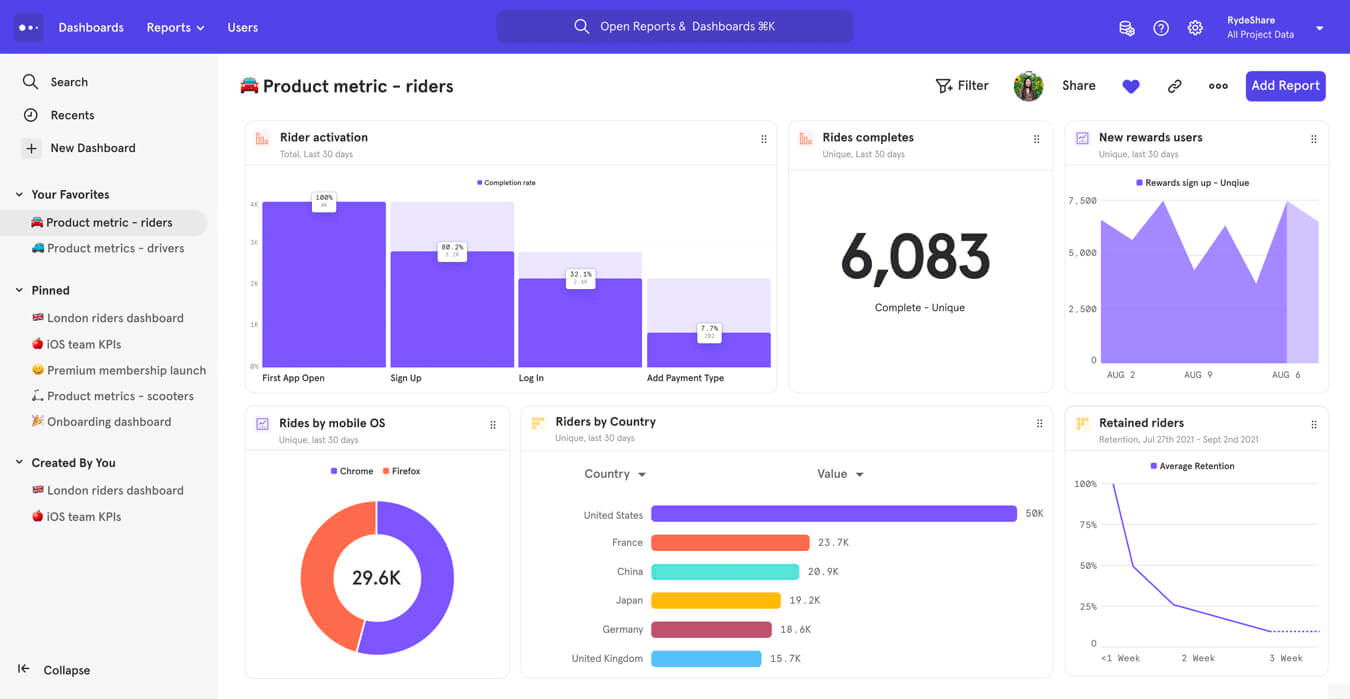 This information can be leveraged in two ways.
First, you can use customer utilization data to improve feature adoption. You want customers to take advantage of as many features in their plan as possible.
Remember: the more your platform is embedded in their day-to-day, the less likely they are to churn.
Using this information, you can identify the features that aren't being used, and provide relevant product education in the context of that customer's goals and use case.
Secondly, customer usage data can be used to upsell into a better plan or cross-sell add-on products.
For example, if a Semrush CSM has a customer approaching the limit of keywords tracked per month for their current plan, this is a great opportunity to jump in and sell the benefits of upgrading.
Drive customer success with Gong
Customer success is a crucial discipline for software and subscription businesses.
Investing in success drives retention, improves customer satisfaction and feature utilization, and ultimately leads to strong revenue growth.
With Gong's customer success platform, you can uncover exactly what drives retention and what activities, recommendations, and word tracks the top customer success managers are using to drive account growth.
See the magic of Gong in action
Request a demo today and discover exactly how Gong helps customer success teams drive success for buyers.