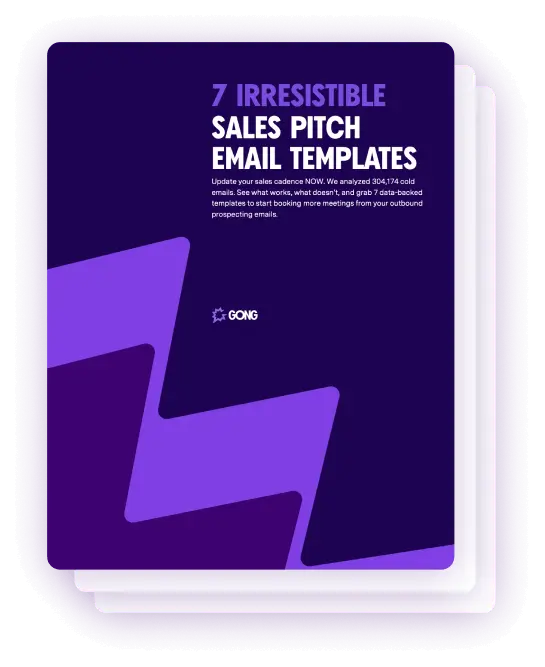 How to use the email sales pitch templates
Copy, paste, and begin

Simply copy the

sales email

template you want to use and paste it directly into your email client to save time.

Customize for each prospect

Don't worry: we did most of the heavy lifting for you. All you have to do is fill in the blanks for each email sales pitch template to customize for your prospect.

Watch response rate soar

These sales pitch templates are designed to catch attention and generate interest, so don't be surprised when your response rate ticks up and your calendar starts filling up with meetings.
Get the templates & within seconds you'll learn
The power of specificity

When you use one ultra-specific message, prospects have to do less work to find their area of interest.

The art of storytelling

The best outbound prospectors know how to take prospects from beginning, middle, and end of the story. Our email sales pitch template shows you how.

Words that sell

Did you know that words like "you," "your," and "imagine" can significantly boost your win rates? It's true, and we have the data to prove it.

Loss aversion technique

Learn how to leverage a simple truth about human psychology: people are 2x as likely to take action to prevent a loss than they are to obtain a benefit.

The interest CTA
More powerful data: asking for interest in your email sales pitch is 2x more effective than asking for a prospect's time.

The tactical apology

See how a tactical apology uses apologetic language as a persuasive tool—call it falling on your sword to generate empathy in your buyer.

Effective openers:

The right way to open your sales pitch emails. This opener has led to more replies and meetings booked than all other variations tested.

How to condition claims

Top sellers know how to introduce a condition to acknowledge that they're not 100% certain about a claim. Why? Because it actually makes the claim more believable.
---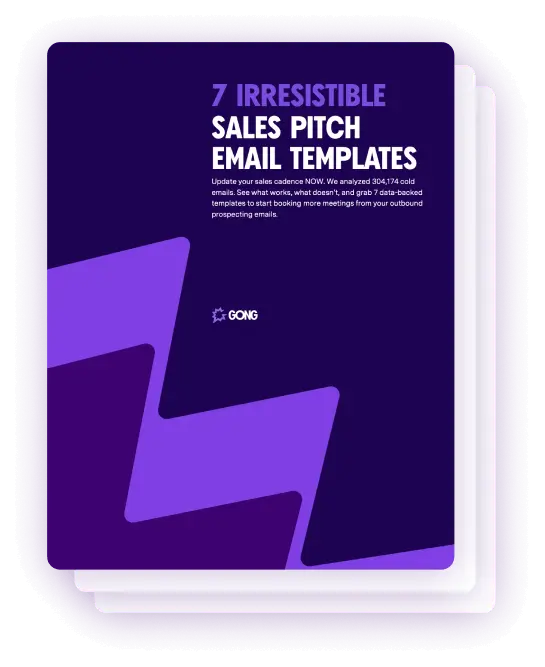 Making this one of the most valuable templates we've ever offered.
The 7 Irresistible Cold Email Templates bundle includes 22 time-tested, data-backed insights and techniques, more than double the insights we highlighted above—each one conveniently presented right next to its corresponding email sales pitch template. Ready-to-use is an understatement.
---
Who is this email sales pitch template for and how do I use it?
A: First and foremost, our email sales pitch template is for the sales reps out there doing cold email prospecting on a daily basis. It's not easy! Which is why we put so much research into not only crafting the templates themselves, but providing context, insights, and tips next to each one. Frankly, anyone who sends emails to prospects and customers can learn a thing or two from these templates.
What's included in each email sales pitch template?
A: Each email template is designed to help sales reps book more meetings from their outbound prospecting emails. But this is actually a bundle of seven templates. Each email template includes the following:
The template on the left, which you can quickly copy, paste, and customize

A Why It Works section on the right side of each template, explaining each technique and highlighting additional tips and best practices.
You'll find that the seven email templates are arranged in a 21-day prospecting timeline, which tells you exactly what to do on each day. So, you get more than the sales pitch email template—you get a blueprint for the entire cadence.
How was each email sales pitch template created?
A: We're all about infusing the entire sales process with a lot more intelligence and reality. Almost nothing we do is based on opinion, including these email templates. To create the email sales pitch template bundle, we analyzed 304,174 cold emails to see exactly what works and what doesn't. Each email template includes insights, data, and best practices based on our extensive analysis, so you know you're using a template that works.
Why do most sales pitch email templates fail? 
A: The most common problem we see with cold email templates is that they're too generic. They treat cold email prospecting only as a numbers game, instead of digging into the psychology of what does and doesn't work. It's no wonder that sales reps just copy and paste these generic templates over and over again without seeing any real results. With each sales pitch email template included in this bundle, sales reps will see the why behind every single technique, from subject line to CTA.
Do you have any more tips for outbound prospecting?
A: As your fellow fanatics of the email sales pitch, we've published all kinds of resources for outbound prospecting. Here are some of our favorite resources for the cold email sales pitch, in particular: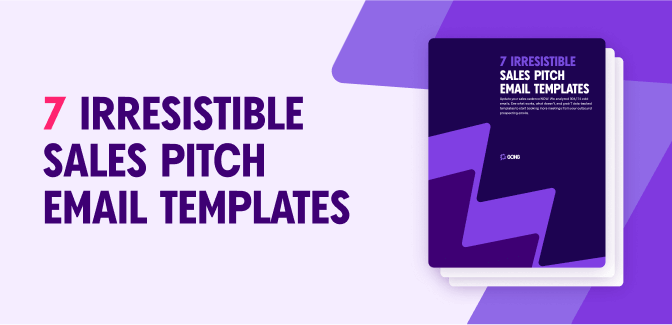 THE BEST EMAIL SALES PITCH TEMPLATES
Packed with insights, pro tips, and conversation starters. If you're outbound email prospecting needs a lift, better grab these templates.
Thank you for your submission.