Gong Labs
Data shows these 3 seller mistakes are costing you time and money
This article is part of the Gong Labs series, where we publish findings from our data research team. We analyze sales conversations and deals using the Gong Reality Platform's proprietary AI, then share the results to help you win more deals. Subscribe here to read upcoming research.
"Do more, with less."
"Boost productivity."
"Increase efficiency."
Those phrases are overused, but in an economic downturn, they're all that's on sales leaders' minds.
Companies regularly look for ways to maximize the time they spend with customers. Because making the most of every potential sale is what matters. No one can afford deal slippage right now.
So we're all agreed: Freeing up time to spend selling is important. So is avoiding seller mistakes.
But when new leads are hard to come by, how do you maximize the potential of your existing pipeline?
We analyzed more than a million interactions across 103,600 sales deals to understand just that. Which seller activities and behaviors move the needle the most on win rates and deal duration? Use our findings to prioritize your efforts and close the year crushing quota.
Our team studied six types of interactions that occur across deals, from prospecting to closure: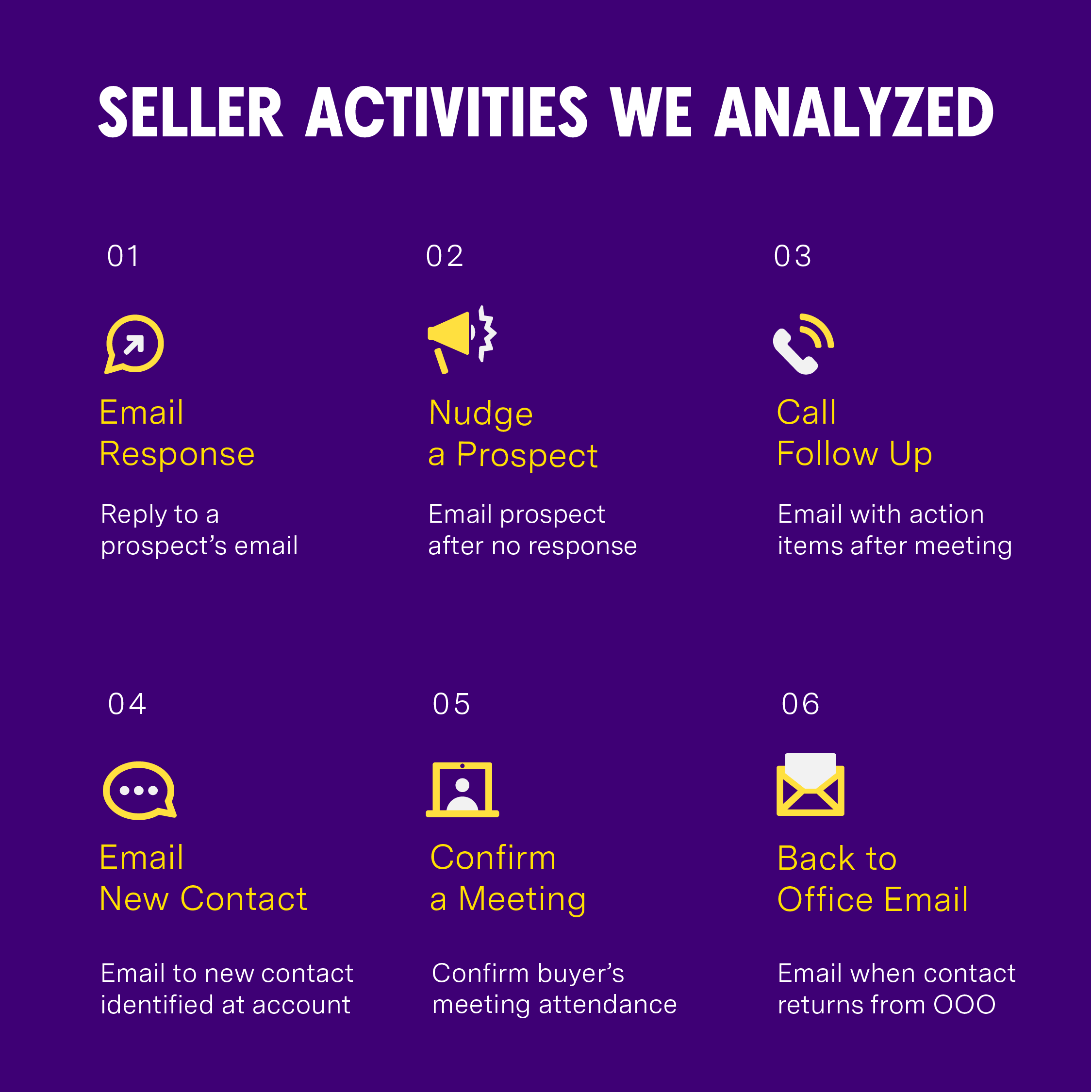 Sellers made three major mistakes across these interactions. Avoid all three and you'll win more deals in a shorter amount of time.
Mistake #1: You forgot to send that email
Hey, it happens.
As a sales rep, it can be difficult to keep track of everything on your plate. Hundreds of interactions across multiple channels, with numerous contacts at each account, creates overwhelming complexity for modern sellers.
Things slip through the cracks and you forget to send that follow-up email or circle back with that prospect.
In fact, 45% of sellers recently told us they have "one or more critical action item" fall through the cracks each week. Dropped actions cause them — and you — to leave serious money on the table.
That prompted us to compare opportunities with incomplete action items against those with100% completed actions. The deals in which action items were 100% completed had 20% higher win rates:
That's no joke. Imagine what a 20% boost would mean to your numbers!
Making sure you NEVER drop the ball on a critical action item is everything in today's market. You can't make President's Club with a leaky pipeline.
Mistake #2: You didn't proactively engage your prospect
Haven't heard back?
Buyer didn't accept your meeting invite?
Rejection can be discouraging, but our data shows it's still worth your time to send a follow-up email to nudge a prospect or confirm that your buyer will join a call.
In fact, after analyzing several types of follow-up actions sellers can take, we found that communication that is not a direct response to a buyer's communication has the highest potential to increase win rates: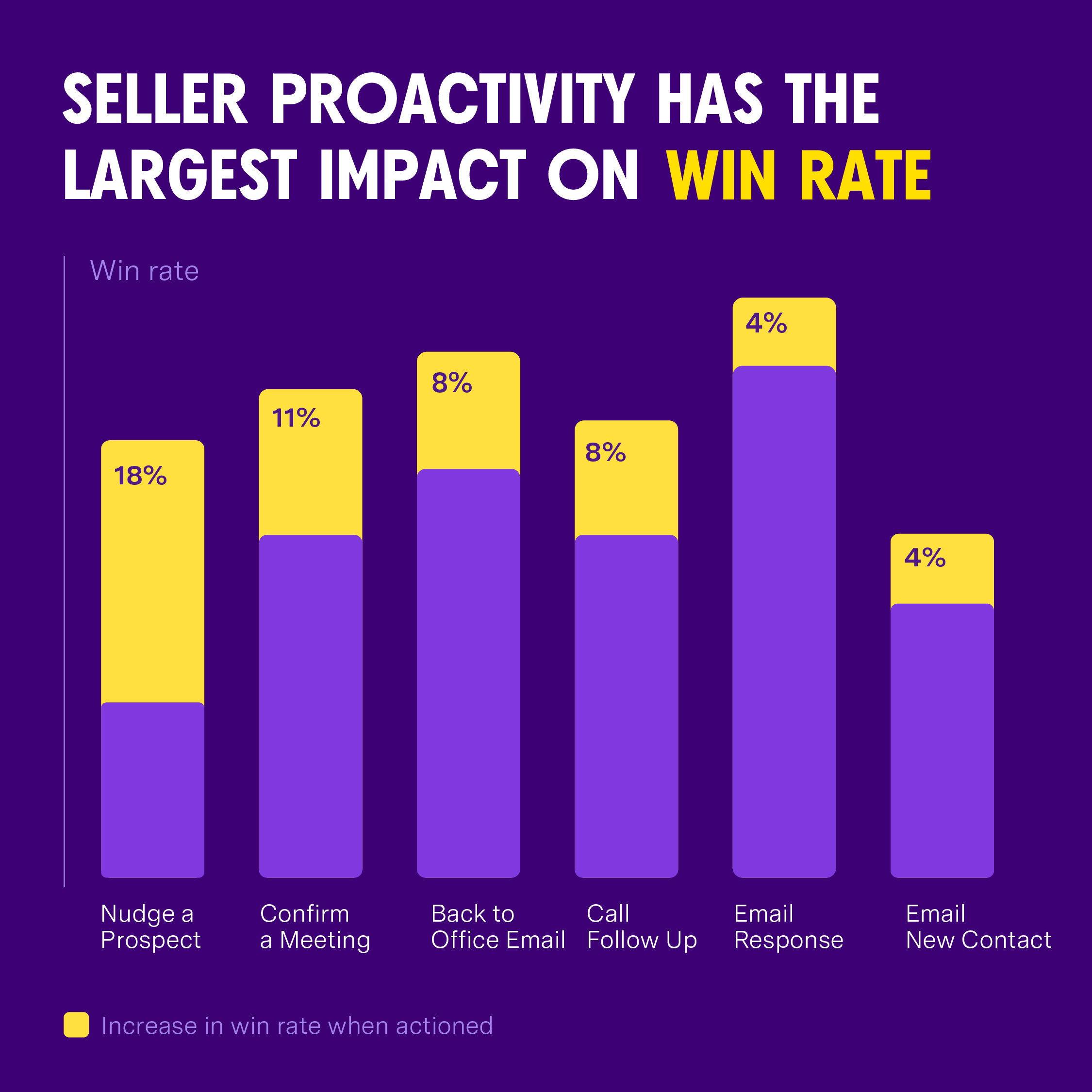 For example, when sellers sent an additional email to prospects who hadn't responded, win rates more than doubled, compared to not sending anything further.
Prospect didn't accept a meeting invitation? Confirm their attendance and send them an agenda of what you'll cover on the call.
Need help crafting these types of emails? We've got you covered!
Use these tried-and-true templates that work for any situation you find yourself in, from prospecting to proposal. They're all there, in our 11 Hyper-Persuasive Sales Email Templates:

Mistake #3: You waited 24+ hours to send that email
Closing out for the day? Not so fast.
Did you remember to send ALL your follow-ups?
Timing is critical when it comes to buyer engagement.
Our data shows that 32% of the time, reps don't follow up within 24 hours. But when they do, they see a 14% increase in win rate and an 11% decrease in deal duration: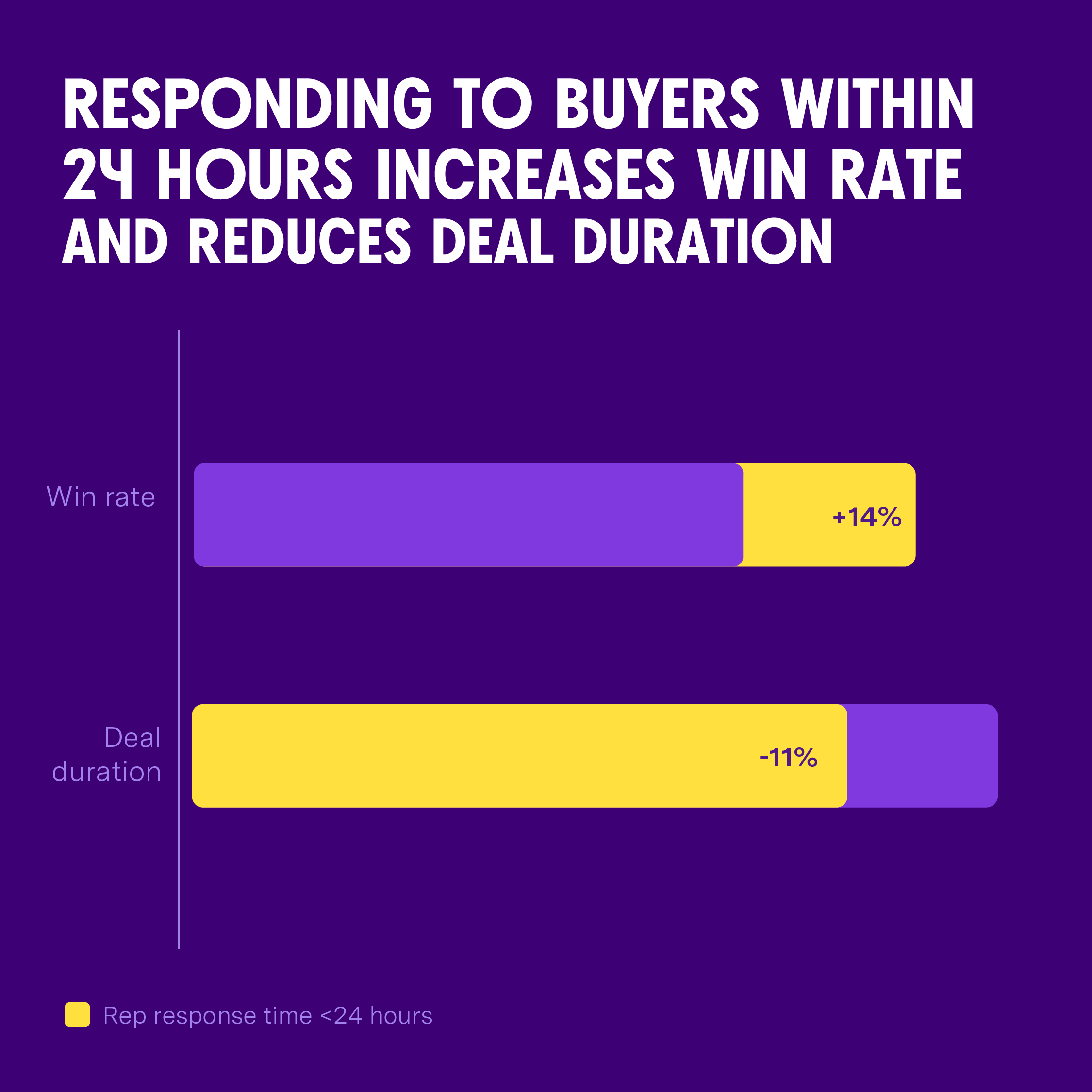 In fact, a closer look at the data suggests that you should action items within the same business day.
The chart below shows the correlation between response times and win rates. Five to 10 hours is your "sweet spot" in terms of follow up, with the highest average win rate of 49%: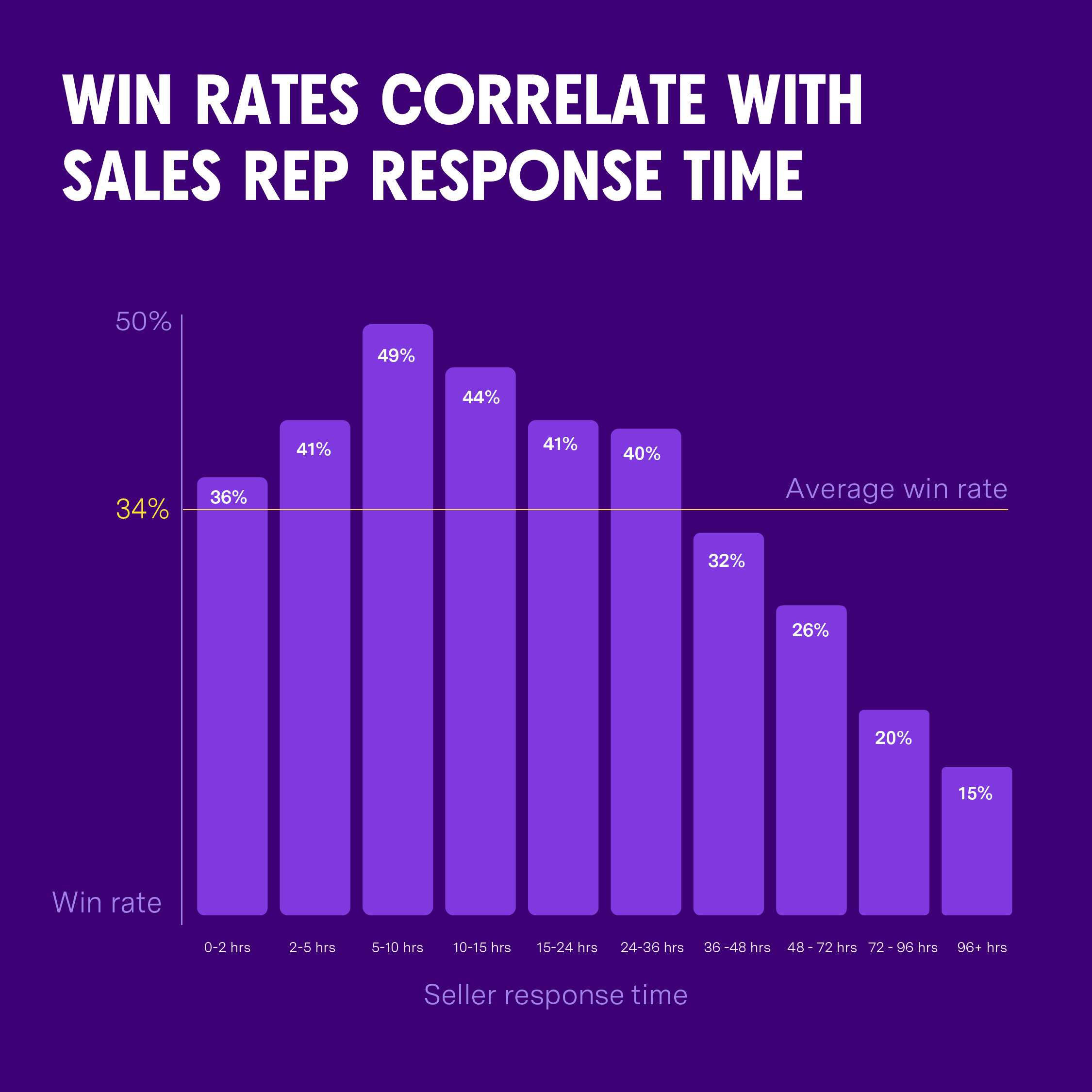 It's not surprising that the top reps have great time management skills. And it pays to be quick on the draw.
Make that part of your MO by blocking off one or two time slots each day when you action your follow ups and emails. Having dedicated points in the day just for follow-ups ensures that you provide timely and valuable responses to prospects and customers.
Deals are already competitive. Don't make matters worse by being unresponsive to your buyers.
Close more deals, faster
Your buyers are being bombarded with emails on a daily basis. In fact, 86% of all the interactions we analyzed for this analysis were emails.
That means the quality and content of what you send matters. Stand out from the crowd more easily than ever, with our 11 Hyper-Persuasive Sales Email Templates.
You'll get a how-to for every kind of sales email you need. Just copy, paste, and personalize. (It's like Mad Libs for making money.)
Download your 11 Hyper-Persuasive Sales Email Templates for free, here:

Subscribe to Gong Labs here so you never miss a new insight and data filled edition.