Gong Labs
Avoid these selling 'dead zones' and you'll win BIG this holiday season
This article is part of the Gong Labs series, where I publish findings from our data research team. We analyze sales conversations and deals using AI, then share the results to help you close more revenue. Subscribe here and follow me to read upcoming research.
Mention 'the holiday season,' and people picture turkey legs, decorative lights, and New Year's parties.
But mention that time of year to us sales pros, and we'll add high stress to that list. 
That's because the holiday season is the most challenging time of year to close business.  
Meetings push. Deals slip. Forecasts fall. 
And chasing CFO signatures mid-travel becomes a (miserable) full-time job.
It's a nightmare for sales teams because quota never sleeps.   
To prevent you from getting stung by the ghost of holiday present, we analyzed over 400k sales interactions to see when your forecast, deals, and meetings are at risk.
The result? The ultimate holiday selling guide. 
More specifically, it's a holiday selling calendar, with hot spots and cold dates for scheduling meetings and collecting signatures.
Use these insights to unbox your Q4 quota and get peace of mind so you can shatter revenue records AND enjoy your holiday break.
Side bar: About Gong Labs
We get our insights by analyzing sales interactions from our product users (anonymized of course). That includes everything captured by Gong's revenue intelligence platform – web conference meetings, phone calls, and emails. Then we analyze how seller and buyer behaviors impact success rates. 
For this report we analyzed booked meetings and final deal outcomes to learn when sellers are most (and least) likely to get a deal signed during the holiday season and which dates have the best (and worst) 'held meeting' rate. 
We looked at November and December, which include holidays such as Diwali, Thanksgiving, Hanukkah, Kwanzaa, and Christmas. Thanksgiving and Christmas had the most statistically significant outcomes because of office-wide shutdowns.  
Buyers don't sign during the holidays
The winter holiday is real: 
Prospects sign 27% FEWER contracts during the week of Thanksgiving. 
And you can forget about a signed contract in your stocking. Sign rates drop off by an excruciating 78% during Christmas week.
It may seem obvious that people are distracted during the holidays, but it's easy to think our own deals are an exception. The reality is, you care more about your deals than your buyers do.
Instead of stressing your buyer (and yourself) over the holidays, get agreement from buyers on a closing plan for the week before the holiday. 
(Pssst: Avoid holiday heartbreak with our Holiday Selling Guide. It has heat maps, insights, and talk tracks so you can coach reps to close more deals and book more meetings. Download it for free here.) 
Sales leaders, here's how to protect your forecast
"My forecast should be a hope-free place." – Shep Maher, CRO, Betterworks 
Strong forecasts are built on reality.
And that requires visibility into every customer interaction.
If you have that visibility, you can look for every type of risk in your pipeline and protect your forecast. 
For the holidays, you want to check the scheduled sign date for every forecasted deal.
Because if they're in holiday dead zones, your forecast is at risk.
Watch out for deals with close dates within the lowest 'signed contract' rates: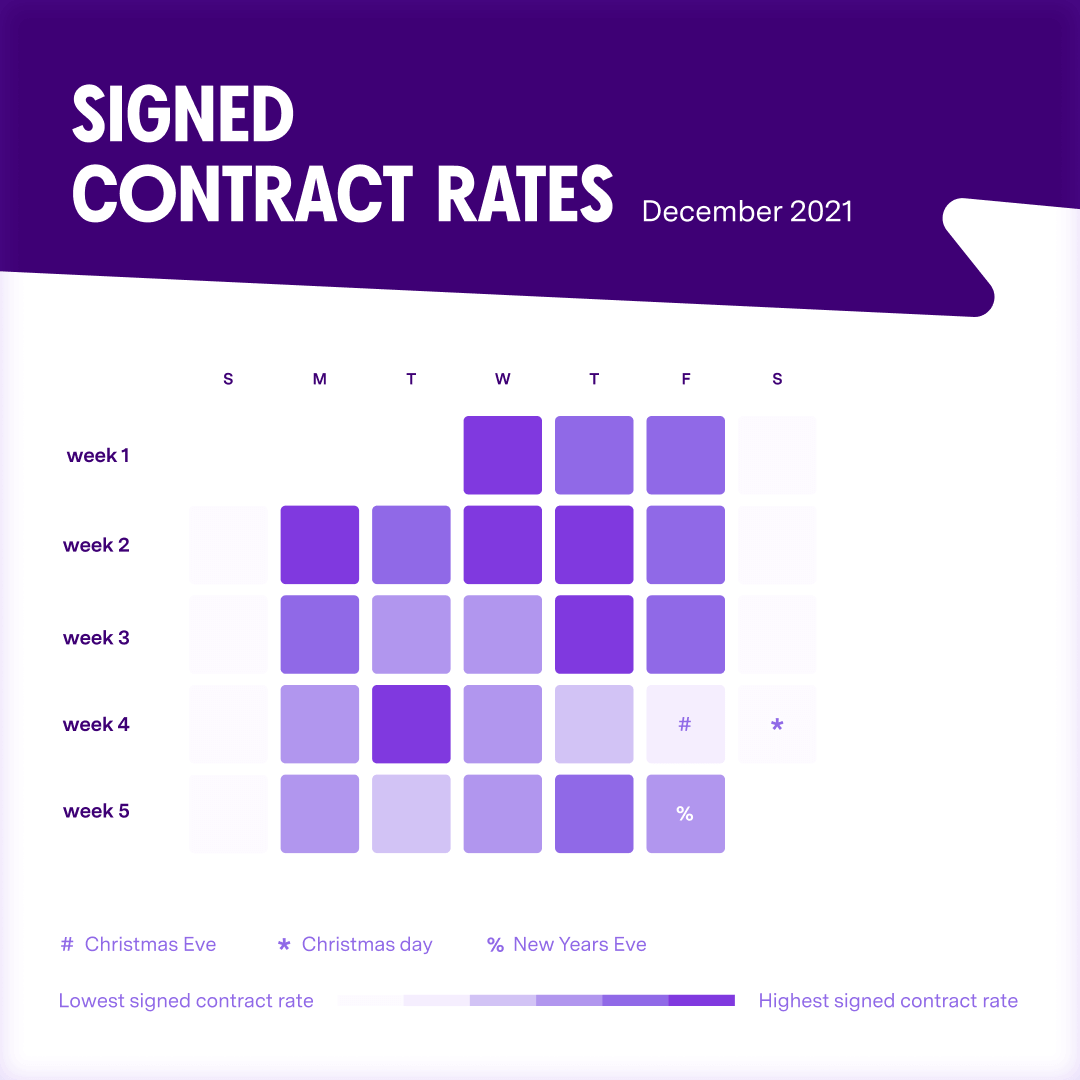 If you see a deal at risk, connect with your rep or managers and talk about a more productive close date.
Deal momentum is key when it's crunch time, but end of year success for reps means spending time where they can win.
More below on where that time is best spent…
Meeting no-shows skyrocket around major holidays
No one likes getting stood up. 
It's even more crushing when it's a C-level closing call — especially if it's a must-win deal to hit quota. 
But that's just part of the game, right?
Not necessarily. 
It's tempting to sneak in an important meeting with a decision maker on the Wednesday before Thanksgiving or on December 23rd.
I mean, we know that time kills deals, so we often keep pushing deals forward by any means necessary.
But scheduling meetings during these dates is a losing strategy.
On average, reps are ~2x more likely to get stood up for a sales meeting in the week of major holidays:
Buyers who initially said yes to a meeting will bail once the vacation mindset sets in.
For most buyers, hanging by the fire with eggnog is an easy choice over another web conferencing call. 
So that full calendar leading up to the holidays doesn't guarantee a filled Zoom room. 
That's why it's critical to book meetings outside the holiday danger zone. 
Prospects are 13% less likely to show up to a sales meeting the week of Thanksgiving.
And it's even worse during Christmas week, when attendance rates drop by 78%.
Missed meetings means chasing buyers for reschedules, and that leads to delayed deals and an increased risk of missing close dates and forecasts. 
Want meetings that stick? 
Use this heat map to see when buyers are most likely to attend a meeting. It'll help you pick the right dates and reduce no-shows before they send out calendar invites.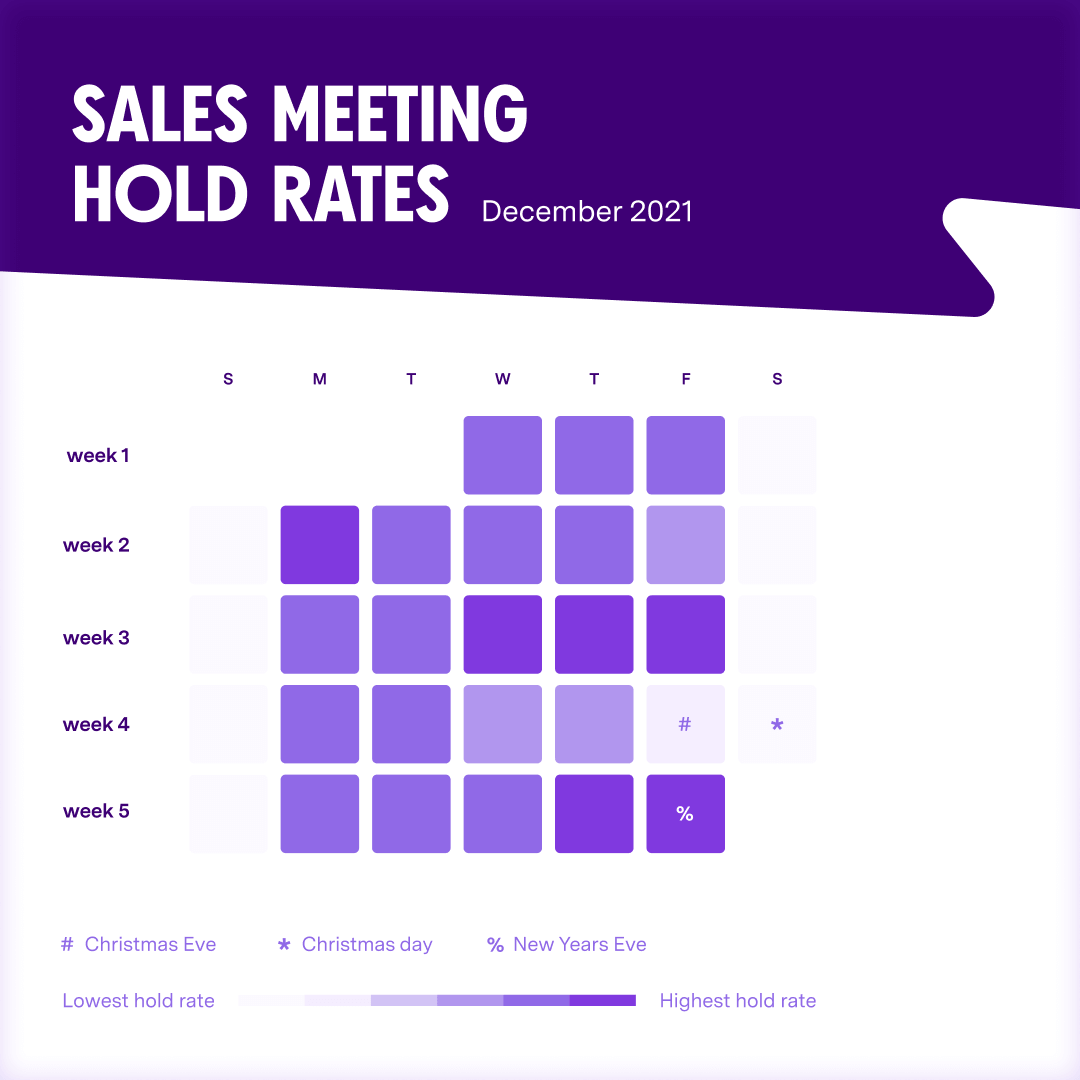 How to win BIG during the holiday season
There are three things you need if you're going to shatter records this season:
Bulletproof closing plans
Forecast confidence
Talk tracks that motivate buyers to move
You'll find all three in our Holiday Selling Guide. 
This is how you turn slow months into a sprint across the finish line. 
Without it, you risk last-minute forecast fumbles.  
Download your Holiday Selling Guide here for free.  
It's the only stocking stuffer that'll help you hit quota.
PS: Want to avoid 3 other deadly EOQ deal mistakes?
End of year is almost tied up in a bow. Let's keep it that way.
I'm unveiling 3 data-backed signals on why deals get pushed out at Celebrate: The Revenue Intelligence Summit.
You'll learn how to avoid mistakes, keep deals on track, and use data-driven signals to protect your forecast.
It's happening on December 2nd.