Guides
5 Must-have sales playbook examples
Just imagine where you'd be without your sales playbook. Randomness on every call, never knowing what works (or doesn't work) with customers. It's a pipeline disaster.
Let's steer you clear of that doomsday scenario. We're dropping our best sales playbook examples on you for free. Referrals. Coaching. Objection handling. And so much more.
Jot down your email address to win all five golden tickets to the sales chocolate factory. Run it like you own it, cause our top five sales playbook examples are yours.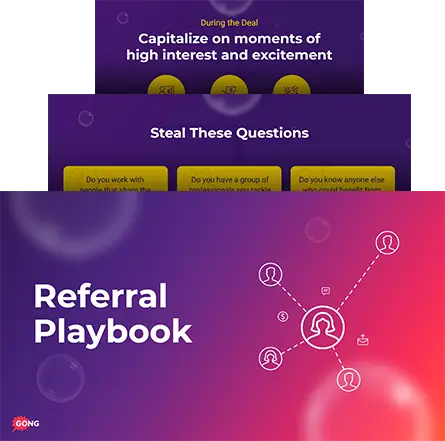 #1 Sales referral playbook
Ditch cold calls. Ditch follow-up emails. Ditch brainstorming sessions where you come up with wild ways to get a prospect's attention. (Okay, okay. Cameo's fun and we're guilty as charged.)
Truly though, nothing beats a personal introduction. It gains you trust in a heartbeat and immediately establishes you as a reliable source. With almost no work. Just a request and a proper thank you.
Well, maybe there's a bit more to it than that. You have to know what to say and when to say it to get great results. Our example sales referral playbook gives you a five-step process to open the door. It also clarifies the best time to ask for intros and even has prefab email examples and call scripts.
We can't stress enough how many people are willing to make great introductions if you'd only ask. Most reps just don't bother. Time to distinguish yourself from 'most reps,' and cash in on sales that are only one degree of separation away. Enlist your buyers in multiplying your pipeline.
We'll step aside now so you can hit this:
---
#2 Sales coaching playbook
Five's the magic number, once again. This playbook has one, two, three, four, five examples of coaching power plays that will forever reshape how you coach your team.
You'll learn coaching techniques that scale — because listening to hundreds of calls simply isn't feasible as your team grows. (And it will grow when leadership sees your team's new numbers!)
Sound impossible? We assure you, it isn't. The key is working smarter, not harder.
For example, you'll soon understand where and how elite sales leaders focus their time so they can coach with impact. They quickly figure out where reps go off track and are able to course correct with lightning speed.
The lessons in this sales playbook example all apply whether your team is in the office or working remotely. Wherever they are, your team will get exceptional value out of your feedback because it's based on reality and relies on real examples of your reps' work. The proof will come in more closed-won deals that'll have your resps begging for more coaching feedback.
They're gonna love what you're dishin' out.
---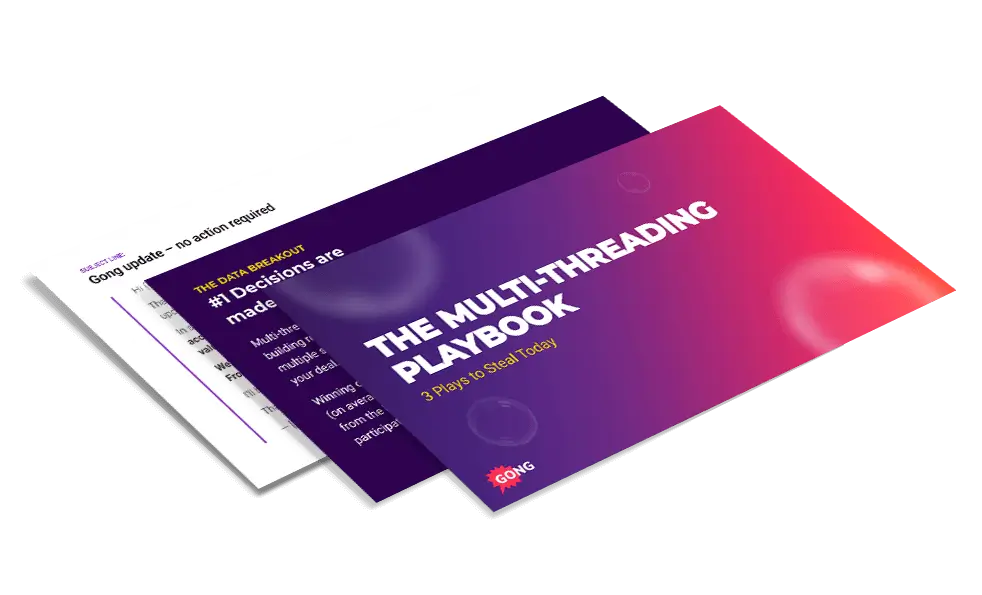 #3 Multi-threading playbook
When a prospect goes stealth, you need to know why. And fast.
Better yet, prevent that from ever happening. No, you can't stop your contact from quitting (table flip goes here), or prevent them from getting a promotion without looking back. But at least you can make sure they're not the only person in control of your deal's destiny.
Multi-threading gets the right people involved in every deal so no deal is ever dependent on one person… a person who can sink the deal at any moment by disappearing. If you're not already using multi-threading as a de-risking technique, it's going to change your world. And if you already know about it, let's make sure you're up on the best techniques.
Ever wonder how the top-performing reps pull real decision makers into their deals? Or how to even get your foot in the door with management in the first place? There's a sales playbook example coming your way!
Get multi-threading sequences and email template examples that you can tailor to your needs right now. Giddy up, buttercup.
---
#4 Competitive deal playbook
Get ready to rock your lighter/phone as you play "We are the champions."
As much as you want to ignore them, the competition is there, lying in wait, right behind you. But fortunately for you, a little magic in the form of a perfectly polished sales playbook example is about to land on your desktop to help you win your customers' hearts (and wallets) forever.
Want to see how to use winning strategies, like leading with your differentiators, not to them? (That's a huge distinction you shouldn't miss out on. 'Cause it'll make or break you, and we have the data to prove it.) We've got plenty of proven strategies on offer.
And do you know which competitor strategy to use depending on what stage of the sales cycle you're in? You soon will. You'll also dig into the importance of getting involved in competitive deals early on. Quick! Before it's too late…
Go get your win on.
---
#5 Objection handling playbook
It's not so easy to tamp down your gut instinct.
But that's precisely what you have to do the next time it tells you to jump in ASAP to reply when you hear an objection.
Instead, take a minute to pause and reflect on all you learned from these exceptional sales playbook examples. In this last one, you'll learn the behaviors winning reps use time and again to soothe objections and close deals.
Get sample talk tracks that are designed to win when your customer starts to put up walls using common objections. This sales playbook example also serves up eight techniques used by the reps who win most often. (You'd want to get a hold of those, wouldn't you?)
Better yet, learn about the four phrases customers often use to disguise their objections. That's right, we said disguise. There are objections hiding in plain sight in your small talk with customers. You're about to learn to recognize them for what they really are, as well as how to deactivate them.
Plus, budgets aren't loosening up anytime soon, my friend. Better get used to handling today's most common objections like a pro so you can keep deals moving forward. You'll never flinch again when you hear, "I need to think about it."
GET THE FANTASTIC FIVE
No coupon codes. No negotiations. No contract vetting.
Just astoundingly helpful sales playbook examples. They'll have you on track (talk track, that is) to more closed-won deals in no time.
Thank you for your submission.