Blog
Turning Good Revenue Teams Into Great Ones: The Power of Insights – Now in Real Time
Good sales teams want to become great sales teams. And to take that leap, they need to have a clear vision of what great looks like, and a plan for how to execute on it. But without the right data that provides visibility into the topics and behaviors reps struggle with on calls, and insights into the soft and hard skills that win deals, they're going to struggle with how to know what great looks like.
According to McKinsey, 57% of sales teams acknowledge they do not use advanced analytics effectively. But as high-performing teams know, armed with the right data, they can identify where reps are and aren't maintaining best practices, and course correct accordingly to close deals. In turn, strategic and robust use of data can lead to improved decision-making at the highest levels of the business. Gong enables this clarity through the Revenue Intelligence Platform, which provides managers and sales reps alike with metrics, insights, and recommended next steps to boost team performance.
Now, Gong is bringing insights even more deeply into reps' workflows with real-time features in the Gong App for Zoom. The new features flag conversation data while the interaction is taking place so reps can course correct during the call. For example, if a rep is spending more time talking than the Gong platform suggests based on past data that suggests the right amount of time to talk vs. listen in order to win a deal, it would alert them in real time that they should cede the floor to the prospect.
The Gong App for Zoom's real-time features allow sellers to be more focused on customer conversations, leaving the behavior prompting up to the system to do automatically. It can also help them tailor behavior in real time. For example, if the most important stakeholder on the call is silent, the rep can quickly pivot to engage that specific individual, rather than leaving it to follow-up.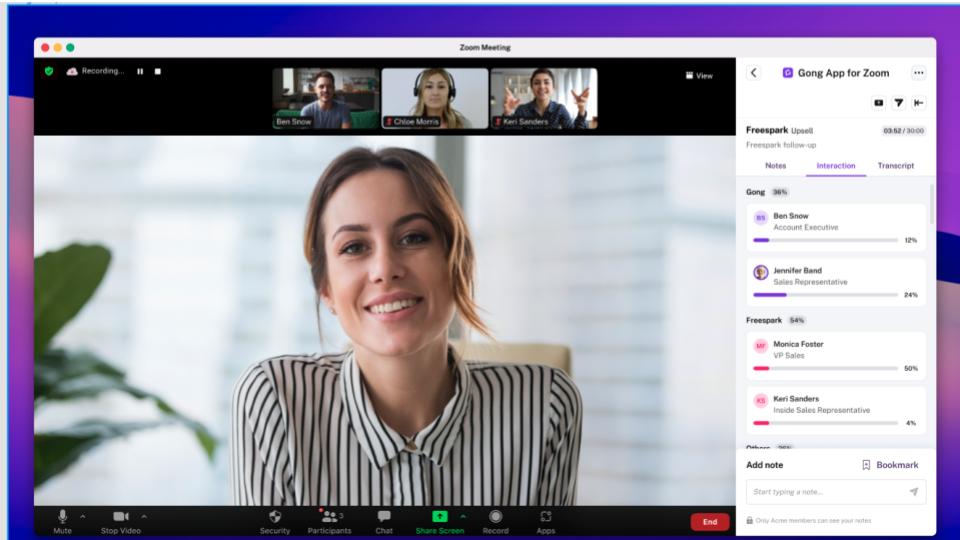 The Gong Revenue Intelligence Platform uses proprietary AI technology to enable teams to capture, understand and act on all customer interactions in a single, integrated platform. Gong's advanced AI capabilities also extend to coaching. Gong generates summaries of critical information conveyed in sales calls, including intent and outcomes, based on what's important to the business. This helps managers prioritize the most pressing actions for teams and coach through obstacles.
The real-time features are generally available for all Gong subscribers through the Zoom app store. Just log into the Gong App for Zoom to get started. See it for yourself today!