Blog
Integration partners amplify the benefits of Gong Engage
No platform exists in a vacuum. That's why it's important to think about how the pieces of your tech stack impact your internal processes, especially when it comes to prospecting and sales engagement. It's also why we're so focused on partnerships at Gong!
Our latest AI-backed innovation, Gong Engage, gives you more than the ability to solve the challenges of cumbersome and disconnected prospecting workflows. It leverages the Gong Collective (our integration partner network) to help you continuously augment your workflows using data from 150+ integrations.
It's your eureka! moment, RevOps:
Gong Engage gets more powerful with every partner integration you enable.
When data and workflows are poorly integrated, it's tough to create and accelerate pipeline. You have to corral your data before you can use it more efficiently. Bring all your data in line under Gong Engage and you'll master a well-connected ecosystem — one that runs smoothly and uses data to your advantage at every turn.
(Plus, AI improves with every bit of data it ingests, so it's in your best interest to feed all the sales cycle data in your orbit into one AI-backed platform, Gong Engage.)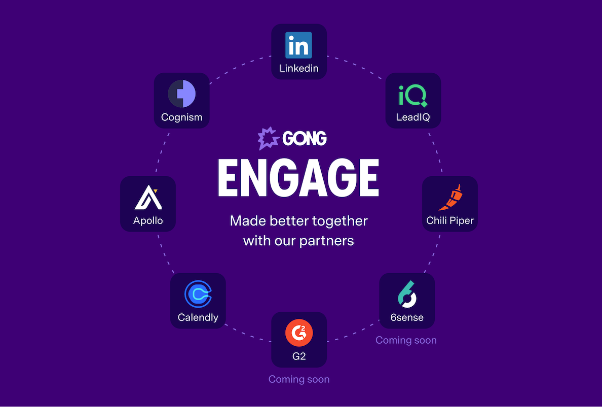 3 integration categories help you get more out of Gong Engage
There's nothing more powerful than consolidating your entire tech stack's data and using it to streamline your workflows and ramp your productivity.
In the case of Gong Engage, integrations enhance your sales engagement journey by amalgamating data from numerous tools from prospecting through close. They bring this information together in one platform, giving you what you need to streamline workflows, see the full context of every account and deal, save time (read: less platform switching!), keep everyone connected, and focus your team on the contacts and buying signals that matter. It's the pinnacle of efficiency and cost savings.
Our customers find three categories of integrations particularly helpful:
Contact data integration partners tell you who's a good bet
What should you expect when it comes to expanding your contacts and moving an account forward when you use Gong Engage and its partners? Through access to the most relevant contact data for your deal, which lets you target the right buyers at the right time. The contact data available to your team makes your sales cycle more efficient and increases rep productivity through quality engagement.
Gong Engage sends your reps AI-powered recommendations about which individuals to reach out to, based on historical wins. Reps can easily access the necessary contact information from partners like Cognism or LeadIQ in Engage, without switching systems. As an added bonus, you can purchase both of these partner platforms directly from Gong at a discount! This single sales cycle makes the procurement process quick, easy, and smooth.
Similarly, using accurate and up-to-date data from our partners at Apollo, your reps can confidently reach out to the right prospects, personalize their approach, and foster robust relationships.
LinkedIn is another favorite that taps into professional networks, offering rich insights for personalized outreach to help break the ice and make deeper connections with prospects.
Ryan Katzenberger, the Director of Sales Development at SmartRent, voiced his enthusiasm about Engage, saying, "What's promising is Gong's AI's ability to recommend the best contacts to reach out to, which will help [reps] create pipeline more efficiently."
The data-backed connections recommended to you by Gong and powered by our partners are targeted and powerful. They keep your sales cycle as efficient and productive as possible.
Intent data integration partners know what your buyers are thinking
Sales leaders agonize over decisions about which accounts to prioritize. And who can blame them? Send resources to the wrong accounts and you risk slowing sales cycles, frustrating reps, and potentially losing winnable deals.
Soon, you'll be able to enhance your account prioritization with the ability to sort accounts based on your CRM intent field. This will allow users (who have intent scores pushed to their CRM by 3rd party vendors) to sort their list of accounts based on a numeric score.
All with the goal of improving your decision-making capabilities using partner integrations.
If you've ever wondered: who are my prospects comparing me to? How can I proactively tackle competitive objections before they get out of hand? Our partnership with G2 helps bring visibility into the minds of your customers and prospects to learn who they might be considering and how you can highlight your differentiators to stand out and win more business.
We're also planning additional functionality with companies like 6sense who collect unique intent data about your buyers and bring it into the place where sales reps and managers spend the majority of their time. These insights into buyer intent make it easier to identify and prioritize high-value accounts that are actively seeking solutions. You're able to see exactly where to direct your resources, in real time from your Engage dashboard.
Scheduling partners make it easy to automate and save time
Engage offers the flexibility to connect your favorite scheduling solution and easily automate rep flows like booking key meetings with prospects and customers.
Speaking of automation, it's what gives this category its magic. It allows you to streamline your appointment management processes and maintain momentum in conversations. When you integrate and automate your favorite scheduling tools, reps never forget to schedule a meeting and can easily share their availability. It's easier for prospects to book a next meeting without any back and forth, which helps shorten deal cycles. Reps can focus on personalizing their approach, which means they spend more time selling.
Already using our partner, Chili Piper, to set up your daily meetings? Integrate with Gong Engage and you'll be able to automate the process of setting up appointments with multiple calendars, on behalf of others and for a variety of meeting types. As a bonus, the Chili Piper integration includes an authorization to record calls as a part of the scheduling process. Recorded calls go off without a hitch.
If you're a Calendly user, you can easily leverage the integration in a similar way to schedule a next meeting with scheduling partners like Calendly, so the deal moves forward without missing a beat! Ensuring that your customers and prospects can easily find time to meet with the relevant members of your team helps offer a seamless experience through their buying journey. 
Engage's commercial offers save you time and money
The benefits of connecting with these Engage partners aren't limited to productivity enhancements and time savings. There are serious cost benefits too! Many of our partners offer exclusive discounts to Gong customers, making your tech stack more affordable.
We have pre-negotiated discounts (for new customers) with numerous Engage partners. You can even make certain partner purchases through Gong, which streamlines the buying process. That means you'll encounter fewer negotiation cycles while reducing your spend. (RevOps teams love this.) We've done the work for you up front, so you skip the buying cycle and get new platforms into your hands — and up and running across your team — faster. Plus, they're integrated with Gong from the get-go.
Find your favorite platforms in our full list of partners as you plan your tech stack's integration: It's all here in the Gong Collective (our integration partner network).
Embrace the future with Gong Engage and 150+ partnerships
Our 150+ partners enhance every aspect of Gong Engage bringing digital interactions into a single place to support rep efficiency and productivity. They work alongside us to ensure you're not just meeting but exceeding your sales goals and delivering efficiency and productivity to your teams at every turn through integrated data. We'll continue to drive innovation through collaboration with our partners, bringing unparalleled insights and value to you and your team.
Ready to revolutionize your sales engagement strategy? Embrace the power of our partner integrations, and join us in completely reimagining sales engagement.