Blog
The Impact of GDPR on Sales Could Cut Your Pipeline in Half—Here's What You Can Do About It
Sales Management
Selling Skills
Starting May 25th, the impact of
GDPR
on sales and marketing teams could force you to experience a serious pipeline drought. Why's that? Because your contactable marketing list may be
cut in half
. The standards for achieving consent on your marketing list will become much higher, and a
huge
portion of many companies' email lists will be considered non-compliant with GDPR. That means the impact of GDPR on sales will put a number of
meetings
and
qualified opportunities
that come into your pipeline at risk of being cut in half. If you're a sales organization that relies heavily on your marketing list for pipeline generation, read on. I have a few ideas for you:
1) Evolve from "Pipeline Management" to "Deal Execution"
Viewing your pipeline as a whole obscures the nuances of its individual deals. Those deals (and the sales meetings contained within those deals) are precious opportunities. Every deal has
a lot
of moving parts. Each one has its own cast of characters, time horizons, buying criteria, etc. As a result,
each deal requires its own strategy.
When you zoom out and look at the aggregate pipeline, you can't appreciate all of the moving parts, and they get neglected. That's when deals start to break down right under your nose. What's the alternative? Zoom in on the deals that make up your pipeline.
"Deal storming"
has become a common practice among successful B2B sales organizations, and for good reason. It works. During your next 1:1 with a rep on your team, pick a valuable deal in their pipeline. Dissect it. Poke holes in it. Map out a strategy to close it. If it's a large account, bring diverse and unusual perspectives into that conversation. Sales reps aren't the only ones who can think of
creative ways to hit sales targets
.
It's more valuable to make sure each deal is executed with creativity, discipline, and precision, than to obsess over whether your aggregate pipeline number is "true."
2) Make Your Marketing Inherently Valuable
The GDPR pipeline problem isn't just a sales problem. Marketing must help you solve it by making your marketing so good, people would
pay
you for it if you asked them to. Most B2B marketing is too tactical, too transactional. Bombing your database and throwing an irrelevant eBook behind a landing page doesn't cut it anymore. Instead, your marketing efforts should be valuable to your buyers in and of themselves. Think of marketing as more than a short-term transaction. It can help you achieve a larger, strategic objective. Rather than focusing on getting leads into a database (and then abusing that database), marketing should focus on helping buyers solve problems, exploit opportunities, and prioritize their decisions. And here's a painful kernel of truth: you may have to hire new "marketers" to pull that off. In fact, I'd recommend
not
hiring "professional marketers" if that's their only qualification.
Bring in people who have deep domain expertise and useful knowledge in your area, and train them to become marketers. Those people are worth their weight in gold. A professional marketer with nothing valuable to add to the market is dead weight.
3) Prioritize Effectiveness Over Efficiency
We live in a world that's addicted to efficiency gains. That's because it's
easier
to improve efficiency than it is to improve
effectiveness
. Just take a look at this
sales tech landscape
designed to promote efficiency in the sales process:
Click here
to see the full image. Despite all of these efficiency tools, companies are left with results like this: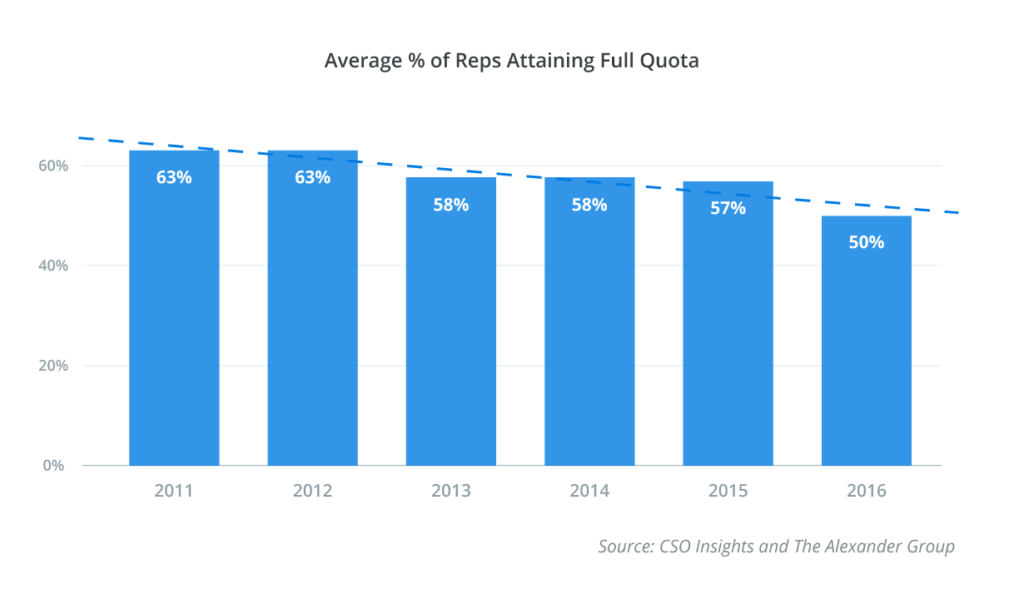 And this:
If efficiency didn't solve your problems before GDPR, it's certainly not going to solve them when your pipeline becomes smaller.
Doubling activity doesn't double sales, unfortunately.
If your contactable marketing list is at risk of being drastically decreased, your sales and marketing teams must both increase their
effectiveness
. Effectiveness has greater leverage than efficiency, whether your pipeline is large or small. Start taking effectiveness more seriously by having your sales managers do regular call reviews with their reps.
That accomplishes two equally important objectives:
It increases their effectiveness.
It communicates that effectiveness is a priority at your organization
#2 is just as important as #1. Whether you shadow calls live,
use raw call recordings
, or use
conversation intelligence technology
, start reviewing calls and demos with your team. Find out what's going well. See where you need to improve. Eradicate sloppiness.
4) Ramp New Hires Faster
If a smaller pipeline results in fewer sales meetings, you can't afford to give those "at bats" to new hires who aren't ready for them. You want to get your new hires up to speed ASAP so they can make the most of every call. There's a
tremendous ROI
on bringing new hires up to speed quickly: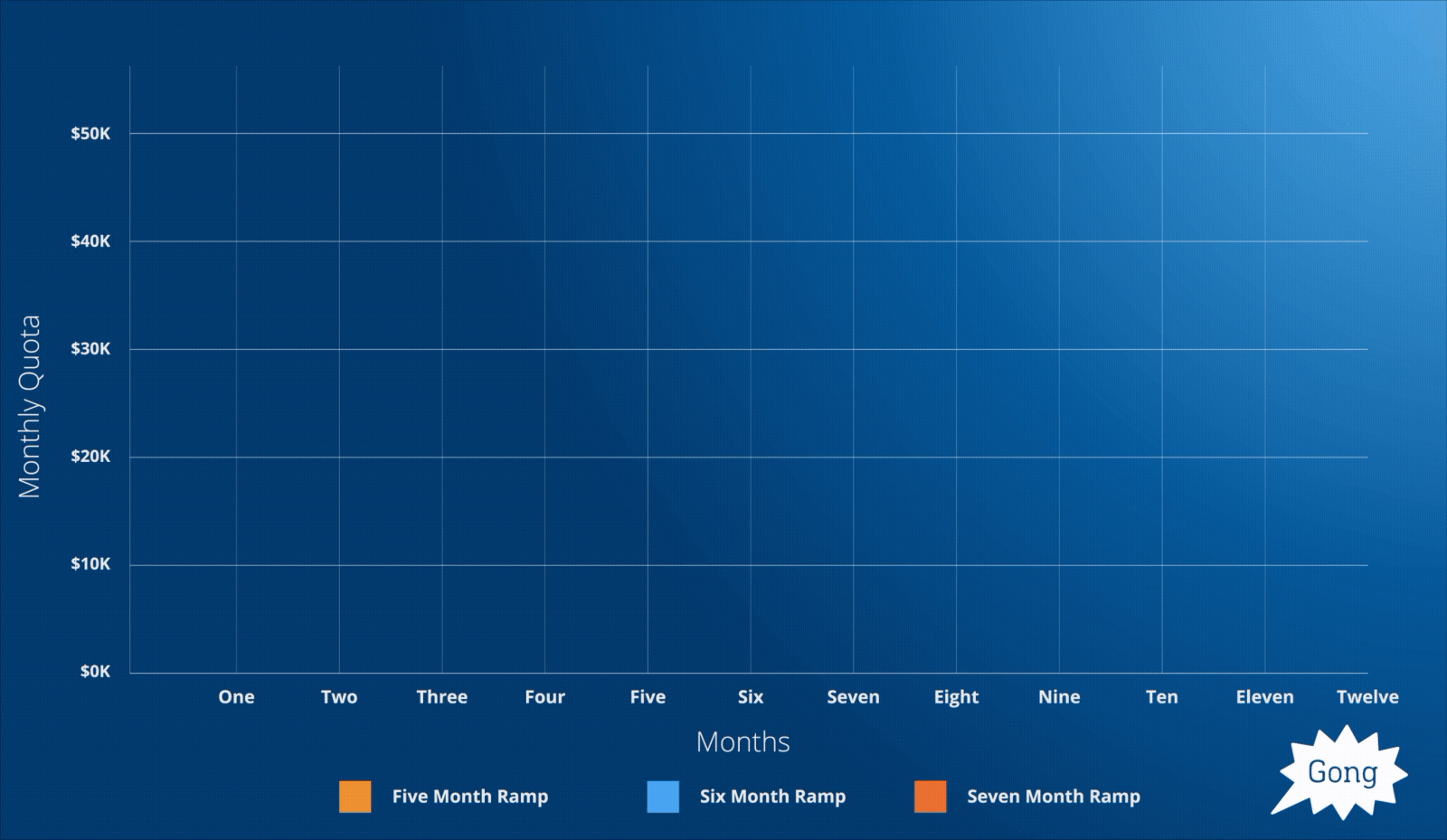 Before throwing new hires into the fray, give them a repository of
successful sales calls
and
demos
to learn from. Record your discovery calls, demos, and other sales meetings. The best ones are the most effective training content in the world for on-boarding new sales hires. By listening to them, new hires can get a sense of the entire sales cycle
in one afternoon
instead of multiple months. If you can equip new hires with call recordings from an entire sales cycle, they'll get up to speed and will produce revenue much faster. They'll be prepared for their "at bats."
5) Treat Sales Meetings as Precious Assets
With GDPR, sales meetings will be harder to come by. You'll need to execute those sales meetings to a
much
higher standard. What are your options? You can pull one or both of these levers:
Have more sales conversations.
Have better sales conversations.
Since lever #1 is going down because of GDPR, it's time to up your game on lever #2. No more going into sales meetings unprepared. This also means getting rid of the check the box-style discovery calls and generic demos. Flat-footed objection handling goes out the window too. You'll have to up your game on
objection handling techniques
. It's time we all master the art and science of sales conversations, and treat them as the most pivotal moments in the sales process. The key to this is gaining
visibility
into sales conversations and meetings. Most sales meetings are a "black box." How can you treat them as precious assets if you're blind to them? If you don't shine the light on what happens within your sales meetings, you'll throw away one good "at bat" after another.
How do you get this visibility?
You could try shadowing calls. Raw call recordings is another way to go. But your best bet is
conversation intelligence technology
. With its lucrative ROI, you'll make the most of your pipeline. With GDPR on the way, that's more important than ever.