Blog
Give your onboarding some serious muscle
Growing your sales team is incredibly exciting. But moving from, "You're hired!" to "You hit quota!" never comes fast enough. On average, it takes three months to prepare a new hire to interact with buyers, nine months until they perform competently, and 15 months for them to become a top performer (RAIN Group).
There are typically three speed bumps along the way:
Moving through training and development

always

takes longer than you want.

You can't pinpoint your new hire's performance gaps.

Onboarding new hires is a time sink for other team members who could be doing other work to support the success of your business.
Hmmmm. If only there was a better way …
With Gong, you can train faster, pinpoint performance gaps, and reduce the new-hire burden on internal team members. Net net—get your new reps feeling confident and closing in record time.
Train new reps faster (and better)
Our customers know that Gong enables reps to (virtually) shadow dozens of calls within the first few days in a role. Their call lists can be tailored to a particular business segment, industry, or prospecting stage. And they only include the best of the best examples. That's how Gong reduces onboarding time (and accelerates your success) from months to a matter of weeks.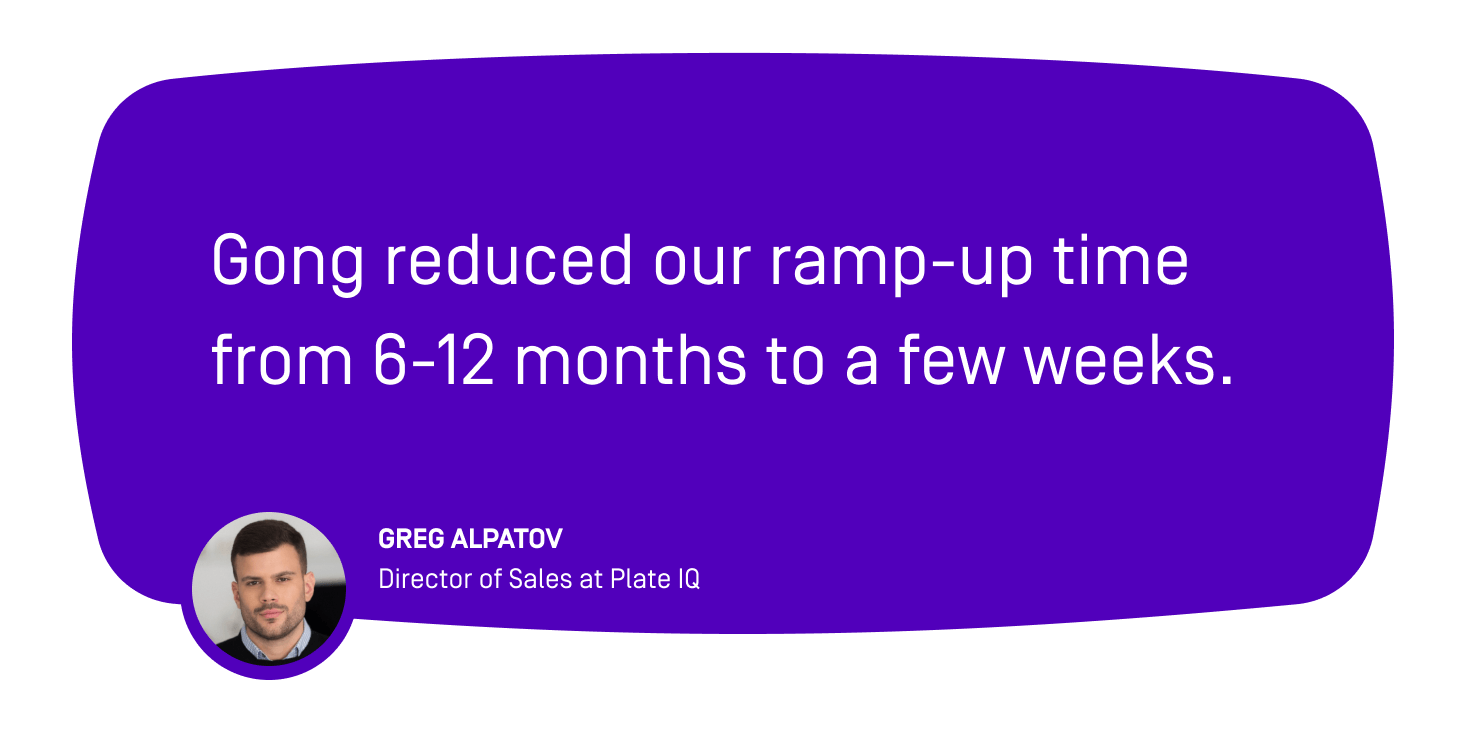 With saved call filters, new reps can listen to curated call lists like "Best demos," "Top-notch negotiation calls," "How NOT to handle objections," or "Best-in-class disco calls." For example, you can filter calls to include your best reps and zero in on deals in the discovery stage that are closed-won via Gong's CRM integration. There's no faster way to find gems in a sea of hundreds or thousands of calls. 
It gets better. Gong automates this capability by adding new calls to your rep's personal saved filter—based on criteria you select—and alerting them when calls are added.
Finally, you can add the educational power of Gong calls to your team's learning paths. If your sales enablement team uses learning and content management systems, you can easily embed Gong calls into their tools with our Lessonly, Brainshark, and Seismic integrations. Or simply embed Gong calls into any platform of your choosing.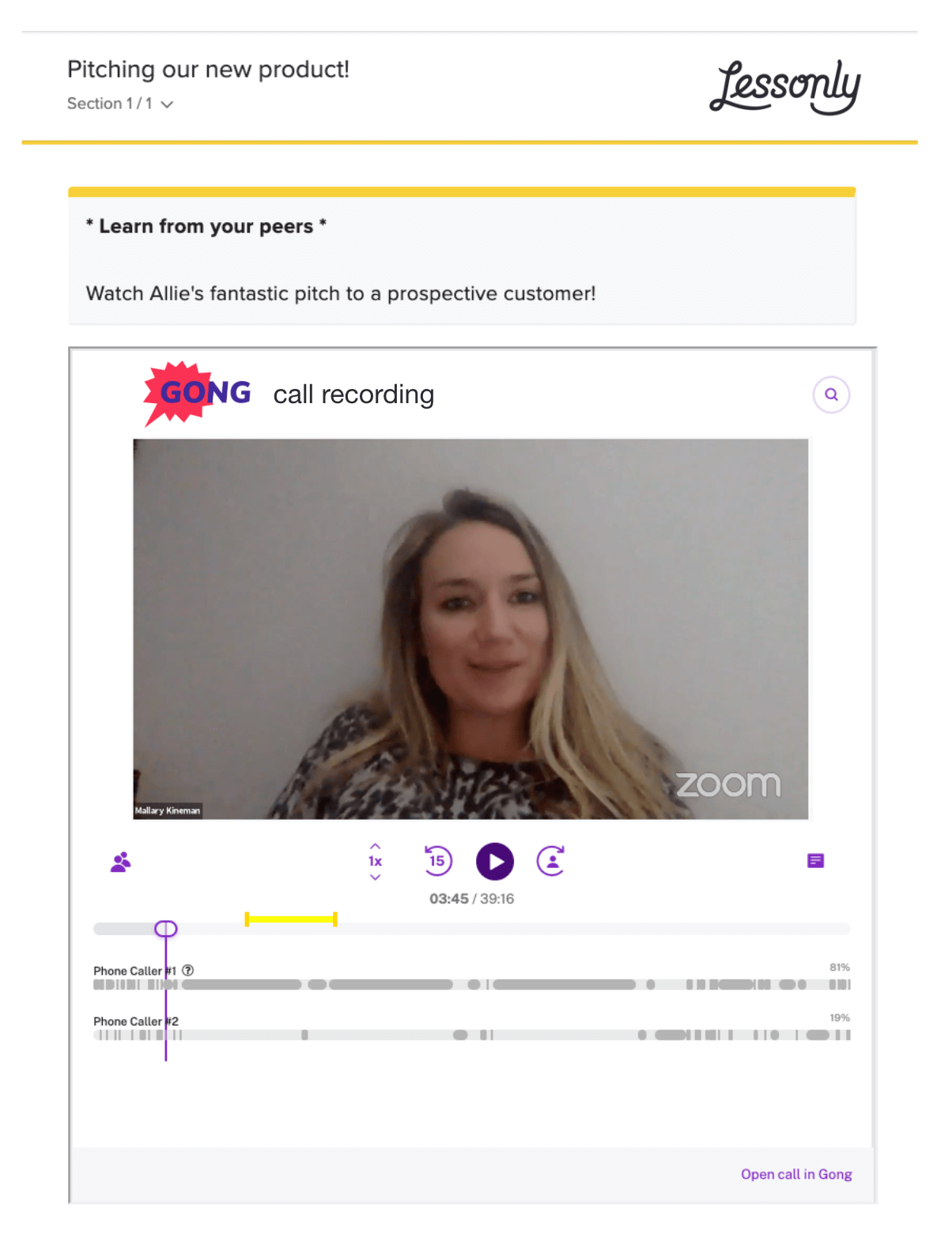 Assess sales readiness
At this point, your new reps have listened to dozens of A+ calls. They've completed the required coursework in your learning management tool. Now they're ready to leave the nest! Or are they? Probably, since you only hire the best. But how can you be sure?
Quickly find the exact moment when your new hires deliver important messaging, like using the first call deck or talking about pricing. See how they did by comparing their work against benchmarks you'll find in Gong.
If they didn't quite measure up, you can show them what good looks like and empower them to fine tune their delivery. Do that by having them quickly navigate to specific spots in calls led by more experienced folks.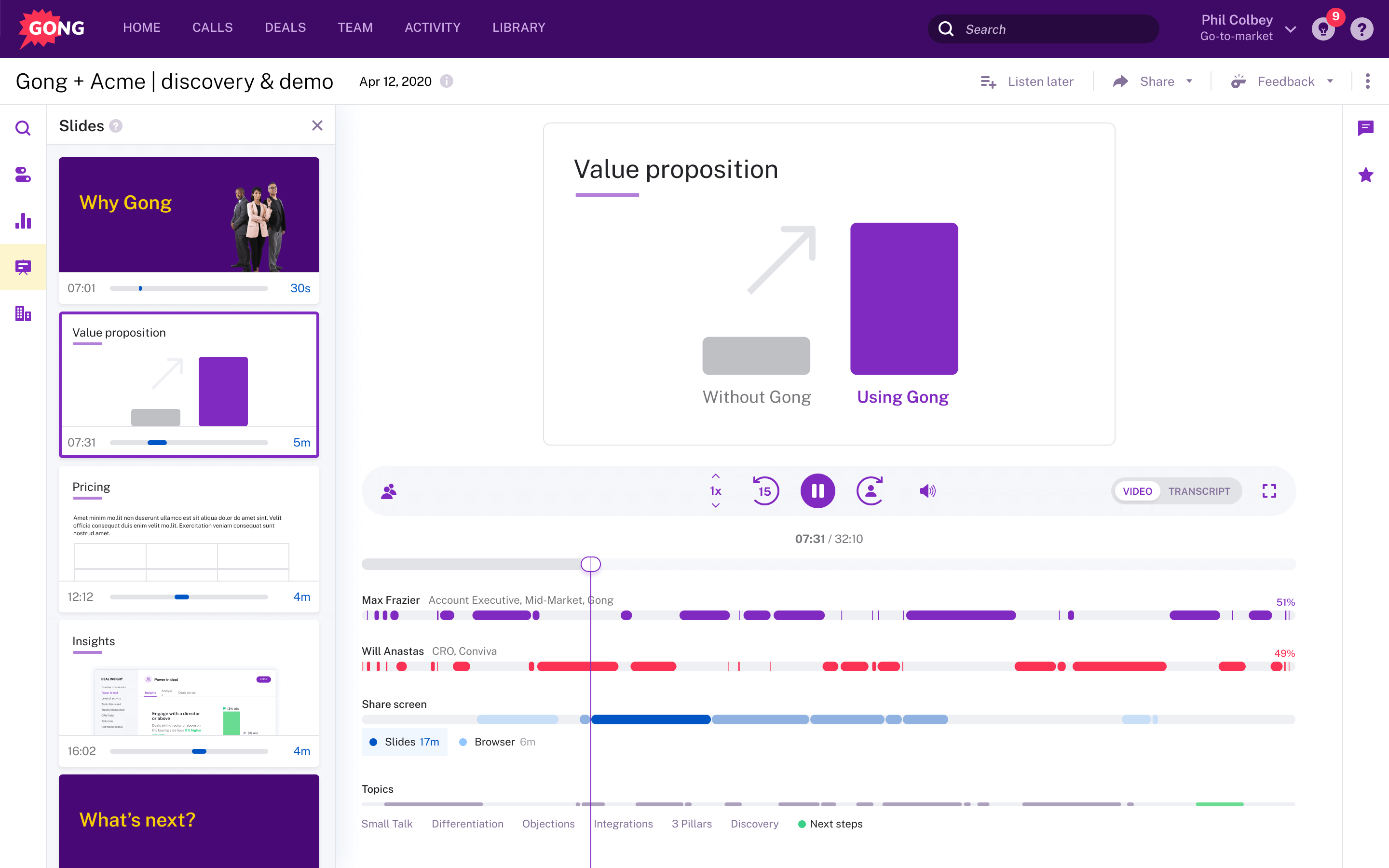 From the same screen, you can turn this into a coaching moment to reinforce what works, and offer tips where they're needed. How? Add a time-stamped comment or leave more structured feedback with Scorecards. Are they nailing the value messaging or jumping straight into a laundry list of features? Are they confidently talking about pricing? At the right time? Targeted feedback early on in a new hire's ramp period can be a game-changer.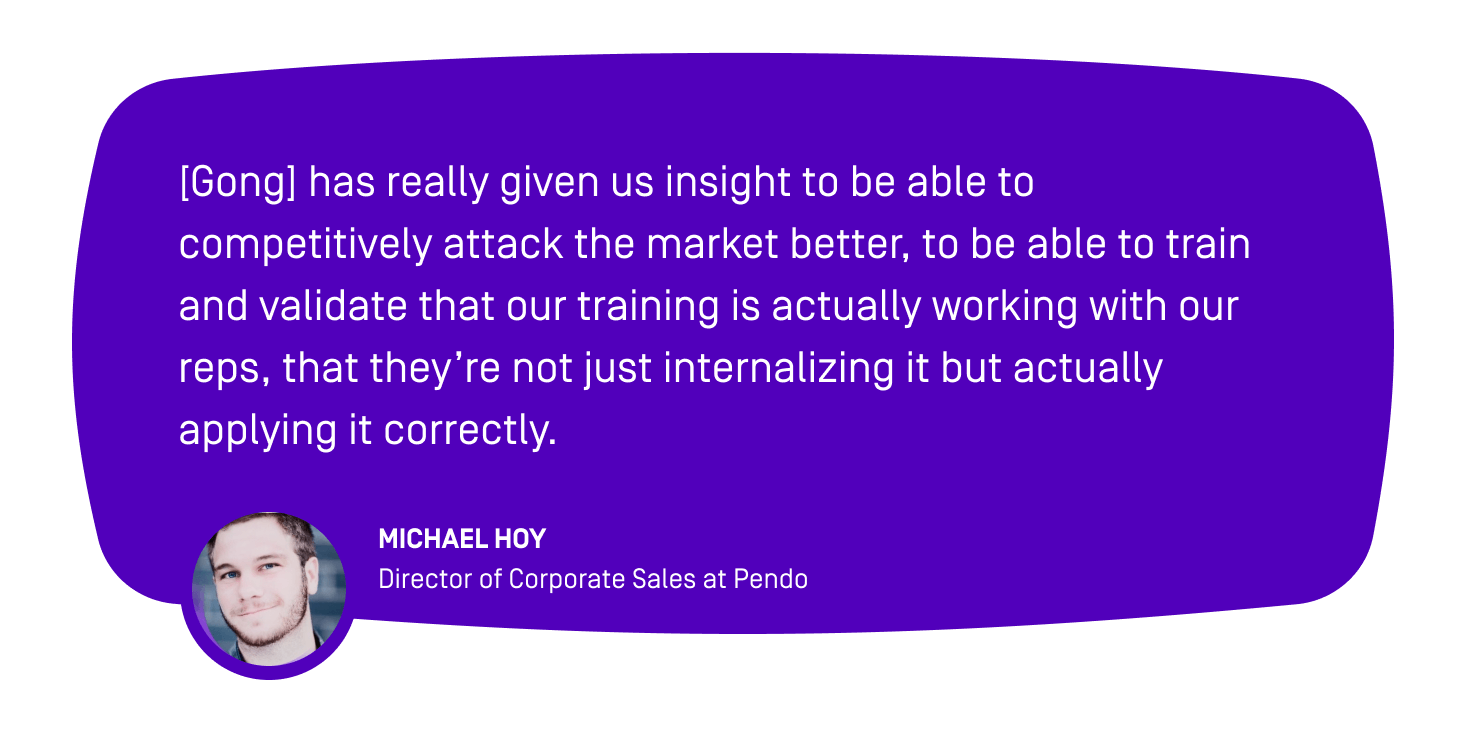 Finally, identify how reps stack up against top performers using Stats that are based on key indicators of success. Stats allow reps to make proactive adjustments to their sales behaviors, like talk time, the quality of their conversations, patience, and more.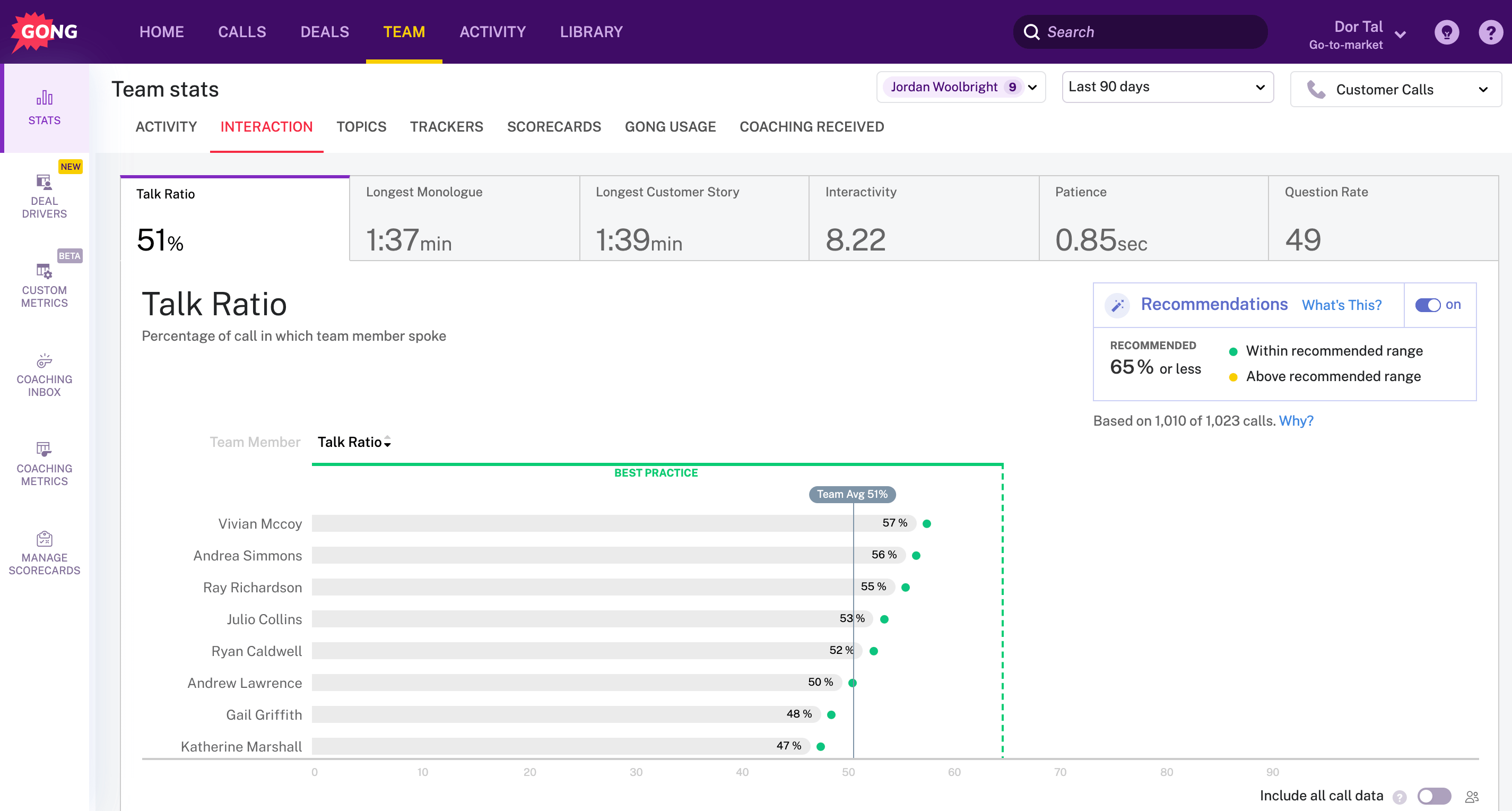 Gong has a database with hundreds of millions of analyzed customer touchpoints (including conversation data and emails). That means we know which behaviors and skills lead to closed deals and which ones don't. 
Managers can quickly spot problem areas with these recommended best practices so they can create coaching plans for new reps and close crucial skills gaps—and track improvements over time. Heck, Gong even sends you deal warnings (alerts) when things are going sideways on these key indicators. 
Minimize the burden on others
Onboarding doesn't end when you leave the classroom, so managers and other seasoned team members get hit up with coaching requests. When new hires eat up everyone else's time, you lose revenue.
Gong makes learning a two-pronged process so reps can pull their weight on learning. Reps are empowered to take learning and growth into their own hands, instead of relying on more senior folks to help them or let them ride along on calls.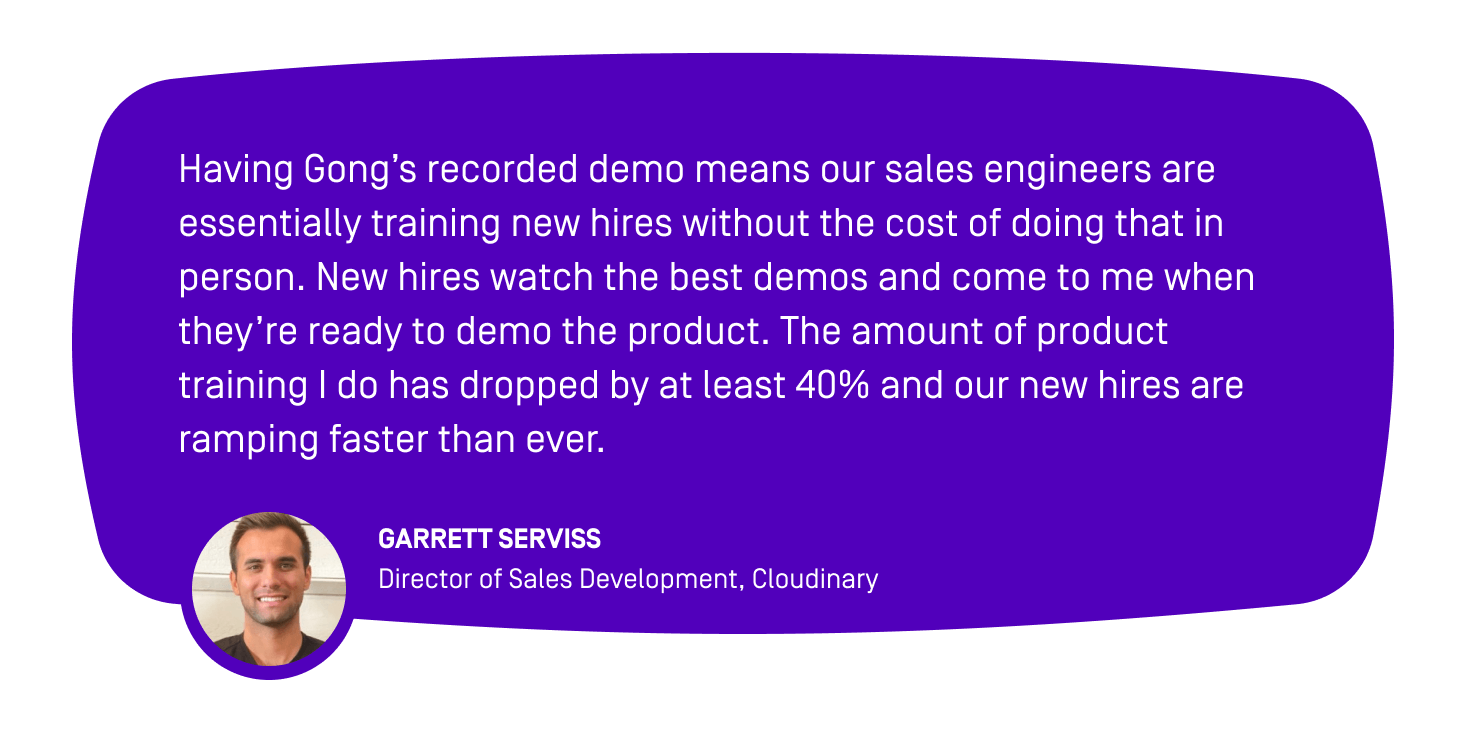 Where the burden falls most heavily is on frontline managers; however, we can all agree that for new reps to continue to develop and grow in their roles, their managers need to continuously find high-impact coaching opportunities. They have to coach on a regular basis.
The reality is that coaching doesn't happen as consistently over time or across reps as we want it to because it's time-consuming. 
Gong addresses this in a few ways, including with Scorecards. Anyone can use them to coach others on a call—even folks who didn't host the call.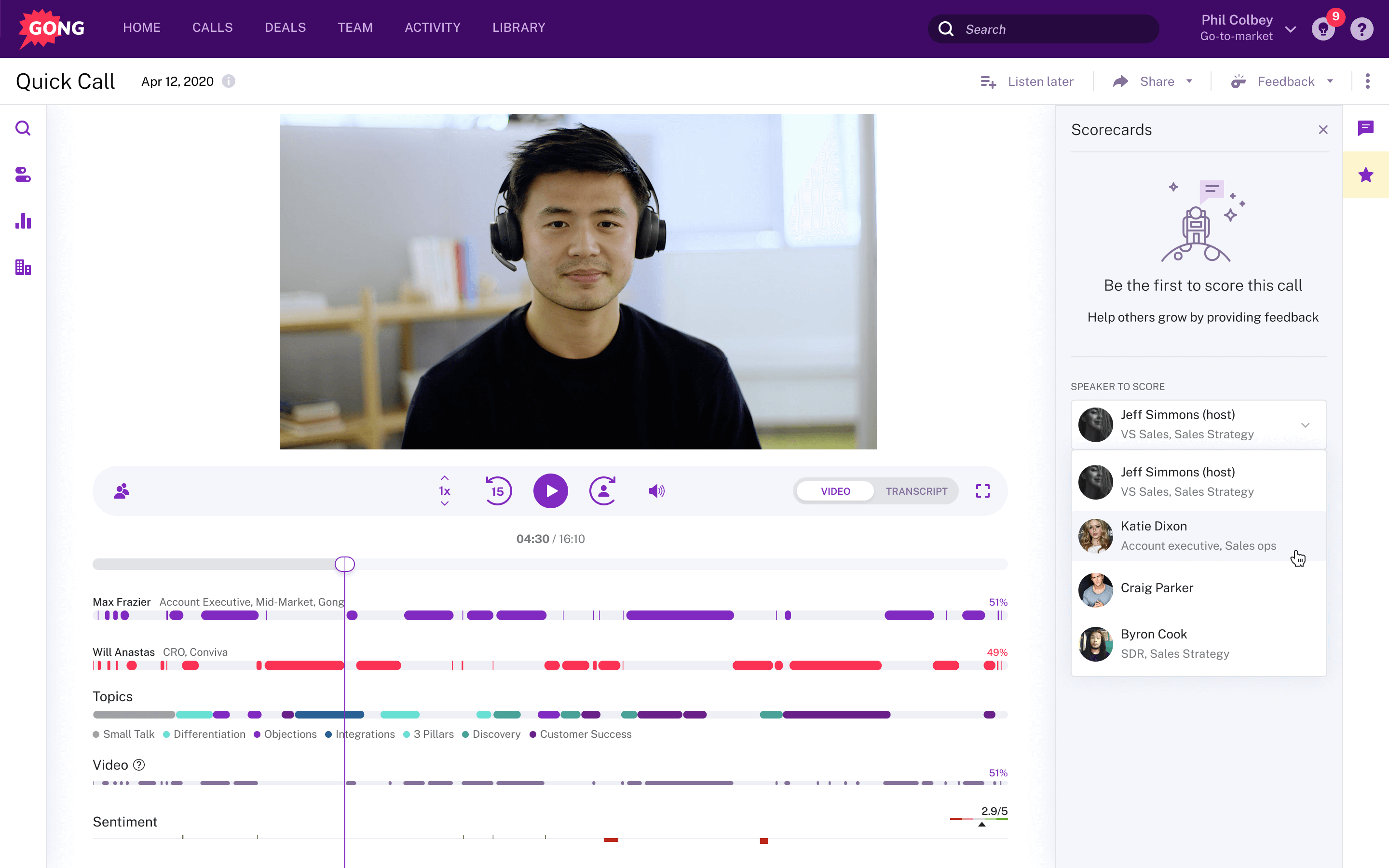 And to reduce friction for managers who coach regularly, Gong proactively sends email reminders with coaching recommendations to save them time. Sign up for our weekly coaching digest in your notification settings. 
Sales leaders often think that driving accountability is almost impossible. With Gong's Coaching Metrics feature, you get a snapshot of coaching across your team leads, so you can see where they're spending their time and whether they're leaving regular feedback (they should be).
With our latest update to Coaching Metrics, see trends across your managers' coaching activity over time so you can reinforce consistency.
Put more tilt in your onboarding ramp
Gong adds the muscle (data from the sales team) that was missing from your training program. 
Test it out for yourself with your onboarding program to learn what all the excitement is about.
Not yet a Gong customer? Learn more about how Gong can help you ramp new hires, fast.