Blog
How to Build and Implement a Customer Success Strategy
Buyers have more options today than ever. While great sales and marketing are key to bringing them in, they're typically not enough to drive long-term growth.
So how can you gain a competitive edge over other companies? Most importantly, how can you reduce customer churn and increase retention?
The answer is by using a solid customer success strategy — helping your buyers reach their desired objectives with your products or services.
In this article, we'll look at how you can implement a customer success strategy and drive more revenue by retaining buyers. But first, let's discuss the difference between customer success and customer support.
Customer success vs. customer support
Customer success and customer support teams work together to help buyers get the most out of a product or service. But there are clear differences between their roles.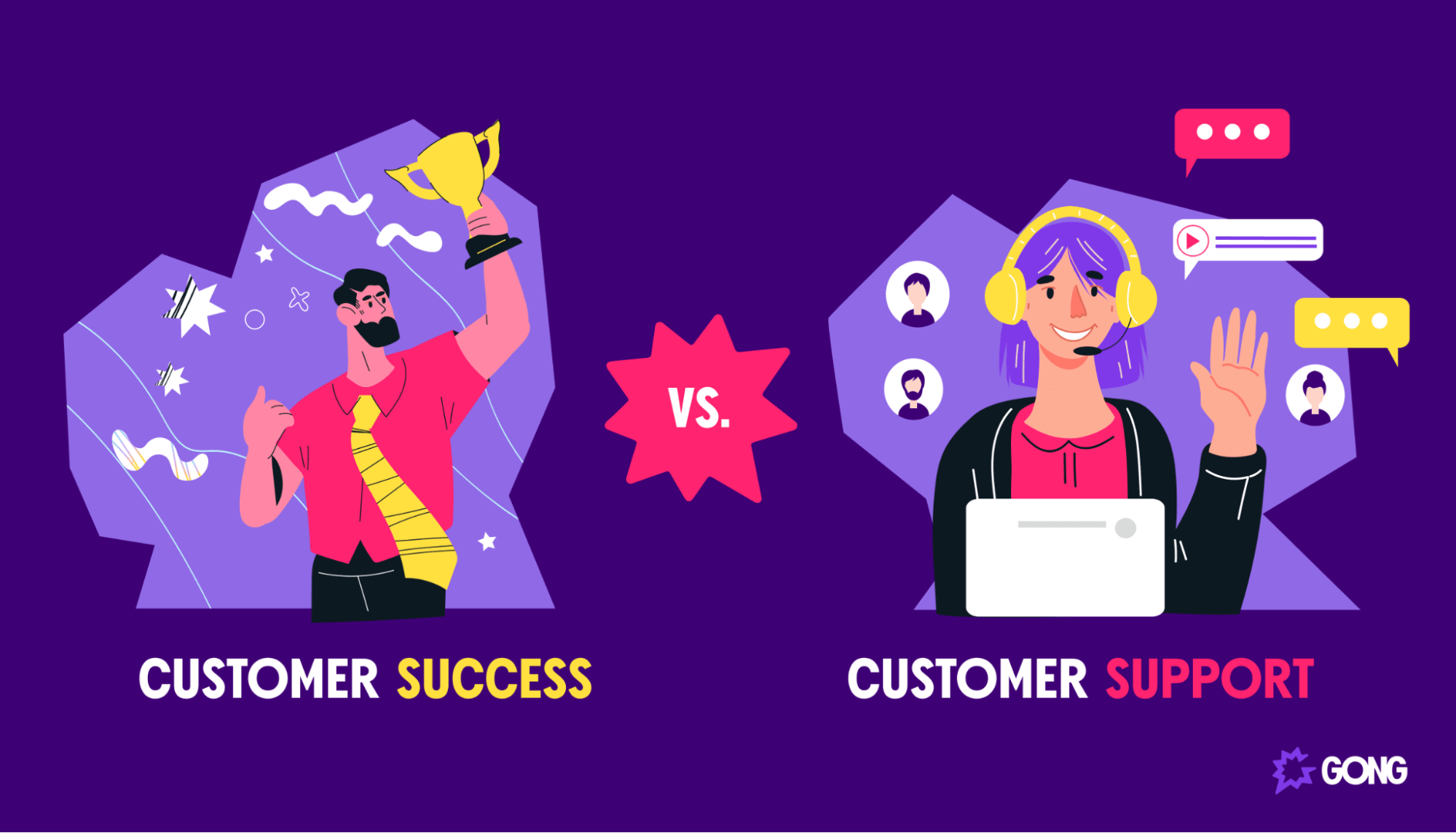 Let's take a look.
Customer success
The primary focus of a customer success team is understanding a buyer's short and long-term goals and finding ways to help them achieve those goals.
Customer success requires a "proactive" approach.
For example, if some users aren't using certain features of a product or service, someone on the customer success team can reach out and explain to them how those features work.
Customer support
Customer support teams help buyers troubleshoot and resolve issues. Their approach is more "reactive," as they address issues when buyers raise them.
For example, if a buyer sends a support ticket because they're having issues, someone on the customer support team would reach out to help them troubleshoot.
Both of these roles are important for your company's success. But implementing a customer success program and adopting strategies for successful customer service management can help you:
Increase your revenue from existing accounts

Reduce your customer acquisition costs

Reduce your churn rate
Now, let's look at how to create a customer success plan.
How to implement a customer success strategy
A customer success strategy lays out how your company will help buyers achieve their end goals. A well-executed plan will lead to happier buyers and higher retention rates.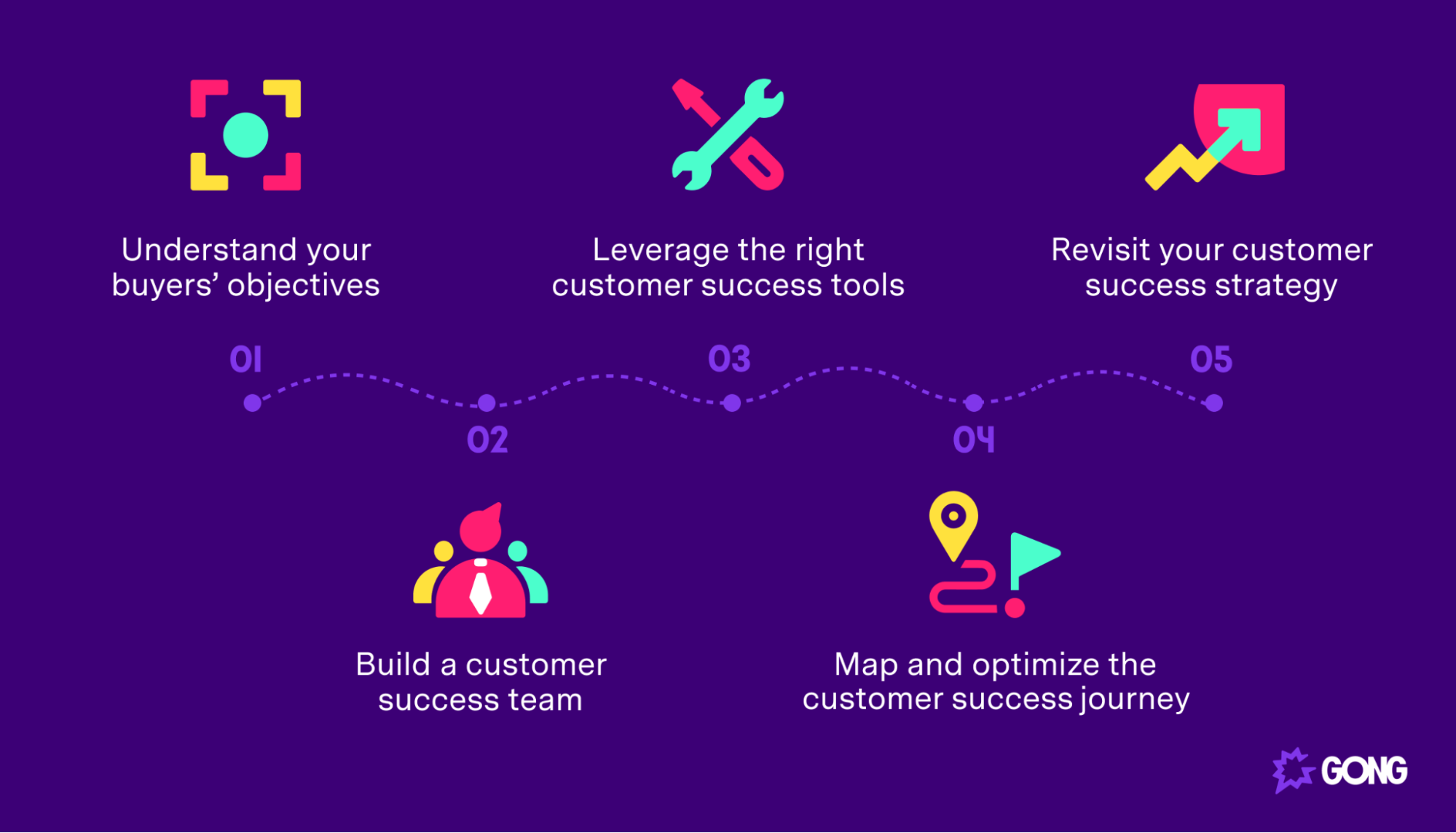 Let's dive in.
1. Understand your buyers' objectives
The first step to building a customer success story is understanding what your buyer is trying to achieve. What are their goals? What does "success" look like for them?
Of course, your sales reps will have already uncovered your buyers' needs earlier in the sales process. But what about those buyers who signed up directly for your solution?
Unless you're a mind reader, you don't want to make any assumptions. Survey your buyers and ask them to share their experiences.
The CEO of Groove HQ, a help desk software company, sends the following email to a random group of their buyers: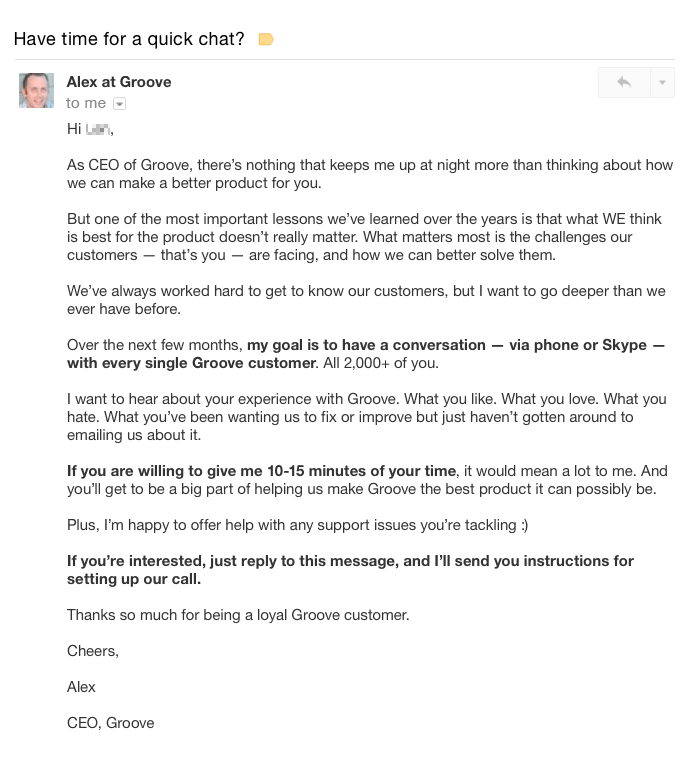 While this sounds like a lot of work, that's because it is.
However, the insights you gather can prove invaluable, as you'll learn what buyers like and don't like. Once you have a clear picture of what a buyer wants to achieve, you can craft a customer success strategy that'll help them accomplish their goals.
2. Build a customer success team
Behind all successful customer service strategies is a team of experts whose sole responsibility is helping buyers achieve their desired outcomes.
Their roles include:
Developing and implementing a customer success plan

Building and nurturing customer relationships

Anticipating buyers' needs and providing them with solutions

Mapping and optimizing customer success journeys

Managing account renewals and identifying upsell opportunities

Collecting customer feedback and sharing it with the team
Like any other department within a company, there are certain roles you'll need to fulfill to build a strong customer success team. These include:
Chief customer officer: Responsible for creating and implementing customer success retention strategies. They report directly to senior management.

VP of customer success: Responsible for mapping the customer journey and identifying growth opportunities. They also help manage the CS team.

CS operations manager: Responsible for supporting and ensuring that CS teams operate effectively. They also track and measure customer success metrics.

Customer success managers: Responsible for providing one-on-one support to their buyers. They prioritize their buyers' needs and help them achieve their goals.
Customer success teams typically operate separately from customer support teams so that they can focus on their buyers. No matter what role you're hiring for, look for people with strong relationship-building and problem-solving skills.
3. Leverage the right customer success tools
A customer success strategy has a lot of moving parts, from onboarding new users to managing account renewals and identifying growth opportunities.
There's a lot to keep track of.
However, trying to manage a customer success strategy through emails and spreadsheets will only lead to fragmented customer experiences. One missed detail can put accounts at risk.
Give your customer success team full visibility into each customer journey with customer success software like Gong. A customer success platform records and transcribes every conversation so that your team can focus on their buyers' needs instead of getting distracted with note-taking.
A VP of customer success can't shadow every call. But what they can do is set up talk trackers to send alerts when certain keywords or phrases are mentioned.
Some examples include the following:
"Our team isn't using [product] as much as we thought."

"We're not sure if our company is going to renew [product]."

"It's hard to justify the ongoing expense for [product]."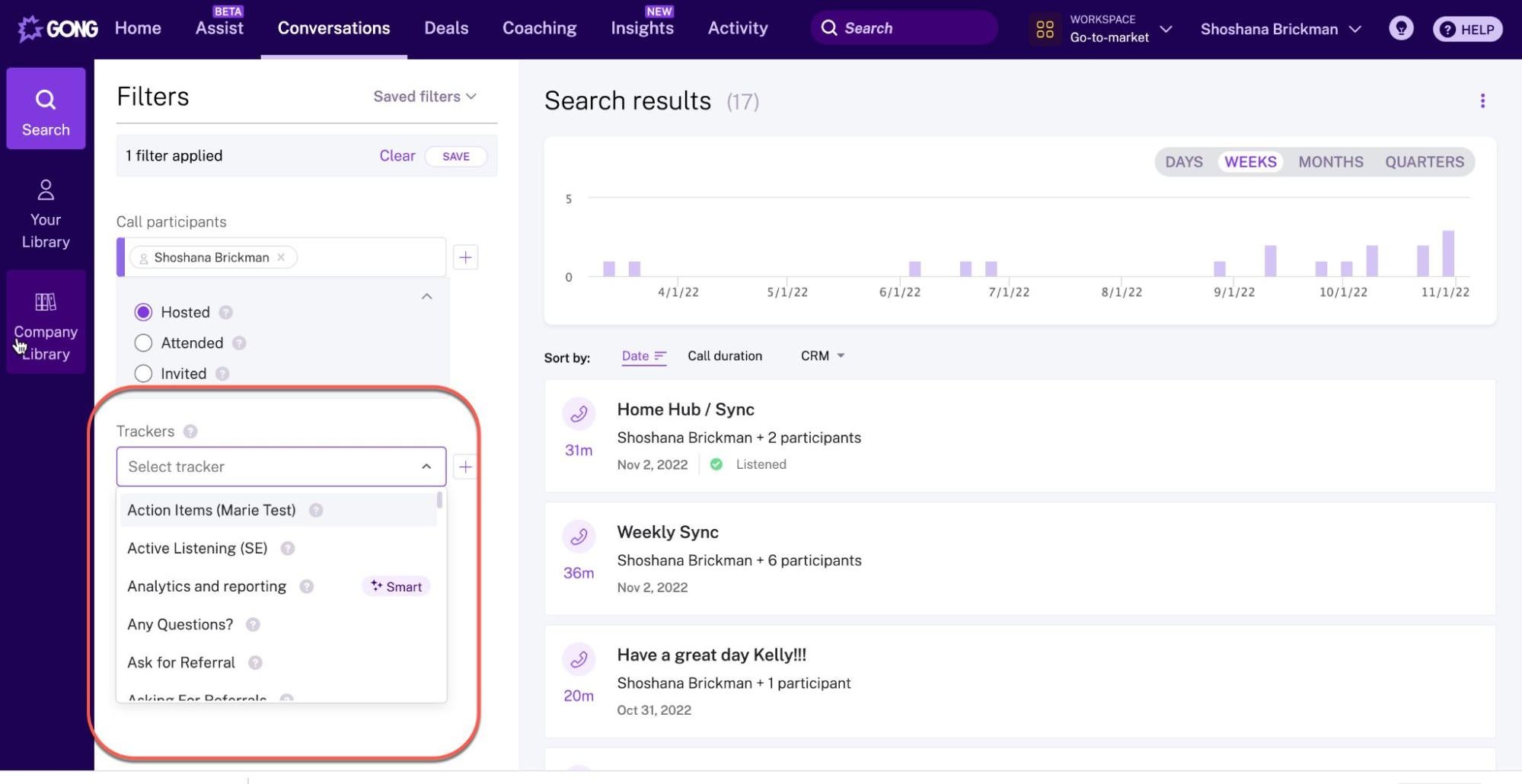 Talk trackers can identify and flag at-risk accounts so that a VP of customer success can take proactive measures to retain them.
4. Map and optimize the customer success journey
A customer success journey outlines the steps that buyers take to achieve success with your product. It includes milestones for each step, from purchase to renewal and advocacy.
Creating a customer success journey map helps you align each step to what your buyers are trying to achieve. It also helps you pinpoint friction and identify areas for improvement.
Here's a look at each step of the customer success journey:
Purchase: The buyer signs up for your product or service.

Onboarding: The buyer sets up their account and goes through the customer onboarding process.

Product adoption: Users adopt your solution and implement it into their existing workflows.

Customer retention: Depending on how well-received your solution is, the buyer may renew or cancel their contract.

Account expansion: If the buyer outgrows their existing plan, they may decide to upgrade their account.

Advocacy: If the buyer finds success with your solution, they'll likely become a brand advocate and recommend it to others.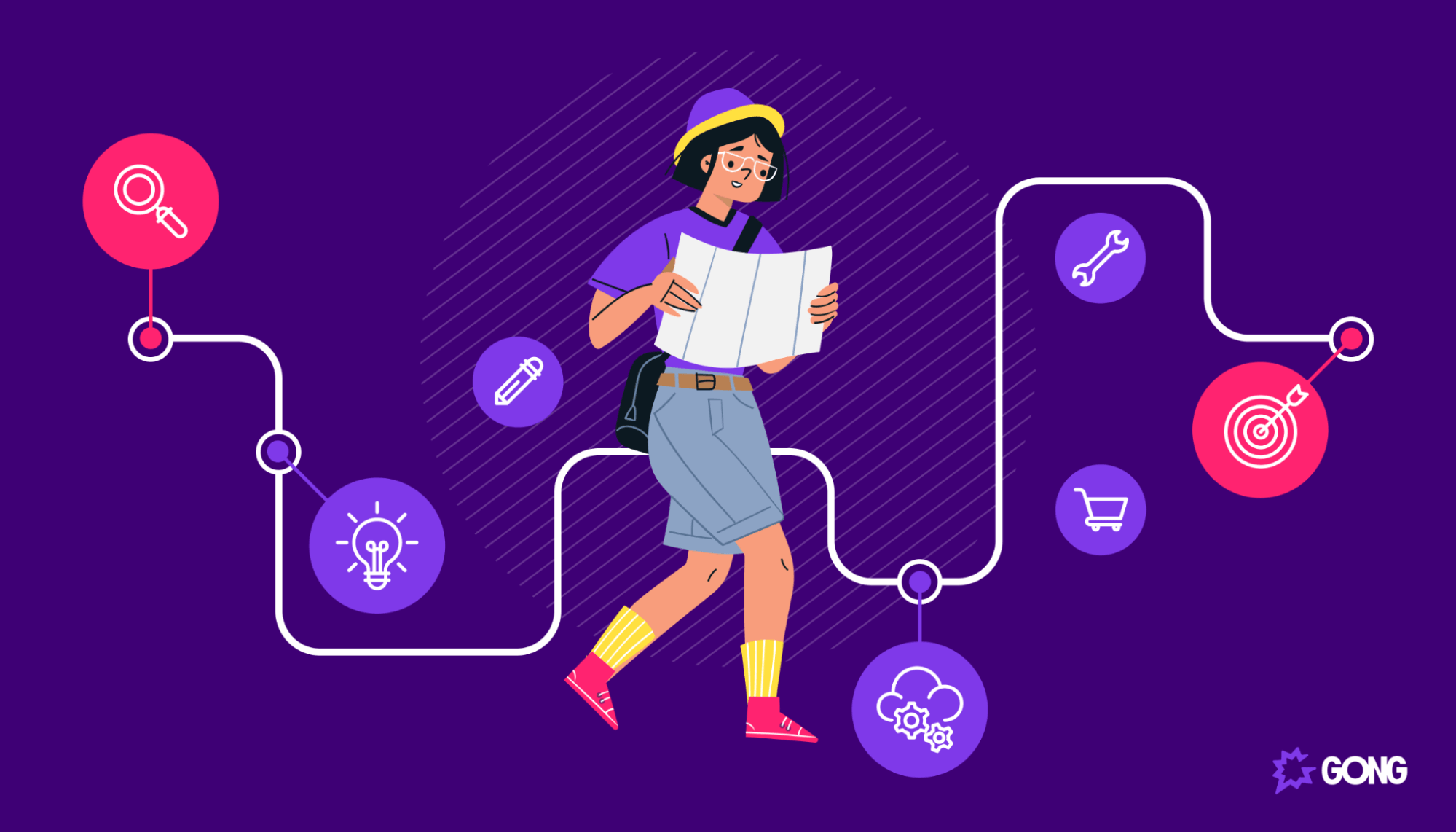 As you map the customer success journey, ask the following questions:
What does your buyer want to accomplish at this step?

What milestones do they need to reach?

How can you best support them?
Track each buyer's progress throughout the customer success journey, and take proactive measures if they aren't reaching certain milestones.
For example, let's say a milestone during the product retention step is engaging with three core features. However, some users aren't reaching that milestone. In that case, you might guide them to a knowledge base or follow up with personalized emails offering help.
Always look for opportunities to optimize touch points in the customer success journey. Helping your buyers reach important milestones will increase your chances of retaining them.
5. Revisit your customer success strategy
Remember that your customer success strategy is a work in progress. It's important to remain flexible so that you can adjust your strategy as needed to meet changing expectations.
Track the following metrics to assess your customer success management strategy:
Churn: Churn is the number of buyers who stop doing business with you over a given period. A high churn rate indicates that your buyers aren't happy with your solution.

Customer lifetime value: Lifetime value is the total revenue you can expect to generate from a single buyer throughout their lifecycle with your company.

Monthly recurring revenue: This is an especially important metric for SaaS and subscription-based businesses. Tracking the recurring revenue your company generates monthly can help you measure your business growth over time.

Net dollar retention: Net dollar retention measures changes in your revenue (gains and losses) from your existing customer base due to upgrades or downgrades. It can help you understand how well your company is retaining buyers.

Net promoter score: Net promoter score asks your buyers to rate how likely they are to recommend your product on a scale of 1 to 10. It helps you keep track of overall customer satisfaction.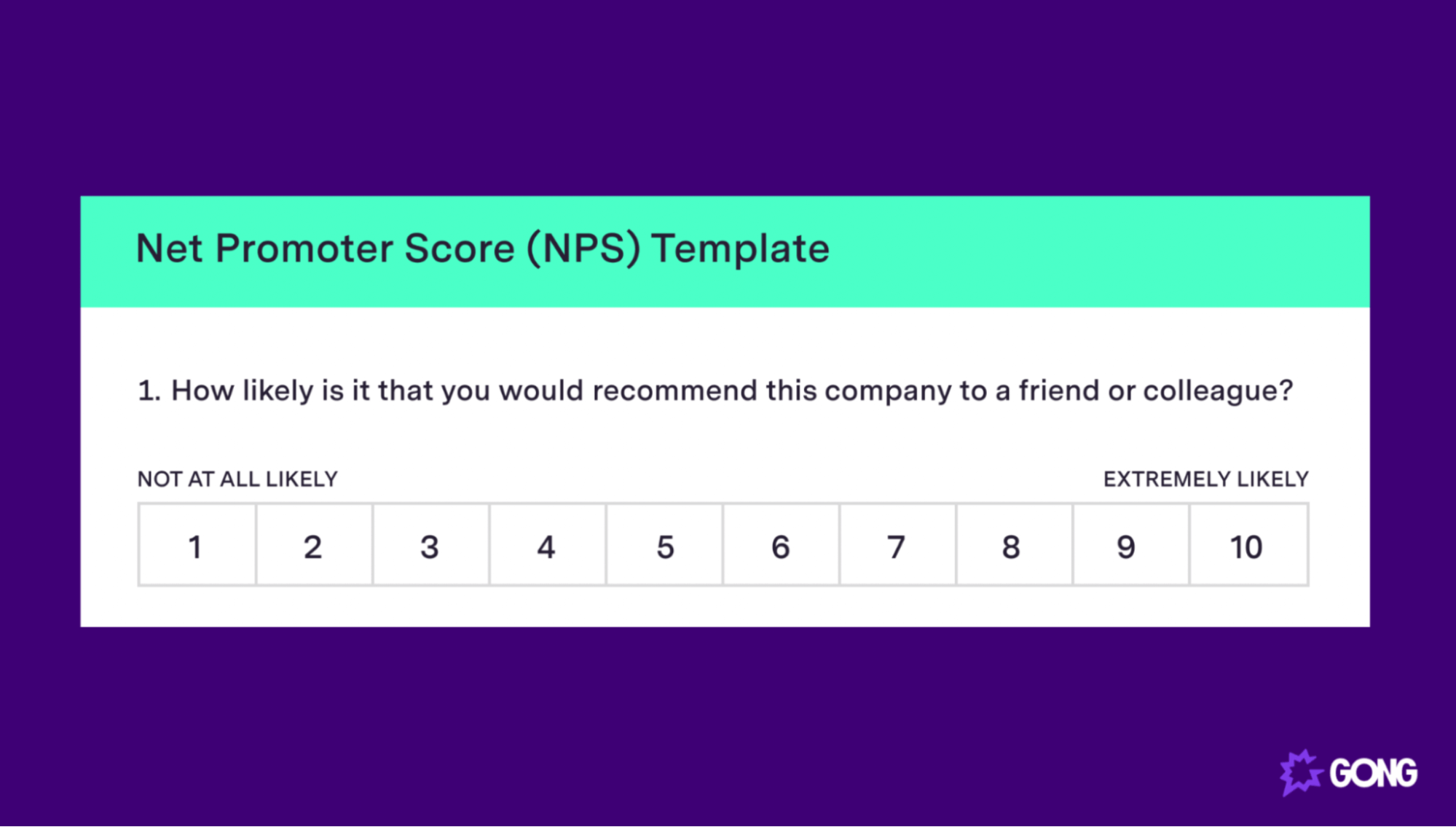 Tracking these customer success metrics can help you measure the effectiveness of your customer success program and identify areas for improvement.
For example, a low net dollar retention indicates that revenue from your existing customers is shrinking due to cancellations and downgrades. Figuring out why this is happening can help you improve your customer success plan.
Customer success best practices
Follow these best practices to increase retention and deliver better customer experiences:
Analyze your churn rate
Conduct a churn analysis to understand why (and where) buyers are leaving. This will help you pinpoint gaps in your customer success program.
For example, if users are churning early in their journeys, that means they're not deriving value right away. Improving your onboarding process can reduce their time to value and help them get more out of your solution early on.
Listen to your users
Make sure to actively listen to what your users are saying. This will help you identify the specific aspects of your product that they aren't happy with.
As an example, one Evernote user tweeted that the desktop app has been unusable:
Evernote quickly responded and followed up with them.
Listening to your users shows you value their opinions. It also demonstrates how you're constantly looking for ways to improve. Most importantly, addressing and resolving issues that users aren't happy with helps you stay ahead of churn.
Regularly follow up with your users
Customer success is all about taking a proactive approach.
Even after a buyer has reached a key milestone, always follow up. This can be as simple as sending an email asking for a buyer's feedback. Make sure to personalize your outreach according to the stage the buyer is in.
Leverage automation tools
If your customer success team is getting bogged down by repetitive and tedious manual tasks, they have less time to spend helping their buyers.
With sales automation software like Gong, your customer success team can streamline their workflows. For example, if a prospect asks about post-purchase services, a sales rep can forward the request to a customer success manager, who can then pull up an email template.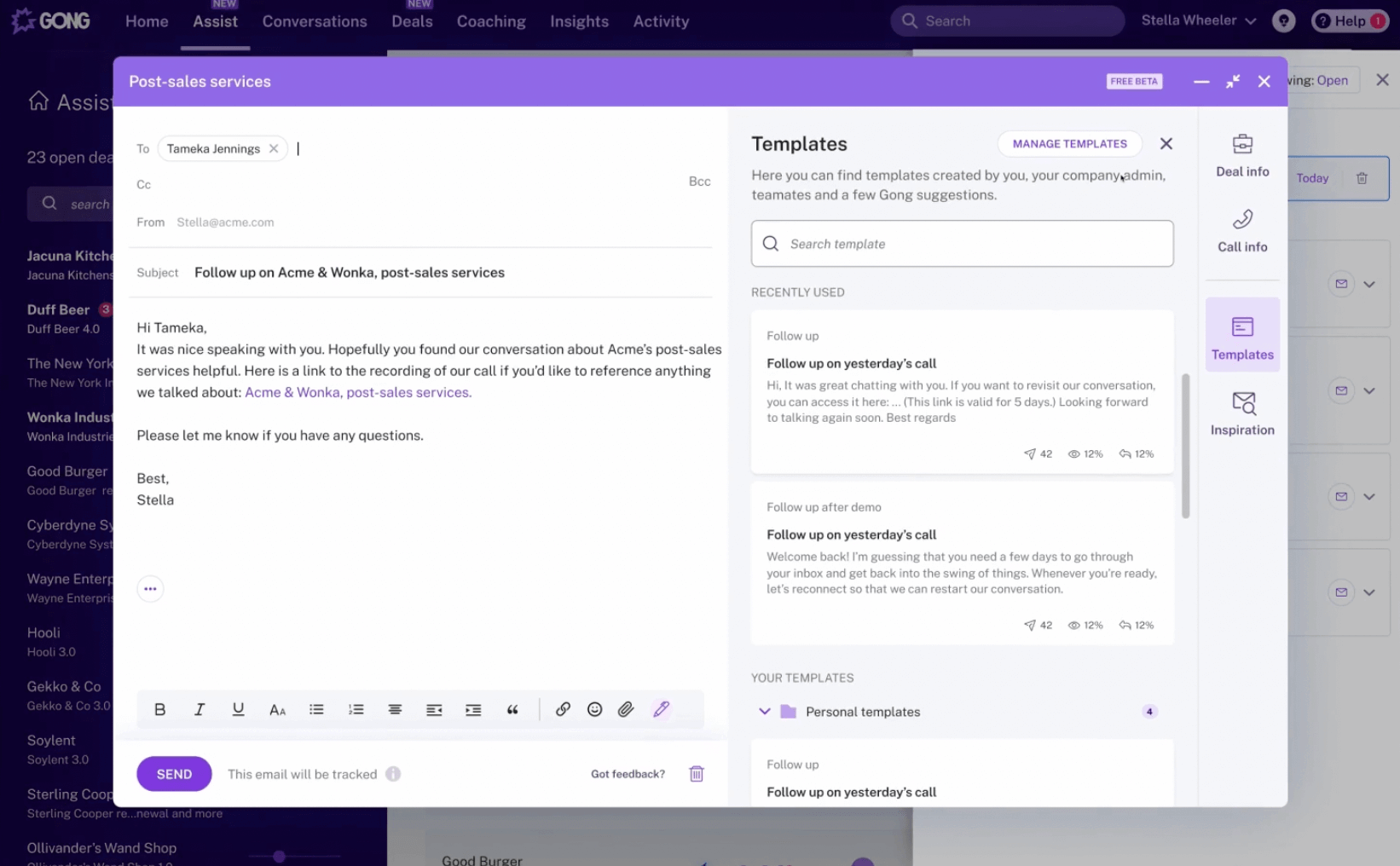 Gong's platform displays and even recommends a list of action items for customer success managers to prioritize. It also integrates with popular CRM tools, like Salesforce and HubSpot, so that you can keep everything in one place.
Revamp your customer success strategy with Gong
Implementing a customer success strategy isn't easy. But helping your buyers succeed and achieve desired outcomes will turn them into raving fans.
Whether you're implementing customer success strategies for SaaS or other types of businesses, make sure to equip your CS and sales teams with the tools they need to succeed.
Gong's customer success software provides insights across the entire buyer's journey so that CS teams can stay ahead of churn. What's more, you can build and share winning playbooks with the strategies that top customer success managers use to retain and expand their key accounts.
Request a demo today to see how Gong can help you improve your customer success plan.