Blog
18 Best Sales Blogs to Follow in 2019 (As Voted-for by 50+ Sales Leaders)
Looking for a list of the BEST sales blogs to read in 2019? Then look no further.
If you want to level up your sales game, your best bet is to read the best sales blogs the pros are learning from.
BUT, instead of making a list of my own favorite sales blogs, I did something different: I asked over 50 sales leaders and professionals which sales blogs THEY rave about.
They voted, and the results are in.
If you don't see your favorite sales blog listed below, be sure to write a comment.
Now, let's move onto the results!
The 18 Best Sales Blogs
Here are the 18 best sales blogs for 2019, from the horse's mouth.
Gong.Io
The Make It Happen Sales Blog
Sales Hacker
DiscoverOrg's Growthbound Blog
Hubspot Sales Blog
Cerebral Selling
A Sales Guy
Quotable Salesblog (From Salesforce)
Heinz Marketing
LinkedIn Sales Solutions
The Sales Blog
OpenView Labs
Sales Source
Outreach
SaaStr
TopLine Leadership
InsideSales.Com's Sales Blog
Jill Konrath's Fresh Sales Strategies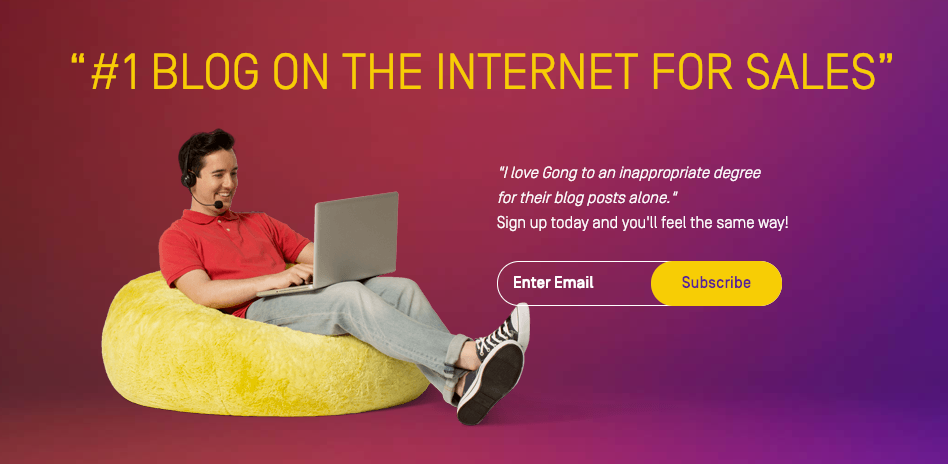 Type:
Multi-author
Post frequency:
Weekly
I know it seems weird that our sales blog is #1 on the list we've put together, but trust me, I didn't rig the results :) The majority of sales leaders we reached out to love our blog and voted for it.
For those who are unfamiliar, we publish data from analyzing millions of recorded and transcribed sales conversations with AI so you can learn what separates the best salespeople from the rest,
according to hard data.
We typically publish one post per week or so, with a focus on quality over quantity. Each one is LOADED with sales techniques that help you hit your number.
Our favorite post:
The Sobering Truth: Why You Can't Sell to C-Suite Executives
FOLLOW THIS SALES BLOG
Follow Gong.io on LinkedIn

Subscribe to our email list below:
[newsletter title="Subscribe to Gong.io" call="Get insanely effective sales tips sent to your inbox."]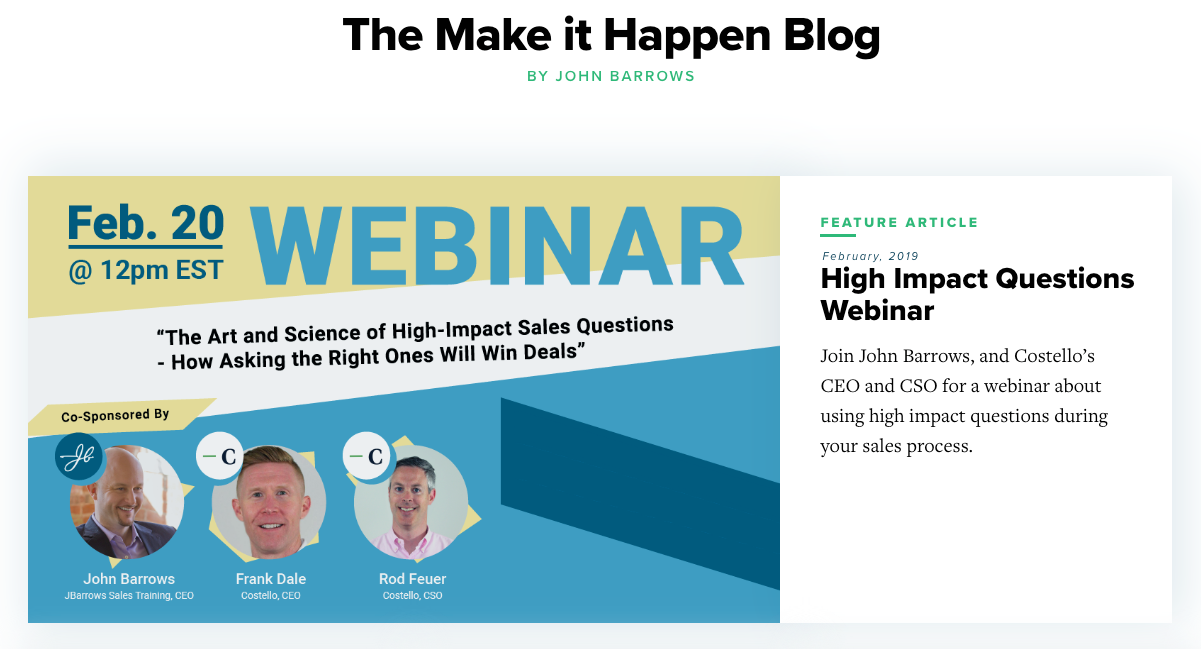 Type:
Single-author
Post frequency:
Weekly
It's no surprise that John Barrows is on this list. John has become one of the most well-known sales bloggers in the sales game, and for good reason.
His sales blog is a treasure trove of insights for new reps and veterans alike, all colored with stories from his own extensive experience in sales. His narrative writing style and useful,  funny anecdotes mean his sales blog is a pleasure to read and a valuable sales resource.
It's crisp and clear and has concrete advice to offer.
Our favorite post:
Sell The 20%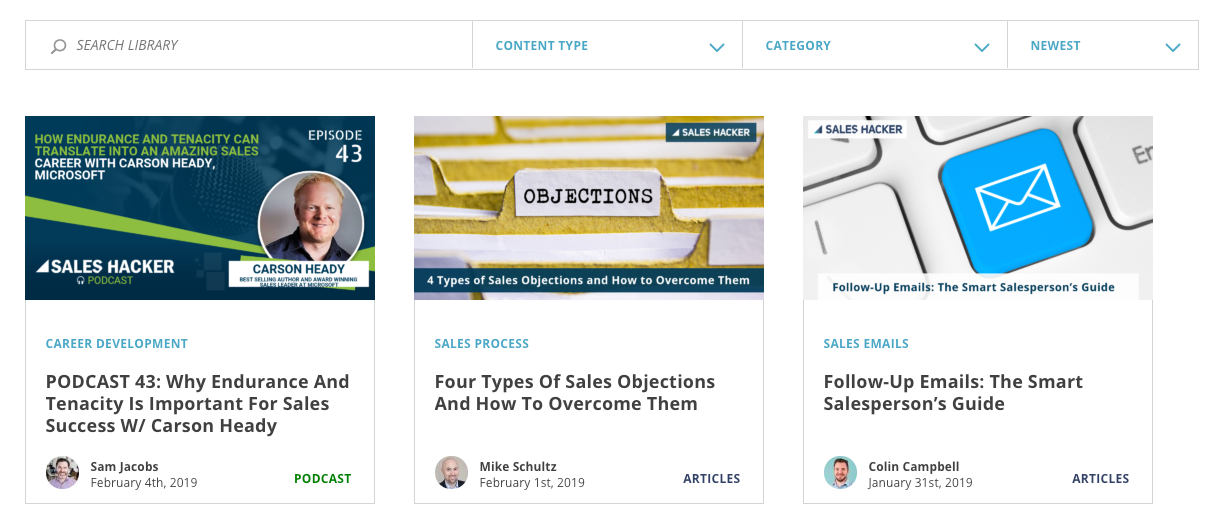 Type:
Multi-author
Post frequency:
Weekly
Sales Hacker is one of the most well-known names in the sales blog world. It posts a huge volume of quality content and caters to every type of sales professional. They cover every topic that matters to you, from prospecting strategies to effective coaching techniques and more.
Sales Hacker even delves into the often-ignored support roles of sales enablement and sales operations or revenue operations.
In addition to helpful sales blog posts, Sales Hacker also produces all kinds of other useful content, including ebooks, webinars, videos, and podcasts. That gives you a few options, depending on how you like to consume content.
Our favorite post:
Do You Make These 13 Mistakes During Your Sales Conversations?
4. DiscoverOrg's Growthbound Blog
Type:
Multi-author
Post frequency:
Multiple Posts/Week
DiscoverOrg has become the undisputable leader in sales contact data.. Their sales blog caters to a 50/50 split of marketers and sales professionals and lets you dive into topics in whatever detail you need. Get high-level views on how to become a better salesperson, or dive into the nitty-gritty of writing effective sales emails. It's all on offer.
Our favorite post: How to Keep Your Growth Up and to the Right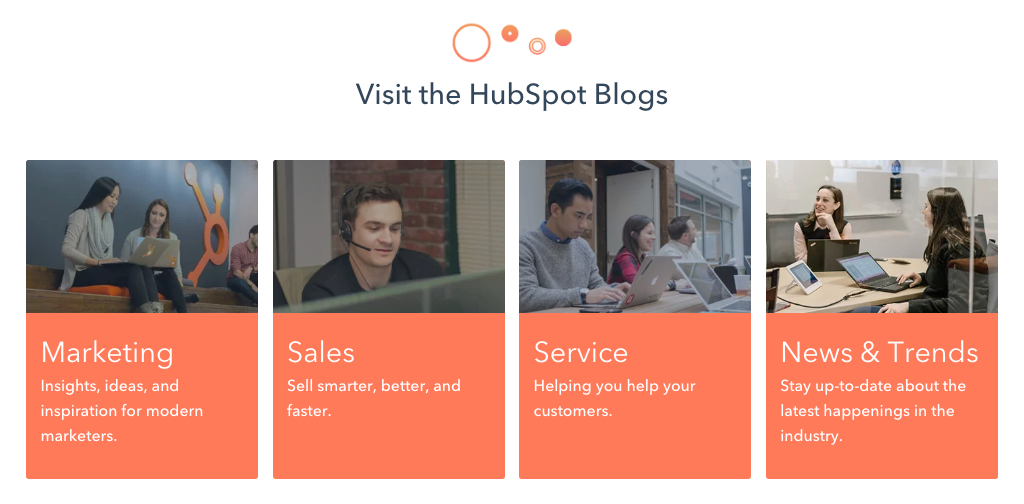 Type:
Multi-author
Post frequency:
Multiple posts/week
Hubspot has long been a juggernaut in the marketing content space. That's not surprising coming for the company that basically helped bring content marketing into the mainstream.
In recent years though, Hubspot has turned its well-oiled content machine toward sales and has quickly become a must-read top sales blog for sales professionals. With a wide variety of topics and a high volume of content, we guarantee that a stop at the Hubspot Sales Blog will deliver a new tip or resource.
Put those to use ASAP.
Our favorite post:
15 Sales Email Templates Perfect for the New Year
Type:
Single-author
Post frequency:
Weekly
David Priemer has quickly risen to the top of the sales training field. He brings his unique scientific approach and viewpoint to the sales world, offering posts that go well beyond simple lists and tips in his sales blog. He dives into new research, psychology, and exercises to help you change the way you think and the way you sell.
His unique recipe involves combining core principles found in science, empathy, and execution.
Our favorite post:
Missing Key Details in Your Discovery Calls? Try this simple exercise
Type:
Single-author
Post frequency:
Monthly
Jim Keenan, a well-known author and thought leader, founded A Sales Guy.
This sales blog offers many useful sales insights, but what truly sets it apart is its focus on recruiting and hiring top talent. If growing your sales team is on your radar for 2019, this blog is a great resource.
Our favorite post:
Recruiting! The Good, The Bad, and The Ugly
8. Quotable Sales Blog (from Salesforce)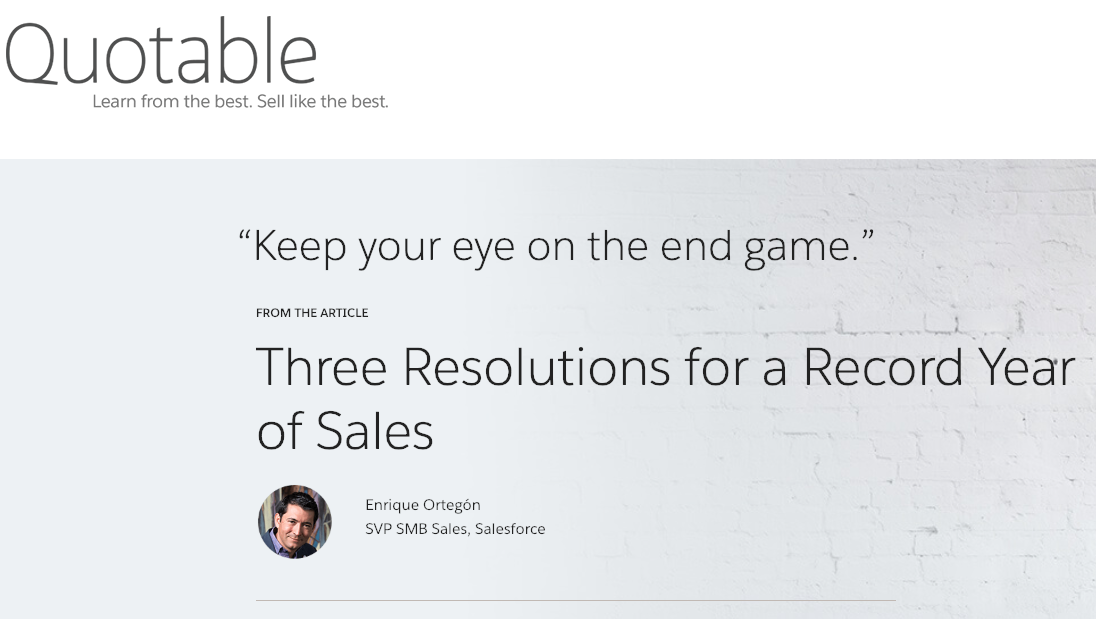 Post frequency:
Multiple posts/week
Sales professionals have probably used Salesforce more than any other tool in history. It makes sense that they've invested heavily in creating a top-of-the-line sales blog/podcast just for salespeople. Quotable stands apart from the rest of this list in two areas: the variety of authors and the sheer volume of content.
Quotable brings together some of the biggest names in sales in one place, offering one of the widest varieties of topics and perspectives on this list. These sales bloggers aren't going to steer you wrong.
Our favorite post:
What Salesforce Has Learned About Sales Development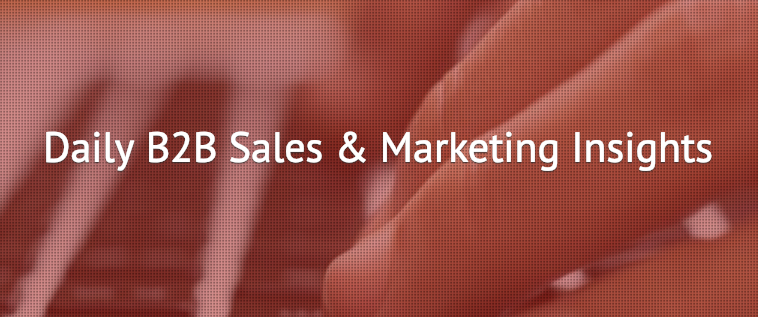 Type:
Multi-author
Post frequency:
Multiple posts/week
It's a sign of how much marketing and inbound sales have drifted toward each other that a marketing blog has made this sales blog list, but Heinz Marketing offers some indispensable content for sales professionals.
From inbound to account-based sales and prospecting, this marketing and sales blog provides insights and resources that can benefit marketing and sales professionals alike. It also has a number of unique recurring series like "How I Work" and "App of the Week" and comes in a variety of formats including video and podcasts. 
Our favorite post:
The 7 Proven Steps and the 3 Biggest Myths of ABM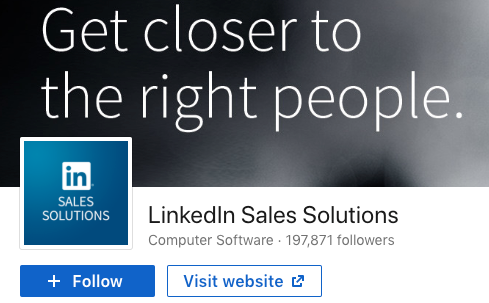 Type:
Multi-author
Post frequency:
Multiple posts/week
LinkedIn is another tool that's become impossible for a sales rep to ignore. Its sales blog will ensure that you're using the platform to maximum effect.
With a strong focus on social selling, LinkedIn Sales Solutions helps reps stay up to date on the latest trends and techniques in the ever-evolving arena of social selling. (The stats they claim on social selling aren't too shabby either: 51% more likely to achieve quota. Worth a read.)
Our favorite post:
The 6 Sales Skills That Will Make You Stand Out in 2019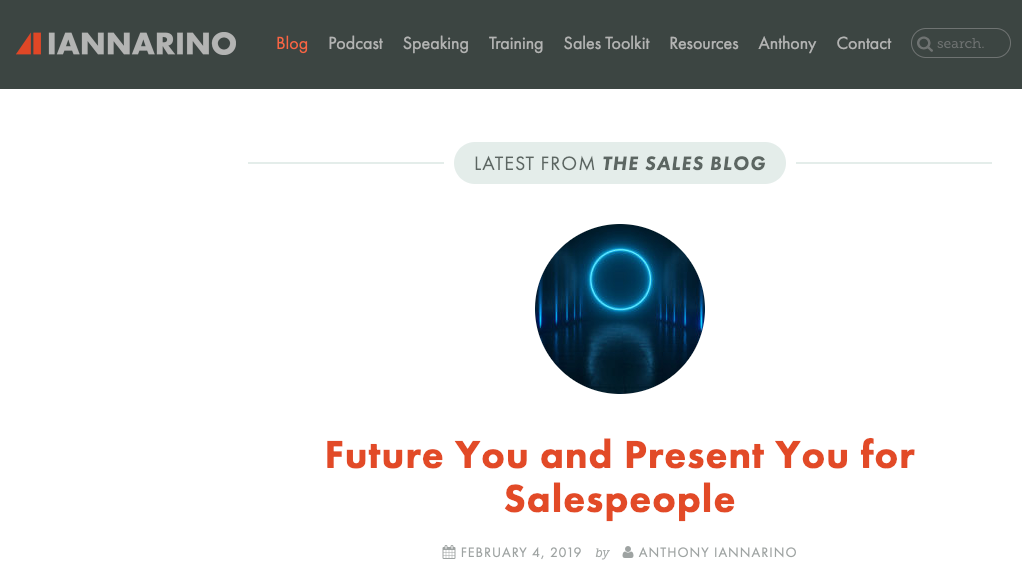 Type:
Single-author
Post frequency:
Multiple posts/week
Anthony Iannarino writes The Sales Blog. He's the author of three books and a well-known thought leader in the sales community. He publishes new insights and tips to The Sales Blog daily, and has a no-nonsense approach to writing that's a refreshing change from the average sales blog post.
His straightforward advice and suggestions make this sales blog a great stop for a daily dose of inspiration and new ideas. Your schedule is already crowded, so I haven't recommended this new daily habit lightly. (And while you're at it, his free e-books are worth a stop too.)
Our favorite post:
Things Every Salesperson Should Know How to Do

Type:
Multi-author
Post frequency:
Weekly
OpenView Partners is a venture capital firm with years of experience in investing and building sales teams for early-stage technology companies.
Their sales blog gives readers the same practical and strategic advice they offer to their portfolio companies. Their numerous authors cover a wide range of perspectives and dole out practical advice that sales managers will return to weekly. Who turns down free info from an outstanding collective of software experts?
Not us.
Our favorite post:
If Your Sales Process Looks Like This, You're Blowing Deals

Type:
Single-author
Post frequency:
Multiple posts/week
In this award-winning, sales-specific corner of Inc.com, author and professional speaker Geoffrey James shares his wisdom on a wide variety of topics including sales, marketing, and professional growth. If you're looking for advice and insight from a sales blogger that goes beyond the standard sales focus, Geoffrey's daily posts are a great way to stay grounded and well informed.
Our favorite post:
This Is the Best Sales and Networking Trick, Bar None
=
14. Outreach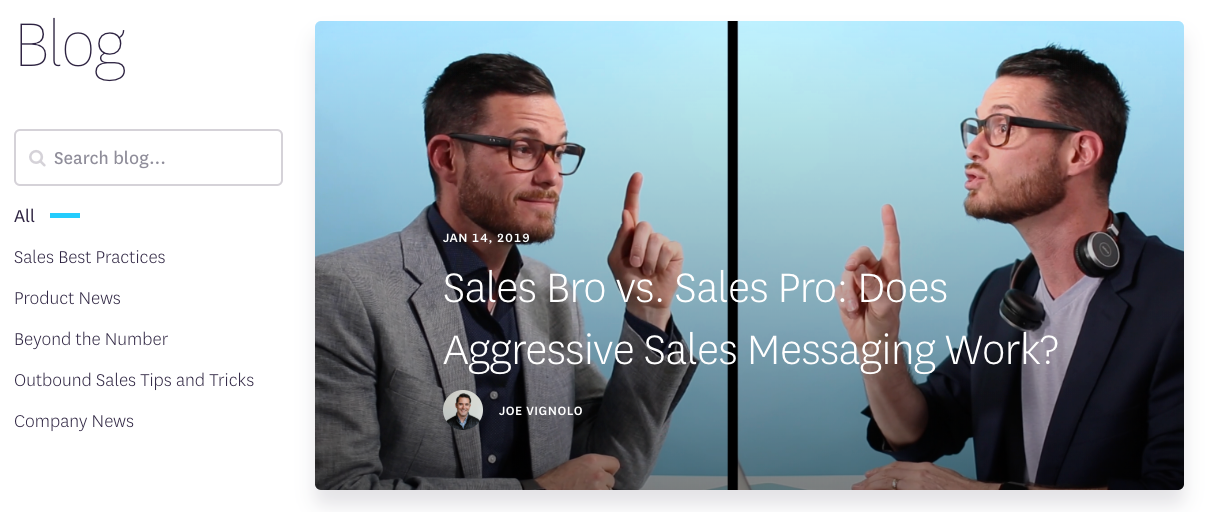 Type:
Multi-author
Post frequency:
Multiple posts/week
If you're a sales rep who loves dissecting every aspect of the sales cycle, this one's for you. There's plenty here on best practices in sales, with particular attention paid to outbound sales processes. From aggressive messaging, to consistency, and everything else outbound, this one hits the mark.
There's even an little corner of this sales blog dedicated to stories from salespeople who have been through the ringer — folks who have taken some deep life lessons and applied them to their sales careers. It's a spin on a sales blog that you won't find anywhere else.
Our favorite post:
Storytelling for Sales: How to Improve Your Narrative for the Modern Buyer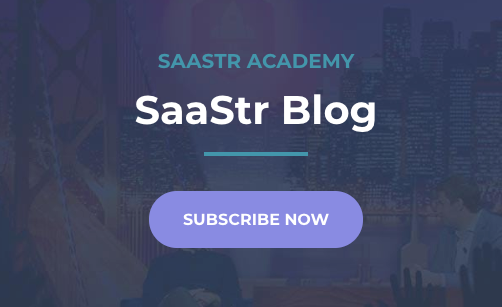 Type:
Multi-author
Post frequency:
Weekly
SaaStr is one of the largest communities of SaaS founders and entrepreneurs in the world.
Their top sales blog leverages the community's collective wisdom and offers some of the best insights around.
They cover the SaaS industry and where it's headed  and provide tactical advice for founders and sales leaders at SaaS organizations. What started as a small sales blog in 2012 has grown into a powerhouse of insight and influence.
Our favorite post:
Why a Great Rep Can Close 9x More Than a Poor Rep, and Even 2.5x More Than a Good Rep

Type:
Single-author
Post frequency:
Monthly
TopLine Leadership's sales blog gears its content toward sales managers and sales leaders.
Managing a sales team to maximum performance is one of the greatest challenges sales leaders face. That's why TopLine Leadership focuses on motivation, coaching, and performance improvement. Their sales blog can definitely help you improve your team's performance and processes.
Our favorite post:
How to Confront an Under-Performing Salesperson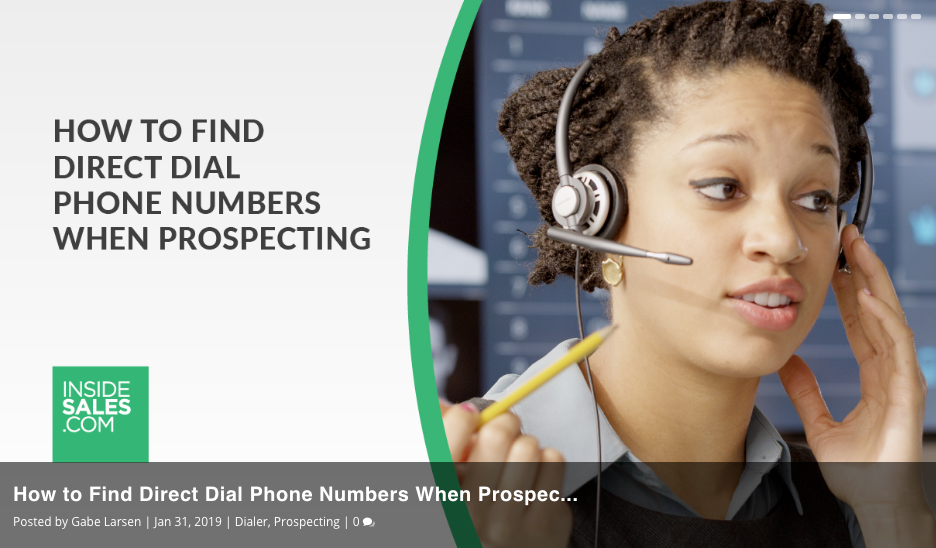 Type:
Multi-author
Post Frequency:
Multiple posts/week
This top sales blog is about more than building pipeline, working the right leads, and closing them (which is where InsideSales usually plays). It's a well-rounded look at sales and marketing, with plenty of content on offer about industry trends, management perspectives, and enterprise growth. This is what a sales blog should look like. It has something for everyone and doesn't water anything down.
Our favorite post:
8 Things You Need to Know About Responding to Inbound Leads

Type:
Single-author
Post frequency:
Weekly
This sales blog is chock full of tips, and Jill introduces each one using a great story. Most sales blogs fail to capitalize on their writers' personalities, but Jill combines firsthand accounts and sales tips like a storytelling pro, making her a great sales blogger. She writes the blog with sales professionals in mind, and her most frequent topics include sales prospecting, the success mindset, and working smarter. The learning feels effortless.
Our favorite post:
17 Essential Sales Assumptions
Subscribe to the Best Sales Blogs and Bloggers
Did you pledge to spend less time randomly scanning and scrolling in 2019? (Didn't we all?) It's a fair goal, but make sure you don't miss out on useful tips or fall behind on industry trends.
One solution is to get curated weekly top sales blog content from industry experts you trust. They'll do the work of sorting through that week's blog articles to find the good stuff.
You can also set aside dedicated 'scroll time' each week to rein in your urge to go down rabbit holes and disappear for days. Create regular and recurring learning blocks in your calendar so you can hone your expertise and grow exponentially. (Learning on the regular is one of the habits of wildly successful people. You already knew that though.)
[newsletter title="Grow Your Skills" call="Get insanely effective sales tips sent to your inbox."]
And while you're out there in sales blog land, let us know if there's a sales leader we missed.
Anyone you're addicted to who should be on this list? Let us know in the comments below: