Blog
Angelique Slagle: You ARE Ready, Even if You Don't Think So
How does a "straight talk, no BS" coaching style work for an enterprise sales team?
Why is data critical for effective leadership?
What's the difference between mentorship and sponsorship?
On a recent episode of the Reveal podcast, we connected with RVP of Sales at SAP, Angelique Slagle, for answers to these and other questions that are top of mind for revenue leaders.
Here are the key takeaways and highlights from that episode.
Lead With Facts
In sales, there's such an emotional and human side of the business. But for me, I believe you have to lead with the facts, and that's where you'll see a dramatic shift. I remember growing up in the ranks, and a sales leader told me that when you're an individual contributor, you're shifting something one piece at a time. It might just be one person. 
But when you're a leader, you potentially are shifting an entire market, an industry, a whole collective. And so you can't only let your gut drive you. You can use your gut to make decisions, but it has to be based with the right facts in front of you. So I'm always talking to my team about, "What are the facts or the data actually showing us?" And digging in. 


The great thing about SAP is there are millions of resources at your disposal. The bad thing is there's millions of resources at your disposal. So when to use them, when to not listen to them—that's the balancing act.
Mentorship vs Sponsorship
I'm big on diversity, not only by gender but also in thinking. So I have a lot of people that will ask me to mentor them, or that I will ask to mentor me. We meet once a month, once a quarter. I talk about what I'm working on. I have some questions for that mentor, or they have some for me. But really, you're not accountable or responsible for that person's career growth and development. 
Whereas sponsorship to me is where you're actually taking accountability and responsibility for them. And so it's really how my career has grown from when I worked at IBM, to Microsoft, to even here at SAP—there's been someone who interacted with me and decided, "I'm going to help introduce or connect her in the right place." I think that's especially important for women. We just know based on all the research, and just being women and men in a corporate environment, that women tend to not raise their hand for opportunities. Especially in male-dominated fields like tech and software sales. 
Sponsors can help you move your career forward and in a safe way. I've had many sponsors, and they just happen to be men. They would say to me, "You're ready! And even if you think you're not ready, and you're 50% ready, no one is ever really 100% ready for that role. Go for it!" Or they've introduced me to the right person.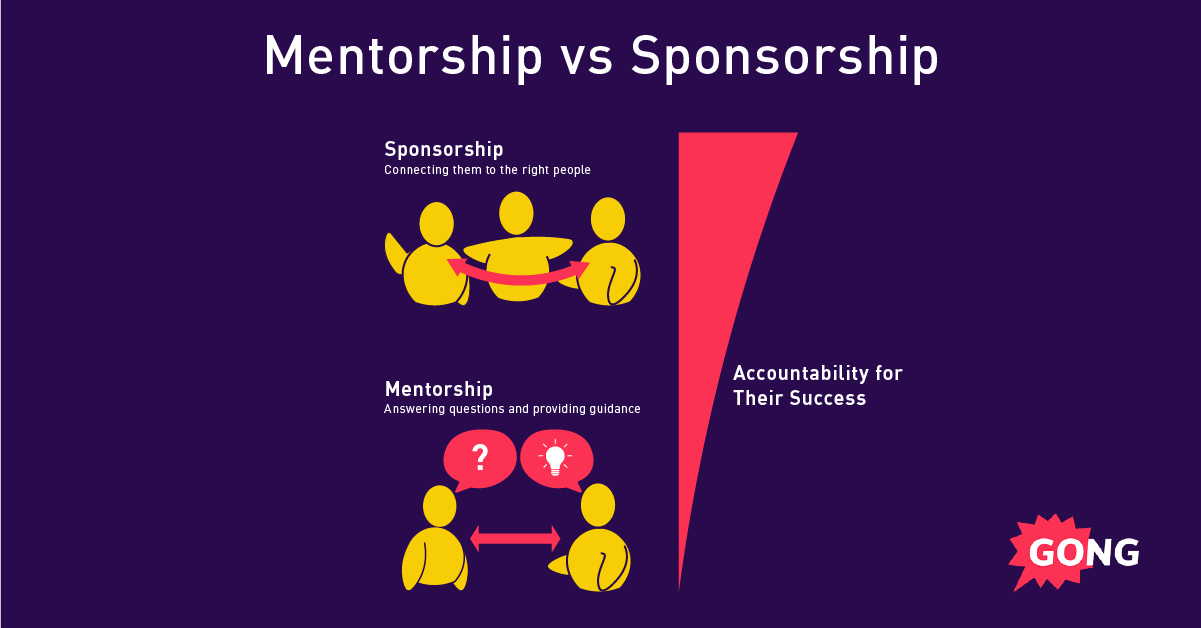 What I like is the fact that as I continue to grow in my career, I feel personally that I'm paving the way for other women like me—that look like me—to be able to have similar positions in the company. I don't think that work is done yet, so I'm going to stick around for a while.
Data Breakout—Diversity in Tech and Sales
Angelique has a clear focus on supporting women, and diversity more broadly, in sales. It's certainly a cause I (Sheena Badini) stand behind and support as a minority female in tech. 
But exactly how one-sided is the gender make-up in sales?
According to research by LinkedIn, the percentage of women in sales is 39%, up from 36% about 10 years ago. That isn't terrible—on first glance it is actually up! But looking closer at the data, the percent of women in sales decreases significantly as seniority increases. So while women make up 47% of entry-level sales positions, they only make up about 20% of VP and CXO titles.
This is exactly where the role of sponsors comes in, as Angelique discusses. We're not only responsible for getting women into traditionally male-dominated fields like sales and tech, but we also have a responsibility to help them advance in their fields.
Regarding minorities in tech, the picture is just as bleak. According to TechRepublic, more than 50% of employees at tech giants Apple and Google are still white. This mirrors industry trends at large.
In actuality, 67% of job-seekers say that working for a diverse team is a very important factor for them when making a decision to join a company.
So, what are the benefits of a diverse team? There's literally no downside! From increased creativity of thought, to revenue improvements, to a larger talent pool, and much more. There is tons of research on the benefits of diversity. Step one is raising awareness, and I sincerely hope you'll consider how your hiring process and criteria impact your ability to hire and build a diverse workforce.
No BS
I have a varying age and experienced team, but I have quite a few that are senior. I think it doesn't take people long working for me [to figure out] that I am a high expectations leader. But I like to think also logical and empathetic. And what I think around empathetic is that I really try to put myself in their shoes. I try to see things from their perspective. 
And so what most people will say from teams that have worked with me is that I'm very transparent, and I give a lot of straight talk. So you can trust there's no BS with me. That I'll let you know and guide you through an event or whatever's happening. And one of those things about high expectations is that I will jump in and help you. 
Being part of deals is really where my passion is. The farther you move up, the less you're actually in deals every day. And so I've shown a lot with the AEs that they can really trust me, because I will dig in.
The Characteristics of a Great Sales Rep
The first is resilience and grit. I tell people that want to get into sales, "Sales is about resiliency and rejection. Be able to not take it personal and kind of pick yourself back up." And then as a leader, you have to be able to do that on a grander scale because you're getting that from internally and externally. There are so many no's that you will hear internally, that you kind of have to push back because it's for the greater good of your team.
Also, critical thinking skills, which seems very basic. But you'd be surprised of how people cannot read the situation and understand people's motivations and agendas. And then how do you work them to a common agenda, or at least be neutral, and not detract from your agenda?
And empathy, really caring about your team and the people. And that can be even as an account executive, right? Caring about the team that gets the job done every day. Not just kind of pushing and shoveling crap over to individuals, but really caring about them.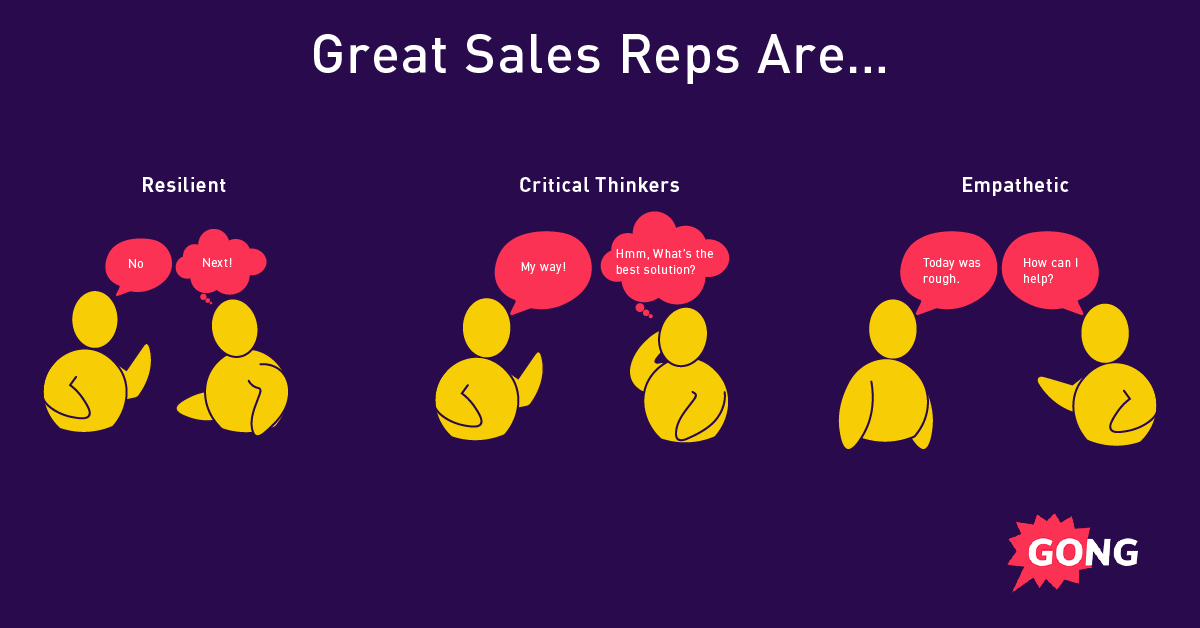 When I started selling in 1999, we sell exactly the same in 2020. We take proposals the same. We do demos the same. Pretty much, it's the same. We'll sprinkle in other things, but it's still not where it should be at in my opinion. 
Subscribe to Reveal: The Revenue Intelligence Podcast
Every week, we interview senior revenue professionals who share their insights on how they leverage revenue intelligence to drive success and win their market.
You'll hear how modern go-to-market teams win, close revenue with critical deal insight, and execute their strategic initiatives—plus all the challenges that come along with it. Listen now at gong.io/podcasts.