GONG RECIPE BOOK
Understanding What Impacts Win Rates
Ingredients: Deal Drivers, Win/Loss Tool 
What is it?
Winning is always the goal, but understanding what leads to those wins? That's the holy grail. With the right data, revenue teams can stop throwing spaghetti at the wall to see what sticks and instead analyze the cold, hard facts of what leads to success (and what doesn't), so they can turn those activities and behaviors into practices going forward.
Who is it for?
With Gong, RevOps professionals and their managers can now understand what impacts their win rates, and review a deep analysis that connects their sales conversations (calls, emails, etc.) to their CRM data.
How does Gong help out?
Gong helps revenue professionals highlight crucial parameters and drivers so they can make good behaviors part of their workflow and eliminate those that are more likely to lead to losses. Its features include: 
An interface (called Deal Board) where team members can review deals at a glance alongside automatically computed data points based on what was said across all the deal's conversations (e.g., which competitors came up).

AI analysis of past deal cycles to provide deal-based insights (Deals > Win/Loss) that can be filtered by timeframe (e.g., recent quarter, last year), team, and seven categories:

Number of contacts

Power in deal

Deal duration

Deal size

Number of calls

Competitor mentions

Trackers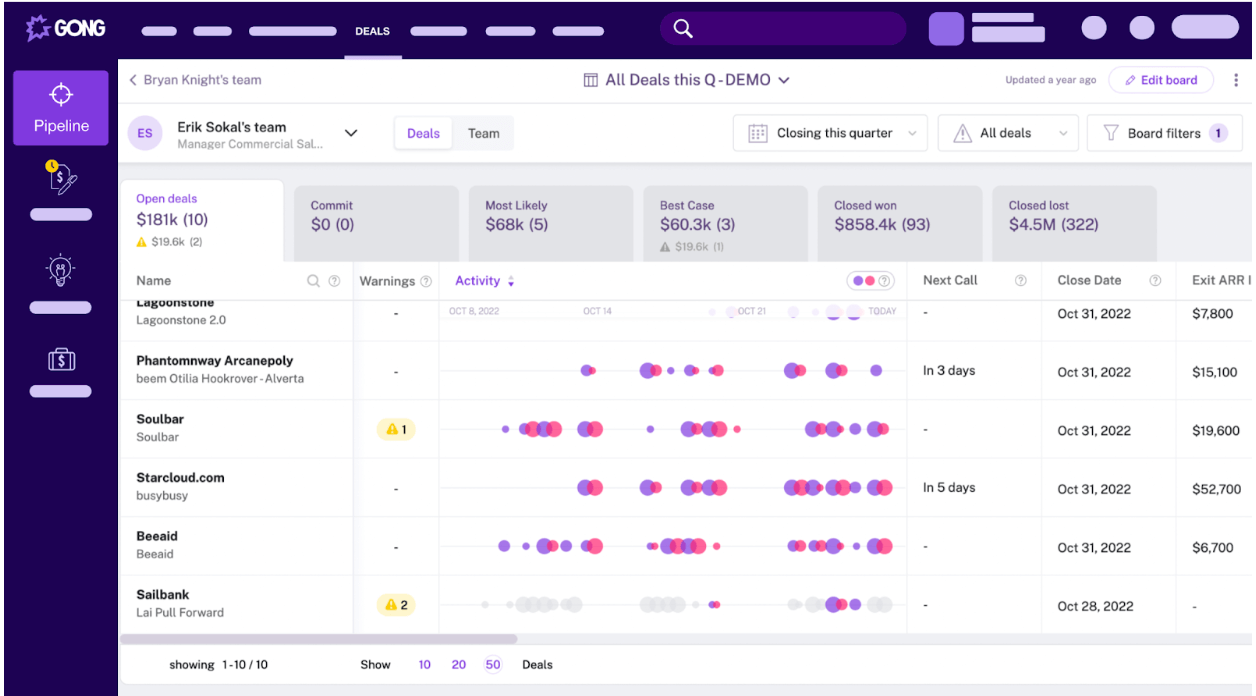 A deal inspection area that shows all of the deal's activity down to the conversation level (calls, emails), digital interaction level (e.g., prospect opened a document), and contact level (who is active).

An AI-driven system that flags deals at risk (called Warnings) based on multiple criteria, including conversations (e.g., a customer informing of a negative step) and activity types (e.g., a specific contact who is ghosting the seller).

An overview of each rep's end-to-end deals process (Deals > Drivers), which can be used to coach reps toward wins.
How does it work?
1. Review your Win/Loss report
Gong uses AI to analyze deal cycles and determine which behaviors contribute to wins. Filter the insights based on time period, team, and CRM filters.

Use the metric tabs to drill down and identify the practices or behaviors that impact your team's wins – for example, should reps engage a director or VP in deals more? Should they aim for a certain number of contacts or calls? Which competitors, when mentioned, help deals, and which harm them?
2. Monitor by customized Deal Warnings
Based on your Win/Loss report, set up deal warnings, which can raise flags and prompt reps to make certain moves, such as multi-threading or engaging people of a certain power level.
3. Take actions with your findings
Level up your methodology by focusing on specific areas and practices. Using insights from Gong, coach your team and reinforce patterns and behaviors that have proven, in your data, to impact win rates. Provide examples by tagging reps in other calls or saving calls they should listen to in a dedicated Call Library folder and creating Streams that automatically add additional calls to it as they arise and notify reps so they don't miss them.
See our Academy:
See our Help Center: